Nissan Debuts Lannia Concept At Auto China 2014
|
Wallpaper
|
Nissan vehicles
---
Nissan premiered the Lannia Concept at Auto China 2014 in Beijing, its latest sedan concept geared towards China's rising 'Post-80s' generation, the 'balinghou.'
The concept is the second model to be borne from Nissan's design center in China, which opened the new studio in 2013.
Volkswagen Golf R 400 Concept
|
Wallpaper
|
Volkswagen vehicles
---
Volkswagen is displaying the potential of its flagship Golf R hatchback at the Auto China show in Beijing, in the muscular form of the Golf R 400 concept. If the '400' in the name doesn't give the game away that this is a seriously powerful machine, then the body and bumper modifications and flared wheelarches should give more than a hint.
Mercedes-Benz Concept Coupé SUV: Sporty Coupé at the highest level
|
Wallpaper
|
Mercedes-Benz vehicles
---
With the Concept Coupé SUV, Mercedes-Benz is raising the standard to a new, higher level in literally multiple respects. This extremely sporty study impresses as a typical representative of the long-standing coupé tradition at Mercedes-Benz, with a flowing side line, stretched greenhouse and striking radiator grille with central chrome louvre. At the same time the Concept Coupé SUV stands out with its muscular wings, large wheel arches, imposing 22-inch wheels, high beltline and generous ground clearance. Its dynamic handling on the road is also on a superior level. Not only thanks to air suspension, but also to the networking of the powertrain, suspension and interior that it realises.
Lincoln MKX Concept Hints at Sophisticated, Elegant Global Sport Utility Vehicle
|
Wallpaper
|
Lincoln vehicles
---
The Lincoln Motor Company today unveiled the MKX Concept at Auto China 2014 in Beijing. The Lincoln MKX Concept hints at a global SUV that will become the third of four all-new Lincoln vehicles due by 2016. It is designed to capture the attention of consumers worldwide.
This unveiling in Beijing marks the first time Lincoln has stepped beyond Ú.S. borders to reveal a concept vehicle.
BMW Vision Future Luxury. Modern luxury driven by design and innovation
|
Wallpaper
|
BMW vehicles
---
The BMW Vision Future Luxury furnishes a long-term outlook on the perception of modern luxury for the BMW brand. It stands for a forward-looking fusion of exclusivity and innovation, for a driving experience that is at once emotional and exclusive. All this is conveyed through the outstanding exterior and interior design of the BMW Vision Future Luxury along with its innovative technology, a pioneering lightweight engineering concept and a seamlessly integrated user interface and driving experience that caters optimally to the needs of all occupants.
All-New Ford Escort Makes Global Debut at Auto China 2014
|
Wallpaper
|
Ford vehicles
---
Building on its deep understanding of consumer needs in the world's largest automotive market and leveraging its global product development capabilities, Ford unveiled the all-new Ford Escort today at Auto China 2014, Asia's largest motor show.
At the unveiling, Ford announced that the all-new compact car will be manufactured by Ford's Changan Ford joint venture, proving Ford's continued commitment to introducing 15 new vehicles to China by 2015.
Rolls-Royce Showcases Bespoke Expertise At Beijing Motor Show With Pinnacle Travel Phantom Debut
|
Wallpaper
|
Rolls-Royce vehicles
---
Rolls-Royce Motor Cars has unveiled the Pinnacle Travel Phantom, a new Bespoke Collection motor car, at the Beijing Motor Show. The car has been conceived both to celebrate the Chinese love of travel and the success of the Bespoke programme in China. Pinnacle Travel Phantom serves as a showcase for the imaginative heights of craftsmanship, design and excellence that emanate from the Bespoke design studios at the Home of Rolls-Royce in Goodwood, England, seen through the prism of modern luxury travel.
Dodge Debuts New 2015 Challenger at 2014 New York Auto Show
|
Wallpaper
|
Dodge vehicles
---
The horsepower wars are alive and thriving, and the Dodge brand shook the foundation of the Jacob Javits Center in New York with the roaring exhaust note of its new 2015 Dodge Challenger 392 HEMI® Scat Pack Shaker model during the auto show reveal of its newest evolution of an iconic American Muscle car.
The World's Only Four-Door Muscle Car Gets New Exterior
|
Wallpaper
|
Dodge vehicles
---
The Dodge brand is bringing its A-game for its 100th anniversary, significantly updating both the iconic Challenger muscle car and Charger four-door sedan. The iconic Dodge Charger gets a full-body makeover for 2015 along with powertrain updates that include a standard TorqueFlite eight-speed automatic transmission on both Charger's standard 3.6-liter V-6 Pentastar engine and, new for 2015, the R/T equipped 5.7-liter HEMI® V-8.
Subaru Introduces All-New 2015 Outback
|
Wallpaper
|
Subaru vehicles
---
Subaru of America, Inc. today introduced the all-new 2015 Outback, the fifth generation of the World's First Sport Útility Wagon®, at the New York International Auto Show in the Jacob K. Javits Center. The 2015 Outback offers the roomiest interior, most capable chassis and highest fuel-efficiency in the model's 20-year history. Its bold new design delivers an even more compelling blend of on-road agility, off-pavement control, ride comfort, interior refinement and safety technology.
New Midsize Coupe Concept Car Makes World Debut At Auto China Show In Beijing
|
Wallpaper
|
Volkswagen vehicles
---
It's a four-door coupé the like of which has never been seen before in this vehicle class: the New Midsize Coupé concept car. Volkswagen has brought the concept car to Beijing for its world premiere at Auto China 2014. The 'New' part goes without saying: the New Midsize Coupé is as new as a new car can be. 'Coupé' is also unambiguous: the New Midsize Coupé is low in height (1,422 mm) and very wide (1,838 mm), it has a low visual centre of gravity, short overhangs, muscular shoulders and side sections, a dynamic roof line with markedly swept-back C-pillars, a short boot lid and long bonnet. 'Midsize' is less obvious.
2015 Hyundai Sonata Blends Confidence-Inspiring Driving Dynamics And Premium Design
|
Wallpaper
|
Hyundai vehicles
---
Hyundai today introduced its all-new seventh-generation 2015 Sonata at the New York International Auto Show. Following the incredible success of the outgoing Sonata, the all-new generation offers a more refined look through a new Fluidic Sculpture 2.0 design language, stiffer body structure, better ride quality, reduced noise, vibration and harshness and advanced safety and convenience features. Sonata truly democratizes the premium design and convenient technology of the Genesis sedan for the mid-size class. The new 2015 Hyundai Sonata will be built at the Hyundai Motor Manufacturing Alabama plant in Montgomery, Ala. and go on sale early this summer.
More Than Skin Deep: America's Best-Selling Car Gets Even Better With a Sweeping Redesign for 2015
|
Wallpaper
|
Toyota vehicles
---
After selling almost a million of the industry's benchmark sedan since the current generation launched in 2011, Toyota stripped it down to its chassis and rebuilt it from the ground up, raising the bar yet again in the ultra-competitive mid-size sedan segment.
'Customers today love the durability, quality and value that the Camry represents, but they are looking for a little more style, comfort and performance, and this 2015 Camry has all of the above,' said Bob Carter, senior vice president of automotive operations of Toyota Motor Sales, ÚSA, Inc. 'This is the new Camry, and it's coming from the new Toyota.'
The PEUGEOT EXALT concept, design innovator for heightened sensations
|
Wallpaper
|
Peugeot vehicles
---
With EXALT, PEÚGEOT unveils its imposing vision of the sedan by following the approach initiated in 2012 with the Onyx concept. EXALT aims to please the senses. It calls out from the first contact by its radical styling choices, and the materials selected. First seen on Onyx, the distinct line in the bodywork is reinterpreted by the association of bare metal and an efficient textile, Shark Skin, inspired by the unique texture of a shark's skin.
Ford Pays Homage to Five Decades of the World's Favorite Pony Car with Mustang 50 Year Limited Edition
|
Wallpaper
|
Ford vehicles
---
Fifty years after debuting one of the world's most popular cars, Ford is marking the milestone by revealing a Mustang 50 Year Limited Edition. Created to honor five decades of Mustang heritage, only 1,964 examples of the 50 Year Limited Edition will ever be built when it goes on sale this fall.
The New Infiniti Q70: Sleeker, Longer, Smarter
|
Wallpaper
|
Infiniti vehicles
---
With a fresh new exterior and available long wheelbase version, the new 2015 Infiniti Q70 targets a new vehicle class by fusing the emotion-packed character of a performance vehicle with the comfort and exclusiveness of an extended sedan.
Its evocative design, class-leading rear space, invigorating performance, innovative technology and superior craftsmanship combine to make the new Q70 a strong offering in this category.
Audi exclusive RS7 dynamic edition to debut at New York International Auto Show
|
Wallpaper
|
Audi vehicles
---
The Audi exclusive RS 7 dynamic edition will make its debut at the New York International Auto Show on Wednesday, April 16, 2014 and will begin arriving at dealerships in early summer. Highlights include such elements as Crimson Red safety belts and stitching throughout the interior. Tornado Red brake calipers, Carbon fiber elements, DRC suspension and sport exhaust. MSRP including destination and delivery is $146,045.
Didier Pironi: Reputation Overshadows Ability
---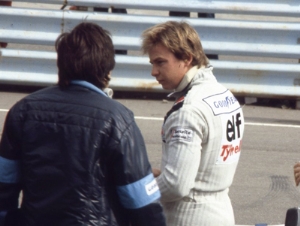 The error in judgment in Imola would turn tragic at Zolder. The result would be a ruined reputation for Didier Pironi, a man that did not, and still does not, deserve all the acrimony. But unfortunately, it will be that apparent reputation that will be remembered far and above his ability.

Yes, Pironi's teammate would be the much-loved and talented Gilles Villeneuve, but to think Pironi didn't deserve a drive with Scuderia Ferrari is a terrible falsehood. French Formula Renault champion in 1974 and the French Formula Super Renault champion in 1976, Pironi's early racing career would be filled with nothing but success.

Born in Villecresnes, France in March of 1952, Didier would be just 20 years of age when he earned Pilot Elf sponsorship following his enrollment in the Paul Ricard driving school. Though not a racer from the earliest of ages, he would show his skills at each and every level and would prove he had the talent to drive amongst the best. Furthermore, Didier had the kind of mind that enabled him to compete amongst the best.
Land Rover Unveils Pioneering Discovery Vision Concept
|
Wallpaper
|
Land Rover vehicles
---
Land Rover revealed its Discovery Vision Concept SUV in New York. It is a vision of Land Rover's future family of Discovery vehicles, the first model of which is due in 2015. The concept car previews dynamic new design language and an array of innovative versatility and capability features, while also showcasing pioneering technologies from Jaguar Land Rover's advanced research division.
Drop-Top Supercar: 2015 Corvette Z06 Convertible
|
Wallpaper
|
Chevrolet vehicles
---
Chevrolet today introduced one of the most capable drop-tops on the market: the 2015 Corvette Z06 Convertible. With at least 625 horsepower, and 635 pound-feet of torque, the Z06 is also the most powerful convertible ever produced by Chevrolet.
'The Z06 Convertible is a world-class supercar in every sense,' said Mark Reuss, executive vice president, Global Product Development. 'Only a handful of convertibles in the world bring more than 600 horsepower and 600 pound-feet of torque. Even fewer can match the advanced technologies, aerodynamic design, and visceral driving experience of the Z06 Convertible.'
All-New Lexus NX Compact Crossover Launches With Marque's First Turbo Powertrain
|
Wallpaper
|
Lexus vehicles
---
There's a first for everything! The all-new Lexus NX comes to market as the brand's first entry into the luxury compact crossover segment and with the first turbo in the lineup. The NX will also be offered in naturally aspirated and hybrid powertrains. Powertrains will vary by region. The Ú.S. market will offer the NX 200t turbo and NX 300h hybrid. The NX 200t F SPORT will also be available with unique exterior and interior features.
Next Page >>