Driving Impressions: Nissan Rogue Sport
By: Mark Moskowitz MD
---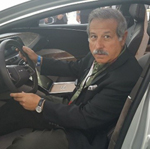 Today I begin a new chapter in my evolution as an automotive journalist. As an aficionado with passion I bow to few but as a serious chronicler of things automotive I put myself in the amateur status. There are serious automotive writers who have spent a lifetime conveying facts, impressions and emotions in a lucid style which conveys relevant information and excites the reader. I aspire to these skills but do not claim them After writing about auctions, race cars, vintage cars and concours, I find myself reviewing new cars. It is only fitting that this first one should be a Nissan. Its evolutionary predecessor was Datsun. The Datsun Roadster aka SRL311 or 2000 was the first car to truly inspire me. I owned seven of them over a dozen years. I drove mine in anger around Lime Rock. It towed my Formula Vee 200 miles to Bryar Motorsports Park on the back of a snowmobile trailer. Best use may have been top ending an E Jag on the Massachusetts Turnpike on an early 70's summer night. My first encounter with my present and only bride occurred when I pulled my silver 2000 alongside her orange 510, a fabled econobox Datsun racer, at a Ponce de Leon stoplight in Atlanta. Datsuns were phenomenal and exciting cars. Bob Sharp dominated his classes in SCCA racing on the East Coast and Pete Brock did the same out west. Mass appeal and acceptance followed with the introduction of the 240Z and a host of practical and attractive value proposition cars. Somewhere along the way the way Datsun/ Nissan offerings lost their luster. Honda became the standard for small car quality. Mazda became a major force in club racing. And Toyota became a sales leader and seemingly everybody's favorite. The Z Became bulky and left the US marketplace around the millennium. This coincided with Nissan's 26 year market share slide in Japan and not much better results in the US. Along came Renault and turnaround specialist Carlos Ghosn. Finances improved and Nissan could more quickly adapt to the marketplace. Great models came and market share has more than doubled from its millennial lows.
No small part of this was the introduction of the Rogue ten years ago. The crossover has been an amazing success for Nissan. The Rogue Sport (Qashqai abroad) is the number one selling SUV in Europe and surprise: as of the first quarter of 2017 the Rogue is the number one selling car in the United States.
With this kind of success it was only natural for Nissan to have an extension of the line, the Rogue Sport. But in this case the extension is a dozen inches shorter. We're not talking out about a sportier version of the Rogue; we're talking about a smaller version. This is not a deception. For some smaller means sportier. My mom thought a sports car was just a smaller version of her lumbering sedan. The purpose of this car was to offer Rogue features at a lower price ($3000 lower) than that of its older sibling. The Rogue Sport comes in three levels of trim: S, SV, and the top-of-the-line SL version. These configurations cost $3000, $2600, and $4300 more on similarly labeled Rogues. Adding an all-wheel drive package will cost $1350 more no matter which Rogue you choose. The biggest differences are in the engine compartment. The Sport's 2 liter engine is rated at 141 hp as compared to the 2.5 liter powerplant for the standard Rogue, which boasts 170 hp to pull around its extra 200+ pounds. The Sport loses a third row seat option and in an odd twist the Rogue seems to travel a mile further per gallon than the Rogue Sport. What you get is an attractive small crossover that does just about everything well. Its carved sides and great proportions distinguish it from a group noted for its sameness. I drove the top-of-the-line Caspian Blue SL for a week. It had the Platinum Package, a must at $570. It included Intelligent Cruise Control, Lane Departure Warning and Forward Emergency Braking. The optional Premium package added a blind spot warning (the blind spot is minimal in this car), headlight improvements and Power Sliding Moonroof.
Your road tester is 5 foot 10, eligible for Medicare and tips the scales just shy of 200 pounds. I found entry easy through a wide door opening and the cabin spacious. Even with the sunroof, there was four or five inches of head clearance and with the six way power seat pushed back there was no way I could reach the pedals. Cockpit width, specifically console to door panel, was more than adequate allowing the knees to fall laterally and take strain off the back. The incredibly comfortable front seat (noted by most reviewers) allowed me to drive for hours without fatigue. Rear passenger seating and foot room was appropriate for average adults. An extremely tall front seat occupant would compromise that. Rear seat adjustable vents and a fold down console with drink holders were a nice touch.
The leather interior was attractive and combined with the throwback round knobs on the radio and the climate control as well as the large round analog style gauges gave one the impression of a sleek modern GT. Interestingly no matter how I adjusted the steering wheel I was able to easily view speedometer and tachometer. Fellow packrats will be pleased to find seven individual front seat area compartments to hold 'stuff'. The largest Samsung Galaxy phone lays flat in its space. The seven inch touch screen revealed a host of tools to make the trip move along and the time pass. Mastery of the 'Nav' came quickly and destinations could be found with a variety of search tools or direct approach of the address by street or city. I was more than thrilled to find preprogrammed sites which listed the latest NASCAR results. Those readers who like other sports will be pleased to know that they have the Indy Car results too. Keyless entry allows door and hatchback latches to disengage with a light touch. Rear storage is 22.9 cubic feet and grows to 61 with the seat folded. Nissan's Divide and Hide cargo system allows the option of hidden storage or compartmentalization of the rears space.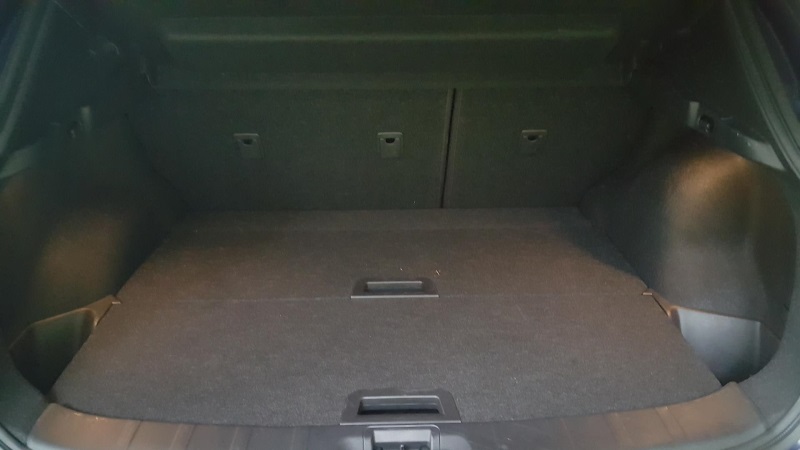 My 400 miles in the Rogue Sport were pleasant ones. The suspension is firm, resisting body roll without compromising ride. I felt none of the top heavy sensation typical of large SUV's. Steering input and feedback was positive and seemed appropriate at all speeds driven. The cockpit was quiet allowing easy conversation though on chip seal and other highly textured surfaces tire noise was bothersome.
The Rogue Sport achieved most speeds without fuss or difficulty. I was easily able to pass cars and received appropriate throttle response for passing from 40-60 MPH. Ramp entry onto high speed thoroughfares took a bit of anticipation. Despite traction control, I found climbing a steep gravel driveway easier in manual shift mode. Fuel mileage is rated at 25 in city and 32 on the highway. My Rogue Sport experienced numerous 'acceleration tests' and burned 28 miles per gallon. I am impressed with Rogue Sport; it's handsome inside and out. It drives well around town and on the highway and is accompanied by an array of conveniences that should surprise owners in the short run and continue to please them over the long haul. A few features not discussed in the text of the article but worthy of note in the SL model tested: Nineteen inch alloy wheels, heated front seats and heated leather wrapped steering wheel, surround view camera, Siri connectivity, dual zone front seat climate control (SV and SL), heated mirrors, 6 speaker stereo (SV and SL) and Nissan Emergency Connect.