Driving Impressions : 2017 Hyundai Elantra Value Edition
By: Mark Moskowitz MD
---
Value Edition
– not a bad name. It doesn't excite; you can't brag about it to your neighbor. It's Hyundai's attempt to combine the features most commonly needed and ordered in their popular Elantra line, providing a package that is more affordable and leaves the lot sooner.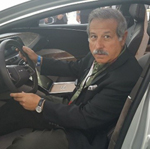 The Value Edition is practical. Open the glovebox, quickly bypass that obligatory dictionary (you remember them) sized manual, as well as countless other tomes and go straight to two short user's manuals. One for the car and one for connectivity. Both are well illustrated, easily understood and practical. I like it already. Hyundai purposefully toned down the styling of its most popular model in 2017. The Elantra is easy on the eyes and one could say unobtrusive. Its headlight-blinker assembly and even its taillights cut deeply into the fenders and add a bit of interest to the view from the side. The oversized (overstated) grille seems to be following the current trend. Driving the Hyundai is a pleasure. Though as a four door it measures out to be a compact by EPA standards, it has the ride and quiet interior of a mid-size or larger car. It steers easily, goes where you point it and has adequate acceleration for highway and in town use. Then you hit the button. Out comes the boy-racer. Sport Mode enlivens the steering, numerically raises gear ratios and alters the rpm curve. No suspension changes here and no transformation to a track day car but it adds joie de vivre to the everyday driving experience. Parents might want to petition Hyundai for a lockout key.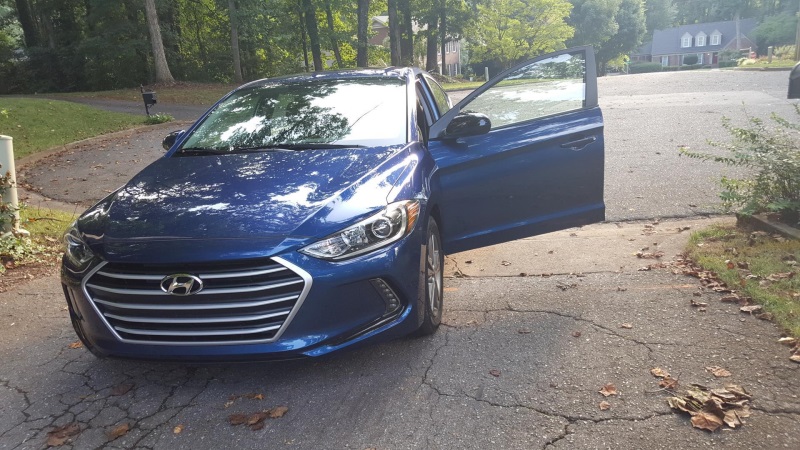 The interior is attractive and functional. A few bits of leather adorn the steering wheel and shift knob. The rest of the surfaces are
practical.
The six way power driver's seat is comfortable and supportive and a good friend on long drives. The sides of the console recede allowing a relaxed driving position. In the back passengers sit comfortably with adequate foot room but taller front seat occupants might compromise that. Rear seat occupants have their own door storage but rely on the front compartment for climate control. The rear seats fold forward to augment an ample 14.4 cubic feet of trunk space.
As the opening thesis suggest, lots of the things we want or need compliment the interior. In front of the shifter is a recess with two twelve volt outlets, an auxiliary input and a usb port. The space is big and fits larger cell phones but they do not lay flat. There's a sunroof, front seat heaters, big side pockets, console storage, dual front seat climate controls, and a 7 inch color touch screen but no Nav…..Anathema, I say. But wait, there's built in Android Auto and Apple CarPlay both easily connected by your luddite tester. The cell phone and data plan and most likely Google easily shoulder the burden and expense of the in car guidance system. And with music app connectivity may obviate the need for satellite radio. Traction control, hill assist, ABS, blind spot detection and rear view camera are among the modern electronic aids included and to be expected in the Value Package. Vital now that it exists and a cutting edge Hyundai feature is the Rear Cross Traffic Alert system. It relies on radar rather than direct visualization when reverse is engaged and can detect objects approximately fifty yards away. Reflecting personal tastes, the only significant common electric enhancement missing is adaptive cruise control.
The Monroney sticker suggests that Hyundai saves the consumer $1215 by combining the aforementioned features and more into a single package which lists for $20250. That price that handily beats similarly equipped marketplace competitors. I cannot argue with the moniker – Value Edition.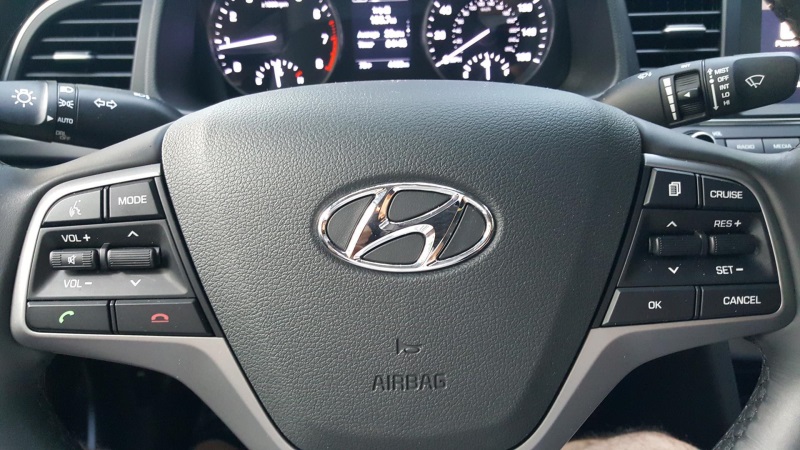 Keyless entry, LED daytime running lights, heated outside mirrors, automatic headlight control, door handle approach lights and steering-wheel-mounted audio, Bluetooth® and cruise controls are among the Elantra's noteworthy features present but not discussed in the text of the article.