Hyundai Tackles Another NFL Season By Driving The 2017 Kickoff
By: Hyundai
---
FOUNTAIN VALLEY, Calif., Sept. 6, 2017
– The wait is almost over, the first kickoff of the 2017 NFL season is just two days away and Hyundai has suited up to give fans an even better experience. Entering its third season as an official sponsor of the National Football League (NFL) and the presenting sponsor of the 2017 Kickoff, Hyundai will tackle the first game with immersive fan interaction and creative content. The Kickoff activities will be the opening drive of Hyundai's season-long campaign to help NFL fans have a better experience with the game they love. 'There is nothing quite like the experience of watching your favorite team play on Sunday. Hyundai aims to make the NFL experience even better by connecting with these fans through a shared passion for NFL football,' said Dean Evans, chief marketing officer, Hyundai Motor America. 'Our Kickoff initiatives are a way to give the 188+ million NFL fans a better and more meaningful way to kick the season off by providing opportunities to celebrate the game and their teams, while showcasing the Hyundai vehicle lineup.'
2017 NFL Kickoff Driven By Hyundai
Hyundai will be the presenting sponsor of the 2017 NFL Kickoff at Gillette Stadium in New England. At its activation space at the stadium, Hyundai will host NFL Legends for autograph sessions, provide fans a fun photo opportunity to share on social media, and offer giveaways including a $10 NFLshop.com gift card. The on-site activation will also display four of Hyundai's vehicles – the new Ioniq, Elantra GT, Tucson and Santa Fe. Prior to the game, fans can celebrate at the Christopher Columbus Park in downtown Boston. There will be appearances by Patriots' icons and a free live performance at the Kickoff concert, sponsored by Hyundai, from a surprise artist. As a part of the sponsorship, there will be Hyundai LED signage flanking the stage. The Kickoff activation is managed by Advantage.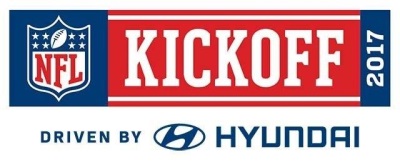 Random Acts of Kickoff
Leading up to the 2017 NFL season, the NFL provided fans with Random Acts of Kickoff. These experiences range from surprise player and celebrity appearances to free merchandise and game tickets. One of Hyundai's Acts of Kickoff gave six football super fans a test drive of a lifetime when they were surprised with a guest passenger, NFL Legend Spice Adams. After arriving at the 'stadium' in the 2018 Sonata, they played 'What's in The Trunk?' where each fan was challenged with a series of trivia questions that were related to their favorite team. After completing each challenge, they moved closer towards the end zone. Once the touchdown was scored (car in the end zone), the fan was be able to see 'What's In The Trunk' where they won a trip to the week 1 game of their favorite team. This fan experience was captured in a digital content series currently running on NFL.com/randomacts.
Safeties First
In the 'Safeties First' videos running on Hyundai's YouTube channel, Rodney Harrison learns that he has a lot in common with Hyundai; they both believe that safety/safeties should come first. The videos will have contextually relevant online media banners running on NFL.com with pre-roll that will be directing to Hyundai.com to view all the videos. Hyundai vehicles include safety technology like Automatic Emergency Braking and Pedestrian Detection that helps drivers avoid hits. Currently five Hyundai models are deemed IIHS Top Safety Picks where vehicles are tested to determine crashworthiness — how well a vehicle protects its occupants in a crash. It also rates vehicles for front crash prevention, systems that warn the driver or brake automatically to avoid or mitigate a frontal collision.
---
Trending News