Driving Impressions: 2017 Fiat Pop Cabrio
By: Mark Moskowitz MD
---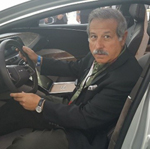 I have always driven small cars. I cannot remember being without a Lotus Seven or an Elan or one of the smaller Datsuns. For a dozen years I raced a 73 inch wheelbase Legends car. Before that there were Formula V's and even snowmobile powered formula cars. I always thought that Colin Chapman had it right: get the most out of the least or the lightest. Wisely or not, I made the leap that the agility of the small cars and my abilities behind the wheel would keep me out of any trouble the roadway offered. Not so with my family. I expended natural resources, polluted the environment and spent large sums on petroleum products so that my wife and children were always couched in rolling giants. Leaving Charlotte Motor Speedway one night, my two daughters were rear-ended by an inebriated driver traveling at triple digit speeds. Much of the Suburban was intact. The body looked great, the frame was bent and our new car was totaled. They left shaken but unscathed. I am sure my reader can see why I cannot in good conscience recommend the Fiat 500. I loved the car. It was terminally cute. Its mere presence heralded a fun trip. The Fiat brought smiles to passersby and had one of the most unique convertible tops extant, an important attribute for this open air devotee.
And I could be wrong.
In the 10 years since its introduction, Fiat has produced over 2 million of these. They are available in over 100 countries. It's the car Fiat chose to re-introduce the brand to the US after a 27 year hiatus. Regarding styling, I repeat: it's cute and the formula has worked for a decade. Exterior changes have been minimal. The power top bears mention. Side pillars, windows and a sliver of roof remain intact while the canvas top retracts to either the extent of a typical sun roof or to the top of the rear deck. (This maneuver was accomplished with the car under way at a low speed!)
The Fiat 500 rides on MacPherson like struts upfront and a twist beam suspension in the rear. The latter is a relatively inexpensive way to simulate an independent rear suspension. Front and rear stability is enhanced by anti-sway bars. The Fiat was a joy to drive. It was stable at highway speeds though with only 101 hp these seemed to take a long time to achieve. The steering was easy and responsive as you would expect in a lightweight fwd vehicle.
Sport mode is available even on the base vehicle but seemed to offer little more than increased resistance to steering input. It changed throttle response only slightly but in the process made the programmed six speed automatic shifting more erratic. Body roll was a bit excessive and inhibited this test driver from exploring the Fiat's high speed limits. The Pop's real forte was low speed sharp turns; and buzzing around parking lots and tight city blocks, I felt like an autocross champion.
The interior's retro look is extremely attractive. Many makers encumber their dashboard with a pair of faux analogue gauges. Fiat offers a single central digital gauge. I preferred it as most positions of the steering wheel did not obscure the information available.
Sitting position is bolt right. It mimics what you see in the in-car videos of a NASCAR driver. The steering wheel pivots but does not extend leaving one close to the dash. Drivers of a short stature will find the forward console limits legroom. Further back, the centerpiece narrows and comfort can be achieved even for the very tall as headroom is more than adequate. Behind the front seats, there is no hospitable environment for adults. Top up or down, cockpit noise is less than you would expect. The Beats audio system is crisp and clear. I was not as impressed with the smallish five inch touchscreen. While Nav and info delivered was clear and accurate, the processor was slow and even with a week's experience, I failed to achieve rapport with an exasperating voice command system.
Trunk space is much more than one would expect in a small convertible. Lift the light weight rear deck lid and a single typically checked piece of luggage can fit. The space can be enhanced by folding down the rear seat backs. Regarding safety, The Fiat has a multitude of airbags. Large head restraints, four wheel ABS disc brakes, hill start assist and electronic stability control. The NHSTA awards the Fiat a four star rating in a frontal crash test scenario. Scrutiny of their website reveals that testing 'represents crashes between two similar vehicles with same weight'- fine if you meet another sub compact but not an SUV. I am not likely to recommend the Fiat to that rookie driver going off to school a hundred miles away or to one who might be cruising down the road at above school zone speed.
Where does this car fit in? An ideal locale might be parked at that second home near the beach. Think sophisticated Fiat Jolly. Mostly manual adjustments suggest there might be little battery degradation between uses. And for one or two occupants, there's open air motoring and a huge fun factor. In a low speed urban environment where parking is limited, I suspect the Fiat and its owners would thrive.
Should you buy this car? If you are looking for the least expensive convertible in the marketplace, this is the one. The base price has dropped nearly $4000 in the last year. A buyer would be hard-pressed to find more fun per dollar in a car. Yes, it's small and it's a bit short on modern upgrades but I loved every minute I drove this car.