Rare, International Selection of Automobiles Set To WOW Collectors at RM's London Sale This Month
• Anticipation builds ahead of RM Auctions' central London sale, 31st October, 2012 • Auction features an exceptional collection of more than 90 automobiles and two motorcycles selected from the world's finest makers • Offering comprises a wonderful selection of the finest and rarest Italian, British and German marques, including Aston Martin, Bentley, Ferrari, Alfa Romeo, Mercedes-Benz and Porsche amongst others • Complete digital catalogue available online at rmauctions.com Anticipation is running high as the two week countdown to RM Auctions' annual London sale begins. This year's auction presents a treasure trove of more than 90 mouthwatering cars and motorcycles, each specially handpicked for the sale and representing the most iconic brands and models coveted by collectors around the world.

'The broad selection of marques and values represented in this year's London sale is what really sets it apart from other collector car auctions,' says Max Girardo, Managing Director, RM Europe. 'RM always succeeds in bringing together some of the world's finest automobiles, and this year we have a large number of lots that represent a broad cross section of the collector car market and which have been drawn from every corner of the globe. This international capability is what really sets us apart in the market place.' It is fitting that a premier London sale will feature some 27 fine British automobiles, including examples from such celebrated marques as Aston Martin, AC, Rolls-Royce and Bentley. A total of 11 Aston Martins are poised to go under the hammer, ranging from a delectable 1960 DB4 through to an exceptionally rare 2001 Vanquish Prototype, the second produced by the factory and the subject of much publicity at the time of the car's launch. DB4s, DB5s and DB6s have become highly desirable in recent years, with values reflecting their popularity. The London sale will feature no less than seven cars representing these models. Amongst highlights is a 1964 Aston Martin DB5, delivered new that year to Beatles member Sir Paul McCartney. The car is accompanied by a heritage certificate from the British Motor Industry Heritage Trust confirming this fact and includes a Philips Auto-Mignon record player, the perfect amenity for a professional recording star (estimate: £300,000 – £380,000). Another super-rare Aston secured for the sale is a 1967 Aston Martin DB6 Shooting Brake. One of just two and commissioned new by racing legend, Innes Ireland, the fully restored car has not been seen in public since 1995 (estimate: £325,000–£375,000). No RM sale is complete without an exclusive selection of rare Ferraris and the upcoming London sale is no exception. Matching the Aston Martins car for car, a total of 11 examples from the Prancing Horse will be offered during the evening sale on the 31st October. In addition to the previously announced 250 GT LWB 'Tour de France', the catalogue also features a beautiful, Ferrari Classiche certified 1964 250GT Lusso Berlinetta, chassis 5101 GT (estimate: £550,000 - £650,000) while collectors and motorsport fans will be offered an exceptional opportunity to purchase a 1998 Ferrari F300 Formula One Racing Car, chassis 183. This wonderful Scuderia Ferrari team car was built for the 1998 season during which Michael Schumacher and Eddie Irvine were teammates and for whom this car intended to be used as a race day 'spare' (estimate: £440,00 - £520,000). Other exceptional Italian automobiles on offer include two important pre-war Alfa Romeo sports racing cars. The 1930 6C 1750 GS 'Testa Fissa' is not only one of the world's finest pre-war sports cars, but this particular example boasts an incredible period provenance having been piloted to victory in the 1930 Tourist Trophy by racing icon and legend, Tazio Nuvolari. One of only 12 'Testa Fissa' specification cars believed to have been constructed, it is also notable for having been the 1930 London Motor Show car (estimate: £750,000 - £900,000). It will be joined at the sale by another eminently desirable pre-war Alfa Romeo, a 1934 6C 2300. With stunning open competition coachwork and a meticulous restoration by one of the world's leading marque experts, this glorious UK registered car is estimated to fetch between £280,000 - £350,000. No auction featuring exotic Italian machinery would be complete without Maseratis. The London sale will feature two cars led by an ultra-exclusive 2005 Maserati MC12, one of only 50 built from 2004-2005. Boasting just two owners and 2,500 kms from new, it is capable of sprinting 0-60 mph in 3.8 seconds with a top speed exceeding 205 mph (estimate: £680,000 – £780,000). The undoubted star lot of the German marques is the rare, alloy-bodied 1955 Mercedes-Benz 300 SL Gullwing, one of only 29 cars built by the factory. Chassis 198043-5500786 is a dream purchase for any collector of blue-chip automobiles and in its fully restored silver paintwork with stunning red leather interior, there is no doubt that it is a stunning car from any angle. An exclusive video of the car is available online here: http://bit.ly/Vd8P9W. In addition to the automobiles, the upcoming London sale will lift the hammer on two very rare and ultra-desirable motorcycles. The highlight is a 1926 Brough Superior SS100 Alpine Grand Sports, one of the world's rarest and most collectable motorcycles. The machine, chassis 820A, was dispatched by the Brough works on 21st January 1926 to Frank Hallam, the Brough Superior agent in Birmingham, United Kingdom and it was first registered on 22nd August 1926. This totally correct and fully documented motorcycle has a complete recorded history from the 1920s and boasts only four owners from new. It has undergone a recent full restoration and is the recipient of many prestigious awards and is the first time a Brough of this precise specification has been offered for sale at auction (estimate: £250,000 - £300,000). Another significant bike on offer is a 1952 Vincent Series C Black Shadow. This award-winning, fully restored, matching numbers machine was first registered in October 1952 and has also enjoyed only four owners from new (estimate: £65,000 - £75,000). A full list of auction offerings, along with a digital copy of the auction catalogue is available online at rmauctions.com or by calling RM's London office on +44 20 7851 7070. For those unable to attend the event in person, Internet, absentee and telephone bidding options are available, and all the auction action will stream live at rmauctions.com to provide real-time coverage of the event. About RM Auctions RM Auctions is the world's largest auction house for investment-quality automobiles. With over three decades of experience in the collector car industry, RM's vertically integrated range of services, from restoration to private treaty sales, auctions, estate planning and financial services, coupled with an expert team of car specialists and international footprint, provide an unsurpassed level of service to the global collector car market. RM proudly holds five of the top 10 all-time records for the most expensive motor cars sold at auction. RM's restoration division has achieved unprecedented accolades earning 'Best of Show' honors at the world's top concours events, including an unmatched four wins at the prestigious Pebble Beach Concours d'Elegance. For further information, visit www.rmauctions.com, find us on Facebook or follow us on Twitter @rmauctions.
Recent Articles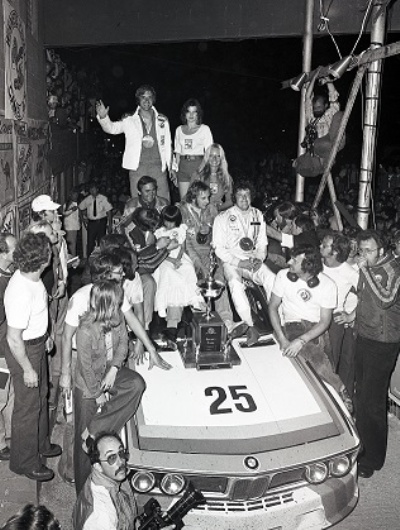 BMW's 'BATMOBILES' SET FOR 19th ANNUAL AMELIA CONCOURSScheduled to appear in the 19th Annual Amelia Concours' BMW 3.0 CSL 'batmobile class' are not only the 1975 Sebring 12 Hour and '76 Daytona 24 winners, but Alexander Calder's 1975 Le Mans 3.0 CSL with his trademark signature on the left rear fender.

BMW's 'Batmobile' racers were glorious mutants. They arrived from Europe wearing a frosting of giant wings, huge fender boxes and big spoilers, all powered by a 430 hp straight-six engine that made a glorious noise and propelled BMW's luxury cou....
LE MANS GREATS HEAD STUNNING ROSTER OF ADDITIONAL ENTRIES FOR RM'S 2014 PARIS SALE DURING RETROMOBILE WEEK• Anticipation builds ahead of RM's €25 million debut Paris sale on 5 February 2014
• More Le Mans greats join stunning competition car line-up at saleLatest highlights include a 1982 Rondeau M482 Le Mans GTP, a veteran of five Le Mans 24 hours races, and a mighty 2008 Peugeot 908 HDi FAP Le Mans Prototype, which finished 2nd at Le Mans, was driven by Jacques Villeneuve, and has been entrusted to be sold by RM by the Peugeot factory
• Other recently secured entries include a Bugatti Type 40 Ro....
400TH BUGATTI VEYRON SOLD – THE VEYRON BEGINS ITS FINAL LAPJust 50 models of the super sports car are still available

• 400th Veyron is a Grand Sport Vitesse 'Jean-Pierre Wimille' of the six-part edition 'Les Légendes de Bugatti'

• Head of Bugatti Wolfgang Schreiber, 'A unique success story about the most exclusive and luxurious super sports car brand in the world'


Molsheim, 5 December 2013. Bugatti has sold its 400th Veyron. Since the production run of the Veyron and its variants is limited to just 450 models, thi....
Infiniti To Reveal Formula One Inspired Concept At Detroit ShowHong Kong – Infiniti will reveal a Formula One inspired concept car based on the Q50 premium sports sedan at the North American International Auto Show in Detroit.

The concept car represents Infiniti's design vision of a high performance variant of Q50. Called 'Q50 Eau Rouge,' the car is named after the world-famous corner at the Formula One track in Spa-Francorchamps, a corner which requires extraordinary strength, courage and commitment; it has seen some of the most incredible drivin....
SEB AND THE RB9: AN AWARD-WINNING COMBINATIONLONDON – Sebastian Vettel has been named International Racing Driver of the Year and the RB9 handed the prize for Racing Car of the Year at this year's Autosport Awards in the UK, the fourth year in a row driver and team have been honored in the categories.

Seb, who took a record-equaling 13 grand prix wins in a single season in 2013 to win his fourth world title in a row, entered the auditorium in the company of dominant WRC champion Sébastien Ogier of the Red Bull VW team; later in t....
INFINITI U.S. SALES INCREASE 10.5 PERCENT IN NOVEMBER– Best November in the Luxury Automaker's History –

NASHVILLE, Tenn. – Infiniti today reported the best November in its 24-year history, with U.S. sales of 13,152 units, an increase of 10.5 percent versus 11,897 units a year earlier.

The all-new Infiniti Q50 saw deliveries of 5,891 units in November, one of the strongest ever monthly sales of a single Infiniti model. Overall sales of Infiniti sports sedans, which include the Infiniti G37, rose more than 85 percent to a total ....
2014 Ferrari 458 Speciale
---
2014 Ferrari LaFerrari
---
2014 Infiniti Q50
---
2014 Mercedes-Benz CLA-Class
---
2014 Rolls-Royce Wraith
---
2013 Aston Martin Vanquish Volante Neiman Marcus Edition
---
2013 BMW Concept M4 Coupe
---
2013 BMW Zagato Roadster
---
2013 Bugatti Veyron Grand Sport Vitesse Legend Jean-Pierre Wimille
---
2013 Bugatti Veyron Jean Bugatti
---