Daniel Juncadella crowned Champion of the Formula 3 Euro Series
• Daniel Juncadella won the 2012 Formula 3 Euro Series championship title at the Hockenheim finale • Famous and successful previous winners including Lewis Hamilton and Paul Di Resta are now competing in Formula 1 • Roberto Merhi, Juncadella's predecessor and 2011 champion, graduated to drive for Mercedes-Benz in the DTM at the start of 2012 • One-third of all drivers on the 2012 F1 grid (eight out of 24) competed in the Formula 3 Euro Series with Mercedes Power • Eight champions in ten years with Mercedes-Benz engines Daniel Juncadella (21, Spain, Prema Powerteam) is the new Formula 3 Euro Series champion. The Spaniard claimed the title at the final race weekend of the season in Hockenheim. From 24 races this season, Juncadella has achieved 5 wins, 5 pole positions and ten podium finishes powered by the Mercedes-Benz Formula 3 engine. This is the Spanish driver's third season in the championship, and he finished third overall in 2011.

Juncadella's former team-mate Roberto Merhi (21, Spain) won last year's Formula 3 Euro Series title, also at the wheel of a Dallara-Mercedes prepared by Prema Powerteam. Merhi made his DTM debut this season in the Junge Sterne Mercedes AMG C-Coupé. He now competes as a member of the Mercedes-Benz Junior Team in the DTM together with Christian Vietoris (23, Germany, Mercedes-Benz Bank AMG C-Coupé) and Robert Wickens (23, Canada, stern Mercedes AMG C-Coupé). Mercedes-Benz has a long and successful track record of nurturing young driving talent in motorsport. Since the inception of the Formula 3 Euro Series in 2003, teams running the Mercedes-Benz Formula 3 engine have won the team championship nine times. Mercedes-Benz engines have now powered eight drivers' titles in the Formula 3 Euro Series – Juncadella, current Mercedes-Benz DTM drivers Jamie Green (Champion, 2004) and Roberto Merhi (Champion, 2011), Formula 1 World Champion Lewis Hamilton (Champion, 2005), DTM Champion Paul Di Resta (Champion, 2006), Formula 1 drivers Romain Grosjean (Champion, 2007) and Nico Hülkenberg (Champion, 2008), and Formula 1 test driver Jules Bianchi (Champion, 2009). In this time, Mercedes engines won 170 of 209 races. During the same period, from 2003 to 2011, 13 drivers who competed in Formula 3 with Mercedes-Benz engines graduated to Formula 1. 33% of the 2012 Formula One grid started out in Formula 3 using a Mercedes-Benz engine – reigning world champion Sebastian Vettel and former champion Lewis Hamilton, 2010 DTM Champion Paul Di Resta, Kamui Kobayashi, Romain Grosjean, Nico Hülkenberg, Daniel Ricciardo and Bruno Senna. In the 2005 season, Lewis Hamilton, who went on to become Formula 1 champion in 2008, won the Formula 3 Euro Series championship in a Dallara-Mercedes prepared by the ASM Team. In that season, Hamilton achieved 17 podiums in 20 races, securing 15 victories, 13 pole positions and ten fastest race laps. Lewis will partner Nico Rosberg in Formula 1 for the 2013 season at the MERCEDES AMG PETRONAS works Silver Arrows team. Daniel Juncadella: 'Winning the Formula 3 Euro Series is like a dream come true. But I am also aware that it's a tremendous responsibility, being asked to follow in the footsteps of such successful drivers as Lewis Hamilton, Jamie Green and Paul Di Resta, who now compete in Formula 1 or in the DTM. After winning the Formula 3 Euro Series title with Mercedes-Benz, my team-mate from last year, Roberto Merhi, also made the transition to the DTM, and another of my dreams would be realised if one day I too could be promoted up into the DTM or Formula 1. I would particularly like to thank Mercedes-Benz, since this success would not have been possible without their junior development programme and their support over many years. I owe a lot to Mercedes-Benz and promise to live up to their expectations.' Norbert Haug, Vice President Mercedes-Benz Motorsport: 'Daniel is following in famous footsteps and I would like to offer him our congratulations on winning the title. Before Daniel's success, Mercedes-Benz engines powered drivers like Lewis Hamilton, Paul di Resta and Jamie Green to the Formula 3 Euro Series title. In fact, one third of this season's crop of Formula 1 drivers competed with Mercedes engines in this hard-fought junior championship, and have since graduated to the highest level of motorsport. Just like his predecessors, Daniel has the potential to do the same.'
Recent Articles
THE 2014 GOODWOOD FESTIVAL OF SPEED THEME IS 'ADDICTED TO WINNING – THE UNBEATABLE CHAMPIONS OF MOTOR SPORT'THE 2014 GOODWOOD FESTIVAL OF SPEED THEME IS 'ADDICTED TO WINNING – THE UNBEATABLE CHAMPIONS OF MOTOR SPORT' AS EVENT DATES ARE ALSO CONFIRMED
◾2014 Goodwood Festival of Speed theme announced
◾Dates for the 2014 Festival of Speed, Moving Motor Show and Goodwood Revival also confirmed

The theme for the 2014 Goodwood Festival of Speed, now confirmed to be held from June 26-29, as per the provisional dates announced in October, is 'Addicted to Winning - The Unbeatable Champions of Motor Sport'....
Maserati Celebrates 100th Anniversary as Featured Marque of the Rolex Monterey Motorsports ReunionAugust 14-17 at Mazda Raceway
MONTEREY, Calif., December 10, 2013 — The Rolex Monterey Motorsports Reunion will celebrate the rich 100-year history of Maserati, one of Italy's iconic luxury sports car brands that throughout the century has been deeply rooted in racing. The celebration will be held August 14-17, 2014 at Mazda Raceway Laguna Seca.

The Monterey Classic Car Week and Rolex Monterey Motorsports Reunion is a haven for international classic car enthusiasts. Centered a....
Seb and the Team Crowned ChampionsPARIS – Sebastian Vettel and Infiniti Red Bull Racing were awarded their trophies for winning the 2013 Drivers' and Constructors' Championship titles respectively at last Friday night's FIA's annual Prize-Giving Gala in Paris.

Held at the Cité du Cinéma movie studios complex built by legendary French film director Luc Besson, the Formula One awards section of the evening kicked off with Mark receiving his trophy for finishing in third place in the Drivers' standings in his final Formul....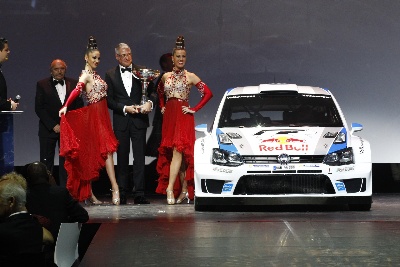 GREAT HONOUR, GRAND CELEBRATION: WORLD CHAMPIONSHIP TROPHIES PRESENTED TO VOLKSWAGENA celebratory end to an incredible season: Volkswagen Board Member for Technical Development, Dr. Heinz-Jakob Neußer, and World Rally Champions Sébastien Ogier and Julien Ingrassia were in Paris to receive their FIA World Rally Championship (WRC) trophies. Making its debut in the World Championship with the 315-hp Polo R WRC this year, Volkswagen won every title at the pinnacle of rallying. FIA President Jean Todt was on hand to personally present the trophies to the Volkswagen team at the glamo....
KATY PERRY TO PERFORM AT INFINITI BRAND FESTIVAL IN CHINA• Katy Perry's first ever performance in China

• Major public event to celebrate the Infiniti brand in China

• Infiniti retail and manufacturing business growing rapidly in China

Beijing / Hong Kong - Infiniti announced that U.S. singer, songwriter and actress, Katy Perry, will perform as a special guest at the 2014 Infiniti China Brand Festival in Beijing. Several thousand guests are expected at the Beijing indoor Olympic Stadium on Saturday, January 11, to par....
2014 Audi A5 DTM Edition
---
2014 Ferrari 458 Speciale
---
2014 Infiniti Q50
---
2014 Mercedes-Benz CLA 45 AMG Racing Series
---
2014 Mercedes-Benz CLA-Class
---
2013 Audi RS 5 DTM
---
2013 BMW M3 DTM Champion Edition
---
2013 BMW Z4 GTE
---
2013 Caterham CT03 Renault
---
2013 Caterham Superlight R600
---