Texas-Sized Charlie Thomas Collection Brings $7.4 Million At Dallas Auction
• RM Auctions' sale of the Charlie Thomas Collection generates $7.4 million, with 100 percent of lots sold • Top sellers include a 1946 Chrysler Town & Country Roadster for $143,000 and a 1954 Packard Caribbean Convertible for $132,000 • Sale captures attention of global collector car community with bidders representing eight countries around the world and 31 states across the U.S. • RM wraps up its 2012 calendar with its annual London, England sale, October 31, followed by the John Staluppi Cars of Dreams Collection, December 1, in Florida, U.S.A. RM Auctions continued its strong track record for hosting successful single-vendor sales in Texas on the weekend (October 20), generating more than $7.4 million in sales, with 100 percent of lots sold at the Charlie Thomas Collection sale near Dallas, Texas.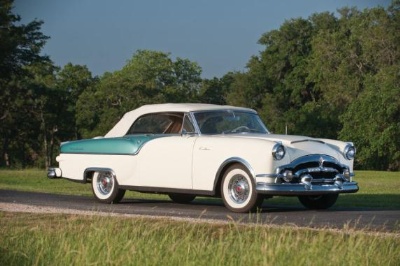 The result of more than two decades of dedicated acquisition by prominent Texas businessman and former owner of the Houston Rockets, Charlie Thomas, the single-day sale presented a total of 175 quality American collector cars without reserve to a global audience. Illustrating RM's expertise in the cataloguing and marketing of private collections, the sale attracted bidders from eight countries around the world and 31 states across the United States, with 43 percent of bidders representing first-time clientele. 'The Charlie Thomas Collection featured a wide array of pre- and post-war American convertibles' says Alain Squindo, Director of Private Collections at RM Auctions. 'There was quite literally something for everyone. From flathead Fords to '50s convertibles and muscle cars, the selection of cars available to our clients was wide and varied,' Squindo adds. Top sales honors went to a one-off 1946 Chrysler Town & Country Roadster that was created from period designs of a planned car. The Town & Country attracted lively bidding, ultimately realizing an impressive $143,000. Other notable sales included a superb 1954 Packard Caribbean Convertible for $132,000 and an exquisitely restored 1957 Chevrolet Corvette 'Fuel-Injected' Convertible for $126,500. In addition, a superbly restored 1952 Willy's Military Jeep, presented in proper Army Olive Drab Green, achieved $22,000, with 100 percent of proceeds, including auction commissions, benefiting the Brookwood Community, a non-profit residential facility and vocational program in Brookshire, Texas supporting adults with disabilities (brookwoodcommunity.org). RM's Charlie Thomas Collection Top Six Sales: 1. 1946 Chrysler Town & Country Roadster - $143,000 2. 1954 Packard Caribbean Convertible - $132,000 3. 1957 Chevrolet Corvette 'Fuel-Injected' Convertible - $126,500 4. 1947 Cadillac Series 62 Convertible - $121,000 5. 1956 DeSoto Fireflite Indy Pacesetter Convertible - $115,500 6. 1968 Shelby GT500 Convertible - $115,500 The Charlie Thomas Collection sale is the latest in a string of successful single-vendor auctions presented by RM Auctions this year, reaffirming the company's reputation as the specialist for private and estate collection sales. The company will round out its 2012 calendar with one additional private collection sale—the John Staluppi Cars of Dreams Collection, to be held December 1 in North Palm Beach, Florida. In the immediate future, RM returns to London, England, October 31 for its highly anticipated central London sale featuring a spectacular roster of 90 automobiles and two motorcycles. In addition to a host of magnificent private consignments, the London sale will feature some 22 automobiles from the Netherland's respected Zegwaard Collection. For further information on upcoming events or to view full results from the Charlie Thomas Collection sale, visit rmauctions.com or call +1 519 352 4575. Photo Captions Top: 1946 Chrysler Town & Country, photo credit Darin Schnabel Courtesy of RM Auctions Second: 1954 Packard Caribbean Convertible, photo credit Darin Schnabel Courtesy of RM Auctions About RM Auctions RM Auctions is the world's largest auction house for quality automobiles. With over three decades of experience in the collector car industry, RM's vertically integrated range of services, from restoration to private treaty sales, auctions, estate planning, and financial services, coupled with an expert team of car specialists and an international footprint, provides an unsurpassed level of service to the global collector car market. RM proudly holds five of the top 10 all-time records for the most expensive motor cars sold at auction. RM's restoration division has achieved unprecedented accolades, earning Best of Show honors at the world's top concours events, including four Best of Show awards at the prestigious Pebble Beach Concours d'Elegance. For further information, visit www.rmauctions.com, find us on Facebook, or follow us on Twitter @rmauctions.
Recent Articles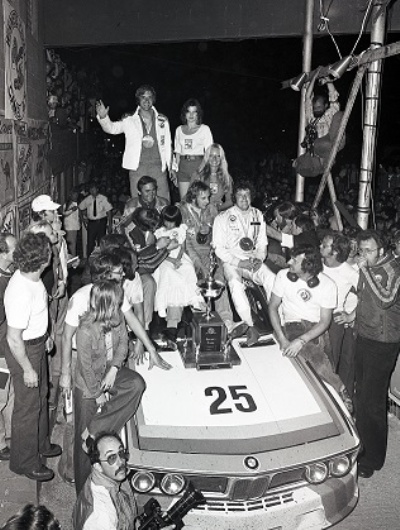 BMW's 'BATMOBILES' SET FOR 19th ANNUAL AMELIA CONCOURSScheduled to appear in the 19th Annual Amelia Concours' BMW 3.0 CSL 'batmobile class' are not only the 1975 Sebring 12 Hour and '76 Daytona 24 winners, but Alexander Calder's 1975 Le Mans 3.0 CSL with his trademark signature on the left rear fender.

BMW's 'Batmobile' racers were glorious mutants. They arrived from Europe wearing a frosting of giant wings, huge fender boxes and big spoilers, all powered by a 430 hp straight-six engine that made a glorious noise and propelled BMW's luxury cou....
LE MANS GREATS HEAD STUNNING ROSTER OF ADDITIONAL ENTRIES FOR RM'S 2014 PARIS SALE DURING RETROMOBILE WEEK• Anticipation builds ahead of RM's €25 million debut Paris sale on 5 February 2014
• More Le Mans greats join stunning competition car line-up at saleLatest highlights include a 1982 Rondeau M482 Le Mans GTP, a veteran of five Le Mans 24 hours races, and a mighty 2008 Peugeot 908 HDi FAP Le Mans Prototype, which finished 2nd at Le Mans, was driven by Jacques Villeneuve, and has been entrusted to be sold by RM by the Peugeot factory
• Other recently secured entries include a Bugatti Type 40 Ro....
400TH BUGATTI VEYRON SOLD – THE VEYRON BEGINS ITS FINAL LAPJust 50 models of the super sports car are still available

• 400th Veyron is a Grand Sport Vitesse 'Jean-Pierre Wimille' of the six-part edition 'Les Légendes de Bugatti'

• Head of Bugatti Wolfgang Schreiber, 'A unique success story about the most exclusive and luxurious super sports car brand in the world'


Molsheim, 5 December 2013. Bugatti has sold its 400th Veyron. Since the production run of the Veyron and its variants is limited to just 450 models, thi....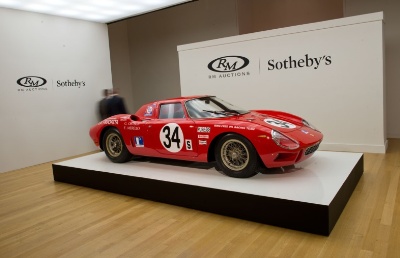 RM Auctions and Sotheby's Stun the Market with Incredible $63 Million 'Art of the Automobile' Sale in New York• RM Auctions and Sotheby's momentous Art of the Automobile auction generates $62,797,500 of sales in two hours of furious bidding
• Records tumble with the historic 1964 Ferrari 250 LM by Carrozzeria Scaglietti achieving $14,300,000 while the stunning 1938 Talbot-Lago T150-C SS Teardrop Cabriolet by Figoni et Falaschi sells for $7,150,000
• 93 percent of all lots sold to an international audience of bidders representing 17 countries
• Full results are available online at www.rmauctions.c....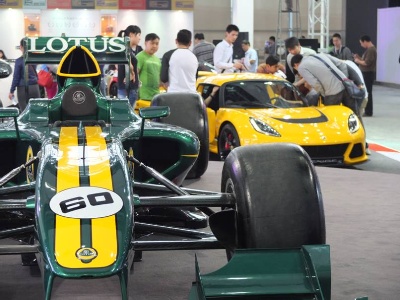 Lotus Gets Supercharged for Guangzhou MotorshowBritish sports car manufacturer Lotus showcases the jewels from its product line-up at the 2013 Guangzhou International Automobile Exhibition, further asserting its presence in the Chinese market as its popularity grows amongst China's fashion-conscious elite.

Chinese trend-setters looking for the ultimate in exclusivity and style, are warmly invited to the Guangzhou International Automobile Exhibition, where from 21 November, the iconic British sports car brand Lotus, affirms its commitment ....
2014 Ferrari LaFerrari
---
2013 Aston Martin Vanquish Volante Neiman Marcus Edition
---
2013 BMW Concept M4 Coupe
---
2013 BMW Zagato Roadster
---
2013 Bugatti Veyron Grand Sport Vitesse Legend Jean-Pierre Wimille
---
2013 Bugatti Veyron Jean Bugatti
---
2013 Dodge Viper GTS Launch Edition
---
2013 Ford GTR1
---
2013 Laraki Epitome Concept
---
2013 McLaren MP4-12C Can-Am Edition Racing Concept
---