INDIAN GP - A MIXED FIRST DAY – NORMAL FOR FERNANDO, LESS SO FOR FELIPE
For those interested in unusual statistics, the top of the morning time sheet was an exact replica of last year's Indian Grand Prix podium, with Sebastian Vettel fastest ahead of Jenson Button and Fernando Alonso. In the afternoon, the German maintained that position, this time joined by his Red Bull team-mate Mark Webber who was second fastest, while Fernando was again third for Ferrari. Having been seventh this morning, Felipe Massa slipped to fifteenth at the end of the second 90 minutes of practice. Behind the Spanish Ferrari man, Nico Rosberg was fourth for Mercedes, with Kimi Raikkonen, still an outside chance for the championship, fifth in the Lotus, while Lewis Hamilton completed the top six in his McLaren. The Scuderia has made it clear it aims to fight for the Drivers' title right to the very end of the year and with that in mind, it's stated plan is to try and improve the performance of the F2012 at each of these last four races. That inevitably makes for a very busy three hours on Friday, the only two sessions when one has time to test new elements or ideas without being penalised if they do not work out. Fernando did the most laps out of the two Prancing Horse pilots, completing 58, which is two less than Sunday's race distance, while Felipe did 47. There was a reason for this disparity in their workload and in their lap times: while Fernando got through everything on his list and admitted to greatly enjoying this track, Felipe had a more troubled time, not through any fault of his own, but because of a small glitch on his car which upset the balance, even causing him to spin. It was unfortunate, because the pirouette damaged one of his tyres and as it is unwise to use too many sets on the first day of a race weekend, especially on a dirty track, the Brazilian's day was pretty much over. If one wants to look for positives in every situation, at least it meant his programme was changed to give the crew some extra pit stop practice – always useful.

Now the engineers will be using a metaphorical filter: throwing in the data from all the updates the team brought here, sifting through them to see which ones can be carried over for use tomorrow and Sunday.
Recent Articles
BREMBO: THE CHOICE OF CHAMPIONS!Leadership confirmed with victories in F1, IndyCar, MotoGP, Le Mans Among Others

INDIANAPOLIS, Dec. 12, 2013– Brembo, the leading designer and manufacturer of brake systems and high performance automotive components, confirms its technological leadership through repeated motorsports victories in 2013.

The company is very pleased this year to have assisted Sebastian Vettel and Red Bull in achieving the Formula One Drivers' and Constructors' championships for the fourth-straight year.....
Seb and the Team Crowned ChampionsPARIS – Sebastian Vettel and Infiniti Red Bull Racing were awarded their trophies for winning the 2013 Drivers' and Constructors' Championship titles respectively at last Friday night's FIA's annual Prize-Giving Gala in Paris.

Held at the Cité du Cinéma movie studios complex built by legendary French film director Luc Besson, the Formula One awards section of the evening kicked off with Mark receiving his trophy for finishing in third place in the Drivers' standings in his final Formul....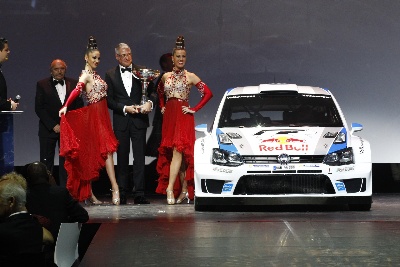 GREAT HONOUR, GRAND CELEBRATION: WORLD CHAMPIONSHIP TROPHIES PRESENTED TO VOLKSWAGENA celebratory end to an incredible season: Volkswagen Board Member for Technical Development, Dr. Heinz-Jakob Neußer, and World Rally Champions Sébastien Ogier and Julien Ingrassia were in Paris to receive their FIA World Rally Championship (WRC) trophies. Making its debut in the World Championship with the 315-hp Polo R WRC this year, Volkswagen won every title at the pinnacle of rallying. FIA President Jean Todt was on hand to personally present the trophies to the Volkswagen team at the glamo....
KATY PERRY TO PERFORM AT INFINITI BRAND FESTIVAL IN CHINA• Katy Perry's first ever performance in China

• Major public event to celebrate the Infiniti brand in China

• Infiniti retail and manufacturing business growing rapidly in China

Beijing / Hong Kong - Infiniti announced that U.S. singer, songwriter and actress, Katy Perry, will perform as a special guest at the 2014 Infiniti China Brand Festival in Beijing. Several thousand guests are expected at the Beijing indoor Olympic Stadium on Saturday, January 11, to par....
Alonso runner up with pride and styleMaranello, 7 December –Yesterday evening, Cinema City in Paris hosted the FIA Gala evening at which the traditional prize giving takes place to honour this year's world champions. For the third time in his four seasons with the Scuderia, Fernando Alonso was present as runner-up, a result that had left such a bitter taste in 2010 and 2012, when the title slipped from his grasp at the very last. This year however, the result was accepted calmly, given the clear superiority of the winners as....