WHAT'S YOUR INTERNATIONAL HISTORIC CAR OF THE YEAR?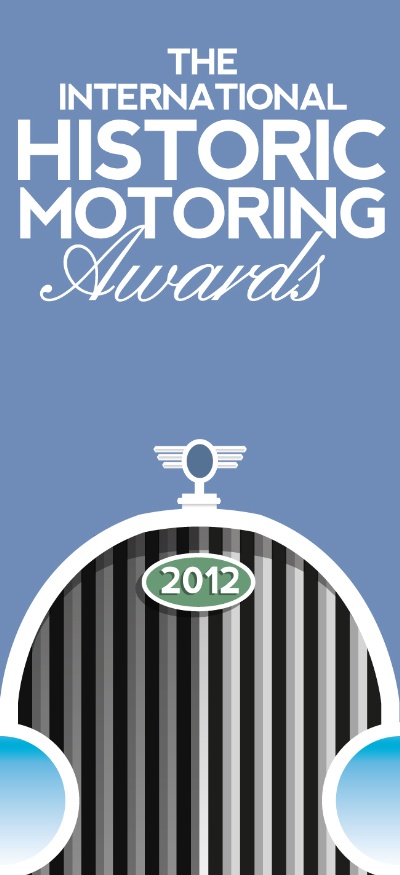 Voting is now open in the Car of the Year category in the International Historic Motoring Awards, in association with EFG International and Octane magazine. To have your say in what should be celebrated in 2012, visit the Car of the Year page on www.historicmotoringawards.com and cast your vote by the closing date of November 9th. In 2011 the magnificent Porsche Type 64 Rekordwagen belonging to the Prototyp Museum in Hamburg scooped the award and, for 2012, six headline-making cars (or, in one, case, group of cars) have been selected as finalists. They are: Birkin Bentley Sir Henry 'Tim' Birkin's 1931 4 ½ Litre Supercharged Bentley set the Outer Circuit record of 137.96mph at Brooklands in 1932, a truly hair-raising feat. Following the death of its owner, legendary watchmaker George Daniels, the car was sold this year by Bonhams for £5 million; a world record for a British car.

Round door Rolls-Royce The magnificently outrageous 1925 Rolls-Royce Phantom I Jonckheere Coupé, known simply as the Round Door Rolls-Royce, must be one of the most dramatically-bodied cars of all time. Looked after by Los Angeles' Petersen Automotive Museum, it was a star of the 2012 Windsor Castle Concours of Elegance. The Swan car Of all the over-the-top machinery at Pebble Beach this year, none was more outlandish than the 1910 Brooke Swan Car (and matching 'Cygnet') from the Louwman Museum in the Netherlands. It was commissioned by Calcutta eccentric Robert Nicholl 'Scotty' Matthewson – apparently he quite liked swans… The Silver Arrows The fabulous Silver Arrows pre-war racing cars from Mercedes-Benz and Auto Union (now Audi) that dominated motor racing before WW2 were reunited at the 2012 Goodwood Revival Meeting, where they wowed the crowds with spine-tingling demonstration lap; their first time together for decades. 1938 Alfa Romeo 8C 2900B Beautifully understated and elegant, this Alfa Romeo is one of just six closed 2900Bs. It was exported to the USA in 1947 and won the first street race at Watkins Glen. It won Best of Show at Pebble Beach in 2008, the Coppa d'Oro Villa d'Este in 2009, and Best of Show at the Windsor Castle Concours of Elegance in 2012. 1924 Rolls-Royce Silver Ghost This car played a part in the birth of a nation. On August 14th 1947, loaned by its owner, HH The Nawab of Bahawalpur, it transported the founder of Pakistan, Quaid e Azam Muhammad Ali Jinnah, and the last Viceroy of India, Lord Louis Mountbatten, to the Sindh Assembly Building in Karachi to formally announce the creation of Pakistan. The appearance of this car at the 2012 Kuwait Concours was the first time it had left Pakistan – a significant political and cultural achievement. The winners of the International Historic Motoring Awards 2012 will be announced at a gala dinner hosted by Derek Bell in London on Thursday, 29th November at the splendid St Pancras Renaissance Hotel. Tickets for what has already become a highlight of the international historic motoring calendar cost £180 per person and can be bought from www.historicmotoringawards.com.
Recent Articles
Italian Sports And Racing Exotics Head To RM's Eagerly Anticipated Monterey Sale• RM Auctions announces stunning early roster of blue-chip Italian exotics for its flagship Monterey sale, August 16–17 in California
• No less than 21 Ferraris already consigned alongside two spectacular Maseratis
• Eight Ferraris offered without reserve from the Estate of William H. Tilley
• Additional early highlights include a fabulous 1931 Duesenberg Model SJ Murphy Convertible Coupe and a 1935 Hispano-Suiza K6 Brandone Cabriolet
• Frequently updated list of entries available online a....
Grand Prix Circuits: Pau CircuitSome grand prix circuits just have a mythical status about them. Besides the drivers and great races, a lot of the equation comes down to how memorable the circuit truly is. In the case of the Pau Circuit, its sheer place in motorsport history and lore makes this tight, twisting circuit a true legend.

From its very beginnings, Pau would be at the heart of travel and transportation. Situated in a rather deep valley with the Pyrenees mountains lending an imposing back-drop, the area that would ....
McLAREN AUTOMOTIVE RETURNS TO SALON PRIVÉ AS PART OF 50-YEARS ANNIVERSARY CELEBRATIONSSalon Privé 2013: from Wednesday to Friday the 4th to 6th September

Syon Park, London, 20 May 2013 – Salon Privé is delighted to confirm McLaren Automotive will be returning this September as part the marque's 50-years anniversary celebrations.

This is the second year McLaren Automotive has featured on the Super Car Lawn at Salon Privé, with the 12C and 12C Spider sure to be amongst the highlights.

September 2nd marks McLaren's 50th birthday, just two days before Salon Privé 20....
ICONIC BLOWER BENTLEYS PRIMED FOR MILLE MIGLIA CHALLENGEFamous, supercharged Bentleys set for 1,000 mile Italian epic
•'Bentley Boy' Tim Birkin's 1930 Le Mans racer leads charge
•Original Bentley Motors 'demonstrator' completes team

(Crewe, 14 May 2013) Bentley Motors will compete in this year's Mille Miglia with two unique 4 ½ litre Supercharged 'Blowers'; a 1930 Le Mans race car belonging to perhaps the most famous and daring of the Bentley Boys and a company demonstrator that is still going strong even after nine decades on the road.

The N....
Pinehurst Concours Economic Impact Approaches $2 MillionVILLAGE OF PINEHURST, N.C. (May 13, 2013) – The inaugural Pinehurst Concours d'Elegance and the events surrounding the vintage auto showcase attracted more than 5,000 fans, and its economic impact approached $2 million despite unseasonably cool temperatures the first weekend of May, officials said.

'Having an event the caliber of a Concours in Moore County is significant, especially as it grows in recognition and importance in the Southeast,' said Caleb Miles, president and CEO of the Pinehur....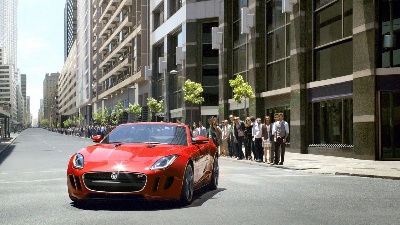 JAGUAR UNVEILS GLOBAL ADVERTISING CAMPAIGN TO LAUNCH THE F-TYPE- Jaguar F-TYPE arrives in U.S. retailers this month, starting at $69,000*
- Primary spots focus on F-TYPE's visceral impact
- Jaguar North America launches social media campaign, #MyTurnToJag, engaging consumers with the opportunity to experience the all-new F-TYPE
- U.S. campaign extensions include driving features with San Francisco 49er Colin Kaepernick; ESPN's Stuart Scott, and an initiative with ABC's 'Jimmy Kimmel Live'

(MAHWAH, N.J.) – May 13, 2013 – Today, Jaguar announced ....
GRC PERSONALITIES // IN THE WORDS OF SCOTT SPEED: FROM GO-KARTS TO GLORYGRC Personalities is a new series in which Global Rallycross drivers tell their stories in their own words. In the series debut, X Games Brazil gold medalist Scott Speed walks us through his career, from the very beginning to X Games glory.

In the beginning, little baby Speed used to follow his dad to the go-kart races. My dad used to race go-karts—he was a four-time national champion, he was really good. I finally talked him into letting me drive one when I was about ten years old, and after....
TEST COMPARISON BETWEEN FORMULA 1 AND MERCEDES-AMG CARS• Nico Rosberg, Bernd Schneider, Karl Wendlinger and Bernd Maylander

• Mercedes-AMG Performance Drive: Formula 1 versus Mercedes-Benz A 45 AMG, E 63 AMG, SLS AMG Black Series and SLS AMG GT3

• Nico Rosberg in Mercedes-Benz SLS AMG Black Series: 'It will be interesting to see how long Michael can delay starting before catching up with us at the finish.'


As part of the programme for the 24-hour race on 19th May 2013, Mercedes-Benz will put on a special event highlight for....
2014 LaFerrari Ferrari
---
2013 Zagato Roadster BMW
---
2013 Viper GTS Launch Edition Dodge
---
2013 Viper GTS-R SRT Dodge
---
2013 VelociRaptor Ford
---
2013 Range Rover Land Rover
---
2013 Range Rover Sport Land Rover
---
2013 MP4-12C Can-Am Edition Racing Concept McLaren
---
2013 MP4-12C SPIDER McLaren
---
2013 W04 Mercedes-Benz
---
blog comments powered by

Disqus