Infiniti Launches Inaugural 'Inspired Performance' Award at Hilton Head Island Motoring Festival & Concours
- Also Sponsors On-site Media Center and Infiniti Pavilion Display - True to its dedication to providing vehicles with Inspired Performance, Infiniti has been announced as the inaugural sponsor of the Infiniti 'Inspired Performance' Award at the 2012 Hilton Head Island Concours d'Elegance, one of four events that make up the unique Hilton Head Island Motoring Festival. More than 150 classic vehicles are expected for the Concours, which is held annually under the spreading oaks and flowing Spanish moss on scenic Hilton Head Island, South Carolina. The Infiniti 'Inspired Performance' Award, selected by credentialed media for the vehicle that inspires them most through its design, engineering and style, will be presented on Nov. 4th at the Concours. Infiniti is also the media sponsor for the Festival and Concours. In addition, an Infiniti Pavilion will showcase a selection of Infiniti vehicles and local retailer Infiniti of Hilton Head will provide Infiniti vehicles for a consumer ride and drive. 'Infiniti has long had a major presence at America's most prestigious Concours events as an exhibitor and sponsor, so we are pleased to expand this tradition to the Hilton Head Island event,' said Infiniti Vice President Ben Poore. 'With the categories of eligible vehicles ranging from classics and sports cars to motorcycles and American performance cars, we predict it will be very difficult to select just one 'inspired' vehicle for this special award.'

'We are pleased to welcome Infiniti as our Official Media Partner. The Hilton Head event is quickly growing on the national Concours stage and we look forward to Infiniti's partnership in hosting national and international media at our world class event,' said Carolyn Vanagle, president, Hilton Head Island Motoring Festival and Concours d'Elegance. Among the 2013 Infiniti vehicles on display at the Infiniti Pavilion will be the all-new 7-passenger Infiniti JX luxury crossover with its innovative Backup Collision Intervention (BCI) system technology and multi-mode middle seat design that provides entry to the 3rd row without removing a 2nd row child seat. About Infiniti Infiniti offers a full-line of luxury performance automobiles, including the G Coupe, Sedan and Convertible, Infiniti M sedan, EX and FX crossovers, the QX full-size SUV and the all-new Infiniti JX luxury crossover. More information about Infiniti and its Total Ownership Experience® can be found at www.InfinitiUSA.com. About the Hilton Head Island Motoring Festival & Concours d'Elegance The Hilton Head Island Motoring Festival & Concours d'Elegance has earned the distinction of being one of the nation's signature automobile events and will celebrate its eleventh annual festival this fall, October 26-November 4. With venues at both The Westin Savannah Harbor Resort on Hutchinson Island (Savannah, GA) and the Coastal Discovery Museum at Honey Horn on Hilton Head Island, SC, there is something for everyone. The multi-day Festival features four signature events: the Savannah Speed Classic (October 26 -28), the Car Club Jamboree (November 3), the Motoring Midway (November 3 & 4) and, the centerpiece, the Concours d'Elegance (November 4). For more information, please visit www.HHIMotoringFestival.com online.
Recent Articles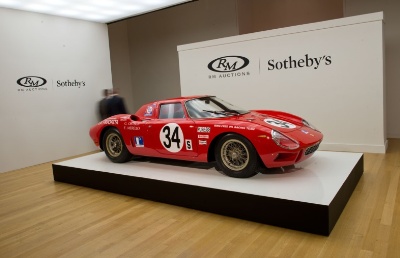 RM Auctions and Sotheby's Stun the Market with Incredible $63 Million 'Art of the Automobile' Sale in New York• RM Auctions and Sotheby's momentous Art of the Automobile auction generates $62,797,500 of sales in two hours of furious bidding
• Records tumble with the historic 1964 Ferrari 250 LM by Carrozzeria Scaglietti achieving $14,300,000 while the stunning 1938 Talbot-Lago T150-C SS Teardrop Cabriolet by Figoni et Falaschi sells for $7,150,000
• 93 percent of all lots sold to an international audience of bidders representing 17 countries
• Full results are available online at www.rmauctions.c....
Expert Symposium Delivered to Packed Room Ahead of 'Art of the Automobile' New York Sale• RM Auctions and Sotheby's deliver highly outstanding expert symposium to more than 700 people
• Six hugely influential and respected specialists set the scene in advance of truly groundbreaking Art of The Automobile sale
• Anticipation building for what is being regarded as one of the finest and most innovative collector car auctions ever held

NEW YORK, New York (November 20, 2013) – The eyes of the collector car community are firmly fixed on New York, as RM Auctions and Sotheby's,....
AMELIA ISLAND CONCOURS D'ELEGANCE WINS PRESTIGIOUSThe annual International Historic Motoring Awards, in association with EFG International and Octane magazine, announced this week that the Amelia Island Concours d'Elegance has been named the recipient of the 2013 Motoring Event of the Year award.

The Amelia Island Concours d'Elegance is the third winner of the Motoring Event of the Year Award, which honors automotive celebrations from Australia, Germany, Italy, the United States and the United Kingdom. Finalists in the 2013 events category ....
Gooding & Company Celebrates 10th Anniversary as Global Appreciation of Cars Push Markets to New High in 2013SANTA MONICA, Calif. (November 11, 2013) – The mystique of collectable cars continues to expand enthusiasm and buyer participation around the globe. In 2013, Gooding & Company, the auction house acclaimed for selling the world's most significant and valuable collector cars, celebrated its 10th anniversary and saw new and returning bidders flock to its three auctions. Demonstrating Gooding & Company's power in the marketplace is an annual auction total of $192.6 million for 286 lots with a....
Mecum's 2014 Schedule Expands To Include East Coast AuctionMecum Introduces New Auction in Harrisburg, Pennsylvania, July 24-26, 2014

Walworth, WI - November 12, 2013 -- Mecum Auctions – the largest collector car auction company in the world – will introduce a new auction to its already vast 2014 lineup extending its reach further into the East Coast. With 12 classic and collector car auctions and four vintage tractor auctions on the 2014 docket, Mecum will take the action to Harrisburg, Penn., in July for three days with an expected 1,....
'Best of Show' Named at 2013 Hilton Head Island Motoring Festival & Concours d'EleganceHILTON HEAD ISLAND, S.C. (Nov. 3, 2013) – The coveted 'Best of Show' and 'People's Choice' honors were awarded today at the prestigious Hilton Head Island Motoring Festival & Concours d'Elegance, held at the Port Royal Golf Club on Hilton Head Island, S.C.

The top honor at Sunday's Concours d'Elegance, 'Best of Show,' was awarded to a 1929 Stutz Supercharged Coupe owned by Richard and Irina Mitchell of Montgomery, Texas. This car is the only example of its kind still in existence.
....
PEBBLE BEACH CONCOURS d'ELEGANCE ADDS TO LEGENDARY TRADITION OF GIVING IN 2013Celebration Raises More than $1.45 Million for Charity

PEBBLE BEACH, Calif. (Nov. 13, 2013) -- In 2013, the Pebble Beach Concours d'Elegance lived up to its historic reputation of exemplary automobiles, stunning scenery and unprecedented charitable giving. Before the final awards were presented on Concours Sunday, organizers announced the 2013 event had once again raised more than $1 million for charity. Final donations now total $1,458,000 for this year's show, exceeding early ....
2013 Dodge Viper GTS Launch Edition
---
2013 Ford GTR1
---
2013 McLaren MP4-12C SPIDER
---
2012 Bentley Mulsanne Convertible Concept
---
1972 BMW Turbo Concept
---
1971 Porsche 911
---
1965 Aston Martin DB5
---
1964 Ferrari 250 GT Lusso
---
1964 Ferrari 330 GT
---
1961 Ferrari 250 GT
---