FERRARI ANNOUNCES RECORD RESULTS FOR FIRST NINE MONTHS OF 2012
• Revenues of 1,764 million euro (+10 %)
• 5,267 road cars delivered (+6%)
• Trading profits of 232.8 million euro (+9.6%)
• Net profits 152.4 million euro (+7.6%)
• Best-ever industrial net cash: 959 million
• Excellent sales in US (+16%), UK (+37%), Germany(+9%) and Japan (+20%)
• Eddy Cue of Apple joins board

Maranello, 7th November 2012 – The Ferrari board of directors met today under the chairmanship of Luca di Montezemolo to examine the company's financial results for the first nine months of 2012. As of September 30th, Ferrari has recorded unprecedented revenues of 1,764 million euro (+10 per cent) and numbers of cars delivered to the dealership network 5,267 (+6 per cent). Trading profits increased by 9.6 per cent to 232.8 million euro, while net profits grew 7.6 per cent to 152.4 million. The company's industrial net cash position reached almost 1 billion euro - an all-time record figure of 959 million euro - despite continuing commitment to maintaining an extremely high level of investment in product development. Ferrari also chalked up a net cash flow of 251 million euro in the first nine months of the year. The product mix was excellent with 12-cylinder model sales up 22 per cent thanks to the success of the FF and the 8-cylinder models, particularly the Ferrari California 30 and the 458 Spider. The racing GT2 and GT3 versions of the 458 Italia took the titles in their respective categories last weekend in the GT Open Championship after having already won the FIA World Endurance Championship beating competition from the world's leading manufacturers. The USA confirmed its position as Ferrari's largest market internationally with 26 per cent of total sales after delivery of 1,354 cars with a growth of 16 per cent. The UK market saw record sales of 504 cars, a leap of 37 per cent, while Germany saw continued growth (+9 per cent) with 534 cars delivered, consolidating its position as the largest European market. In the Far East, the positive trend in Greater China continued (+7 per cent) with 566 cars delivered, while Japan saw deliveries of 214 cars, an increase of 20 per cent. Results from the Middle East were in line with the excellent figures obtained in 2011, with 274 cars delivered. Sales in Italy, as in the previous two quarters, were down with 238 cars delivered in the first nine months of 2012 (-49 per cent). 'These results confirm Ferrari's excellent performance in practically all of the 60 nations in which it is present despite the continuing economic climate. Once again the exception is Italy where we have witnessed a drop partly due to the economic crisis, but also to a hostile environment for luxury goods which have long been, and continue to be, an important resource for the country,' said Luca di Montezemolo who then announced the addition of a new Ferrari board member. 'I am delighted that Eddy Cue, one of the main driving forces behind Apple's range of revolutionary products, has now joined our board. His huge experience in the dynamic, innovative world of the Internet will be of great assistance to us.' Eddie Cue is Apple's Senior Vice President Internet Software and Services and oversees Apple's industry-leading content stores including the iTunes Store, the revolutionary App Store and the iBookstore, as well as Siri, Maps, iAd and Apple's innovative iCloud services. He is a 23-year Apple veteran and played a major role in creating the Apple online store in 1998, the iTunes Music Store in 2003 and the App Store in 2008. He earned a bachelor's degree in Computer Science and Economics at Duke University. 'I am pleased and proud to become a member of the board. I have personally dreamed of owning a Ferrari since I was 8 years old and have been lucky to be an owner for the past 5 years. I continue to be awed by the world-class design and engineering that only Ferrari can do,' said Eddie Cue, commenting on his nomination to the board. Ferrari's Brand-related activities (licensing retail and e-commerce) continue to grow. Revenues from the online store are up 32 per cent while those generated by licenses were up 20 per cent, with Puma proving particularly robust. Ferrari also recently signed an agreement with Mondo TV for the production and distribution of The Drakers, an original animated series for young viewers that is inspired by the world of Ferrari. Visits to Ferrari.com were also up by 20 per cent, while Facebook has almost 10 millions fans and views on the Ferrari YouTube channel have exceeded 20 million.
Recent Articles
Worldwide breaks another record at home in Auburn and puts The Classic Car Capital of the World back on the mapWorldwide Auctioneers' premier event at home in Auburn proved a resounding success last weekend, with an impressive number of high quality motorcars realizing significant sums and a record number of bidders in attendance from across the globe. The Auburn Auction closed with an overall sale of $8.2 million, high sales going to a stately 1935 Auburn 851 SC Boattail Speedster at $396,000 and an iconic and 'blisteringly fast' 1968 Lamborghini Miura P400 Coupe which hammered sold for $385,000. Worldw....
MINI further widens its global sales network: first MINI showroom launches in Jordan.Premium small car brand MINI has stepped up its involvement in the Middle East sales area in geographical terms as well: the brand's market entry into the Kingdom of Jordan brings a further boost to MINI's presence in this growth-intensive economic region. In 2011, MINI posted a 77 per cent increase in sales in the Middle East. Worldwide, the British premium carmaker is now represented in more than 100 countries.

The new MINI branch will open in the centre of the capital Amman – a bustling c....
SELECT MAZDASPEED RACES TO BE BROADCAST ON ESPN INTERNATIONALThe Star Mazda Championship Presented by Goodyear and the Cooper Tires USF2000 Championship Powered by Mazda includes racers from around the world. Both series are a part of the Mazda Road to Indy and have attracted the best young racers from not just from North America, but Europe, South America, and all parts of the globe.

Mazda has teamed up with ESPN International to allow their home fans to follow them better with a total of 13 hours of racing scheduled to be broadcast in 2012. ESPN'....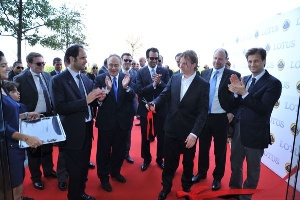 Kimi Raikkonen Launches Lotus In LebanonFresh from the Malaysian Grand Prix, Kimi Räikkönen joined Group Lotus CEO Dany Bahar in Beirut last night to celebrate the return of Lotus to Lebanon.

The legendary marque is opening a new dealership in Beirut in partnership with leading Lebanese automotive dealer RYMCO and luxury real estate and management company Zardman. Lotus' acclaimed Evora, Elise and Exige are set to quicken the heartbeat of one of the most exciting cities in the Middle East.

Lotus Cars Lebanon welcomed the 2007 Fo....
SEAT improves results thanks to exports• Operating result improved almost 100 million euros

• Benchmark employer, more than 1,000 new employees in 2011

• Sales leader in Spain for second year running

• Product offensive in 2012 – one new model per quarter

• Over 2.6 billion euros invested since onset of crisis to consolidate future


Internationalisation enabled SEAT to weather the storm affecting the Spanish market in 2011, and forge ahead with its plans for growth and profitability. SEA....
STRONG FIRST QUARTER FOR BENTLEY AS CHINA BECOMES LARGEST MARKET•Q1 results up 46.6% with 1,759 deliveries
•China confirmed as Bentley's largest global market

Crewe, 04 April 2012: Bentley has emerged from the first quarter of 2012 in an increasingly strong position with a new number one market. The company's results for the first three months of 2012 show that it is building on its 2011 sales success with a 46.6% increase in deliveries to 1,759. Just three weeks from the Beijing Show, the key trend emerging from the results is confirmation that China i....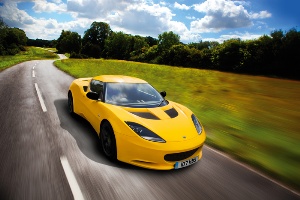 Lotus Brings New 345 HP Supercharged 'Evora S' to McCall's 2012 Motorworks Event!Lotus have taken the award-winning Evora and re-created it with a 345 HP supercharged 3.5-liter V6 engine to create the Evora S. Dany Bahar, Lotus' Chief Executive Officer, summed it up beautifully when he said: 'You don't realise what you were missing from your driving experience until you get behind the wheel of the Evora S.'

'The 'S' is the next level of Evora experience. It communicates with you better; the suspension setting has been fine tuned for added power and control so it responds ....
Two Chrysler Group LLC Facilities Achieve First World Class Manufacturing Milestone• Dundee Engine Plant receives first-ever bronze status

• Windsor is first assembly plant to be awarded bronze

• Ranking rewards improvements in safety, quality and productivity

April 9, 2012 , Auburn Hills, Mich. - Chrysler Group LLC's Dundee (Mich.) Engine Plant and Windsor (Ont.) Assembly Plant have been awarded bronze status for their efforts in implementing World Class Manufacturing (WCM), the highest ranking of any of the Company's North American manufactu....
2015 Nissan GT-R Nismo
---
2015 Porsche 918 Spyder
---
2014 Aston Martin V12 Vantage S
---
2014 Chevrolet Corvette Stingray Convertible
---
2014 Dodge SRT Viper GT3-R
---
2014 Holden VF Commodore Sportwagon
---
2014 Holden VF Commodore Ute
---
2014 Infiniti Q50
---
2014 Lamborghini Gallardo LP570-4 Squadra Corse
---
2014 Land Rover Discovery
---