2013 NISSAN GT-R NISMO GT3 RELEASED
Nissan Motorsports International Co., Ltd. (Nismo) is pleased to announce the official release of a Nissan GT-R (R35) that conforms to FIA GT3 regulations: the 2013 Model, Nissan GT-R Nismo GT3. The 2012 model, Nissan GT-R Nismo GT3, which debuted this March, has brought back race victories from across the globe. Entered by NDDP RACING (Nismo) as well as customer racing teams, the GT-3 has outperformed the competition at this year's SUPER GT series (GT 300 class), Super Taikyu (GT3 class), British GT Championship and GT Cup. Nismo has developed the 2013 Nissan GT-R Nismo GT3 using all the valuable data brought back from these races, in addition to the dyno, track tests, and customer feedback, to enhance its competitiveness and performance. Most significant improvements were made to the following crucial points: • Engine performance & durability
• Aerodynamic performance
• Brake balance
• Suspension setting to suit new aerodynamics package


• Gear ratio to optimize engine output increase
Engine is the biggest contribution to performance enhancement, which includes new camshaft timing. Moving parts of the engine were also reinforced to guarantee durability. Several modifications were made to enhance aerodynamics: canards were added to the front and the front fender louvers were enlarged. The positioning of the rear wing was optimized. These changes improve aerodynamic balance between front and rear, and increased downforce, which enhanced overall aerodynamic performance. The 2013 model, Nissan GT-R Nismo GT3 is manufactured on demand. Orders will be accepted from November 13, 2012 on. Should the number of orders exceed production capacity, Nismo retains the right to make final decisions on order fulfillment. Nismo is currently preparing an update kit for the 2012 model, Nissan GT-R Nismo GT3. Sales and customer support for the Nissan GT-R Nismo GT3 will be implemented by Nismo for Japan, Asia, North America, South America, and Oceania, whilst our project partner, JRM, will continue to cover Europe, Russia and the Middle East, in the same way as 2012 Model. For more details, please refer to http://www.nismo.co.jp/en/products/GT3/index.html Enquiries should be made to either Nismo or JRM. Specifications of the 2013 Model, Nissan GT-R Nismo GT3 Length: 4,780 mm Width: 2,036 mm Weight: 1,300 kg * Engine Model: VR38DETT Displacement: 3,799cc Power: 405kw or higher @ 6,500rpm 550ps or higher @ 6,500rpm* Torque: 637N m or higher @ 5,000rpm (65.0kgf m or higher @ 5,000rpm Wheels (Fr/Rr): 13.0J X 18 * Subject to Balance of Performance defined by the FIA This Nissan GT-R Nismo GT3 is a racing car. It can not be used on public roads or be registered for such a license.
Recent Articles
400TH BUGATTI VEYRON SOLD – THE VEYRON BEGINS ITS FINAL LAPJust 50 models of the super sports car are still available

• 400th Veyron is a Grand Sport Vitesse 'Jean-Pierre Wimille' of the six-part edition 'Les Légendes de Bugatti'

• Head of Bugatti Wolfgang Schreiber, 'A unique success story about the most exclusive and luxurious super sports car brand in the world'


Molsheim, 5 December 2013. Bugatti has sold its 400th Veyron. Since the production run of the Veyron and its variants is limited to just 450 models, thi....
MAZDA6 SKYACTIV-D CLEAN DIESEL RACECARS TO TACKLE THUNDERHILL 25-HOURDecember 3, 2013 (IRVINE, Calif.) — There have always been rivalries: Yankees versus Red Sox. Beta versus VHS. Coke versus Pepsi. Tom versus Jerry. In the automotive retail world, that rivalry is Factory Guys versus Dealers. To finally put to bed who's faster, Mazda North American Operations (MNAO) has thrown down the gauntlet, entering three specially modified-for-racing 2014 Mazda6s in the longest endurance race in America, the National Auto Sport Association (NASA)'s US Air Force....
Worldwide breaks another record at home in Auburn and puts The Classic Car Capital of the World back on the mapWorldwide Auctioneers' premier event at home in Auburn proved a resounding success last weekend, with an impressive number of high quality motorcars realizing significant sums and a record number of bidders in attendance from across the globe. The Auburn Auction closed with an overall sale of $8.2 million, high sales going to a stately 1935 Auburn 851 SC Boattail Speedster at $396,000 and an iconic and 'blisteringly fast' 1968 Lamborghini Miura P400 Coupe which hammered sold for $385,000. Worldw....
MINI further widens its global sales network: first MINI showroom launches in Jordan.Premium small car brand MINI has stepped up its involvement in the Middle East sales area in geographical terms as well: the brand's market entry into the Kingdom of Jordan brings a further boost to MINI's presence in this growth-intensive economic region. In 2011, MINI posted a 77 per cent increase in sales in the Middle East. Worldwide, the British premium carmaker is now represented in more than 100 countries.

The new MINI branch will open in the centre of the capital Amman – a bustling c....
SELECT MAZDASPEED RACES TO BE BROADCAST ON ESPN INTERNATIONALThe Star Mazda Championship Presented by Goodyear and the Cooper Tires USF2000 Championship Powered by Mazda includes racers from around the world. Both series are a part of the Mazda Road to Indy and have attracted the best young racers from not just from North America, but Europe, South America, and all parts of the globe.

Mazda has teamed up with ESPN International to allow their home fans to follow them better with a total of 13 hours of racing scheduled to be broadcast in 2012. ESPN'....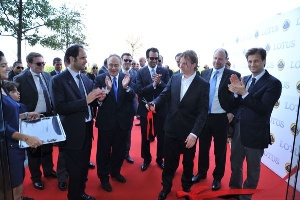 Kimi Raikkonen Launches Lotus In LebanonFresh from the Malaysian Grand Prix, Kimi Räikkönen joined Group Lotus CEO Dany Bahar in Beirut last night to celebrate the return of Lotus to Lebanon.

The legendary marque is opening a new dealership in Beirut in partnership with leading Lebanese automotive dealer RYMCO and luxury real estate and management company Zardman. Lotus' acclaimed Evora, Elise and Exige are set to quicken the heartbeat of one of the most exciting cities in the Middle East.

Lotus Cars Lebanon welcomed the 2007 Fo....
SEAT improves results thanks to exports• Operating result improved almost 100 million euros

• Benchmark employer, more than 1,000 new employees in 2011

• Sales leader in Spain for second year running

• Product offensive in 2012 – one new model per quarter

• Over 2.6 billion euros invested since onset of crisis to consolidate future


Internationalisation enabled SEAT to weather the storm affecting the Spanish market in 2011, and forge ahead with its plans for growth and profitability. SEA....
STRONG FIRST QUARTER FOR BENTLEY AS CHINA BECOMES LARGEST MARKET•Q1 results up 46.6% with 1,759 deliveries
•China confirmed as Bentley's largest global market

Crewe, 04 April 2012: Bentley has emerged from the first quarter of 2012 in an increasingly strong position with a new number one market. The company's results for the first three months of 2012 show that it is building on its 2011 sales success with a 46.6% increase in deliveries to 1,759. Just three weeks from the Beijing Show, the key trend emerging from the results is confirmation that China i....
2015 Nissan GT-R Nismo
---
2015 Porsche 918 Spyder
---
2014 Aston Martin V12 Vantage S
---
2014 Chevrolet Corvette Stingray Convertible
---
2014 Dodge SRT Viper GT3-R
---
2014 Holden VF Commodore Sportwagon
---
2014 Holden VF Commodore Ute
---
2014 Infiniti Q50
---
2014 Lamborghini Gallardo LP570-4 Squadra Corse
---
2014 Land Rover Discovery
---