2013 NISSAN GT-R NISMO GT3 RELEASED
Nissan Motorsports International Co., Ltd. (Nismo) is pleased to announce the official release of a Nissan GT-R (R35) that conforms to FIA GT3 regulations: the 2013 Model, Nissan GT-R Nismo GT3. The 2012 model, Nissan GT-R Nismo GT3, which debuted this March, has brought back race victories from across the globe. Entered by NDDP RACING (Nismo) as well as customer racing teams, the GT-3 has outperformed the competition at this year's SUPER GT series (GT 300 class), Super Taikyu (GT3 class), British GT Championship and GT Cup. Nismo has developed the 2013 Nissan GT-R Nismo GT3 using all the valuable data brought back from these races, in addition to the dyno, track tests, and customer feedback, to enhance its competitiveness and performance. Most significant improvements were made to the following crucial points: • Engine performance & durability
• Aerodynamic performance
• Brake balance
• Suspension setting to suit new aerodynamics package


• Gear ratio to optimize engine output increase
Engine is the biggest contribution to performance enhancement, which includes new camshaft timing. Moving parts of the engine were also reinforced to guarantee durability. Several modifications were made to enhance aerodynamics: canards were added to the front and the front fender louvers were enlarged. The positioning of the rear wing was optimized. These changes improve aerodynamic balance between front and rear, and increased downforce, which enhanced overall aerodynamic performance. The 2013 model, Nissan GT-R Nismo GT3 is manufactured on demand. Orders will be accepted from November 13, 2012 on. Should the number of orders exceed production capacity, Nismo retains the right to make final decisions on order fulfillment. Nismo is currently preparing an update kit for the 2012 model, Nissan GT-R Nismo GT3. Sales and customer support for the Nissan GT-R Nismo GT3 will be implemented by Nismo for Japan, Asia, North America, South America, and Oceania, whilst our project partner, JRM, will continue to cover Europe, Russia and the Middle East, in the same way as 2012 Model. For more details, please refer to http://www.nismo.co.jp/en/products/GT3/index.html Enquiries should be made to either Nismo or JRM. Specifications of the 2013 Model, Nissan GT-R Nismo GT3 Length: 4,780 mm Width: 2,036 mm Weight: 1,300 kg * Engine Model: VR38DETT Displacement: 3,799cc Power: 405kw or higher @ 6,500rpm 550ps or higher @ 6,500rpm* Torque: 637N m or higher @ 5,000rpm (65.0kgf m or higher @ 5,000rpm Wheels (Fr/Rr): 13.0J X 18 * Subject to Balance of Performance defined by the FIA This Nissan GT-R Nismo GT3 is a racing car. It can not be used on public roads or be registered for such a license.
Recent Articles
Ferrari Challenge Europe Rolls Into The Czech Republic For Round TwoFerrari Challenge Czech's in to Brno

Brno, - The Ferrari Challenge Europe rolls into Brno in the Czech republic this weekend for the second round of the championship.

Local interest will be provided by Scuderia Praha lead driver and dealer principal Robert Pergl (No.11), who will compete in the Trofeo Pirelli category. The team will also enter 2 cars in the Coppa Shell category for Slovakian drivers Jakubik (No.188) and Kukacka (no.190).

Pergl is a highly experienced Ferrari race....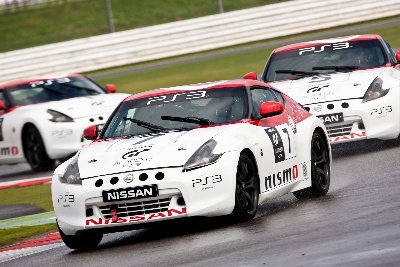 NISSAN AND PLAYSTATION ANNOUNCE BIGGEST EVER GT ACADEMY PROGRAMLONDON and PARIS - Nissan and Sony Computer Entertainment Europe have revealed that the innovative GT Academy competition will return for a fifth season. GT Academy 2013 will be the biggest yet, with more countries than ever before participating and the online gaming element of the competition set to be run in July on a demo of the hotly-anticipated Gran Turismo®6 game exclusively on PlayStation®3.

Since its inception in 2008, the highly acclaimed virtual-to-reality competition has att....
ELMS - 9 FERRARI'S HEAD FOR HOME RACE IN IMOLAMaranello 16 May - The second round of the European Le Mans Series (ELMS) arrives at Imola this weekend and nine Ferrari 458 will take to the grid.

By far the most popular car in the GTE category is the 458, Ram Racing have entered two cars for Silverstone pole sitters Johnny Mowlem and Matt Griffin and a second for American hot shots Gunnar Jeanette and Franck Montecalvo. JMW have one car for Andrea Bertolini and Joël Camathias. After a difficult round at Silverstone, AF Corse return with t....
Aston Martin Set To Take Nürburgring 24 Hours By Storm◾Debut of Aston Martin Bilstein Vantage GT3 at the Nordschleife
◾Hybrid Hydrogen Rapide S set to make history with zero CO2 emission lap
◾Close-to-production V12 Vantage targets class honours

Aston Martin heads to the ADAC Zurich 24 Hours of Nürburgring (N24) in Germany this weekend (18-20 May) with three very different race cars – an international championship-winning V12 Vantage GT3, a record-breaking Hybrid Hydrogen Rapide S and a close-to-production specification V12 Vantage.

Aston M....
Sony Computer Entertainment Inc. announces new version of the gaming classic Gran Turismo®: Three of the latest AMG vehicles celebrate their digital premiere in Gran Turismo® 6With the combined power of more than 1400 hp, Mercedes-Benz is taking to the starting grid of Gran Turismo® 6 with three of its latest models. All set to provide pure excitement and fascination in the new version of the gaming classic for the PlayStation®3 are three high-performance vehicles from AMG: the SLS AMG GT3 producing over 367 kW (more than 500 hp), the E63 AMG producing 410 kW (557 hp) and the A45 AMG producing 265 kW (360 hp). In addition to the three new vehicles, no fewer than 21 fu....
Af Corse To Take Part In Asian Le Mans Series With 458GtMaranello, 14 May – AF Corse will tackle a quartet of races in Asia, as the team is to compete in the 2013 Asian Le Mans Series. The 458 GT3 from the Amato Ferrari-run team will be entrusted to an Italo-Australian team made up of Andrea Bertolini, Michele Rugolo and Steve Wyatt, who will race in the GTC category.

There are four rounds on the calendar in this series, which gets underway in South Korea at the new Autopia circuit, near Inje on 4 August. It then moves to Japan (Fuji, 22 Septembe....
SNOW CLAIMS RACE ONE VICTORY AND FOURTH CONSECUTIVE POLE AT MAZDA RACEWAY LAGUNA SECAMonterey, Calif., (May 10, 2013) - The first race of the IMSA GT3 Cup Challenge by Yokohama at the American Le Mans Monterey presented by Patrón got off to an exciting start this afternoon as the green flag dropped on the 24-car field, and incident on the first lap of competition immediately put a new 'spin' on the action.

There was an immediate full course caution as the car No. 20 of Effort Racing's Sloan Urry apparently dropped two wheels off track exiting Turn 2 and made contact with the....
PORSCHE ON FRONT ROW IN ALMS GT QUALIFYING FOR SECOND CONSECUTIVE EVENTNew Long/Core Porsche and Sellers/Team Falken Tire Porsche 2nd and 3rd

Monterey, Calif. - Patrick Long (USA) took the new CORE autosport team Porsche 911 GT3 RSR onto the front row of the grid in qualifying for tomorrow's American Le Mans Series race at Mazda Raceway Laguna Seca.

Long, who will share the Porsche with British driver Tom Kimber-Smith, finished less than a tenth of a second off the time of the pole-sitting Ferrari, was enthusiastic as he spoke about the effort of the whole ....
2014 P1 McLaren
---
2014 911 GT3 Porsche
---
2014 918 Spyder Porsche

---
2013 R8 GRAND-AM Audi
---
2013 Continental GT3 Concept Bentley
---
2013 Z4 GTE BMW
---
2013 458 Italia Grand Am Ferrari
---
2013 Gallardo GT3 FL2 Lamborghini
---
2013 MP4-12C Can-Am Edition Racing Concept McLaren
---
2013 MP4-12C SPIDER McLaren
---
blog comments powered by

Disqus