Podium and five Renault engines in the top ten in USA Grand Prix
Sebastian Vettel secured second position in the United States Grand Prix today, securing the 2012 Constructors' title for the Red Bull Racing-Renault partnership. Sebastian started the inaugural race at the Circuit of the Americas in Austin, Texas, from pole position and controlled the race until lap 42 of 56 when Lewis Hamilton managed to get past and steal the win by just 0.6secs. Sebastian now takes a 13 point advantage over drivers' title rival Fernando Alonso, who finished in third position, into the final round of the championship in Brazil next week. Kimi Raikkonen and Romain Grosjean finished in sixth and seventh positions respectively for the Lotus F1 Team. Kimi was running in the top four in the first part of the race, but lost some time in his second stint and was overtaken by Massa and Button. Romain recovered well from a spin on lap five and an early pit stop that dropped him to the rear of the field to give the team a double points finish and consolidate fourth position in the constructors' championship. Williams F1 Team's Pastor Maldonado and Bruno Senna passed the flag in ninth and tenth to give Renault engines five of the top 10 positions. The result, the team's second consecutive points finish, came after a difficult first lap and a tight battle between the two in the closing stages of the race.

Caterham F1 Team claimed 17th and 18th positions with Vitaly Petrov and Heikki Kovalainen. Mark Webber did not finish the race for Red Bull Racing after an alternator failure on lap 17 brought his race to a premature end. The drivers' championship is now set for a season finale showdown as Sebastian carries a 13 point lead over Alonso. Kimi Raikkonen is third, with Hamilton fourth and Mark fifth. Red Bull Racing now has an unassailable 440 points in the constructors' championship to Ferrari's 367 and McLaren's 353. Lotus F1 Team has 302, while Williams F1 Team is eighth with 76. Caterham F1 Team remains 11th.
Recent Articles
BREMBO: THE CHOICE OF CHAMPIONS!Leadership confirmed with victories in F1, IndyCar, MotoGP, Le Mans Among Others

INDIANAPOLIS, Dec. 12, 2013– Brembo, the leading designer and manufacturer of brake systems and high performance automotive components, confirms its technological leadership through repeated motorsports victories in 2013.

The company is very pleased this year to have assisted Sebastian Vettel and Red Bull in achieving the Formula One Drivers' and Constructors' championships for the fourth-straight year.....
Seb and the Team Crowned ChampionsPARIS – Sebastian Vettel and Infiniti Red Bull Racing were awarded their trophies for winning the 2013 Drivers' and Constructors' Championship titles respectively at last Friday night's FIA's annual Prize-Giving Gala in Paris.

Held at the Cité du Cinéma movie studios complex built by legendary French film director Luc Besson, the Formula One awards section of the evening kicked off with Mark receiving his trophy for finishing in third place in the Drivers' standings in his final Formul....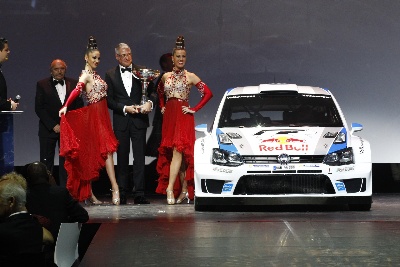 GREAT HONOUR, GRAND CELEBRATION: WORLD CHAMPIONSHIP TROPHIES PRESENTED TO VOLKSWAGENA celebratory end to an incredible season: Volkswagen Board Member for Technical Development, Dr. Heinz-Jakob Neußer, and World Rally Champions Sébastien Ogier and Julien Ingrassia were in Paris to receive their FIA World Rally Championship (WRC) trophies. Making its debut in the World Championship with the 315-hp Polo R WRC this year, Volkswagen won every title at the pinnacle of rallying. FIA President Jean Todt was on hand to personally present the trophies to the Volkswagen team at the glamo....
KATY PERRY TO PERFORM AT INFINITI BRAND FESTIVAL IN CHINA• Katy Perry's first ever performance in China

• Major public event to celebrate the Infiniti brand in China

• Infiniti retail and manufacturing business growing rapidly in China

Beijing / Hong Kong - Infiniti announced that U.S. singer, songwriter and actress, Katy Perry, will perform as a special guest at the 2014 Infiniti China Brand Festival in Beijing. Several thousand guests are expected at the Beijing indoor Olympic Stadium on Saturday, January 11, to par....
Alonso runner up with pride and styleMaranello, 7 December –Yesterday evening, Cinema City in Paris hosted the FIA Gala evening at which the traditional prize giving takes place to honour this year's world champions. For the third time in his four seasons with the Scuderia, Fernando Alonso was present as runner-up, a result that had left such a bitter taste in 2010 and 2012, when the title slipped from his grasp at the very last. This year however, the result was accepted calmly, given the clear superiority of the winners as....
2014 Ferrari LaFerrari
---
2014 Infiniti Q50
---
2013 Infiniti FX Vettel Edition
---
2013 Infiniti Q30 Concept
---
2013 Lotus E21
---
2013 McLaren MP4-12C Can-Am Edition Racing Concept
---
2013 McLaren MP4-28
---
2013 Mercedes-Benz SLS AMG Electric Drive
---
2013 Mercedes-Benz W04
---
2013 Nissan GT-R Bolt-Performance
---