Lotus F1™ celebrates an amazing race in Brazil and a solid season's performance.
The 2012 FIA Formula One™ Championship concluded in Brazil yesterday, in a thrilling battle marking the end of another electrifying and unpredictable F1™ season. As the motorsport menagerie prepares to return home, Lotus celebrates what has been a prolific journey for the team this year. The Interlagos circuit in São Paulo was the backdrop to a gritty and nail-biting last race, which unfolded in spectacularly dramatic fashion. Despite wet weather playing havoc with race strategy, Lotus ace Kimi Raikkönen put in another gutsy performance at the Brazilian track where just 5 years previous he was crowned 2007 F1™ World Champion. McLaren driver and 2008 F1™ World Champion Lewis Hamilton went head to head with Kimi as both battled furiously contending for third position in the Drivers Championship. A rain soaked and super slippery circuit caused a collision with Force India's Nico Hülkenberg resulting in early retirement for Hamilton in lap 55, securing Kimi the coveted spot. Lotus stable mate Romain Grosjean also succumbed to a greasy track forcing him to bow out disappointingly in lap 6. Never-the-less Romain finished a commendable 8th in the Driver's Championship. Both results were indicative of Lotus' achievements during this year's competition, where Lotus saw its 80th F1™ win following Kimi's race to victory in Abu Dhabi, and first win with the Enstone based team. Proof the team's plan for the Constructor's Title is well-underway, Lotus F1™ edges closer to the top spot finishing 4th this year, up one place from 2011. Eric Boullier, Team Principal

'The conclusion of the championship is good; fourth was our target and we've achieved that by a considerable margin. On top of that we've been fighting with the leading teams right to the end of the year. For Kimi to take third in the Drivers' Championship is a really great achievement after being away for two years and a testament not only to the car we gave him, but to the team for their support. We scored our first win with the Lotus name and achieved a good number of podiums over the year, so overall it's been a very good season. I can only thank everyone at Enstone and everyone at Renault; I'm very proud to be a part of this effort. Our progress is very promising for next year. With the continuity and stability we have I'm sure we'll be fighting for podiums again in 2013.' Alan Permane, Trackside Operations Director 'Looking at the season, we're happy with P3 in the Drivers' Championship for Kimi and P4 in the Constructors' Championship for the team. Our target was fourth and we've easily achieved that, but perhaps even more encouraging is that at one stage it looked as if we could challenge for third or maybe even higher. I'm sure Kimi would have rather won the championship but it was certainly a very respectable comeback.' Kimi Raikkönen 'I didn't really have any expectations for the year, so I think it's been a pretty good season. We've had some good results and we've finished every race. Certainly from a race reliability perspective it's been excellent. I just tried to do my best and to score points of course you have to finish the race. We had a good car and I didn't get involved in too many incidents with other people. In terms of results, it could have been better, but it could have been an awful lot worse. Overall, I'm pretty happy. It was a busy race and we didn't have the pace we wanted all the time. There was certainly a lot going on. I went off at the last corner on lap 52 as I couldn't see well with my visor being dirty and fogged up. Where I went off you can get back on the track by going through the support race pit lane, but you have to go through a gate. I know this as I did the same thing in 2001 and the gate was open that year. Somebody closed it this time. Next year I'll make sure it's open again.' Romain Grosjean 'I think I started off the season very well in terms of speed, but there were too many incidents for sure. Some were due to bad luck, but others were through a bit too much aggression on my part; something we worked very hard to put right at the end of the year which has made a big difference. I've learned a lot over this season – probably more than I would have expected – and I've definitely come back as a stronger driver because of that. Overall it's been a rollercoaster year, but a good one for sure. Hopefully there will be many better days to come.' It was one of the biggest shunts of my career so far – about 9.5g the engineers have told me – so I'm a little bit shaken for sure but otherwise not too bad. Everything was nicely under control at the start of the race then it all ended very suddenly at turn eleven. It was a strange one; I could see it was raining a bit more so I was taking it even easier than on the lap before, then suddenly the car just went from underneath me and that was it. I've not had much luck this weekend and that's definitely not the way I wanted to end the season.'
Recent Articles
Maserati Celebrates 100th Anniversary as Featured Marque of the Rolex Monterey Motorsports ReunionAugust 14-17 at Mazda Raceway
MONTEREY, Calif., December 10, 2013 — The Rolex Monterey Motorsports Reunion will celebrate the rich 100-year history of Maserati, one of Italy's iconic luxury sports car brands that throughout the century has been deeply rooted in racing. The celebration will be held August 14-17, 2014 at Mazda Raceway Laguna Seca.

The Monterey Classic Car Week and Rolex Monterey Motorsports Reunion is a haven for international classic car enthusiasts. Centered a....
Seb and the Team Crowned ChampionsPARIS – Sebastian Vettel and Infiniti Red Bull Racing were awarded their trophies for winning the 2013 Drivers' and Constructors' Championship titles respectively at last Friday night's FIA's annual Prize-Giving Gala in Paris.

Held at the Cité du Cinéma movie studios complex built by legendary French film director Luc Besson, the Formula One awards section of the evening kicked off with Mark receiving his trophy for finishing in third place in the Drivers' standings in his final Formul....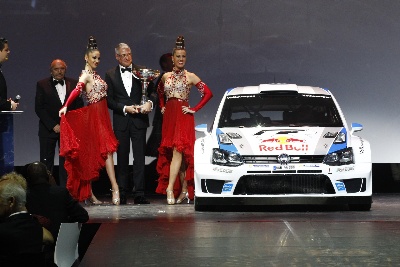 GREAT HONOUR, GRAND CELEBRATION: WORLD CHAMPIONSHIP TROPHIES PRESENTED TO VOLKSWAGENA celebratory end to an incredible season: Volkswagen Board Member for Technical Development, Dr. Heinz-Jakob Neußer, and World Rally Champions Sébastien Ogier and Julien Ingrassia were in Paris to receive their FIA World Rally Championship (WRC) trophies. Making its debut in the World Championship with the 315-hp Polo R WRC this year, Volkswagen won every title at the pinnacle of rallying. FIA President Jean Todt was on hand to personally present the trophies to the Volkswagen team at the glamo....
KATY PERRY TO PERFORM AT INFINITI BRAND FESTIVAL IN CHINA• Katy Perry's first ever performance in China

• Major public event to celebrate the Infiniti brand in China

• Infiniti retail and manufacturing business growing rapidly in China

Beijing / Hong Kong - Infiniti announced that U.S. singer, songwriter and actress, Katy Perry, will perform as a special guest at the 2014 Infiniti China Brand Festival in Beijing. Several thousand guests are expected at the Beijing indoor Olympic Stadium on Saturday, January 11, to par....
LE MANS GREATS HEAD STUNNING ROSTER OF ADDITIONAL ENTRIES FOR RM'S 2014 PARIS SALE DURING RETROMOBILE WEEK• Anticipation builds ahead of RM's €25 million debut Paris sale on 5 February 2014
• More Le Mans greats join stunning competition car line-up at saleLatest highlights include a 1982 Rondeau M482 Le Mans GTP, a veteran of five Le Mans 24 hours races, and a mighty 2008 Peugeot 908 HDi FAP Le Mans Prototype, which finished 2nd at Le Mans, was driven by Jacques Villeneuve, and has been entrusted to be sold by RM by the Peugeot factory
• Other recently secured entries include a Bugatti Type 40 Ro....
Infiniti To Reveal Formula One Inspired Concept At Detroit ShowHong Kong – Infiniti will reveal a Formula One inspired concept car based on the Q50 premium sports sedan at the North American International Auto Show in Detroit.

The concept car represents Infiniti's design vision of a high performance variant of Q50. Called 'Q50 Eau Rouge,' the car is named after the world-famous corner at the Formula One track in Spa-Francorchamps, a corner which requires extraordinary strength, courage and commitment; it has seen some of the most incredible drivin....
SEB AND THE RB9: AN AWARD-WINNING COMBINATIONLONDON – Sebastian Vettel has been named International Racing Driver of the Year and the RB9 handed the prize for Racing Car of the Year at this year's Autosport Awards in the UK, the fourth year in a row driver and team have been honored in the categories.

Seb, who took a record-equaling 13 grand prix wins in a single season in 2013 to win his fourth world title in a row, entered the auditorium in the company of dominant WRC champion Sébastien Ogier of the Red Bull VW team; later in t....
INFINITI U.S. SALES INCREASE 10.5 PERCENT IN NOVEMBER– Best November in the Luxury Automaker's History –

NASHVILLE, Tenn. – Infiniti today reported the best November in its 24-year history, with U.S. sales of 13,152 units, an increase of 10.5 percent versus 11,897 units a year earlier.

The all-new Infiniti Q50 saw deliveries of 5,891 units in November, one of the strongest ever monthly sales of a single Infiniti model. Overall sales of Infiniti sports sedans, which include the Infiniti G37, rose more than 85 percent to a total ....
2014 Ferrari 458 Speciale
---
2014 Infiniti Q50
---
2014 Mercedes-Benz CLA-Class
---
2013 Caterham CT03 Renault
---
2013 Caterham Superlight R600
---
2013 Honda S660 Concept
---
2013 Icona Vulcano
---
2013 Infiniti FX Vettel Edition
---
2013 Infiniti Q30 Concept
---
2013 Lotus E21
---