Mercedes-Benz Classic: Topics for 2013
The main topics: • The tradition of the Mercedes-Benz S-Class • Mercedes-Benz Silver Arrows in the 1930s • Originals – authentic vehicles tell authentic stories • Classic vehicles kept in perfect condition with Mercedes-Benz Genuine Parts Important anniversaries:

January 75 years ago – on 28 January 1938: With a flying start, Rudolf Caracciola achieved a speed of 432.7 km/h over one kilometre on the Frankfurt–Darmstadt motorway. This is the highest speed ever achieved on a normal highway – a record which still remains unbroken today. February Event: Mercedes-Benz Classic at the Rétromobile show in Paris, 6 to 10 February 2013. 125 years ago – in spring 1888: The start of vehicle sales abroad. In Paris, the French construction engineer Emile Roger was awarded the sole agency for Benz vehicles and engines in France. Second example: on 29 September 1888, the piano manufacturer William Steinway founded the Daimler Motor Company on Long Island, New York, after acquiring the licences for Daimler patents. 23 February 2013: Hans Herrmann celebrates his 85th birthday. March Event: Mercedes-Benz Classic at the Retro Classics in Stuttgart, 7 to 10 March 2013. 50 years ago – from 14 to 24 March 1963: Mercedes-Benz presented the model 230 SL (W 113) at the Geneva Motor Show. It replaced the sports car models 300 SL and 190 SL. It was the first sports car in the world to be constructed with an innovative safety body designed by Béla Barényi. Its hardtop with the concave shaped roof lines led to it being called the 'Pagoda'. April Event: Mercedes-Benz Classic at the Techno Classica in Essen, 10 to 14 April 2013. May Event: Mercedes-Benz Classic at the Mille Miglia, 15 to 17 May 2013. 75 years ago – on 15 Mai 1938: At the Tripoli Grand Prix Mercedes-Benz succeeded in gaining a triple victory at first go with the new 3-litre formula racing car W 154: Hermann Lang won the race ahead of Manfred von Brauchitsch and Rudolf Caracciola. June Event:Mercedes-Benz Classic at the ADAC Eifel Race, 14 to 16 June 2013. Event:Mercedes-Benz Classic at the Arlberg Classic, 27 to 30 June 2013. July Event:Mercedes-Benz Classic at the Silvretta Classic, 4 to 7 July 2013. Event: Mercedes-Benz Classic at the Goodwood Festival of Speed, 5 to 7 July 2013. 75 years ago – on 3 July 1938: Triple victory for the Mercedes-Benz Silver Arrows (W 125) at the French Grand Prix. 125 years ago – on 29 July 1888: Gottlieb Daimler registered the first 'fire engine with motorised drive' at the German Imperial Patent Office (DRP No. 46779 from 15 April 1889). It is the first fire engine in the world to be run by an internal combustion engine. August Event: Mercedes-Benz Classic at the Classic Days Schloss Dyck, 2 to 4 August 2013. Event: Mercedes-Benz Classic at the Pebble Beach Concours d'Elegance, 14 to 18 August 2013. Event:Mercedes-Benz Classic at the Sachsen Classic, 22 to 24 August 2013. 125 years ago – in August 1888: Bertha Benz dared to make the first long-distance drive in the history of the automobile with her two sons Eugen and Richard. She drove a standard version of the three-wheeled Patent Motor Car from Mannheim via Heidelberg, Bruchsal, and Durlach to Pforzheim – a total of about 100 kilometres. After spending five days in Pforzheim, the trio returned to Mannheim via Bretten and Bruchsal. 125 years ago – on 10 August 1888: The first motorised flight in the world went over four kilometres from Bad Cannstatt to Kornwestheim. The airship belonging to the Leipzig book dealer Dr Friedrich Hermann Wölfert took off from the factory yard at the Daimler Motor Company on the Seelberg. It was powered by a Daimler one-cylinder engine with an output of 2 hp (1.5 kW) at 700 rpm. A faithful reconstruction of the original airship can be found in the Mercedes-Benz Museum. 75 years ago – on 21 August 1938: The Swiss Grand Prix in the Bremgarten (Bern) finished with a triple victory for the Mercedes-Benz Silver Arrows (W 125). 50 years ago – from 27 to 31 August 1963: Eugen Böhringer and Klaus Kaiser won the overall rankings in the long-distance rally Spa–Sofia–Liège with a Mercedes-Benz 230 SL (W 113). It was Böhringer's second victory in this very strenuous event. 30 years ago – from 13 to 21 August 1983: On the test track in Nardo (Italy), a Mercedes-Benz 190 E 2.3-16 completed a distance of 50,000 km in just 201 hours, 39 minutes and 43 seconds and, with a speed of 247.9 km/h, also sets a new world record. Further results of this record-breaking drive completed by three vehicles include two world records of 25,000 kilometres and 25,000 miles respectively as well as another nine class records. September Event:Mercedes-Benz Classic at the Goodwood Revival, 13 to 15 September 2013. Event: Mercedes-Benz Classic at the International Edelweiß Mountain Prize Rossfeld Berchtesgaden, 27 to 29 September 2013. 60 years ago – on 8 September 1953: The Mercedes-Benz 180 (W 120) was presented to the press in Sindelfingen. It was the first Mercedes-Benz car with a self-supporting body with a pontoon shape. With its trend away from the classic framework type of construction and its modern design, the Daimler-Benz model 180 was the start of a new era in car construction. 75 years ago – on 11 September 1938: For the third time, Rudolf Caracciola won the European Championship title which was comparable to the current World Championship title in Formula One. To achieve this he only needed a third place in the Italian Grand Prix. Caracciola is regarded as the most successful racing driver of his time. 50 years ago – from 12 to 22 September 1963: The Mercedes-Benz 600 (W 100) made its debut at the International Motor Show in Frankfurt on the Main. This very representative vehicle was supplied as a saloon with five to six seats or as a Pullman with seven to eight seats. 125 years ago – on 29 September 1888: Piano manufacturer William Steinway founded the Daimler Motor Company on Long Island, New York, after acquiring the licences for the Daimler patents. October 50 years ago – on 1 October 1963: Production started at the then new Wörth plant. 100 employees started building body shells for truck cabs. November Event: Mercedes-Benz Classic is taking part in the London to Brighton Veteran Car Run, 1 to 3 November 2013. December 100 years ago – on 22 December 1913: L. G. Hornstead broke two world records with a Benz 200 hp – a modified version of the 'Blitzen-Benz' – on the Brooklands track in England from a standing start: half a mile with an average speed of 113.8 km/h and a kilometre with an average speed of 118.8 km/h.
Recent Articles
400TH BUGATTI VEYRON SOLD – THE VEYRON BEGINS ITS FINAL LAPJust 50 models of the super sports car are still available

• 400th Veyron is a Grand Sport Vitesse 'Jean-Pierre Wimille' of the six-part edition 'Les Légendes de Bugatti'

• Head of Bugatti Wolfgang Schreiber, 'A unique success story about the most exclusive and luxurious super sports car brand in the world'


Molsheim, 5 December 2013. Bugatti has sold its 400th Veyron. Since the production run of the Veyron and its variants is limited to just 450 models, thi....
Infiniti To Reveal Formula One Inspired Concept At Detroit ShowHong Kong – Infiniti will reveal a Formula One inspired concept car based on the Q50 premium sports sedan at the North American International Auto Show in Detroit.

The concept car represents Infiniti's design vision of a high performance variant of Q50. Called 'Q50 Eau Rouge,' the car is named after the world-famous corner at the Formula One track in Spa-Francorchamps, a corner which requires extraordinary strength, courage and commitment; it has seen some of the most incredible drivin....
SEB AND THE RB9: AN AWARD-WINNING COMBINATIONLONDON – Sebastian Vettel has been named International Racing Driver of the Year and the RB9 handed the prize for Racing Car of the Year at this year's Autosport Awards in the UK, the fourth year in a row driver and team have been honored in the categories.

Seb, who took a record-equaling 13 grand prix wins in a single season in 2013 to win his fourth world title in a row, entered the auditorium in the company of dominant WRC champion Sébastien Ogier of the Red Bull VW team; later in t....
INFINITI U.S. SALES INCREASE 10.5 PERCENT IN NOVEMBER– Best November in the Luxury Automaker's History –

NASHVILLE, Tenn. – Infiniti today reported the best November in its 24-year history, with U.S. sales of 13,152 units, an increase of 10.5 percent versus 11,897 units a year earlier.

The all-new Infiniti Q50 saw deliveries of 5,891 units in November, one of the strongest ever monthly sales of a single Infiniti model. Overall sales of Infiniti sports sedans, which include the Infiniti G37, rose more than 85 percent to a total ....
ANDREW PALMER TAKES LAMBORGHINI WORLD CROWN FOR NORTH AMERICA23 November 2013, Vallelunga. The Lamborghini Blancpain Super Trofeo World Finals commenced in fitting style with all three series represented on the podium for race one and a a dominant performance from Autocarrozzeria Imperiale's Andrea Amici extending his run of consecutive wins to five. The smart money was thus on the Italian to take the inaugural World Title, but instead race two delivered a thrilling climax that saw Andrew Palmer, a recent addition to the ranks of Super Trofeo racer....
Emotional One - Two for Red Bulls in BrazilSAO PAULO, Brazil – It was a day of high emotion for Infiniti Red Bull Racing in Brazil as Sebastian Vettel signed off the 2013 season with another historic win and Mark Webber brought the curtain down on his illustrious F1 career with second place to seal the team's fifth one-two finish of the season.

Seb began the race from his 45th pole position but a poor start allowed Nico Rosberg to steal the lead in Turn One. The Mercedes man wasn't there for long, however. Seb powered past his ....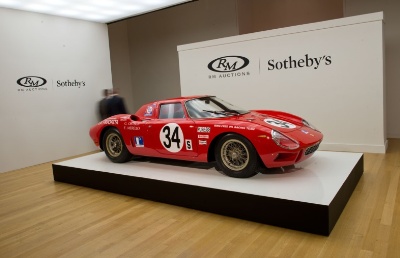 RM Auctions and Sotheby's Stun the Market with Incredible $63 Million 'Art of the Automobile' Sale in New York• RM Auctions and Sotheby's momentous Art of the Automobile auction generates $62,797,500 of sales in two hours of furious bidding
• Records tumble with the historic 1964 Ferrari 250 LM by Carrozzeria Scaglietti achieving $14,300,000 while the stunning 1938 Talbot-Lago T150-C SS Teardrop Cabriolet by Figoni et Falaschi sells for $7,150,000
• 93 percent of all lots sold to an international audience of bidders representing 17 countries
• Full results are available online at www.rmauctions.c....
2014 BMW Z4
---
2014 Caterham Seven 620R
---
2014 Ferrari 458 Speciale
---
2014 Ferrari LaFerrari
---
2014 Infiniti Q50
---
2014 Jaguar Project 7 Concept
---
2014 Mercedes-Benz CLA-Class
---
2014 Peugeot RCZ R
---
2014 Skoda Octavia RS
---
2013 Aston Martin Vanquish Volante Neiman Marcus Edition
---