Lincoln at Los Angeles Auto Show Press Days: Celebration of Its Past and Future As Brand Rolls Out Its Reinvention
> The brand pays tribute to its heritage today, displaying seven of the most influential Lincoln designs > Thursday sees a display full of the all-new MKZ premium midsize sedan and MKZ Hybrid, the future of Lincoln, on the Lincoln stand > Lincoln launches on Tumblr http://lincolnnow.tumblr.com beginning with the visually stunning classic Lincolns shown on the stand and select images from archives. Continues with an all-new collection of photographs by photographers Jamie Beck and Kevin Burg The reinvention of Lincoln is fully under way with the launch of the all-new MKZ. Beautiful design, warm, personal and surprising, Lincoln will transform before media's eyes today with seven iconic Lincolns of the past possessing the stand. On Thursday it will turn to all MKZs, signaling the change. Lincoln's Elegant Heritage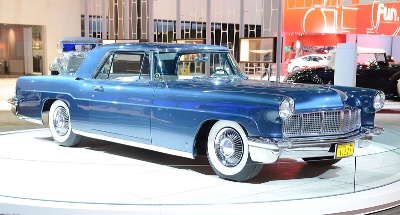 Since 1922, the year Edsel Ford signed the agreement purchasing the Lincoln Motor Company from its founder Henry Leland, the hallmark of Lincoln has been its elegant simplicity. For Edsel, the key to revitalizing Lincoln was styling. His vision for design was that every line, contour and angle should have intent. The pure sensitivity of a line is at the heart of Lincoln's heritage – carried into the present moment of Lincoln's reinvention with the MKZ premium midsize sedan and MKZ Hybrid. The seven classic Lincolns on display today are: 1929 Lincoln L Dietrich Convertible Coupe: During this era, Lincoln was known as the Lincoln Motor Company. The greyhound mascot atop the radiator, which was produced by the famed silversmith Gorham, was chosen by Edsel Ford to symbolize grace, elegance and speed. Only 75 examples of this Dietrich-bodied car were produced in a two-year run, carrying a base price of $6,200. Noted for its quiet operation, the engine is an L-head V8 displacing 385 cubic inches and producing 90 horsepower at 2,800 rpm. Owner: Thomas Hartman, Rancho Palos Verdes 1932 Lincoln KB LeBaron Convertible Roadster: The celebrated KB model debuted in 1932, introducing V12 power and heightened style from Lincoln. In addition to offering nine standard and 14 factory custom models, Edsel Ford invited numerous custom coachbuilders to work their magic with the new KB. Brunn, Dietrich, LeBaron, Judkins and Willoughby were prominent among them. This LeBaron Convertible Roadster was priced at $4,600, making it the entry-level semi-custom model in Lincoln's book. The 448-cubic-inch engine produces 150 horsepower at 3,400 rpm and weighs 1,070 pounds. Owner: Thomas Hartman, Rancho Palos Verdes 1937 Lincoln Derham Sport Sedan: Built on the Model K chassis with a 150-horsepower 414-cubic-inch V12 engine, this one-of-a-kind design demonstrates the maturing of automotive streamlining in the 1930s. Its inverted teardrop headlights, pontoon fenders, fastback roof, and unique molding result in a truly formidable appearance. In 1937, the Derham Coach Company risked building this sport sedan on speculation. Price and the Great Depression kept it unsold until 1938 when Thomas Morris of New York City purchased this unique model. From 1947 through 1977, the car moved among owners in Nebraska, Iowa and Minnesota. After it sat in a barn for 20 years, Ed Burchman purchased the car in 1977. Beginning in 2000, he undertook the restoration of every component from the five-foot muffler to the sliding sunroof. His 9,000 hours of work were rewarded by a first-in-class win at the 2004 Pebble Beach Concours d'Elegance. Owner: Edmund Burchman, Rossmoor 1937 Lincoln-Zephyr Coupe-Sedan: Introduced in 1936 under the guidance of Edsel Ford, the Lincoln-Zephyr was the first commercially successful aerodynamic car. The Chrysler and DeSoto Airflows debuted in 1934, but were not broadly accepted. In contrast, the Zephyr family grew to 85,640 cars by 1939. Of this number, only 5 percent were Coupe-Sedans. Amazingly, records today show that only fourteen 1937 Coupe-Sedans still exist, and the car displayed here is surely the best example. An enduring Lincoln design element is its distinctive split grille, executed to recall the bow wave of a boat gliding through water. With headlamps faired into the fenders and long side windows that curve to match the sweeping bodylines, the car's inherent streamlining captured the public's imagination. Powered by a 267-cubic-inch V12 producing 110 horsepower, the Zephyr was acclaimed for outstanding highway manners, appropriate to a car named after the Burlington Zephyr streamlined train of the era. Owner: David Caparone, Paso Robles 1940 Lincoln Continental Cabriolet - Edsel Ford returned from Europe in 1938 inspired to have a new car that was 'strictly continental' in its design. He chose designer E.T. 'Bob' Gregorie to lead the development of this car that was initially to be a one-off for Edsel to drive on vacation in Florida. Upon seeing the enthusiastic reception from his friends, Edsel chose to put it into production. The result was the legendary Continental, acclaimed by architect Frank Lloyd Wright to be 'the most beautiful car in the world' and, in 1951, chosen by the Museum of Modern Art in New York City as one of eight cars to be exhibited for 'excellence as works of art.' With the end of the K-Series Lincolns in 1939, the Continental continued Lincoln's V12 heritage with a 292-cubic-inch engine producing 120 horsepower. As production commenced, Edsel Ford owned the 20th Continental produced. The car displayed here is No. 24, shipped on Jan. 4, 1940. George Gehrig, cousin of baseball legend Lou Gehrig, owned it for many years. Owner: Elliott Jones, Huntington Beach 1956 Continental Mark II: Widely acclaimed as a milestone in American automotive design, the Continental Mark II was created under the direction of Edsel Ford's son, William Clay Ford. The low, elongated profile did not need chrome, two-tone paint, or sharp styling cues to accentuate its beauty. The long hood concealed a massive 368-cubic-inch engine that produced 285 horsepower. Mounted on the hood is the four-pointed star that later became Lincoln's emblem. Continentals were hand-made. The paint was applied multiple times, sanded, double lacquered and polished. The goal was to create the most luxurious, carefully crafted production car in America. Famous owners included Frank Sinatra, Elvis Presley, Dwight Eisenhower, Barry Goldwater, Howard Johnson and Nelson Rockefeller. This example was built especially for Elizabeth Taylor with bespoke paint and interior that matched the color of her eyes. Owner: Robert and Nancy Ratinoff, Sherman Oaks 1961 Lincoln Continental Sedan: Continuing Lincoln's tradition of restrained elegance, the 1961 Continental introduced the unique center-opening doors and chrome-accented upper shoulder line that established a signature look for Lincoln and remains one of the most enduring designs of all time, a complete original. The 1961 Continental was honored by the Industrial Design Institute with its coveted bronze medallion. The chiseled profile was the work of seven designers: Eugene Bordinat, Don DeLaRossa, Elwood Engle, Gale Halderman, John Najjar, Robert M. Thomas and George Walker. Powered by a 430-cubic-inch V8 producing 300 horsepower, the Lincoln Continental delivered driving pleasure commensurate with its breakthrough design. This car has been in San Diego since new, has been driven only 70,000 miles and is acclaimed as a Lincoln Continental Owners Club Senior Car. Owner: Joe Finkbiner, San Diego All-New Lincoln MKZ The all-new MKZ is the new face of Lincoln, representing a significant milestone in the brand's ongoing reinvention. This is the future of Lincoln in style and substance. •MKZ is the first of four new distinctively Lincoln vehicles to be introduced in the next four years •Each will be an entry into a major volume segment of the overall premium market and collectively will provide Lincoln with coverage in more than 80 percent of the market •The new MKZ, like all new Lincoln vehicles, will feature a driving experience that is refined yet engaging. Innovative use of new technologies incorporated in standard Lincoln Drive Control creates the best of both worlds – scintillating dynamic qualities and performance with superb comfort •The all-new MKZ Hybrid is an outstanding example of the new Lincoln – at 45 mpg city, highway and combined, it delivers more miles per gallon than any other luxury vehicle sold in America •The visually and technically stunning retractable panoramic roof becomes a Lincoln signature, offering a 15.2-square-foot glass panel and one of the largest rooftop openings available on any modern sedan •Push-button shift is a unique execution that replaces the traditional mechanical transmission shift lever with a contemporary five-button interface and dramatically opens up the center console •Lincoln-exclusive THX® II Certified Audio System, with 700 watts, 14 channels and 14 speakers, is available
Recent Articles
Honda Accord Named Automobile Magazine All-StarAccord recognized as one of the best and most significant models of 2013

05/22/2013 - TORRANCE, Calif. The Honda Accord was the only midsize sedan named to the prestigious 2013 Automobile Magazine All-Star's list. Automobile Magazine editors used a combination of factors to determine the list of ten All-Stars including results from performance testing, feature evaluation and overall value analysis.

'The Accord continues to demonstrate it's the one to beat in the hyper competi....
Italian Sports And Racing Exotics Head To RM's Eagerly Anticipated Monterey Sale• RM Auctions announces stunning early roster of blue-chip Italian exotics for its flagship Monterey sale, August 16–17 in California
• No less than 21 Ferraris already consigned alongside two spectacular Maseratis
• Eight Ferraris offered without reserve from the Estate of William H. Tilley
• Additional early highlights include a fabulous 1931 Duesenberg Model SJ Murphy Convertible Coupe and a 1935 Hispano-Suiza K6 Brandone Cabriolet
• Frequently updated list of entries available online a....
FORD'S SUPPLIER DIVERSITY DEVELOPMENT PROGRAM: 35 YEARS OF EMPOWERING MINORITY, WOMEN AND VETERAN BUSINESS OWNERS◾ Ford's award-winning Supplier Diversity Development (SDD) program celebrates its 35th anniversary; since 1978 Ford has spent more than $67 billion with diverse suppliers
◾ In 2012 Ford spent $5.7 billion with tier-one minority-owned suppliers, $1.2 billion with tier-one women-owned suppliers, and $2.1 billion with tier-one suppliers who use tier-two minority- and women-owned businesses
◾ A diverse supplier base brings a fresh perspective that can lead to cutting-edge innovations and help ac....
STARS, STRIPES AND VICTORY FOR 'THE AMELIA'S' AUSTIN KIMBERLY IN BRITISH ROAD RACING CHAMPIOSNHIPAmerican teenager Austin Kimberly scored his first victory in the 2013 Avon Tyres National FF1600 Championship season at the 2.1 mile Anglesey road racing circuit in Wales (UK) last weekend (May 12). After qualifying third, the young American racer led every lap of the 25.1 mile championship race for 1600cc Formula Ford racers.

A go-kart racer since the age of nine, Austin opened the British Racing Sports Car Club's 2013 national Formula Ford Championship season with two podium appearances....
Aston Martin Celebrates Centenary At Nürburgring 24 HoursNürburgring, 20 May 2013 – Aston Martin's weekend of centenary celebrations at the ADAC Zurich Nürburgring 24 Hours (N24) concluded this evening (Monday 20 May) with a thrilling top-ten result for its Bilstein-liveried V12 Vantage GT3 and a historic finish for its unique Hybrid Hydrogen Rapide S in one of the most grueling 24-hour races in recent years.

In a weekend that started with the British luxury sports car maker entering the history books with a zero CO2 emissions hydrogen-power....
Subaru Holds The Line On 2014 Legacy® And Outback® Pricing• Most versions keep same MSRP as 2013 models.
• 2014 Legacy 2.5i starts at $20,295.
• 2014 Outback 2.5i starts at $23,495.
• EyeSight™ driver assistance feature now available on more models.

Cherry Hill, N.J., - Subaru of America, Inc. today announced pricing for the 2014 Legacy and Outback model lines, with most versions having no increase over the 2013 models. Starting at $20,295, the 2014 Subaru Legacy remains the most affordable midsize all-wheel drive sedan in America. The 20....
FORD FUSION ENERGI EARNS TOP VEHICLE SAFETY RATING FROM NHTSA◾ The National Highway Traffic Safety Administration (NHTSA) awards the all-new 2013 Ford Fusion Energi a five-star Overall Vehicle Score in its New Car Assessment Program (NCAP)
◾ 2013 Ford Fusion was also named Top Safety Pick+ by the Insurance Institute for Highway Safety, the highest recommendation the organization has for vehicle safety
◾ In addition to top safety marks, Fusion Energi also achieves EPA-rated fuel economy of 100 MPGe combined, including 108 MPGe city/92 MPGe highway

....
2014 ILX Acura
---
2014 RLX Acura
---
2014 Rapide S Hydrogen Aston Martin

---
2014 A3 Sedan Audi
---
2014 Regal Buick
---
2014 CTS Cadillac
---
2014 Silverado Chevrolet
---
2014 LaFerrari Ferrari
---
2014 Accord PHEV Honda
---
2014 Odyssey Touring Elite Honda
---
blog comments powered by

Disqus