Aston Martin To Race In North America With TRG (The Racers Group)
Aston Martin's new portfolio of race cars; Vantage GTE, V12 Vantage GT3 and V8 Vantage GT4 will be seen in domestic competition in North America from next season after TRG (The Racers Group) were today appointed by Aston Martin Racing as an official partner. Under a new partnership; TRG-Aston Martin Racing North America, LLC (hereafter;TRG-AMR), the two companies will work together with the aim of bringing Aston Martin race cars to all of the major sports car racing series' in the United States. California-based The Racers Group (TRG) has a legacy of motorsport success that dates back to the 1990's with extraordinary wins and championships that include the Rolex 24 Hours of Daytona (four times, once overall), the 24 Hours of Le Mans, Petit Le Mans and two Grand-Am championships amongst a host of podium finishes. TRG-AMR will initially have 10 new race cars available for the new motorsport season with the aim of competing in varying sports car series' across the country. The partnership's new Aston Martin Vantage GTE will be unveiled at the Sebring winter test session in February (7th-8th) ahead of the Twelve Hours of Sebring in March. Meanwhile, the TRG-AMR Vantage GT3 is undergoing final homologation with a view to being available for competition in The Grand American Rolex Series

and the Pirelli World Challenge Series. Examples of V8 Vantage GT4 - which enjoyed success with Multimatic Motorsports in the Grand-Am Continental Tire Sports Car Challenge throughout 2012 - will be available from January. John Gaw, Managing Director of Aston Martin Racing commented: 'We are delighted to form this innovative new partnership with TRG which presents great potential across a variety of racing competitions. 'In TRG we have a proven race partner who clearly knows how to be competitive and win races, helping us achieve new levels of success in North American motorsport for Aston Martin.' Kevin Buckler, Chief Executive Officer of The Racers Group added: 'What we have crafted via this new partnership is a means of competing in all major race series' with multiple teams. 'We are assembling an infrastructure and management team capable of assisting any customer team that wants to race an Aston Martin in North America. We want to assist these teams with the highest level of support and see Aston Martin competing for podium places in competitions across the country.' The Aston Martin Vantage GTE - which bears a close relation to Aston Martin's roadgoing Vantage as the two cars share a bonded aluminium structure and fundamental engine and suspension designs - made its competitive debut in North America at the 12 Hours of Sebring as part of Aston Martin Racing's FIA World Endurance Championship programme earlier this year, scoring a podium finish. The new Vantage GTE has since gone to achieve success in competition around the globe, including a third in class position at the 24 Hours of Le Mans in June and finishing second in the overall 2012 FIA World Endurance Championship. The V12 Vantage GT3 is a direct replacement for the Aston Martin DBRS9, which first competed in 2006 and went on to score many race and championship wins including the 2007 British GT Championship and the 2009 FIA GT3 Teams' Championship. Sharing Aston Martin's renowned bonded aluminium VH body structure and 6.0-litre V12 engine with the road-going V12 Vantage, the new racer is the culmination of six years' experience competing at the forefront of all major international GT series. The GT4 race car is based on the critically-acclaimed V8 Vantage Coupe, with a bespoke 4.7 litre V8 engine producing 420bhp and 346lb.ft torque. The advanced body structure of the V8 Vantage is the key to its superb handling and responsiveness making it a class-leading chassis for race car transition. The new GT4 scored 11 race victories in its debut season. Aston Martin returned to GT racing as a factory team in 2005 with the DBR9 GT1, which went on to record back-to-back victories at the 24 Hours of Le Mans in 2007 and 2008, as well as winning the FIA GT1 World Championship in 2011. Julian Jenkins, Vice President of Aston Martin The Americas concluded: 'There has long been a strong appetite from owners, enthusiasts and race fans alike to see Aston Martin in regular motorsport competition in North America so this partnership with TRG is an excellent opportunity to further realise that ambition as we approach our centenary year.'
Recent Articles
MAZDA6 SKYACTIV-D CLEAN DIESEL RACECARS TO TACKLE THUNDERHILL 25-HOURDecember 3, 2013 (IRVINE, Calif.) — There have always been rivalries: Yankees versus Red Sox. Beta versus VHS. Coke versus Pepsi. Tom versus Jerry. In the automotive retail world, that rivalry is Factory Guys versus Dealers. To finally put to bed who's faster, Mazda North American Operations (MNAO) has thrown down the gauntlet, entering three specially modified-for-racing 2014 Mazda6s in the longest endurance race in America, the National Auto Sport Association (NASA)'s US Air Force....
ASTON MARTIN DENIED WORLD CHAMPIONSHIP TITLE IN BAHRAIN30 November 2013, Bahrain - Aston Martin Racing has finished second in the 2013 FIA World Endurance Championship (WEC) after an eventful final round of the series, the Six Hours of Bahrain, which saw the British racing team cruelly denied the manufacturers' world championship title in the final hour.

After an intense, season-long battle with Ferrari and Porsche, the team went into the final round leading the LMGTE Manufacturers' World Cup. Luck, however, was not on the side of the team....
ASTON MARTIN QUALIFIES ON POLE IN GTE AM AND THIRD IN GTE PRO29 November, Bahrain - Aston Martin Racing has qualified for the final round of the 2013 World Endurance Championship, the 6 Hours of Bahrain, in pole position and third in the GTE Am class and third and fifth in the GTE Pro class with its four Vantage GTEs.

The team, which goes into the final round as leaders of the LMGTE Manufacturers' World Cup, needs to score maximum points in tomorrow's race in order to emerge as world champion. Points from the top two finishing GTE cars from each....
Aston Martin Aims For World Title Glory In Its Centenary YearGaydon, 26 November 2013 - Aston Martin Racing goes into the final round of the 2013 FIA World Endurance Championship (WEC), the Six Hours of Bahrain, this weekend (30 November) leading the highly-competitive eight-race series and looking to clinch victory and emerge as world champions in this, the marque's centenary year.

The team currently leads the LMGTE Manufacturers' World Cup on 232.5 points but, with Ferrari in second place on 215 points and Porsche in third on 199.5 points, any....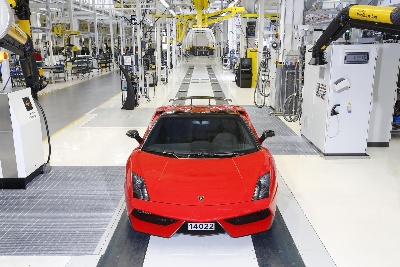 END OF PRODUCTION FOR THE LAMBORGHINI GALLARDO• Ten years of an Italian Icon

• The 'most sold' Lamborghini super sports car

• Still best in class with record lap times

Sant'Agata Bolognese, 25.11.2013 -- In the historic factory buildings of Sant'Agata Bolognese, the last Lamborghini Gallardo has left the production line. The final model is a Gallardo LP 570-4 Spyder Performante in Rosso Mars (red) and it is destined for a private collector. With a total of 14,022 units the Gallardo is not only by far the mo....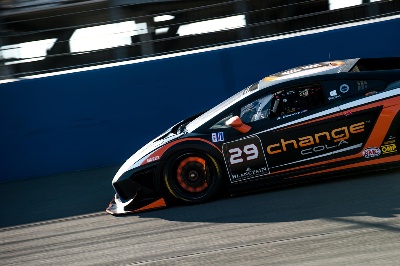 CHAMPIONS TO VIE FOR LAMBORGHINI BLANCPAIN SUPER TROFEO WORLD CROWNGlobal grid for Lamborghini World Finals

22 November 2013, Vallelunga, Campagnano Di Roma, Italy. Automobili Lamborghini today confirmed an international field for the Lamborghini Blancpain Super Trofeo World Finals at Vallelunga this weekend.

The inaugural event at the 4.085km circuit outside Rome that brings together the three Lamborghini Blancpain Super Trofeo series from Europe, Asia and North America, will deliver a World Champion following two 50 minute races on Saturd....
DAYTONA INTERNATIONAL SPEEDWAY TEST: DAY 2 – NOV. 20, 2013DAYTONA BEACH, Fla. (Nov. 20, 2013) – The TUDOR United SportsCar Championship's November preseason testing concluded on Wednesday at Daytona International Speedway, with six GTLM and 19 GTD teams posting competitive laps in preparation for the season-opening Rolex 24 At Daytona on Jan. 25-26, 2014.

IMSA and Continental Tire officials decided Wednesday morning to suspend testing for Prototype (P) and Prototype Challenge (PC) race cars due to issues that came to light in Tuesday's sessio....
ASTON MARTIN AT THE GUANGZHOU AUTO SHOW - THE NEXT CENTURY OF POWER, BEAUTY AND SOUL(Guangzhou, 21 November 2013) Luxury sports car maker Aston Martin launches its most extreme sports car – the V12 Vantage S – in China today at 8.1 Hall at the 11th Guangzhou International Auto Show. The famous British brand reveals its most impressive model range ever at Guangzhou, with the exclusive and limited production Centenary Edition Vanquish, luxury four-door sports GT Rapide S, timeless GT DB9, and the iconic One-77 hypercar.

The V12 Vantage S, which is now available to order....