World's Oldest Ford Vehicle Returns Home To Kick Off Henry Ford 150TH Celebration in 2013
•Oldest surviving Ford production car, a 1903 Model A, recently purchased at auction by Bill Ford; car unveiled as part of an employee event to kick off the 150th anniversary celebration of Henry Ford's birth in 2013 •Community picnic, special program at Maker Faire are key events leading up to the 150th birthday of Henry Ford on July 30, 2013 •New dedicated website, www.henryford150.com, launches to host an interactive timeline of Ford's life, a calendar of activities and information, and efforts to preserve Ford's legacy DEARBORN, Mich., Dec. 11, 2012 – A key part of Ford Motor Company's heritage returns home as a Model A built in 1903 is again with the Ford family, kicking off the yearlong celebration of the 150th anniversary of the birth of company founder Henry Ford. Considered the oldest surviving Ford vehicle, the 1903 Model A was unveiled today to Ford Motor Company employees by Executive Chairman Bill Ford, who purchased the vehicle at an auction in October.
'The timing was perfect to bring this key part of Ford heritage back to the family as we celebrate the 150th anniversary of my great-grandfather's birth and his vision to improve people's lives by making cars affordable for the average family,' said Bill Ford. 'His vision to build cars that are reasonably priced, reliable and efficient still resonates and defines our vision today as well.' MotorCities National Heritage Area and the Henry Ford Heritage Association teamed up with more than 30 Henry Ford-related collaborators to coordinate the yearlong celebration of events. These activities, highlighting Ford's legacy, contributions and influence, include tours, educational programming, dramatic re-enactments, lectures, integration and special events at auto shows and more. A dedicated website, www.henryford150.com, also is launching today that includes an interactive timeline of Ford's life, tours, a calendar of 2013 events and information about efforts to preserve Henry Ford's heritage. Henry Ford's 150th legacy will be celebrated in 2013 through a variety of events. Some of these include: •Coming Together: A Celebration of Henry Ford– July 27, 2013, The Henry Ford Estate Fair Lane, Dearborn, Mich. This free community event will bring Henry Ford to 'life' and feature many of his little-known interests and contributions. •Maker Faire – July 27-28, The Henry Ford, Dearborn, Mich. A two-day, family-friendly festival of invention, creativity and resourcefulness. This year's celebration of the Maker movement will include a special program to recognize innovators. •Discovering Henry Ford shows at The Henry Ford– April-December. A presenter-facilitated multimedia program using a large touch screen monitor to access digital assets (movies, photos) in themed 20-minute shows (Henry Ford the Tinkerer, Henry Ford and the Model T). •Henry's T – Dramatic presentation at Greenfield Village– May-August. Visitors will meet Henry Ford in this interactive 15-minute play and hear how he was inspired to build the world's universal car. Guests also will find out why the Model T was so revolutionary and how Henry Ford's visionary thinking and hard work enabled him to put the world on wheels. The role of the Model A The Model A returning home played a pivotal role in Ford Motor Company history. In July 1903, Henry Ford faced a daunting situation: The company's cash balance stood at less than $250. A much-needed cash infusion arrived on July 13, 1903: One full payment and two deposits totaling $1,320 for three Model A cars kept Ford Motor Company afloat. The car revealed today is a red 1903 Model A Rear Entry Tonneau. It is believed to be car No. 3, chassis No. 30, and the lone survivor of the group of three Model A cars sold on that day. The vehicle was auctioned through RM Auctions in October in Hershey, Pa. 'The Model A helped keep our company going during a difficult time and enabled my great-grandfather to continue pursuing his vision of putting the world on wheels,' said Bill Ford. 'We look forward to carrying that same spirit of innovation forward as we develop new technologies for safer, cleaner, more fuel-efficient vehicles.'
Recent Articles
Italian Sports And Racing Exotics Head To RM's Eagerly Anticipated Monterey Sale• RM Auctions announces stunning early roster of blue-chip Italian exotics for its flagship Monterey sale, August 16–17 in California
• No less than 21 Ferraris already consigned alongside two spectacular Maseratis
• Eight Ferraris offered without reserve from the Estate of William H. Tilley
• Additional early highlights include a fabulous 1931 Duesenberg Model SJ Murphy Convertible Coupe and a 1935 Hispano-Suiza K6 Brandone Cabriolet
• Frequently updated list of entries available online a....
St James's In Central London New Venue For 2013 Concours Of Elegance- HRH Prince Michael of Kent is Royal Patron -

Thorough Events Ltd, organiser of last year's inaugural UK Concours of Elegance at Windsor Castle, has announced an extraordinary new location for the 2013 event.

To take place from September 5-7, the 2013 Concours of Elegance will be held in St James's in Central London in an area that encompasses the gardens of 300 year-old Royal Palace Marlborough House, adjacent to The Mall and St James's Palace, official residence of the Sovereig....
American Classics from the Richard and Linda Kughn Collection Featured at RM's Annual Michigan Sale• RM Auctions returns to Plymouth, Michigan, July 27, for its well-established St. John's sale
• Single-day auction in automotive heartland features more than 80 historic collector cars
• Sale headlined by a wonderful selection of automobiles from the distinguished collection of Richard and Linda Kughn
• Auction acts as prelude to the Concours d'Elegance of America at St. John's on Sunday, July 28

BLENHEIM, Ontario (May 7, 2013) – RM Auctions, the official auction house of the Conc....
RM Auctions Announces Official Parntership With The St James's Concours Of Elegance• RM Auctions announces that it is the official auction partner of the exclusive St James's Concours of Elegance
• London auction dates to change from late October to 7-9 September, 2013 to coincide with the highly anticipated concours event

LONDON (3rd May, 2013) – RM Auctions, the world's largest collector car auction house for investment-quality automobiles, is delighted to announce that it has now become the official auction partner of the St James's Palace Concours of Elegance, w....
RM Auctions In Association With Sotheby's To Showcase Automotive Artistry At New York Sale• RM Auctions, in association with Sotheby's, announces exclusive New York collector car auction, November 21

• Groundbreaking sale to celebrate the automobile as an art form and feature an elite, handpicked selection of approximately 35 significant motor cars

• Early highlight: bespoke, one-off 1956 Aston Martin DB 2/4 MkII 'Supersonic' embodies wonderful concept of 'rolling sculpture'


BLENHEIM, Ontario (April 30, 2013) - RM Auctions, in association with Sotheb....
RM Auctions' Don Davis Collection Attracts Texas-Size Bids• RM Auctions posts over $21.2 million at the record-breaking sale of the distinguished Don Davis Collection, April 27 in Fort Worth, Texas
• Top seller: a rare 1967 Ferrari 330 GTS sold for $1,936,000, to establish a new auction record
• Five lots achieve million-dollar-plus results, with numerous auction records shattered
• Toyota 2000GT enters history books with seven-figure sales price
• Exceptional collection attracts bidders from 14 countries around the world

FORT WORTH, Texas (A....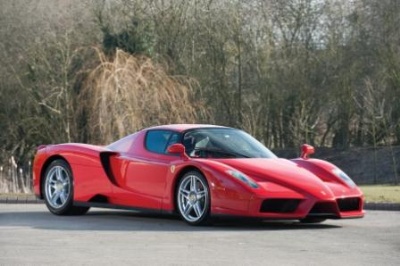 Incredible Hypercar 'Full House' Tops Spectacular Ferrari Extravaganza• RM Auctions announces amazing 16 car Ferrari haul for its forthcoming sale during the Concorso d'Eleganza Villa d'Este weekend, 25th May, on Lake Como, Italy
• Hypercar 'full house' includes Ferrari Enzo, F50, F40, 288 GTO, and 599XX
• Full list of handpicked entries available online at rmauctions.com

LONDON (16 April, 2013) – RM Auctions, the world's largest collector car auction house for investment-quality automobiles, is delighted to announce that its exclusive sale during the....
RM Offers Distinguished Don Davis Collection Without Reserve• Final countdown underway to RM Auctions' Don Davis Collection sale, April 27, in Fort Worth, Texas
• Single-day auction features 64 motor cars without reserve
• Offering comprises diverse roster of European sports and GT cars and American horsepower, including superb series of Porsche and Corvette automobiles
• Complete digital catalogue now available online at rmauctions.com
Following its record-setting sale of the Bruce Weiner Microcar Museum earlier this year, RM Auctions is proud to c....
blog comments powered by

Disqus