427 DragonSnake Cobra coming to the Concours d'Elegance of Texas
Following the resounding success of the inaugural Concours d'Elegance of Texas last spring, organizers have announced special features and classes for its second annual event, scheduled for May 5, 2013 at the award winning La Torretta Lake Resort & Spa in Montgomery, Texas. The Concours is one of the highlights of The Houston Classic Weekend, which will run from May 3-6, also featuring Worldwide Auctioneers The Houston Classic Auction, now in its twelfth year. Weekend visitors can once again look forward to a spectacular gathering of vintage motorcars, racecars and antique motorcycles and anticipate another Texas-sized welcome at the glorious lakeside setting of La Torretta on the shores of Lake Conroe, just north of Houston. Celebrating the Cars of Carroll Shelby as one of its featured classes, the 2013 Concours d'Elegance of Texas will showcase important Cobras and Mustangs from 1962 through 1971, including the only 427 Dragon Snake Cobra ever built. 'Alongside the cars of Carroll Shelby, eighteen individual classes will recognize a distinct range of marques and eras, including antique and vintage through 1924, the classic era, post war automobiles, race cars and pre- and post-war motorcycles,' said Mike Ames, Concours Chairman. 'We were overwhelmed by the response from collectors to our inaugural event and look forward to welcoming visitors with another stunning field of entrants in 2013. We set out to establish the Concours d'Elegance of Texas as one of the country's finest Concours events and are more than ever committed to this objective and excited by the future.' The complete class list and vehicle nomination forms are available online at concoursoftexas.org The Concours d'Elegance of Texas is a 501 (c) 3 non-profit and has confirmed the Holy Angels Residential Facility, Montgomery County Emergency Assistance and Collectors Foundation as its main charities. In 2012, The Houston Classic Weekend in its totality proudly helped contribute nearly $1million to charitable causes.

The Houston Classic Weekend kicks off on Friday, May 3, 2013, with the Texas Tour d'Elegance, when Concours participants take to the open road on a 50 mile scenic tour, breaking for a distinctly Texan lunch. Worldwide's The Houston Classic Auction is on Saturday, May 4, promising collectors another world-class line up of motorcars in a catalogue format auction, staged in La Torretta's Versailles Ballroom. The entertainment continues that evening with The Cowboys and Cars Strolling Dinner, an informal evening set around the pool, with the Concours d'Elegance of Texas itself on Sunday, May 5. Schedules and full event details are available online at www.concoursoftexas.org and Executive Director Lolly Bezy can be contacted at 1.855.262.9900 or lolly@concoursoftexas.com. Schedule and consignment information on The Houston Classic Auction is available at www.worldwide-auctioneers.com or by calling 1.260.925.6789. The resort is expected to fill up early and weekend packages are available now on www.concoursoftexas.com. Visit www.latorrettalakeresort.com for information on accommodation and resort amenities.
Recent Articles
Esteemed Pray Collection To Headline RM's 16Th Annual Amelia Island Sale• RM Auctions announces exceptional estate collection of Malcolm S. Pray Jr. for its 16th annual Amelia Island sale, March 8
• Renowned businessman and philanthropist's collection features no less than 17 automobiles, headlined by a 1937 Delahaye 135 Competition Court Roadster by Figoni et Falaschi that he owned for half a century
• Held in conjunction with the famed Amelia Island Concours d'Elegance, RM's well-established single-day sale will feature a roster of more than 80 blue-chip motor c....
Concours d'Elegance of America Names New ChairmanConcours d'Elegance of America at St John's names Larry Moss Chairman of the Board of Directors and Event Chairman

Troy, MI-December 17, 2013. The Concours d'Elegance of America Board of Directors is pleased to announce that Larry Moss has been appointed Chairman of the Board and Event Chairman for 2014.

Moss has a long history with the Concours. He served as Event Chairman of the Meadow Brook Concours in 1999 and 2000. He was Chairman of the Car Selection Committee from 200....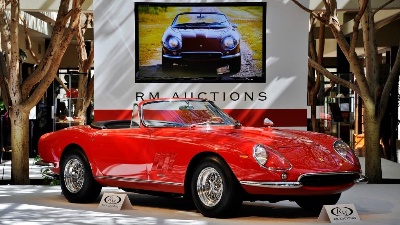 RM Group of Companies Celebrates Record-Setting 2013 With $442 Million in Sales and 'Best of Show' at Pebble Beach• RM group of companies, including RM Auctions and Auctions America, realizes an outstanding $442 million in auction sales in 2013
• RM Auctions secures 78 individual million-dollar-plus transactions and redefines the high-end collector car auction experience with record Monterey and New York sales
• Auctions America expands national footprint with highly successful California debut and live broadcasts on NBC Sports Network
• RM Auto Restoration confirms status as world's premier restorati....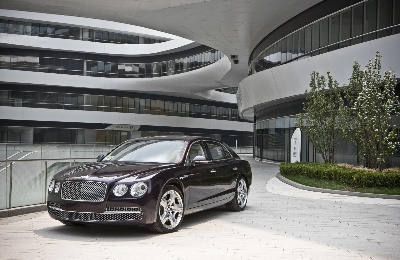 2013 Bentley News HighlightsBentley SUV confirmed
• Three new models unveiled
• Strong sales growth through first three quarters of 2013
• Company returns to motorsport with Continental GT3

(Crewe, England. 17 December 2013) 2013 has been a year of key landmarks and achievements for Bentley and its customers.

The company confirmed it will build the world's fastest and most luxurious SUV at its Crewe headquarters, creating a further 1,000 jobs at Bentley and its suppliers, as well as taking Bentley d....
Tom Fritz Creates The 19Th Annual Amelia Island Concours D'elegance PosterThe posters for the Amelia Island Concours d'Elegance have become collectible car art and the 2014 edition is no exception. Today the Concours revealed that the 19thannual event poster was created by famed hot rod artist Tom Fritz and honors Jochen Mass on the 25th anniversary of his victory in the 1989 24 Hours of Le Mans driving his Mercedes-Benz Sauber C9. The beautiful piece takes creative cues from the first Amelia poster in 1996, well-known for honoring the record-setting drive of Sir Stir....
1958 FERRARI 250 GT LWB CALIFORNIA SPIDER STARS AT RM'S 15TH ANNUAL ARIZONA SALE• RM Auctions announces latest highlights for its two-day Arizona auction, January 16 – 17 in Phoenix, led by a highly prized 1958 Ferrari 250 GT LWB California Spider
• Most recent blue-chip entries join a spectacular roster of more than 120 handpicked automobiles for the sale at the beautiful Arizona Biltmore Resort & Spa
• Frequently updated list of entries available online at www.rmauctions.com

BLENHEIM, Ontario (December 10, 2013) – RM Auctions, the world's largest auctio....
Maserati Celebrates 100th Anniversary as Featured Marque of the Rolex Monterey Motorsports ReunionAugust 14-17 at Mazda Raceway
MONTEREY, Calif., December 10, 2013 — The Rolex Monterey Motorsports Reunion will celebrate the rich 100-year history of Maserati, one of Italy's iconic luxury sports car brands that throughout the century has been deeply rooted in racing. The celebration will be held August 14-17, 2014 at Mazda Raceway Laguna Seca.

The Monterey Classic Car Week and Rolex Monterey Motorsports Reunion is a haven for international classic car enthusiasts. Centered a....
Car Expert Hans Wurl Joins Gooding & Company's Team of Classic Automobile SpecialistsSANTA MONICA, Calif. (December 9, 2013) – Gooding & Company, the official auction house of the Pebble Beach Concours d'Elegance®, is expanding its existing team with the addition of Hans Wurl, a well-known classic car specialist with a strong technical background. Wurl has served as advisor to noted collectors and participated in some of the best collector car events around the world. Based in Seattle, Wurl joins Gooding & Company's team of respected automotive specialists David Brynan,....
2014 Ford Mustang U.S. Air Force Thunderbirds
---
2013 Dodge Viper GTS Launch Edition
---
2013 Ford 1000 S/C
---
2013 Ford GT500 Super Snake Wide Body
---
2013 Ford GTR1
---
2013 Ford Mustang Red Tail Edition
---
2013 McLaren MP4-12C SPIDER
---
2012 Bentley Mulsanne Convertible Concept
---
2012 Ford Mustang GT 50th Anniversary Edition
---
2012 Ford Mustang GT Blue Angels
---