CADILLAC CONCEPT CARS STAR at AMELIA CONCOURS d'ELEGANCE
There are limited production cars, there are rare cars and there are concept cars that never find their way to the showroom. A fleet of Cadillac's rare and mythic Motorama and Detroit Auto Show Concept Cars will take to the field at the 18th Annual Amelia Island Concours d'Elegance on Sunday March 10, 2013. Created under the supervision of GM's legendary styling chief, Harley Earl, the Cadillac Concept cars of the 'Fifties were created as the stars of GM's Motorama shows. All are blood ancestors of the contemporary Cadillac Cien and Cadillac Sixteen Concept Cars of the 21st century. Many were created not to be driven but only to be shown and crushed. Some early cars were sold to GM executives, celebrities, or people of influence. Happily, orders to destroy these spectacular harbingers of the future were often ignored or outright disobeyed. Unlike many show cars of the Fifties, Cadillac's Motorama Concept Cars carried the future in their lines, options, trim and colors. The quad headlights of the 1955 Cadillac El Dorado Brougham Concept Car were GM's first use of the four headlight format that became standard GM styling practice in 1957. The 1959 Cadillac Cyclone featured sliding doors, predating the design nexus of all minivans. Nine of Cadillac's Concept Cars will be featured in the 18th annual Amelia Island Concours d'Elegance; the 1949 Cadillac Fleetwood Coupe De Ville prototype, two 1953 Le Mans roadsters, 1953 El Dorado Special, 1956 Eldorado Brougham Town Car, 1959 Cyclone, 1961 El Dorado Chicago Auto Show car once owned by pro golfer Walter Hagen, the 2002 Cien, and the massive, 1000-horsepower 2003 Cadillac Sixteen.
''Standard of the World' is not simply a Cadillac slogan or the product of some ad copywriter's imagination,' said Amelia Concours Founder and Chairman Bill Warner. 'It is an honor and a title bestowed upon Cadillac in 1909 by the Royal Automobile Club when a trio of Cadillacs won the RAC's Dewer Trophy . . . the Nobel Prize of the automotive world.' The Cadillacs were driven from London to the Brooklands race track, disassembled (with their parts scattered and intermingled with other random parts) reassembled, and driven 500 trouble free miles! It was an unrivaled international engineering and manufacturing feat that set Cadillac on its course as an international industry leader. 'Cadillac's dedication to precision and technological leadership has been part of their corporate DNA since the company was founded in 1902. That spirit is personified in Cadillac's concept cars. They're not just interesting styling exercises, they're important for the entire automotive industry,' said Warner. About The Amelia Island Concours d'Elegance Now in its second decade, the Amelia Island Concours d'Elegance is among the top automotive events in the world. Always held the second full weekend in March, 'The Amelia' draws nearly 250 rare vehicles from collections around the world to The Golf Club of Amelia Island at Summer Beach and The Ritz-Carlton, Amelia Island for a celebration of the automobile like no other. Since 1996, the show's Foundation has donated over $2 million to Community Hospice of Northeast Florida, Inc. and other deserving charities on Florida's First Coast. The 18th annual Amelia Island Concours d'Elegance is scheduled for March 8-10, 2013. For more information, visit www.ameliaconcours.org or call 904-636-0027.
Recent Articles
Car Expert Hans Wurl Joins Gooding & Company's Team of Classic Automobile SpecialistsSANTA MONICA, Calif. (December 9, 2013) – Gooding & Company, the official auction house of the Pebble Beach Concours d'Elegance®, is expanding its existing team with the addition of Hans Wurl, a well-known classic car specialist with a strong technical background. Wurl has served as advisor to noted collectors and participated in some of the best collector car events around the world. Based in Seattle, Wurl joins Gooding & Company's team of respected automotive specialists David Brynan,....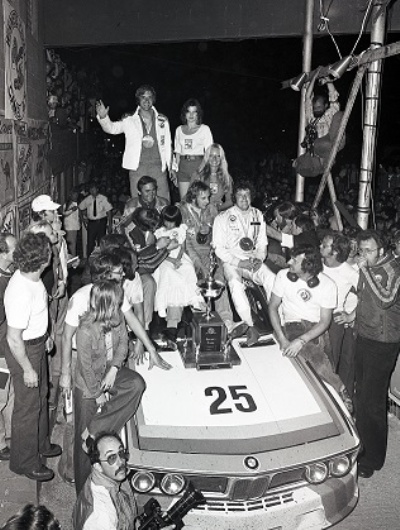 BMW's 'BATMOBILES' SET FOR 19th ANNUAL AMELIA CONCOURSScheduled to appear in the 19th Annual Amelia Concours' BMW 3.0 CSL 'batmobile class' are not only the 1975 Sebring 12 Hour and '76 Daytona 24 winners, but Alexander Calder's 1975 Le Mans 3.0 CSL with his trademark signature on the left rear fender.

BMW's 'Batmobile' racers were glorious mutants. They arrived from Europe wearing a frosting of giant wings, huge fender boxes and big spoilers, all powered by a 430 hp straight-six engine that made a glorious noise and propelled BMW's luxury cou....
400TH BUGATTI VEYRON SOLD – THE VEYRON BEGINS ITS FINAL LAPJust 50 models of the super sports car are still available

• 400th Veyron is a Grand Sport Vitesse 'Jean-Pierre Wimille' of the six-part edition 'Les Légendes de Bugatti'

• Head of Bugatti Wolfgang Schreiber, 'A unique success story about the most exclusive and luxurious super sports car brand in the world'


Molsheim, 5 December 2013. Bugatti has sold its 400th Veyron. Since the production run of the Veyron and its variants is limited to just 450 models, thi....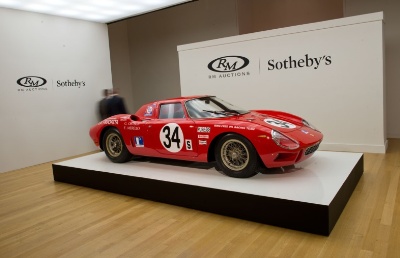 RM Auctions and Sotheby's Stun the Market with Incredible $63 Million 'Art of the Automobile' Sale in New York• RM Auctions and Sotheby's momentous Art of the Automobile auction generates $62,797,500 of sales in two hours of furious bidding
• Records tumble with the historic 1964 Ferrari 250 LM by Carrozzeria Scaglietti achieving $14,300,000 while the stunning 1938 Talbot-Lago T150-C SS Teardrop Cabriolet by Figoni et Falaschi sells for $7,150,000
• 93 percent of all lots sold to an international audience of bidders representing 17 countries
• Full results are available online at www.rmauctions.c....
Expert Symposium Delivered to Packed Room Ahead of 'Art of the Automobile' New York Sale• RM Auctions and Sotheby's deliver highly outstanding expert symposium to more than 700 people
• Six hugely influential and respected specialists set the scene in advance of truly groundbreaking Art of The Automobile sale
• Anticipation building for what is being regarded as one of the finest and most innovative collector car auctions ever held

NEW YORK, New York (November 20, 2013) – The eyes of the collector car community are firmly fixed on New York, as RM Auctions and Sotheby's,....
2014 Kia Sedona
---
2014 Nissan Quest
---
2014 Ram Cargo Van
---
2014 Toyota Sienna
---
2013 Dodge Grand Caravan
---
2013 Dodge Viper GTS Launch Edition
---
2013 Ford GTR1
---
2013 McLaren MP4-12C SPIDER
---
2013 Nissan Quest
---
2013 Toyota Sienna
---