Testing: The Roar Before the Rolex 24
Four days into the New Year, new teams and new cars are taking their first laps at Daytona International Speedway as the landmark 2013 sports car racing season gets underway with this weekend's three day test event: the Roar Before the Rolex 24. The dreary weather did not dampen the excitement among drivers and race organizers to go racing as they prepare for the historic merger of GRAND-AM and ALMS, as well as the debut of the new GX class at the 51st running of the Rolex 24 At Daytona later this month. The introduction of a new class presents numerous challenges for interested race teams, starting with the wait for the rules package to be published. With the rules in hand, the mad rush begins to build the car in order to be ready for early testing before the Rolex 24 At Daytona opens the 2013 GRAND-AM Rolex Sports Car Series on January 26. For the six GX teams who are testing this weekend, there was barely enough time to complete their cars and get them to Daytona for testing. That was the case for Napleton Racing's #16 Porsche Cayman which arrived at the Roar Before the Rolex 24 having taken only a few shakedown laps with Shane Lewis (Jupiter, Fla.) behind the wheel. Teammates David Donohue (Malvern, Penn.), Jim Norman, (Tampa, Fla.) and Nelson Canache (Norcross, Ga.) will have their first opportunity to drive the car this weekend. 'Shane and I have raced together before and I have worked with Ron, our crew chief, before at Brumos,' said Donohue, who previously raced in the DP class. 'There are a lot of familiar faces on the team and I wanted to find a team where we can exercise our craft, have some success and grow together as a team.'
Lewis couldn't wait to get the car on the track. 'What do you want for Christmas – I want to be driving a race car at Daytona,' he said referring to the holiday season which interrupted the build progress for many teams. Lewis explained the difference between the GX and the GT classes: 'The GX class is based on production cars, and, although there are some significant race prepped elements, we are restricted to a stock H-pattern shifter similar to that of the road car – as opposed to the sequential shifters of the GT Cars. Unlike some of the race cars today we are going to have to drive our car the old fashioned way.' A total of 59 cars – 17 DP, 36 GT and six GX – are expected to participate in testing this weekend. A.J. Allmendinger (Denver, Colo.) drove the #60 Michael Shank Racing Ford Riley to a fastest lap of 1:42.918 (124.526 mph) to take bragging rights for the day. 'The weather was not the best today and I was the first driver on our team to go out in the damp conditions,' said Allmendinger. 'But even in those conditions the car was really solid. I was just trying to get comfortable in the car since it had been a year since I drove this DP car. I feel the car is even better this year than it was last year when our team won the 2012 Rolex 24 At Daytona.' In the GT class, 2012 Rolex 24 At Daytona class champion Andy Lally (Northport, N.Y.), at the wheel of the Magnus Racing #44 Porsche GT3 Cup, posted the fastest lap of 1:49.322 (117.232 mph), while David Donahue led the new GX field with a time of 1:57.466 (109.104 mph) in the Napleton Racing #16 Porsche Cayman. About Rolex Motorsports - Leading brand of the Swiss watch industry, Rolex, headquartered in Geneva, enjoys an unrivalled reputation for quality and expertise the world over. Its Oyster watches, all certified as chronometers for their precision, are symbols of excellence, performance and prestige. Pioneer in the development of the wristwatch as early as 1905, the brand is at the origin of numerous major watchmaking innovations, such as the Oyster, the first waterproof wristwatch, launched in 1926, and the Perpetual rotor self-winding mechanism introduced in 1931. Rolex has registered over 400 patents in the course of its history. A truly integrated manufacturing company, Rolex designs, develops and produces inhouse all the essential components of its watches, from the casting of the gold alloys to the machining, crafting, assembly and finishing of the movement, case, dial and bracelet. Rolex is also actively involved in supporting the arts, sports, science, the spirit of enterprise, and the environment through a broad palette of sponsoring activities as well as philanthropic programs. Photo sources: Rolex / Stephan Cooper
Recent Articles
TUDOR UNITED SPORTSCAR CHAMPIONSHIP BRAND ADVERTISING CAMPAIGN DEBUTS ON FOX SPORTS 1DAYTONA BEACH, Florida (Dec. 17, 2013) – A 30-second television commercial capturing the on-track excitement of and anticipation for the 2014 TUDOR United SportsCar Championship was launched Dec. 16 on Fox Sports 1 as the centerpiece of the International Motorsports Association's (IMSA) multi-media brand advertising campaign.

The television commercial on FOX Sports 1 is part of the five-year partnership between IMSA and FOX Sports announced in August. The advertising campaign showcasing the 2....
ROLEX 24 AT DAYTONA: AN ENDURING LEGENDThe Rolex 24 At Daytona is North America's equivalent of the 24 Hours of Le Mans. The connection between the two legends of endurance motorsport comprises several strands: both involve two laps around the clock, both involve the very best drivers and teams; both require passion, skill and determination to succeed; both have long, proud histories; and, both are sponsored by the Swiss watch-maker Rolex.
The 52nd Rolex 24 At Daytona takes place over the weekend of 25-26 January 2014. Once again th....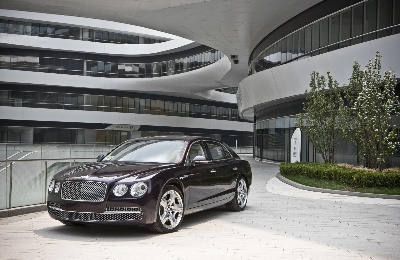 2013 Bentley News HighlightsBentley SUV confirmed
• Three new models unveiled
• Strong sales growth through first three quarters of 2013
• Company returns to motorsport with Continental GT3

(Crewe, England. 17 December 2013) 2013 has been a year of key landmarks and achievements for Bentley and its customers.

The company confirmed it will build the world's fastest and most luxurious SUV at its Crewe headquarters, creating a further 1,000 jobs at Bentley and its suppliers, as well as taking Bentley d....
PORSCHE WORKS ENGAGEMENT WITH 919 HYBRID AND 911 RSRMost Comprehensive Racing Program of All Time

Stuttgart. Porsche heads into the 2014 season with the most extensive motorsport program ever. In addition to its new LMP1 project, Porsche Motorsport sends two GT works teams to compete on race tracks around the world. Porsche AG Team Manthey again fields two Porsche 911 RSR in the Sports Car World Endurance Championship (WEC), as well as at the Le Mans 24 Hours. Porsche North America contests the new TUDOR United SportsCar Champio....
CONTINENTAL GT3 FINISHES GULF 12HR IN FOURTHOutstanding result in first test race
• Reliability combines with strong pace to achieve 4th place
• Team pushes the new car to the limit in preparation for 2014

(Abu Dhabi, 13th December 2013) Bentley's test race debut of the all-new Continental GT3 racecar with Team M-Sport achieved an impressive fourth place finish in the Gulf 12 Hours of Abu Dhabi. After completing the first six hour session of the race in third position, the second half of the race saw the team maintain that po....
CONTINENTAL GT3 MAKES STRONG START TO RACING CAREERNew Bentley racecar holds third place six hours in to first test race
• Trouble-free first half as new car shows true pace and reliability
• Second race starts at 13:45 GMT

(Abu Dhabi, 13th December 2013) The new Bentley Continental GT3 racecar holds third position after the completion of the first half of the Gulf 12 Hours at Abu Dhabi, showing promising pace and impeccable reliability in true Bentley fashion.

New Bentley Boys Steven Kane, Guy Smith and Andy Meyrick have driven two stin....
2015 Nissan GT-R Nismo
---
2015 Porsche 918 Spyder
---
2014 Aston Martin V12 Vantage S
---
2014 BMW M235i Racer
---
2014 Dodge SRT Viper GT3-R
---
2014 Lamborghini Gallardo LP570-4 Squadra Corse
---
2014 Mazda 6
---
2014 McLaren P1
---
2014 Mercedes-Benz CLA 45 AMG Racing Series
---
2014 Mercedes-Benz SLS AMG GT Final Edition
---