2013 SEASON STARTS WITH SEBRING WINTER TEST
ALMS cars on-track Feb. 7-8 The countdown to the 61st Mobil 1 Twelve Hours of Sebring Fueled by Fresh from Florida is less than 70 days, but the start of the 2013 American Le Mans Series presented by Tequila Patrón is much sooner than that. The annual Sebring Winter Test is scheduled for Feb. 5-8 at Sebring International Raceway. ALMS cars are on-track on Feb. 7-8 with IMSA's three development series – Cooper Tire Prototype Lites powered by Mazda, IMSA GT3 Challenge by Yokohama and Porsche GT3 Cup Challenge Canada by Michelin – and Cooper Tires USF2000 powered by Mazda running the two days prior. The test sessions take place a little more than a month from the start of the 15th season of the American Le Mans Series. The test is open to the public, and tickets are $10. No overnight camping is permitted.

The new ALMS season goes green with the 61st Mobil 1 Twelve Hours of Sebring on Saturday, March 16. The race will air live on SPEED, and ticket information is available at sebringraceway.com. ALMS.com will feature Live Timing and Scoring. For more information, visit sebringraceway.com
Recent Articles
Ferrari Challenge Europe Rolls Into The Czech Republic For Round TwoFerrari Challenge Czech's in to Brno

Brno, - The Ferrari Challenge Europe rolls into Brno in the Czech republic this weekend for the second round of the championship.

Local interest will be provided by Scuderia Praha lead driver and dealer principal Robert Pergl (No.11), who will compete in the Trofeo Pirelli category. The team will also enter 2 cars in the Coppa Shell category for Slovakian drivers Jakubik (No.188) and Kukacka (no.190).

Pergl is a highly experienced Ferrari race....
CHRYSLER GROUP LLC'S SRT (STREET AND RACING TECHNOLOGY) BRAND KICKS OFF THIRD CONSECUTIVE 2013 SRT TOUR◾First 2013 SRT Tour stop kicked off May 9-12 at American Le Mans Series in Monterey, Calif.
◾The 2013 Dodge Challenger SRT8, Dodge Charger SRT8 and Chrysler 300 SRT8 along with 2014 Jeep® Grand Cherokee SRT vehicles to be on display
◾The all-new 2013 SRT Viper on display at select locations
◾The third year of SRT Tour will visit unique lifestyle events over three-month span

May 17, 2013 , Auburn Hills, Mich. - For the third consecutive year, the SRT Tour, showcasing the latest high....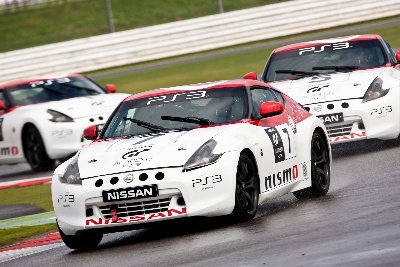 NISSAN AND PLAYSTATION ANNOUNCE BIGGEST EVER GT ACADEMY PROGRAMLONDON and PARIS - Nissan and Sony Computer Entertainment Europe have revealed that the innovative GT Academy competition will return for a fifth season. GT Academy 2013 will be the biggest yet, with more countries than ever before participating and the online gaming element of the competition set to be run in July on a demo of the hotly-anticipated Gran Turismo®6 game exclusively on PlayStation®3.

Since its inception in 2008, the highly acclaimed virtual-to-reality competition has att....
ELMS - 9 FERRARI'S HEAD FOR HOME RACE IN IMOLAMaranello 16 May - The second round of the European Le Mans Series (ELMS) arrives at Imola this weekend and nine Ferrari 458 will take to the grid.

By far the most popular car in the GTE category is the 458, Ram Racing have entered two cars for Silverstone pole sitters Johnny Mowlem and Matt Griffin and a second for American hot shots Gunnar Jeanette and Franck Montecalvo. JMW have one car for Andrea Bertolini and Joël Camathias. After a difficult round at Silverstone, AF Corse return with t....
Aston Martin Set To Take Nürburgring 24 Hours By Storm◾Debut of Aston Martin Bilstein Vantage GT3 at the Nordschleife
◾Hybrid Hydrogen Rapide S set to make history with zero CO2 emission lap
◾Close-to-production V12 Vantage targets class honours

Aston Martin heads to the ADAC Zurich 24 Hours of Nürburgring (N24) in Germany this weekend (18-20 May) with three very different race cars – an international championship-winning V12 Vantage GT3, a record-breaking Hybrid Hydrogen Rapide S and a close-to-production specification V12 Vantage.

Aston M....
Sony Computer Entertainment Inc. announces new version of the gaming classic Gran Turismo®: Three of the latest AMG vehicles celebrate their digital premiere in Gran Turismo® 6With the combined power of more than 1400 hp, Mercedes-Benz is taking to the starting grid of Gran Turismo® 6 with three of its latest models. All set to provide pure excitement and fascination in the new version of the gaming classic for the PlayStation®3 are three high-performance vehicles from AMG: the SLS AMG GT3 producing over 367 kW (more than 500 hp), the E63 AMG producing 410 kW (557 hp) and the A45 AMG producing 265 kW (360 hp). In addition to the three new vehicles, no fewer than 21 fu....
Af Corse To Take Part In Asian Le Mans Series With 458GtMaranello, 14 May – AF Corse will tackle a quartet of races in Asia, as the team is to compete in the 2013 Asian Le Mans Series. The 458 GT3 from the Amato Ferrari-run team will be entrusted to an Italo-Australian team made up of Andrea Bertolini, Michele Rugolo and Steve Wyatt, who will race in the GTC category.

There are four rounds on the calendar in this series, which gets underway in South Korea at the new Autopia circuit, near Inje on 4 August. It then moves to Japan (Fuji, 22 Septembe....
NISSAN MOTORSPORT V8 SUPERCAR DRIVERS VISIT THE BIRTHPLACE OF THE ALTIMA IN TENNESSEE- Nissan Motorsport factory V8 Supercar drivers Todd Kelly, Rick Kelly and Michael Caruso visit Nissan manufacturing facility in Smyrna, Tennessee – 'birthplace of the Altima'
- Drivers in the US ahead of history-making Austin 400 at Circuit of the Americas in Texas
- Nissan Altima road car on-sale in Australia in fourth quarter of 2013

SMYRNA, Tenn. – Nissan Motorsport V8 Supercar drivers Todd Kelly, Rick Kelly and Michael Caruso have been given a behind-the-scenes tour of Nissan's North A....
2014 MDX Acura
---
2014 CX-5 Mazda
---
2014 P1 McLaren
---
2014 911 GT3 Porsche
---
2014 918 Spyder Porsche

---
2013 R8 GRAND-AM Audi
---
2013 Continental GT3 Concept Bentley
---
2013 Z4 GTE BMW
---
2013 Corvette Z06 Chevrolet
---
2013 Viper GTS-R SRT Dodge
---
blog comments powered by

Disqus