RM Auctions Realizes $36.4 Million At Single-Day Arizona Biltmore Sale
• RM generates more than $36.4 million in sales with 89 percent of all lots sold at its 14th annual Arizona sale • Single-day sale features selective, handpicked offering of blue-chip automobiles, eclipses 2012 Arizona sale tally by more than 42 percent • Eight automobiles achieve million-dollar plus results with multiple new auction records set • Top-seller: 1960 Ferrari 250 GT SWB Berlinetta 'Competizione' sells for record $8,140,000 • RM continues its 2013 auction calendar with the presentation of the Bruce Weiner Microcar Museum and a return to Amelia Island, Florida PHOENIX, Arizona (January 19, 2013) – RM Auctions, the world's largest collector car auction house for investment-quality automobiles, kicked off its 2013 auction season on a strong note yesterday, realizing an impressive $36.4 million in sales* with a strong 89 percent of all lots sold at its single-day Phoenix, Arizona sale.
Held at the prestigious Arizona Biltmore Resort & Spa, the impressive results represent an all-time high for the international auction house in Arizona, and more significantly, a more than 42 percent increase over the Company's 2012 sale, generated no less by a smaller, more elite offering as RM continued to focus on the top tier of the market. Headlined by the record-setting sale of the 1960 Ferrari 250 GT SWB Berlinetta 'Competizione', as many as eight automobiles achieved million-dollar-plus results, with numerous new auction records set. Reflecting RM's international clientele, bidders hailed from 17 countries around the world, with a strong showing of European enthusiasts as well as collectors from as far afield as Brazil, Argentina and Australia. 'Our fourteenth foray into Arizona this year was as exciting as ever – our clients from around the world were joined by our equally international team of specialists, from California to the UK and it made for a spectacular, history-making event,' says Shelby Myers, Managing Director, RM Auctions – California. 'We are very pleased with the results. We strategically limited our sale this year to a smaller, more exclusive offering than previous years, yet the sales tally for our single-day event was up on our 2012 total by more than 42 percent, a significant increase that reflects not only the exceptional quality of the automobiles presented, but also illustrates the continued strength of the market for 'best of category' examples. The Arizona auction week is widely regarded as a barometer for the new collector car season; the results from our Biltmore sale paint a very positive forecast for 2013 and we look forward to continuing the momentum at our upcoming sales in Georgia and Florida,' adds Myers. Top sales honors at the January 18 auction went to the sale's catalogue cover car - the alloy-bodied 1960 Ferrari 250 GT SWB Berlinetta 'Competizione', chassis 1905 GT. Widely revered by collectors as one of Ferrari's most prized berlinettas, 1905 GT spurred a fierce bidding war between multiple collectors in the room and on the phones, eventually selling to its fifth owner for a remarkable $8,140,000. The outstanding sales price represents a new world record for a Ferrari 250 GT SWB Berlinetta sold at auction. Continuing RM's strong track record for Ferraris in Arizona, the single-day auction presented no less than 11 examples from the famed Italian marque. Among a long list of additional highlights were a truly stunning, Ferrari Classiche certified 1967 Ferrari 275 GTB/4 for $1,842,500 and a magnificently restored, concours-quality 1954 Ferrari 250 Europa Coupe for $1,017,500. American-built automobiles also attracted strong attention at RM's Arizona sale. Headlining this group was a genuine and fully documented 1967 Shelby 427 'Semi-Competition' Cobra, one of just 29 S/C Cobras built, which well-exceeded its pre-sale estimate to garner a final sales price of $2,007,500. A 1931 Duesenberg Model J Derham Tourster, offered for the first time in more than 40 years, was also hotly contested, realizing a strong $1,320,000. RM Arizona: Million-Dollar-Plus Sales: 1. Lot 164: 1960 Ferrari 250 GT SWB Berlinetta 'Competizione' - $8,140,000 2. Lot 122: 1967 Shelby 427 'Semi-Competition' Cobra - $2,007,500 3. Lot 145: 1967 Ferrari 275 GTB/4 - $1,842,500 4. Lot 125: 1938 Delahaye 135 MS Coupe - $1,540,000 5. Lot 152: 1966 Ferrari 275 GTB - $1,320,000 6. Lot 167: 2003 Ferrari Enzo - $1,320,000 7. Lot 141: 1931 Duesenberg Model J Derham Tourster - $1,320,000 8. Lot 133: 1954 Ferrari 250 Europa Coupe - $1,017,500 Beyond the group of million-dollar-plus sales, other highlights included a rare 1953 Allard JR 'Le Mans' Roadster, one of just seven built, for $605,000 - a world record for an Allard sold at auction, and a stunning 1955 Lancia Aurelia B24S America Spider, arguably the most desirable post-war Lancia, for $825,000 - a world record for a Lancia Aurelia B24S sold at auction. Full results from the Arizona sale will be posted online at rmauctions.com. RM Auctions continues its 2013 calendar of events, February 15-16 with the highly anticipated presentation of the Bruce Weiner Microcar Museum, the world's largest collection of the world's smallest cars, in Madison, Georgia (www.handlewithfun.com), closely followed by its annual Amelia Island, Florida sale, March 9, held in conjunction with the renowned Amelia Island Concours d'Elegance. About RM Auctions RM Auctions is the world's largest auction house for investment-quality automobiles. With over three decades of experience in the collector car industry, RM's vertically integrated range of services, from restoration to private treaty sales, auctions, estate planning, and financial services, coupled with an expert team of car specialists and an international footprint, provide an unsurpassed level of service to the global collector car market. RM proudly holds five of the top 10 all-time records for the most expensive motor cars sold at auction. RM's restoration division has achieved unprecedented accolades earning 'Best of Show' honors at the world's top concours events, including four wins at the prestigious Pebble Beach Concours d'Elegance. For further information, visit rmauctions.com, find us on Facebook, or follow us on Twitter @rmauctions. *Results are listed in USD and inclusive of 10 percent buyer's premium
Recent Articles
Car Expert Hans Wurl Joins Gooding & Company's Team of Classic Automobile SpecialistsSANTA MONICA, Calif. (December 9, 2013) – Gooding & Company, the official auction house of the Pebble Beach Concours d'Elegance®, is expanding its existing team with the addition of Hans Wurl, a well-known classic car specialist with a strong technical background. Wurl has served as advisor to noted collectors and participated in some of the best collector car events around the world. Based in Seattle, Wurl joins Gooding & Company's team of respected automotive specialists David Brynan,....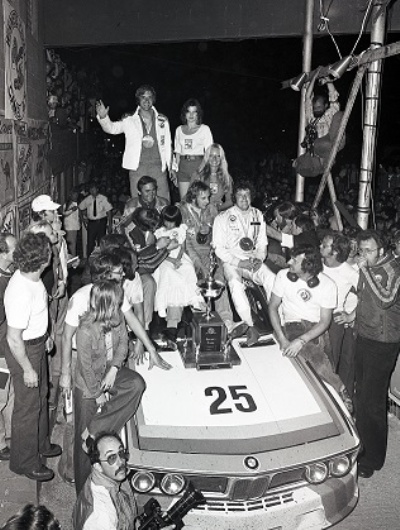 BMW's 'BATMOBILES' SET FOR 19th ANNUAL AMELIA CONCOURSScheduled to appear in the 19th Annual Amelia Concours' BMW 3.0 CSL 'batmobile class' are not only the 1975 Sebring 12 Hour and '76 Daytona 24 winners, but Alexander Calder's 1975 Le Mans 3.0 CSL with his trademark signature on the left rear fender.

BMW's 'Batmobile' racers were glorious mutants. They arrived from Europe wearing a frosting of giant wings, huge fender boxes and big spoilers, all powered by a 430 hp straight-six engine that made a glorious noise and propelled BMW's luxury cou....
LE MANS GREATS HEAD STUNNING ROSTER OF ADDITIONAL ENTRIES FOR RM'S 2014 PARIS SALE DURING RETROMOBILE WEEK• Anticipation builds ahead of RM's €25 million debut Paris sale on 5 February 2014
• More Le Mans greats join stunning competition car line-up at saleLatest highlights include a 1982 Rondeau M482 Le Mans GTP, a veteran of five Le Mans 24 hours races, and a mighty 2008 Peugeot 908 HDi FAP Le Mans Prototype, which finished 2nd at Le Mans, was driven by Jacques Villeneuve, and has been entrusted to be sold by RM by the Peugeot factory
• Other recently secured entries include a Bugatti Type 40 Ro....
400TH BUGATTI VEYRON SOLD – THE VEYRON BEGINS ITS FINAL LAPJust 50 models of the super sports car are still available

• 400th Veyron is a Grand Sport Vitesse 'Jean-Pierre Wimille' of the six-part edition 'Les Légendes de Bugatti'

• Head of Bugatti Wolfgang Schreiber, 'A unique success story about the most exclusive and luxurious super sports car brand in the world'


Molsheim, 5 December 2013. Bugatti has sold its 400th Veyron. Since the production run of the Veyron and its variants is limited to just 450 models, thi....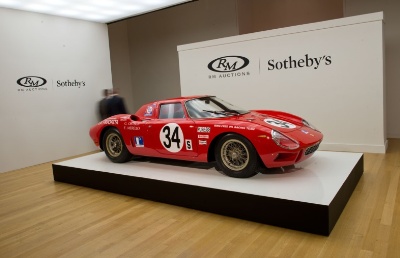 RM Auctions and Sotheby's Stun the Market with Incredible $63 Million 'Art of the Automobile' Sale in New York• RM Auctions and Sotheby's momentous Art of the Automobile auction generates $62,797,500 of sales in two hours of furious bidding
• Records tumble with the historic 1964 Ferrari 250 LM by Carrozzeria Scaglietti achieving $14,300,000 while the stunning 1938 Talbot-Lago T150-C SS Teardrop Cabriolet by Figoni et Falaschi sells for $7,150,000
• 93 percent of all lots sold to an international audience of bidders representing 17 countries
• Full results are available online at www.rmauctions.c....
2014 Ferrari LaFerrari
---
2013 Aston Martin Vanquish Volante Neiman Marcus Edition
---
2013 BMW Concept M4 Coupe
---
2013 BMW Zagato Roadster
---
2013 Bugatti Veyron Grand Sport Vitesse Legend Jean-Pierre Wimille
---
2013 Bugatti Veyron Jean Bugatti
---
2013 Dodge Viper GTS Launch Edition
---
2013 Ford GTR1
---
2013 Laraki Epitome Concept
---
2013 McLaren MP4-12C Can-Am Edition Racing Concept
---