Barrett-Jackson Cruises North, Launches New Auction At Hot August Nights In Reno, Nev. Aug. 8-10, 2013
By: Barrett-Jackson
SCOTTSDALE, ARIZ. (January 20, 2013) – Today, during the Barrett-Jackson Scottsdale auction, a groundbreaking partnership was announced that brings The World's Greatest Collector Car Auctions™ to the base of the Sierra Nevadas to join the world's premiere classic car and nostalgia festival. The inaugural Hot August Nights Auction Presented by Barrett-Jackson will take place in Reno Tahoe, Aug. 8-10, 2013. This event marks a historic partnership between two of the most recognized names in the classic and collector car industry. The new partnership between Barrett-Jackson and Hot August Nights will offer fans and customers of both the classic car event and collector car auctions a weeklong opportunity to celebrate and revel in some of the most recognizable and historic automobiles in the world. Not only will buyers be able to bid on and purchase from Barrett-Jackson's famous selection of collector cars, but now they can take them right from the auction block to the streets of Reno Tahoe to participate in one of Hot August Nights' famous cruises or show-n-shines. 'The only missing piece in Hot August Nights' successful puzzle was a Barrett-Jackson Auction,' said Craig Jackson, Chairman and CEO of Barrett-Jackson. 'Our collectors in Canada, Seattle, San Francisco and the Silicon Valley have been asking — for decades — for an auction in their region. The partnership with Hot August Nights provides the perfect atmosphere of automotive passion to make that happen.' Hot August Nights Reno Tahoe came as an opportunity for Barrett-Jackson and signifies the next evolution in its series of collector car auctions around the U.S. The auction quickly outgrew the Orange County Fairgrounds, expanding beyond both the site and the tent that the company had to bring in. In a move that will further improve its organization, Barrett-Jackson selected Hot August Nights to serve its buyers in California, the Pacific Northwest and the Southwest, as well as the audience that already attends the Reno Tahoe event.

'Orange County has been good to Barrett-Jackson and Southern California will remain an important market for us,' said Steve Davis, president of Barrett-Jackson. 'Though it is time to expand our physical footprint, we do value our partnership with the City of Costa Mesa and the OC Fair and Event Center.' This isn't the first time that Barrett-Jackson has had to evolve in order to meet growth demands. From 2001 to 2004, Barrett-Jackson held a Southern California auction at the Petersen Automotive Museum and then due to popular demand returned to Southern California with the Orange County Auction in 2010. Now in its 27th year, Hot August Nights combines the classic cars and classic sounds of the 50s, 60s and 70s creating the world's largest event dedicated to 'celebrating America's love affair with cars and rock 'n' roll.' The event draws hundreds of thousands of visitors each year to northern Nevada providing them the opportunity to participate in organized cruises, drag races, show-n-shines, concerts and more. The move is also a great way to extend car culture and convenience to Barrett-Jackson fans and bidders attending the auction at Hot August Nights. This allows them to easily proceed into the various automotive activities that follow in Monterey, surrounding the world-renowned Pebble Beach Concours d' Elegance. 'Since 1986, Hot August Nights has evolved into one of the most celebrated classic car entertainment experiences in the world and has become synonymous with the Reno Tahoe community,' said Tony Marini, executive director of Hot August Nights. 'Over the past two years we've had the opportunity to work with some of the businesses and companies we admire most in the automobile industry to take this event to the next level. Bringing Barrett-Jackson and its loyal fan base to Hot August Nights creates a long-term partnership that will further establish both brands as the leaders in their respected fields.' Hot August Nights Auction Presented by Barrett-Jackson will be held Aug. 8-10, 2013 at the Reno-Sparks Convention Center. Consignments are being accepted now and tickets will be available in Spring 2013. 'Hot August Nights has firmly entrenched itself in the community fabric of northern Nevada exposing our region to fans from all over the world,' said Reno Mayor Bob Cashell, who also serves on the board of directors for Hot August Nights. 'To bring a highly reputable name like Barrett-Jackson to our community, further establishes Hot August Nights and Reno Tahoe as a top destination for car enthusiasts and leisure travelers alike. ' For more information about Barrett-Jackson and to purchase tickets to the event, visit www.barrett-jackson.com or call (480) 421-6694. For more information on Hot August Nights and to register for the event, visit www.hotaugustnights.net or call (775) 356-1956. About Barrett-Jackson Auction Company Established in 1971 and headquartered in Scottsdale, Ariz., Barrett-Jackson specializes in providing products and services to classic and collector car owners, astute collectors and automotive enthusiasts around the world. The company produces 'The World's Greatest Collector Car Auctions™' in Scottsdale, Ariz., Palm Beach, Fla. and Las Vegas, Nev. Barrett-Jackson also endorses a one-of-a-kind collector car insurance offering for collector vehicles and other valued belongings. For more information about Barrett-Jackson, visit http://www.barrett-jackson.com or call (480) 421-6694. About Hot August Nights Hot August Nights, a non-profit organization, is the premiere classic car event in the world, annually drawing hundreds of thousands of spectators and participants to northern Nevada to revel in nostalgia, enjoy top entertainers from the 50s and 60s and participate in a variety of events including show-n-shines, controlled cruises and more.
Recent Articles
GM DONATES 2014 CTS VSPORT TO BENEFIT STEM EDUCATIONWARREN, Mich. – Mary Barra, General Motors senior vice president, Global Product Development, was honored Wednesday evening with the Society of Automotive Engineering Foundation's 2013 Industry Leadership Award. Barra is the first woman recipient in the 25-year history of the award.

Barra said GM would donate the first production 2014 Cadillac CTS Vsport, including a performance driving school package, to the SAE Foundation.

The CTS Vsport will be the first Cadillac model to offer ....
Italian Sports And Racing Exotics Head To RM's Eagerly Anticipated Monterey Sale• RM Auctions announces stunning early roster of blue-chip Italian exotics for its flagship Monterey sale, August 16–17 in California
• No less than 21 Ferraris already consigned alongside two spectacular Maseratis
• Eight Ferraris offered without reserve from the Estate of William H. Tilley
• Additional early highlights include a fabulous 1931 Duesenberg Model SJ Murphy Convertible Coupe and a 1935 Hispano-Suiza K6 Brandone Cabriolet
• Frequently updated list of entries available online a....
McLAREN AUTOMOTIVE RETURNS TO SALON PRIVÉ AS PART OF 50-YEARS ANNIVERSARY CELEBRATIONSSalon Privé 2013: from Wednesday to Friday the 4th to 6th September

Syon Park, London, 20 May 2013 – Salon Privé is delighted to confirm McLaren Automotive will be returning this September as part the marque's 50-years anniversary celebrations.

This is the second year McLaren Automotive has featured on the Super Car Lawn at Salon Privé, with the 12C and 12C Spider sure to be amongst the highlights.

September 2nd marks McLaren's 50th birthday, just two days before Salon Privé 20....
GMC PICKUPS 101: BUSTING MYTHS OF TRUCK AERODYNAMICS• 2014 Sierra gains fuel economy, quietness from time in wind tunnel


DETROIT – The all-new 2014 Sierra full-size pickup truck spent more development time in a wind tunnel than any GMC pickup before it, resulting in design changes that benefit both fuel efficiency and interior quietness.

To achieve improved airflow, aerodynamic engineers like Diane Bloch examined every millimeter of the truck to find areas of improvement, debunking some popular myths along the way.

To study....
Pinehurst Concours Economic Impact Approaches $2 MillionVILLAGE OF PINEHURST, N.C. (May 13, 2013) – The inaugural Pinehurst Concours d'Elegance and the events surrounding the vintage auto showcase attracted more than 5,000 fans, and its economic impact approached $2 million despite unseasonably cool temperatures the first weekend of May, officials said.

'Having an event the caliber of a Concours in Moore County is significant, especially as it grows in recognition and importance in the Southeast,' said Caleb Miles, president and CEO of the Pinehur....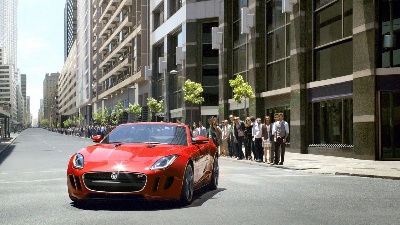 JAGUAR UNVEILS GLOBAL ADVERTISING CAMPAIGN TO LAUNCH THE F-TYPE- Jaguar F-TYPE arrives in U.S. retailers this month, starting at $69,000*
- Primary spots focus on F-TYPE's visceral impact
- Jaguar North America launches social media campaign, #MyTurnToJag, engaging consumers with the opportunity to experience the all-new F-TYPE
- U.S. campaign extensions include driving features with San Francisco 49er Colin Kaepernick; ESPN's Stuart Scott, and an initiative with ABC's 'Jimmy Kimmel Live'

(MAHWAH, N.J.) – May 13, 2013 – Today, Jaguar announced ....
Barrett-Jackson Announces Three Bonus Hours Of Live TV Coverage During Inaugural Hot August Nights Auction August 8-10, 2013The World's Greatest Collector Car Auctions™ Expands Coverage of the Inaugural Reno Tahoe Event on FUEL TV

Scottsdale, AZ (April 30, 2013) – Barrett-Jackson, The World's Greatest Collector Car Auctions™, announced today that for the first time ever, it will broadcast three bonus hours of its inaugural Hot August Nights auction on FUEL TV, taking place at the Reno-Sparks Convention Center Aug. 8-10, 2013.

The live coverage on FUEL TV will broadcast on Saturday, Aug. 10 from 5pm-8PM E....
2014 Sierra'S New 4.3L Tops In Standard V-6 Pickup TorqueWhen the all-new 2014 GMC Sierra full-size pickup arrives this summer, its standard 4.3L EcoTec V-6 it will offer the most torque of any standard V-6 in the segment – 305 lb-ft (413 Nm).

Buyers will choose from three new, advanced EcoTec3 engines – a 5.3L available at launch, followed by the 4.3L and 6.2L versions available later this year. All are designed specifically for the high trailering and hauling demands unique to truck buyers.

Torque is the turning force that generates off-the-li....
2014 LaFerrari Ferrari
---
2014 Sierra GMC
---
2013 Zagato Roadster BMW
---
2013 Corvette 60th Anniversary Package Chevrolet
---
2013 Viper GTS Launch Edition Dodge
---
2013 Viper SRT Dodge
---
2013 Acadia GMC
---
2013 Sierra GMC
---
2013 MP4-12C Can-Am Edition Racing Concept McLaren
---
2013 MP4-12C SPIDER McLaren
---
blog comments powered by

Disqus