Barrett-Jackson Cruises North, Launches New Auction At Hot August Nights In Reno, Nev. Aug. 8-10, 2013
By: Barrett-Jackson
SCOTTSDALE, ARIZ. (January 20, 2013) – Today, during the Barrett-Jackson Scottsdale auction, a groundbreaking partnership was announced that brings The World's Greatest Collector Car Auctions™ to the base of the Sierra Nevadas to join the world's premiere classic car and nostalgia festival. The inaugural Hot August Nights Auction Presented by Barrett-Jackson will take place in Reno Tahoe, Aug. 8-10, 2013. This event marks a historic partnership between two of the most recognized names in the classic and collector car industry. The new partnership between Barrett-Jackson and Hot August Nights will offer fans and customers of both the classic car event and collector car auctions a weeklong opportunity to celebrate and revel in some of the most recognizable and historic automobiles in the world. Not only will buyers be able to bid on and purchase from Barrett-Jackson's famous selection of collector cars, but now they can take them right from the auction block to the streets of Reno Tahoe to participate in one of Hot August Nights' famous cruises or show-n-shines. 'The only missing piece in Hot August Nights' successful puzzle was a Barrett-Jackson Auction,' said Craig Jackson, Chairman and CEO of Barrett-Jackson. 'Our collectors in Canada, Seattle, San Francisco and the Silicon Valley have been asking — for decades — for an auction in their region. The partnership with Hot August Nights provides the perfect atmosphere of automotive passion to make that happen.' Hot August Nights Reno Tahoe came as an opportunity for Barrett-Jackson and signifies the next evolution in its series of collector car auctions around the U.S. The auction quickly outgrew the Orange County Fairgrounds, expanding beyond both the site and the tent that the company had to bring in. In a move that will further improve its organization, Barrett-Jackson selected Hot August Nights to serve its buyers in California, the Pacific Northwest and the Southwest, as well as the audience that already attends the Reno Tahoe event.

'Orange County has been good to Barrett-Jackson and Southern California will remain an important market for us,' said Steve Davis, president of Barrett-Jackson. 'Though it is time to expand our physical footprint, we do value our partnership with the City of Costa Mesa and the OC Fair and Event Center.' This isn't the first time that Barrett-Jackson has had to evolve in order to meet growth demands. From 2001 to 2004, Barrett-Jackson held a Southern California auction at the Petersen Automotive Museum and then due to popular demand returned to Southern California with the Orange County Auction in 2010. Now in its 27th year, Hot August Nights combines the classic cars and classic sounds of the 50s, 60s and 70s creating the world's largest event dedicated to 'celebrating America's love affair with cars and rock 'n' roll.' The event draws hundreds of thousands of visitors each year to northern Nevada providing them the opportunity to participate in organized cruises, drag races, show-n-shines, concerts and more. The move is also a great way to extend car culture and convenience to Barrett-Jackson fans and bidders attending the auction at Hot August Nights. This allows them to easily proceed into the various automotive activities that follow in Monterey, surrounding the world-renowned Pebble Beach Concours d' Elegance. 'Since 1986, Hot August Nights has evolved into one of the most celebrated classic car entertainment experiences in the world and has become synonymous with the Reno Tahoe community,' said Tony Marini, executive director of Hot August Nights. 'Over the past two years we've had the opportunity to work with some of the businesses and companies we admire most in the automobile industry to take this event to the next level. Bringing Barrett-Jackson and its loyal fan base to Hot August Nights creates a long-term partnership that will further establish both brands as the leaders in their respected fields.' Hot August Nights Auction Presented by Barrett-Jackson will be held Aug. 8-10, 2013 at the Reno-Sparks Convention Center. Consignments are being accepted now and tickets will be available in Spring 2013. 'Hot August Nights has firmly entrenched itself in the community fabric of northern Nevada exposing our region to fans from all over the world,' said Reno Mayor Bob Cashell, who also serves on the board of directors for Hot August Nights. 'To bring a highly reputable name like Barrett-Jackson to our community, further establishes Hot August Nights and Reno Tahoe as a top destination for car enthusiasts and leisure travelers alike. ' For more information about Barrett-Jackson and to purchase tickets to the event, visit www.barrett-jackson.com or call (480) 421-6694. For more information on Hot August Nights and to register for the event, visit www.hotaugustnights.net or call (775) 356-1956. About Barrett-Jackson Auction Company Established in 1971 and headquartered in Scottsdale, Ariz., Barrett-Jackson specializes in providing products and services to classic and collector car owners, astute collectors and automotive enthusiasts around the world. The company produces 'The World's Greatest Collector Car Auctions™' in Scottsdale, Ariz., Palm Beach, Fla. and Las Vegas, Nev. Barrett-Jackson also endorses a one-of-a-kind collector car insurance offering for collector vehicles and other valued belongings. For more information about Barrett-Jackson, visit http://www.barrett-jackson.com or call (480) 421-6694. About Hot August Nights Hot August Nights, a non-profit organization, is the premiere classic car event in the world, annually drawing hundreds of thousands of spectators and participants to northern Nevada to revel in nostalgia, enjoy top entertainers from the 50s and 60s and participate in a variety of events including show-n-shines, controlled cruises and more.
Recent Articles
GM'S U.S. RETAIL SALES UP 19 PERCENT IN NOVEMBERDETROIT – General Motors Co. (NYSE: GM) dealers delivered 212,060 vehicles in the United States in November, up 14 percent versus a year ago and the highest November sales in six years. Retail sales were up 19 percent and fleet sales were down 3 percent.

'November sales were strong at all four of our brands, and demand was robust for everything from cars to crossovers to the industry's newest and best full-size pickups,' said Kurt McNeil, vice president, U.S. sales operations. 'The she....
GMC TOWS TRADITION IN MACY'S THANKSGIVING DAY PARADEBrand marks 33rd consecutive year as official truck of parade

DETROIT – On Thanksgiving Day, as we celebrate a longstanding tradition of sharing a meal with family and loved ones, another tradition will march down the streets of Manhattan in New York City. Celebrating its 87th year, the Macy's Thanksgiving Day Parade® will again be hauled by GMC, the official truck of the parade, for the 33rd straight year.

'We're excited to continue this pairing of two iconic American brands....
NOVEMBER NEW-CAR SALES EXPECTED TO RISE NEARLY 4 PERCENT ON BLACK FRIDAY DEALS, ACCORDING TO KELLEY BLUE BOOKGeneral Motors Outshines Competitors with Enticing Offers; Small, Mid-Size Cars Compete for Attention

IRVINE, Calif., Nov. 26, 2013 -- New-vehicle sales are expected to improve 3.6 percent year-over-year in November to a total of nearly 1.19 million units, according to Kelley Blue Book www.kbb.com, the leading provider of new and used car information. Fears of a vehicle sale hangover following the government shutdown in October turned out to be largely overblown as consumers sh....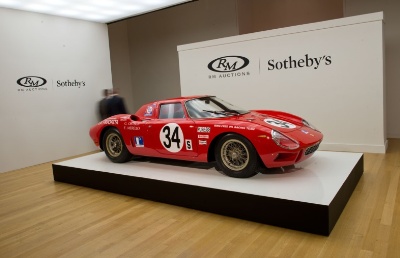 RM Auctions and Sotheby's Stun the Market with Incredible $63 Million 'Art of the Automobile' Sale in New York• RM Auctions and Sotheby's momentous Art of the Automobile auction generates $62,797,500 of sales in two hours of furious bidding
• Records tumble with the historic 1964 Ferrari 250 LM by Carrozzeria Scaglietti achieving $14,300,000 while the stunning 1938 Talbot-Lago T150-C SS Teardrop Cabriolet by Figoni et Falaschi sells for $7,150,000
• 93 percent of all lots sold to an international audience of bidders representing 17 countries
• Full results are available online at www.rmauctions.c....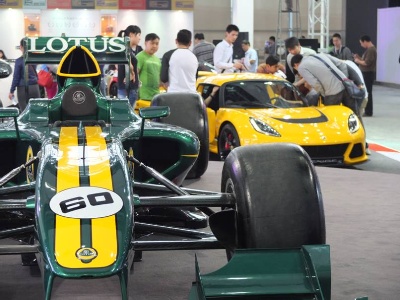 Lotus Gets Supercharged for Guangzhou MotorshowBritish sports car manufacturer Lotus showcases the jewels from its product line-up at the 2013 Guangzhou International Automobile Exhibition, further asserting its presence in the Chinese market as its popularity grows amongst China's fashion-conscious elite.

Chinese trend-setters looking for the ultimate in exclusivity and style, are warmly invited to the Guangzhou International Automobile Exhibition, where from 21 November, the iconic British sports car brand Lotus, affirms its commitment ....
Expert Symposium Delivered to Packed Room Ahead of 'Art of the Automobile' New York Sale• RM Auctions and Sotheby's deliver highly outstanding expert symposium to more than 700 people
• Six hugely influential and respected specialists set the scene in advance of truly groundbreaking Art of The Automobile sale
• Anticipation building for what is being regarded as one of the finest and most innovative collector car auctions ever held

NEW YORK, New York (November 20, 2013) – The eyes of the collector car community are firmly fixed on New York, as RM Auctions and Sotheby's,....
AMELIA ISLAND CONCOURS D'ELEGANCE WINS PRESTIGIOUSThe annual International Historic Motoring Awards, in association with EFG International and Octane magazine, announced this week that the Amelia Island Concours d'Elegance has been named the recipient of the 2013 Motoring Event of the Year award.

The Amelia Island Concours d'Elegance is the third winner of the Motoring Event of the Year Award, which honors automotive celebrations from Australia, Germany, Italy, the United States and the United Kingdom. Finalists in the 2013 events category ....
Gooding & Company Celebrates 10th Anniversary as Global Appreciation of Cars Push Markets to New High in 2013SANTA MONICA, Calif. (November 11, 2013) – The mystique of collectable cars continues to expand enthusiasm and buyer participation around the globe. In 2013, Gooding & Company, the auction house acclaimed for selling the world's most significant and valuable collector cars, celebrated its 10th anniversary and saw new and returning bidders flock to its three auctions. Demonstrating Gooding & Company's power in the marketplace is an annual auction total of $192.6 million for 286 lots with a....
2014 Chevrolet Silverado
---
2014 Ferrari LaFerrari
---
2014 GMC 3500HD Chassis Cab
---
2014 GMC Sierra
---
2014 GMC Sierra HD
---
2013 Aston Martin Vanquish Volante Neiman Marcus Edition
---
2013 BMW Concept M4 Coupe
---
2013 BMW Zagato Roadster
---
2013 Bugatti Veyron Grand Sport Vitesse Legend Jean-Pierre Wimille
---
2013 Bugatti Veyron Jean Bugatti
---