2013: CELEBRATING 50 YEARS OF McLAREN
'Life is measured in achievement, not in years alone.' When a 27-year-old Bruce McLaren penned those words in 1964, his new company, Bruce McLaren Motor Racing Ltd, was less than a year old. In those days, Bruce's vision was shared by fewer than half a dozen loyal souls, who slogged across the world to race his self-made cars. Nowadays, the McLaren Group employs more than 2000 people, all of whom still share Bruce's ideals of combining sportsmanship with solid engineering practice and cutting-edge technical expertise. On September 2nd 2013, the McLaren Group will celebrate its 50th anniversary.
If we were to follow Bruce's words to the letter, there'd be little time for recollection, but on the eve of our half-century there's surely time for the briefest of breaths and the opportunity to take a look behind us at the sweeping vista built up in the indelible shadow of our founder: •Our Formula 1 team has become a global household name; since our arrival in the sport, at the 1966 Monaco Grand Prix, we have won more races (182) than any other constructor, started from pole position 155 times and scored 151 fastest laps. In 2012, we achieved the fastest-ever time for a Formula 1 pitstop (2.31s at Hockenheim), recorded our 58th consecutive points-scoring finish, an all-time record, and have now led more than 10,000 racing laps. •The exploits of our greatest world champions will always bring F1 to life: Emerson Fittipaldi ignited the passion of his native Brazil; James Hunt created as many headlines on the front pages as on the back; Niki Lauda and Alain Prost turned sport to science; the burning intensity of Ayrton Senna will live on for ever, while Mika Hakkinen and Lewis Hamilton will always be remembered for their raw speed and fearless aggression. •Our legacy in North American sportscar racing is writ equally large: in the heyday of the mighty CanAm series, we steamrollered the opposition, lifting five successive championship trophies (1967-1971) and winning an incredible 43 races in our iconic, thundering V8-engined sportscars. •We went to the Indy 500 for the first time in 1970, returning with greater strength until we won the USA's most famous motor race in 1974 with Johnny Rutherford. We repeated the feat with Rutherford in 1976, too. •Today, every single car in Formula 1, the Indycar Series and NASCAR relies upon McLaren Electronics' standardised ECUs to control their engines and feed data back to the garage. •Introduced back in 1993, the McLaren F1 road car has lost none of its unique appeal and is still considered by many to be automotive world's definitive supercar. To this day, it remains the fastest naturally aspirated production car in the world. In GTR racing guise, it won the 24 Hours of Le Mans, also scooping third, fourth and fifth places on its debut in 1995. •The next roadcar project was with German manufacturer Mercedes-Benz, and saw the successful build of the Mercedes-Benz SLR McLaren, which became the best-selling carbon-based car ever. •Since its launch in 2010, McLaren Automotive has developed into a world-class road car manufacturer, successfully developing and building the 12C and the 12C Spider high performance sports cars. Both models exploit our unparalleled understanding of carbon fibre and electronic driver systems to create a groundbreaking product of unequalled weight, strength, performance and driveability. •In a return to our sportscar roots, the debut of the 12C GT3 was an unqualified success, scoring 19 victories on its competitive debut in 2012. In September, as Vodafone McLaren Mercedes crossed the flag to win in Monza, McLaren's GT cars also took top spot at races in British, French and Spanish championships – an incredible achievement. •Fittingly, this year, McLaren Automotive stands poised to open its 50th global dealership ahead of the worldwide launch of the P1™ – our newest model and a machine that's set to rewrite the definition of the modern supercar. •Away from the track, McLaren leads the world in the application of Formula 1 technology and expertise to other industries. McLaren Applied Technologies helped British cyclists, rowers, sailors and canoeists win 15 gold medals last summer. We worked alongside Specialized to design Mark Cavendish's world championship-winning S-Works Venge bicycle. Working with Birmingham Children's hospital, we have improved the monitoring of sick children in intensive care. McLaren has also designed systems to help the Bay Area Rapid Transit railway in San Francisco to run more efficiently and to reduce the CO2 emissions from plane movements at airports. It's all a long way from that small south London lock-up back in 1963. But Bruce wouldn't wish for us to merely look backwards without looking forwards, too. Accordingly, echoes of our past will reverberate throughout a series of unique events and celebrations to be held across our anniversary year. From the McLaren 50 logos we'll proudly sport on our team shirts, through our specially commissioned heritage video features, to the launch of our new MP4-28 Formula 1 car with Jenson Button and Sergio Perez on January 31st, every lap, every corner, every mile and every road we take will be an opportunity to revel in McLaren's present while recalling our 50-year past. Ron Dennis CBE, executive chairman, McLaren Group and McLaren Automotive, said: 'McLaren's history is long and storied, but McLaren's legacy is harder to define – and that's because it's still being vividly written every day by the dedicated men and women who work at the McLaren Technology Centre. 'Bruce McLaren wrote the beginning of the story, and the legend is going to continue for many years to come. I'm only a chapter, not the book, and I want other people to come in and write their own chapters as time goes by. 'This is a book that's still being written, and that, perhaps, is the greatest legacy of McLaren.' Please join us via www.mclaren.com to share the path of this journey. It'll be fun and it'll be fast. Somewhere up there, we hope Bruce is smiling down on us, still gunning that throttle…
Recent Articles
FEBRUARY DATES SET FOR IMSA WINTER TEST AT SEBRING INTERNATIONAL RACEWAYDAYTONA BEACH, Fla. (Dec. 10, 2013) – Sebring International Raceway and International Motor Sports Association (IMSA) officials today confirmed dates for open testing for the TUDOR United SportsCar Championship and other IMSA-sanctioned series.

In preparation for the first TUDOR Championship and Continental Tire SportsCar Challenge races on the grueling, 3.74-mile Sebring circuit, two days of IMSA-sanctioned testing have been scheduled for Thursday, Feb. 20 and Friday, Feb. 21, 2014. ....
CONTINENTAL GT3 READY TO RACE IN ABU DHABI• Gulf 12 Hours in Abu Dhabi features as the car's first test race
• Team M-Sport Bentley in the starting blocks for exciting race
• First racing action for Bentley since Le Mans win in 2003

(Crewe / Abu Dhabi, 11th December 2013) The new Bentley Continental GT3 racecar makes its eagerly-anticipated competition debut this Friday1 in its first test race at the Gulf 12 Hours, held at the famous Yas Marina circuit in Abu Dhabi. Racing as part of a comprehensive development programme ahe....
GENERATION BENTLEY RACING BECOMES FIRST BENTLEY CONTINENTAL GT3 CUSTOMERBanbury, Oxfordshire, Tuesday 10th December 2013. David Appleby Engineering is pleased to announce that it will become the first Bentley Continental GT3 customer team when it takes delivery of the new racecar in January. The team, which will race under the Generation Bentley Racing banner, has been formed to develop young talent in motorsport for drivers, engineers and mechanics and will compete in the British GT Championship in 2014.

Drivers James Appleby (GB) and Steve Tandy (GB) wil....
Seb and the Team Crowned ChampionsPARIS – Sebastian Vettel and Infiniti Red Bull Racing were awarded their trophies for winning the 2013 Drivers' and Constructors' Championship titles respectively at last Friday night's FIA's annual Prize-Giving Gala in Paris.

Held at the Cité du Cinéma movie studios complex built by legendary French film director Luc Besson, the Formula One awards section of the evening kicked off with Mark receiving his trophy for finishing in third place in the Drivers' standings in his final Formul....
GT LE MANS, GT DAYTONA TEAMS SELECTED FOR 2014 TUDOR UNITED SPORTSCAR CHAMPIONSHIP• 12 GTLM Entries Representing Six Manufacturers

• 28 Entries From 18 Different Teams Accepted in GTD


DAYTONA BEACH, Fla. (Dec. 6, 2013) – International Motor Sports Association (IMSA) officials today revealed a total of 40 production-based race cars from eight world-class manufacturers that will compete in the 2014 TUDOR United SportsCar Championship in the GT Le Mans (GTLM) and GT Daytona (GTD) classes.

The GTLM category will include 12 entries from eight differe....
PORSCHE: MOST SUCCESSFUL MANUFACTURER IN ALMS HISTORY WITH 12 CLASS CHAMPIONSHIPSAtlanta. Official testing for the new TUDOR United SportsCar Championship (TUSCC) series has already begun, and sports car fans everywhere are discussing the new classes, the new rules, the new cars, the new venues and how it will all come together on the track.

However, let's take one last look in the rear view mirror at the American Le Mans Series (ALMS), which started in March, 1999 at Sebring, and ended just weeks ago at Road Atlanta. The retrospective provides a basis for what Por....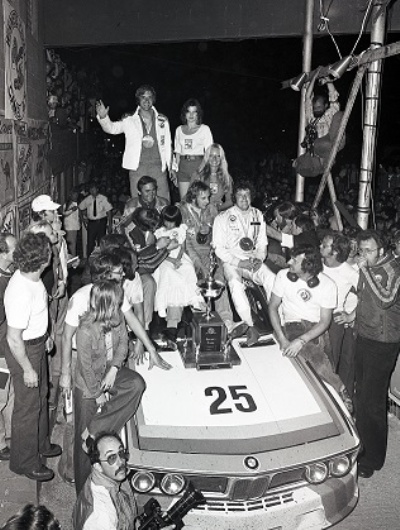 BMW's 'BATMOBILES' SET FOR 19th ANNUAL AMELIA CONCOURSScheduled to appear in the 19th Annual Amelia Concours' BMW 3.0 CSL 'batmobile class' are not only the 1975 Sebring 12 Hour and '76 Daytona 24 winners, but Alexander Calder's 1975 Le Mans 3.0 CSL with his trademark signature on the left rear fender.

BMW's 'Batmobile' racers were glorious mutants. They arrived from Europe wearing a frosting of giant wings, huge fender boxes and big spoilers, all powered by a 430 hp straight-six engine that made a glorious noise and propelled BMW's luxury cou....
McLAREN P1™ JOINS THE EXCLUSIVE SUB-SEVEN MINUTE CLUB AT THE NÜRBURGRING◾The McLaren P1™ achieves its one remaining performance target
◾An average speed in excess of 178 km/h (111 mph) necessary to achieve the required lap time around the 20.8km (13 mile) circuit
◾Short film celebrating the team's achievement at the Nürburgring is available to view and embed at: http://youtu.be/E9IWiTpWeiM

The McLaren name was born on the racetrack and, 50 years on, is the most successful name in global motorsport. That desire and determination to push for every extra tenth of....
2015 Nissan GT-R Nismo
---
2015 Porsche 918 Spyder
---
2014 Aston Martin V12 Vantage S
---
2014 Bentley Continental GT V8 S
---
2014 Bentley Continental GT V8 S Convertible
---
2014 Dodge SRT Viper GT3-R
---
2014 Lamborghini Gallardo LP570-4 Squadra Corse
---
2014 McLaren P1
---
2014 Mercedes-Benz CLA 45 AMG Racing Series
---
2014 Mercedes-Benz SLS AMG GT Final Edition
---