Sold! Barrett-Jackson's 5000 Series Generates More Than $29.2 Million In Scottsdale
By: Barrett-Jackson
Original 1966 TV Batmobile Sells for $4.62 Million at The World's Greatest Collector Car Auctions™ and New World Records are Set January 19, 2013 •LOT #5037 The Original Batmobile is the highest selling car at the company's annual Scottsdale Auction •LOT #5019 1947 Talbot-Lago T-26 Grand Sport sets a new world record for the model •LOT #5034 1956 Chrysler Diablo Concept Convertible sets a new world record for Chrysler concept cars Scottsdale, Ariz. (Jan. 20, 2013) – Barrett-Jackson Auction Company, The World's Greatest Collector Car Auctions™, announced today that its highly anticipated 5000 series, which featured more than 50 unique and rare automobiles, including the company's famed Salon Collection, generated more than $29.2 million at the company's iconic Scottsdale auction on January 19, 2013. The top seller within the group was the Original 1966 TV Batmobile (LOT #5037), which dazzled both collectors and fans as it crossed the stage, selling for $4.62 Million.

The original Batmobile started its life as the one and only 1955 Lincoln Futura concept car, which was heavily modified by Barris to become the original 1966 Batmobile in the live action TV series Batman, as well as the movie adaptation, starring Adam West. The auction tent was brimming with excitement as fans watched the price for the Batmobile skyrocket to historic proportions on the Barrett-Jackson auction block. Legendary customizer and creator George Barris looked on with pride from the auctioneer's stand, even adding his signature jacket to the sale, as the crowd cheered the auctioneer on. Fans also witnessed two new world records, which were set by the 1947 Talbot-Lago T-26 Grand Sport (LOT #5019) and the 1956 Chrysler Diablo Concept Convertible (LOT #5034). Selling for $2,035,000, the Talbot-Lago became the world's most expensive T-26, while the Diablo set an impressive new sales record for a Chrysler Concept car with a final price of $1,375,000. It was clear from the cheers of the crowd and the final sales price, that both cars showed strong results, signifying a rise in the collector car market and Barrett-Jackson's stronghold within the industry. In fact, reports in 2012 showed a 33 percent increase in the value of collector cars, which was proven once more by the company's fans in Scottsdale. The top selling cars in the 5000 Series/Salon Collection included the following: •LOT #5037 The Original 1966 TV Batmobile – $4,620,000 •LOT #5001 Clark Gable's 1955 Mercedes-Benz 300SL Gullwing Coupe – $2,035,000 •LOT #5019 1947 Talbot-Lago T-26 Grand Sport – $2,035,000 •LOT #5004 1934 Duesenberg J Murphy LWB Custom Beverly Sedan – $1,430,000 •LOT #5034 1956 Chrysler Diablo Concept Convertible – $1,375,000 •LOT #5025 1971 Plymouth Hemi 'Cuda Convertible – $1,320,000 These hand-selected vehicles were sold on reserve and showcased the very best in automotive pedigree, design and style. 'The 2013 5000 Series and Salon Collection featured some of the best collector vehicles in the world today, and we were honored to have them cross the Barrett-Jackson stage,' said Craig Jackson, Barrett-Jackson's Chairman and CEO. 'Watching those unique cars cross the auction block was an incredible experience, and I'm glad I was able to share it with our bidders, consignors and fans.' In addition to the evening's top-sellers, a packed audience watched as other iconic cars, such as the 1929 Isotta Fraschini Tipo 8A SS Castagna Roadster (LOT #5007), 1949 Delahaye Type 175 Saoutchik Coupe de Ville (LOT #5016) and the 1968 Chevrolet Corvette L-88 Owens/Corning Racecar (LOT #5041) crossed the auction block, garnering millions in sales. 'The vehicles that sold at Barrett-Jackson Scottsdale this year were among some of the most exquisite cars I've ever seen and the experience is something I'll remember for years to come,' said Steve Davis, President of Barrett-Jackson. 'We have some of the best fans in the industry and I can't wait to see how we top it in 2014.' Barrett-Jackson is currently accepting consignment requests for the 2013 Palm Beach auction, taking place on April 4-6, 2013, at the South Florida Fairgrounds. For additional information on the event, visit http://www.barrett-jackson.com or call (480) 421-6694.
Recent Articles
2013 LA AUTO SHOW® HOSTS INAUGURAL MPG MOTORING INVITATIONAL PRESENTED BY FORZA MOTORSPORT 5 AND XBOX ONE◾Top Collectors and Celebrities to Display More Than 60 Unique Vehicles on November 20
◾More than 60 historic and unique vehicles to be displayed at Gilbert Lindsay Plaza
◾Influential icons, influencers, tastemakers, luminaries, collectors and celebrities to participate
◾The Motor Press Guild will announce its two Innovative Vehicle of the Year Awards at 7:30 AM
◾First-of-its-kind gathering for an international auto show
◾Event replaces the LA Auto Show's traditional opening keynote

L....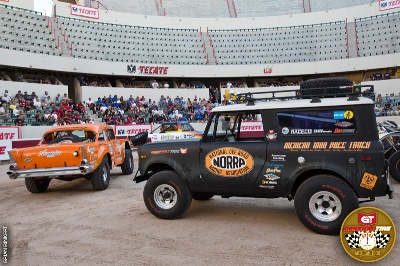 NORRA ANNOUNCES OFFICIAL DATES FOR 2014 GENERAL TIRE NORRA MEXICAN 1000 RALLY-- Ensenada to Host Vintage-Flavored Event for First Time --
-- New Format Offers Enhanced Safety and Hospitality --
-- Rally Registration to Open New Year's Day --

(Agua Dulce, Calif.,) With the automotive and motorsports worlds now preparing for the all-important Fall show season and final planning for next year, the National Off-Road Racing Association (NORRA) today announced a new date and some major changes to its marque event – the 2014 General Tire NORRA Mexican1000 ral....
Barrett-Jackson generates more than $32 million in sales at 6th annual Las Vegas AuctionThe World's Greatest Collector Car Auctions™ Generates Highest Grossing Las Vegas Sale with Largest Number of Cars, Attracting Nearly 70,000 Attendees

Las Vegas, NV. – (October 1, 2013) – Barrett-Jackson The World's Greatest Collector Car Auctions™ announced today that it generated more than $32 million in gross sales which is a 41% increase over 2012 during its 6th Annual Las Vegas auction at the Mandalay Bay Resort & Casino on September 26-28, 2013. The event was the largest B....
Barrett-Jackson helps raise over $2.2 million for charity during the 6th Annual Las Vegas AuctionLas Vegas, NV. – October 3, 2013 – Barrett-Jackson The World's Greatest Collector Car Auctions™ announced today that it helped raise over $2.2 million for local and national charities during the 6th annual Las Vegas auction at Mandalay Bay Resort and Casino Sept. 26-28, 2013, bringing the total amount the company has raised to date to over $57 million. lv13-saturday-siegfriedandroy-3112Funds at the automotive lifestyle event were gathered through the sale of five collector vehicles, crow....
FORD ECOBOOST POLICE INTERCEPTORS OUTRUN CHEVROLET CAPRICE V8, HEMI DODGE CHARGER IN MICHIGAN STATE POLICE TESTING◾Ford EcoBoost® Police Interceptor sedan repeats top performance and retains its title as best-in-class overall acceleration pursuit vehicle
◾New Ford EcoBoost Police Interceptor utility vehicle acceleration faster than Chevrolet Tahoe and all base V6 competitors
◾Ford Police Interceptors maintain segment sales leadership for 16 years straight

Ford, manufacturer of the best-selling police vehicles since 1996, trumped Chevrolet and Dodge in recent instrumented acceleration testing by the Mic....
MECUM TOPS $18.6 MILLION IN CHICAGOWalworth, WI - October 15, 2013 -- The windy city welcomed Mecum Auctions with an exceptional sale and enormous crowds at the Schaumburg Convention Center in Schaumburg, Ill., this past weekend. With 965 cars crossing the block throughout the three-day event, 615 hammered sold for a 64 percent sell-through rate and $18,634,223 in sales. The one-of-a-kind personal driver of Corvette's original designer Harley J. Earl led auction sales with a hammer price of $1.5 million.

Chicagoland was....
RON BURGUNDY ANCHORS NEW 2014 DODGE DURANGO ADVERTISING CAMPAIGN◾Co-branded advertising campaign combines power of Detroit automaker, major Hollywood studio and Will Ferrell (as Ron Burgundy) in biggest ever original content promo
◾Campaign launches new 2014 Dodge Durango featuring 'Anchorman 2: The Legend Continues' character Ron Burgundy as its new pitchman
◾Multimedia campaign spans television, digital, social and print
◾Television spots debuted on television and online on Saturday, October 5
◾Campaign champions holiday release of Paramount Pictures' ....
2014 Ford Mustang Cobra Jet Prototype Sells For $200,000 At Barrett-JacksonLAS VEGAS, October 3, 2013 – Last weekend at the Barrett-Jackson Auction Company's Las Vegas sale, the 2014 Ford Mustang Cobra Jet prototype fetched $200,000. Ford Motor Company auctioned it at no reserve with proceeds benefitting the National Multiple Sclerosis Society. The organization assists those living with this unpredictable and often disabling disease of the central nervous system.

After spirited bidding that electrified the auction block, an anonymous bidder purchased the Cob....
2013 Chevrolet Corvette 60th Anniversary Package
---
2013 Dodge Viper SRT
---
2013 Ford Explorer Sport
---
2012 Chevrolet Corvette Centennial Edition
---
2012 Chevrolet Inferno Orange COPO Camaro
---
2012 Chrysler 300 SRT8
---
2012 Chrysler 300C Executive Series
---
2012 Chrysler 300S
---
2012 Dodge Challenger SRT8 392
---
2012 Dodge Charger SRT8 Super Bee
---