GT: GROWING WHAT'S ALREADY GREAT 2013 AND '14 BOTH SHAPING UP AS DYNAMIC SEASONS
Regarding the 2014 sports car merger, GT prospects are tantalizing in the 2014 sports car merger. That's with a full year of split GT action in the American Le Mans Series presented by Tequila Patrón and the GRAND-AM Rolex Series still to come. One of ALMS President and CEO Scott Atherton's key bullet points at the September merger announcement was that its GT class – considered by many the best GT racing currently going worldwide – would be adopted basically as-is for 2014. That's fortuitous because ALMS GT in 2013, as ever, fits the 'If it ain't broke, don't fix it' template. Corvette Racing enters with a target firmly on its back after sweeping the driver, team and manufacturer titles a year ago, despite a defeat at Le Mans. Stiff competition endures from Ferrari (Extreme Speed Motorsports, Risi Competizione and possibly more), BMW Team RLL with its new Z4 and new tires, SRT Motorsports in its first full year, Porsche squads Team Falken Tire, Paul Miller Racing and the just-announced CORE autosport entry, and the TRG Aston Martin. GTC should be bolstered as well with Flying Lizard and Alex Job – two of Porsche's most successful teams – leading the single-make category's grid this year.
GRAND-AM's GT grid is nothing to scoff at either, with more than 30 cars entered in the Rolex 24 at Daytona, and close to half of those projected for the full season. Slightly less modified than their GTE-spec counterparts, the variety between Ferrari, Audi, Porsche, BMW and GM leaves little to be desired. Several drivers have a one last chance to race upwards of 20 times a year across the two championships. For 2014, the closer-to-production GTE-spec cars will be in one class with a mix of Rolex GT and ALMS GTC in the second. The powers-that-be have to work to ensure the OEMs – and fans – are accepting of the prospects of the same manufacturers fielding close to the same cars, or with the same nomenclature, in two different categories. Ensuring a place for both all-pro and pro-am driver distinctions is also important, particularly given the number of gentlemen drivers who bring budgets across the GT categories. Aspiration-wise, too, Rolex Series teams could consider upgrading into the higher level GT class. Conceivably, it could happen with Porsche's new 991 and Corvette's C7 likely to premiere in 2014, and if older models are made available to interested customers. GX and GT3 are the other wild cards. GX's future depends entirely on its first year in GRAND-AM, and if it stays, would best fit into the second GT class for 2014 rather than added as a third. The GT3 platform, popular worldwide, has not yet found a permanent American home but did see modified versions of the Ferrari 458 and Audi R8 debut in GRAND-AM in 2012. Reports and rumblings of a worldwide single GT platform featuring GT3 rather than GTE base is also something to ponder if not immediately, certainly down the road. Still, GT can boast an already great product across the board heading into the year. All that's left to do is increased marketing of it without diluting the customer base that's brought the fields to such great heights. Tony DiZinno is a motorsports journalist who has worked with RACER, Michelin Alley, Motorsport.com and other publications. He is a recent graduate of Marquette University and a regular contributor to ALMS.com. His blog will appear every other Tuesday. Follow him on Twitter - @tonydizinno.
Recent Articles
Honda Chases 10Th Consecutive Indy Triumph05/21/2013 - TORRANCE, Calif. An accomplished 16-driver lineup, including two previous race winners and 11 graduates of open-wheel training-ground series, make up the Honda-powered effort for the 2013 Indianapolis 500, as the company seeks its 10th consecutive '500' victory – and fourth-in-a-row with engine-manufacturer competition.

In 2012, Target Chip Ganassi Racing's Dario Franchitti scored his third Indy triumph in a thrilling battle to the finish with fellow Honda drivers Takuma S....
SRT VIPER SET FOR RETURN TO THE 24 HOURS OF LE MANSMay 21, 2013 , Auburn Hills, Mich. - The 24 Hours of Le Mans is the world's oldest active sports car race. The first event was held in 1923 and for driver and machine, it's the ultimate test of speed, efficiency and endurance. Participation is by invitation only as the Automobile Club de I 'Quest (ACO) selects the 56 entries. The 81st edition is set for June 22-23 at Circuit de la Sarthe in Le Mans, France.

Two identically prepared SRT Viper GTS-Rs will return to the Le Mans stage for....
Audi Customers Pass Tough Eifel Test◾Race interruption and high retirement rate due to extreme weather
◾G-Drive Racing by Phoenix best Audi customer team in fifth place
◾Three Audi R8 LMS ultra cars among the top ten

Ingolstadt/Nürburg, May 20, 2013 – The customer teams of last year's winner Audi experienced one of the toughest events of the Nürburgring 24 Hours this year. Heavy rain forced race control during the night to interrupt the race for more than nine hours. Numerous accidents caused a treacherous mix of oil, ....
Aston Martin Celebrates Centenary At Nürburgring 24 HoursNürburgring, 20 May 2013 – Aston Martin's weekend of centenary celebrations at the ADAC Zurich Nürburgring 24 Hours (N24) concluded this evening (Monday 20 May) with a thrilling top-ten result for its Bilstein-liveried V12 Vantage GT3 and a historic finish for its unique Hybrid Hydrogen Rapide S in one of the most grueling 24-hour races in recent years.

In a weekend that started with the British luxury sports car maker entering the history books with a zero CO2 emissions hydrogen-power....
Ferrari Challenge Europe Rolls Into The Czech Republic For Round TwoFerrari Challenge Czech's in to Brno

Brno, - The Ferrari Challenge Europe rolls into Brno in the Czech republic this weekend for the second round of the championship.

Local interest will be provided by Scuderia Praha lead driver and dealer principal Robert Pergl (No.11), who will compete in the Trofeo Pirelli category. The team will also enter 2 cars in the Coppa Shell category for Slovakian drivers Jakubik (No.188) and Kukacka (no.190).

Pergl is a highly experienced Ferrari race....
CHRYSLER GROUP LLC'S SRT (STREET AND RACING TECHNOLOGY) BRAND KICKS OFF THIRD CONSECUTIVE 2013 SRT TOUR◾First 2013 SRT Tour stop kicked off May 9-12 at American Le Mans Series in Monterey, Calif.
◾The 2013 Dodge Challenger SRT8, Dodge Charger SRT8 and Chrysler 300 SRT8 along with 2014 Jeep® Grand Cherokee SRT vehicles to be on display
◾The all-new 2013 SRT Viper on display at select locations
◾The third year of SRT Tour will visit unique lifestyle events over three-month span

May 17, 2013 , Auburn Hills, Mich. - For the third consecutive year, the SRT Tour, showcasing the latest high....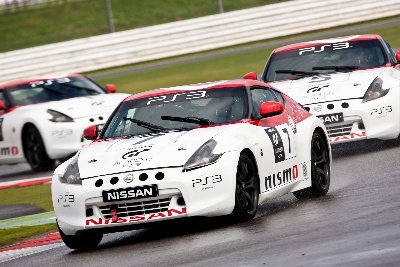 NISSAN AND PLAYSTATION ANNOUNCE BIGGEST EVER GT ACADEMY PROGRAMLONDON and PARIS - Nissan and Sony Computer Entertainment Europe have revealed that the innovative GT Academy competition will return for a fifth season. GT Academy 2013 will be the biggest yet, with more countries than ever before participating and the online gaming element of the competition set to be run in July on a demo of the hotly-anticipated Gran Turismo®6 game exclusively on PlayStation®3.

Since its inception in 2008, the highly acclaimed virtual-to-reality competition has att....
ELMS - 9 FERRARI'S HEAD FOR HOME RACE IN IMOLAMaranello 16 May - The second round of the European Le Mans Series (ELMS) arrives at Imola this weekend and nine Ferrari 458 will take to the grid.

By far the most popular car in the GTE category is the 458, Ram Racing have entered two cars for Silverstone pole sitters Johnny Mowlem and Matt Griffin and a second for American hot shots Gunnar Jeanette and Franck Montecalvo. JMW have one car for Andrea Bertolini and Joël Camathias. After a difficult round at Silverstone, AF Corse return with t....
2014 MDX Acura
---
2014 P1 McLaren
---
2014 911 GT3 Porsche
---
2014 918 Spyder Porsche

---
2013 4C Alfa Romeo
---
2013 Disco Volante Touring Alfa Romeo
---
2013 R8 GRAND-AM Audi
---
2013 Continental GT3 Concept Bentley
---
2013 Z4 GTE BMW
---
2013 Corvette Z06 Chevrolet
---
blog comments powered by

Disqus