Steve McQueen Chevrolet Styleline Leads Exciting List of Celebrity Rides At Auctions America's Ford Lauderdale Sale
• Auctions America kicks off its 2013 calendar, March 22 – 24, 2013 in Fort Lauderdale, Florida • Regarded as South Florida's premier collector car auction, multi-day sale expected to feature more than 550 quality collector cars • Star attraction: 1951 Chevrolet Styleline DeLuxe Convertible formerly owned by Steve McQueen to be offered at no reserve • Additional highlights include a diverse assortment of 1950s convertibles from 'The Gauthier Collection', 1967 Dodge Coronet WO23 Hemi Super Stock Racecar, and a 1935 Packard Twelve Coupe Roadster Calling all Steve McQueen fans! Auctions America will lift the gavel on a 1951 Chevrolet Styleline DeLuxe Convertible, formerly owned by 'King of Cool' Steve McQueen, when its highly anticipated Collector Cars of Fort Lauderdale sale returns to South Florida, March 22 – 24, 2013.

Resplendent in its yellow exterior with stainless moldings and leather interior, the stylish Chevrolet was driven frequently by the 'King of Cool' in the final movie of his illustrious career, The Hunter. It is understood that, like many of his movie cars, McQueen liked the yellow convertible so much that he purchased it for his personal collection after filming wrapped. Equipped with a 92 horsepower six-cylinder engine mated to a column-mounted, three-speed manual transmission, which McQueen's character struggled with, in a comedic manner throughout the film, the Chevrolet is accompanied by extensive documentation confirming its provenance. Documentation includes an original McQueen Certificate of Authenticity signed by the actor's late daughter, Terry and his son, Chad. It is presented for auction by its current owner, Rick Harrison, star of the History Channel's hit reality series, Pawn Stars, who will be on hand at the March event to witness the car cross the podium. It will be offered at no reserve, selling to the highest bidder. 'Steve McQueen was the ultimate 'King of Cool' and is arguably one of Hollywood's best known and most celebrated car enthusiasts of all time,' says Donnie Gould, president, Auctions America by RM. 'We are honored to have been entrusted with the sale of his former 1951 Chevrolet Styleline DeLuxe Convertible at our upcoming Fort Lauderdale sale and look forward to welcoming current owner, Rick Harrison from Pawn Stars to the event. Combining a well-documented history with an exciting celebrity and screen provenance, we expect the Chevrolet Styleline will attract strong interest from a diverse range of collectors.' The ex-McQueen Chevrolet leads an exciting list of celebrity rides slated for Auctions America's upcoming Fort Lauderdale sale. Additional entries on offer with Hollywood connections include an iconic 1969 Dodge Charger 'General Lee', used in the hit 2005 film Dukes of Hazzard and signed by the cast of the original television series; a documented, highly optioned 1971 Dodge 340 Challenger Convertible, one of two vehicles built and used on-screen during the popular 1972 television season of Mod Squad; and a 1966 Chrysler Imperial 'Black Beauty' Green Hornet Continuation Car, built by famed customizers George Barris and Dick Dean. Other notable early entries confirmed for the March sale include: o a diverse assortment of 1950s convertibles from 'The Gauthier Collection', headlined by a meticulously restored 1956 Cadillac Eldorado Biarritz Convertible and a 1952 Cadillac Series 62 Convertible, offered at no reserve; o a well-documented 1967 Dodge Coronet WO23 Hemi Super Stock Racecar, one of just 55, 1967 Factory Super Stock Dodges produced and boasting a documented period race history at major 1967 NHRA events; and, o a stylish 1935 Packard Twelve Coupe Roadster equipped with a 473.3 hp V-12 engine mated to a floor-mounted three-speed manual transmission and featuring power brakes, rumble seat, radio, chrome wire wheels, headlights and taillights. Regarded as South Florida's premier collector car auction, Auctions America's Collector Cars of Fort Lauderdale returns to the Greater Fort Lauderdale / Broward County Convention Center, March 22 – 24. The multi-day sale will lift the gavel on more than 550 quality collector cars, including a diverse assortment of American classics, European sports cars, Detroit muscle, hot rods and customs to cater to a broad range of automotive tastes. Full event details and a frequently updated list of auction offerings are available online at auctionsamerica.com or by calling toll free 877-906-2437 (or +1 260-927-9797 outside North America). For those unable to attend the event in person, Auctions America offers a broad range of remote bidding options including Internet, absentee and telephone bidding, and the auction will stream live online at auctionsamerica.com, providing real-time coverage of the event. About Auctions America Formed in July 2010, Auctions America specializes in the sale of American classics, European sports cars, Detroit muscle, hot rods, customs and collectible motorcycles. Headquartered at the historic Auburn Auction Park in Indiana, Auctions America boasts an expert team of full-time vehicle specialists, who offer over 140 years of combined experience buying, selling, racing and restoring collector vehicles, making them uniquely qualified to advise on all aspects of the hobby. To learn more about Auctions America, visit www.auctionsamerica.com, find us on Facebook or follow us on Twitter @auctionsamerica. **Photo caption: The ex-Steve McQueen 1951 Chevrolet Styleline DeLuxe Convertible (courtesy Auctions America)
Recent Articles
VOLUME AND VARIETY AT MECUM'S SECOND ANNUAL ANAHEIM AUCTIONWalworth, Wis. - November 27, 2013 -- Mecum Auctions returned to Anaheim, Calif., for its second annual auction at the Anaheim Convention Center and with spectators and bidders pouring in, total sales reached nearly $14 million. With 812 vehicles crossing Mecum's block Nov. 21-23, 412 hammered sold with deals continuing to be made in the Bid Goes On department.

Mecum had originally anticipated a 750-car lineup, but the consignments came in droves bringing the run total to its impressiv....
TANNER FOUST EARNS RALLYCROSS PODIUM IN LAS VEGAS ROCKSTAR ENERGY DRINK DRIVER RUNNER-UP IN 2013 GRCLAS VEGAS, Nev. (November 8, 2013) - Rockstar Energy Drink driver Tanner Foust scored his fourth Global Rallycross podium of the year at an exciting season finale held under the lights of the Las Vegas strip on Thursday evening.

It was a strong event from start to finish for the two-time Global Rallycross champion, with Foust taking the top qualifying spot and winning both of his heats en route to the action-packed Final.

But in the Final, where gaining the hole-shot through the fir....
STEVE MCQUEEN'S HARLEY-DAVIDSON TO CROSS MECUM'S BLOCK IN ANAHEIMWalworth, WI - November 11, 2013 -- Mecum Auctions will offer a rare piece of celebrity history at the second annual Anaheim auction this Nov. 21-23 at the Anaheim Convention Center – a motorcycle once owned and ridden by 'The King of Cool' Steve McQueen.

As the highest paid actor of his time, McQueen is best remembered for his roles in movies like 'The Great Escape,' 'The Getaway,' 'Bullitt' and 'The Thomas Crown Affair.' In addition to his acting career, McQueen was an avid motorcycl....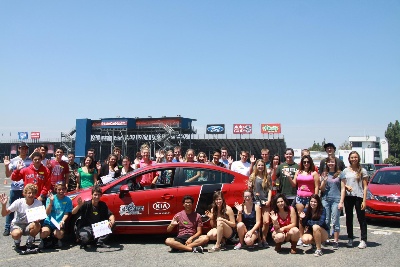 KIA MOTORS AMERICA AND B.R.A.K.E.S. TEEN PRO-ACTIVE DRIVING SCHOOL EXPAND HANDS ON DEFENSIVE DRIVING PROGRAMKia Motors America And B.R.A.K.E.S. Teen Pro-Active Driving School Expand Complimentary Hands-On Defensive Driving Program To New Cities In 2013
◾A fleet of 32 Kia vehicles supports training for teens across America with a three-to-one student-to-teacher ratio
◾B.R.A.K.E.S. engages teens and parents in advanced training to respond to real-world driving scenarios

IRVINE, Calif., Nov. 7, 2013 – To educate teenagers and their parents about the importance of responsible driving habits, K....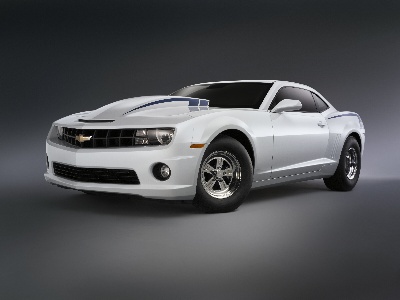 Chevy Performance Rolls with Hot Rod Magazine Power TourWeeklong drive kicks off with unprecedented access to GM's Milford Proving Ground

Road trip! It's that time of year again for the annual automotive pilgrimage known as the Hot Rod Magazine Power Tour® and Chevrolet Performance helps get it started on Saturday, June 2, at General Motors' Milford Proving Ground. The Power Tour winds up in Arlington, Texas, on June 9.

With more than 3,000 hot rods, muscle cars, classic trucks and late-model performance vehicles and approximately 12,00....
Rick Hendrick Builds Custom Engine For 2010 COPO CamaroRick Hendrick, owner of NASCAR team Hendrick Motorsports and chairman of Hendrick Automotive Group, built the engine for his 2012 COPO Camaro at General Motors' Performance Build Center today, as part of Chevrolet's series of customer engine build experiences.

In 2011, Hendrick also took part in Chevrolet's Corvette engine build experience.

'Last year's Corvette engine build was such a memorable experience that I couldn't pass up the opportunity to do it again with a COPO Camaro. As a Ch....
One of 14 'Swiss Cheese' Lightweights Offered at Russo and SteeleAs one of the most radical factory-built weapons conceived during the Super Stock wars of the early 1960s, Pontiac's outrageous 'Swiss Cheese' Catalina Lightweight was purpose-built just for one mission: to maintain dragstrip supremacy. To do this, 14 full-size Catalinas were plucked from the assembly line, stripped of all sound deadener and insulation, and relieved of one inside frame section. Aluminum body and mechanical parts were used extensively. Some 120 round lightening holes drilled into....
'GOING ROUNDS' THE GOAL FOR TEAM MOPAR DRIVER JOHNSON AS NHRA PRO STOCK TITLE FIGHT HITS VEGAS•Allen Johnson in position to claim back-to-back wins in Vegas in his Mopar Dodge Avenger
•Dodge Charger R/T Funny Car drivers Jack Beckman and Ron Capps continue championship battle in Las Vegas
•Jeg Coughlin, Jr. primed to continue success at The Strip at Las Vegas Motor Speedway
•Mopar-powered Matt Hagan closing in on first Funny Car win of 2012

October 23, 2012 , Auburn Hills, Mich. - All season long, Team Mopar NHRA Full Throttle Drag Racing Series Pro Stock driver Allen Joh....
2014 Chevrolet COPO Camaro
---
2013 Chevrolet Corvette Stingray Convertible Atlantic Concept
---
2013 Chevrolet Corvette Stingray Coupe Pacific Concept
---
2013 Chevrolet Corvette Stingray Gran Turismo Concept
---
2013 Chevrolet Jeff Gordon SS Performance
---
2013 Ford Explorer Sport
---
2013 Ford Mustang Cobra Jet Twin-Turbo Concept
---
2013 Toyota Camry NASCAR
---
2012 Chevrolet Camaro ZL1
---
2012 Chevrolet COPO Camaro
---