VOLKSWAGEN MOTORSPORT TO CELEBRATE 50th ANNIVERSARY OF FORMULA VEE AT ROLEX 24 AT DAYTONA
• Former stars of Formula Vee and Formula Super Vee will take to the track in historic cars, 50 years after the first official FV race Herndon, VA - Formula Vee will celebrate a big birthday at the Rolex 24 at Daytona this coming weekend (24–27January). Fifty years after the debut of the formula as an officially-sanctioned Sports Car Club of America race series, Volkswagen will return to the place where it all started with a number of significant car and drivers from the past. Among those present will be several ex-FV drivers who went on to become international motorsport stars: Indy 500 winner Arie Luyendyk; Indycar star and team owner Michael Andretti; Daytona champion Didier Theys; two-time Daytona winner Elliott Forbes-Robinson; former DTM and sportscar stars Hans-Joachim Stuck and Dieter Quester; and rally icon Markku Alen. 'Volkswagen can look back on major success on the motorsport scene. However, the continuous promotion of young drivers has been even more successful,' said Volkswagen Motorsport Director Jost Capito. 'Fifty years ago, Formula Vee was pioneering in this regard. Many eventual motorsport legends took their first steps towards a career in motor racing with us. Many of these legends will be brought together for the revival in Daytona and I'm really looking forward to this reunion.' Formula V in the USA – the success story that began back in 1963
The first-ever SCCA Formula Vee race was held at the Daytona Speedway in August 1963, although cars had raced around the south-eastern U.S. prior to that event. Armed with the 40 horsepower, 1.2-liter engine and the running gear from the Volkswagen Beetle, motorsport enthusiasts put together extremely cost-effective single-seater racing cars—and launched a boom that was soon to spill over to Europe. On July 4th, 1965, Formula Vee made its official European debut in front of 50,000 spectators at the Norisring in Nuremberg, Germany. This proved to be the start of a huge success story, to which a new chapter was added from 1971 onwards with the Formula Super Vee series, which ran parallel to the established Formula Vee 1300. FSV cars used a 1.6-liter Volkswagen engine that initially generated 120 hp, a figure that later rose to close to 200 hp. Formula One world champions Niki Lauda, Nelson Piquet, Emerson Fittipaldi, and Keke Rosberg all began their careers in Formula Vee championships, as did Le Mans winners Gijs van Lennep, Dr. Helmut Marko, and Jochen Mass. Indycar stars such as Michael Andretti, Al Unser Jr., Arie Luyendyk, and Scott Dixon competed in FV and FSV in their formative years. As such, Formula Vee formed the basis for the tradition of promoting young drivers in motorsport, one that lives on today through the likes of the German ADAC Formula Masters 'powered by Volkswagen.' The best Formula Vee racing cars from Europe and the U.S. will complete a 'lap of honor' ahead of the start of the 24-hour race at Daytona, driven by some of the heroes from the series' heyday.
Recent Articles
GT LE MANS, GT DAYTONA TEAMS SELECTED FOR 2014 TUDOR UNITED SPORTSCAR CHAMPIONSHIP• 12 GTLM Entries Representing Six Manufacturers

• 28 Entries From 18 Different Teams Accepted in GTD


DAYTONA BEACH, Fla. (Dec. 6, 2013) – International Motor Sports Association (IMSA) officials today revealed a total of 40 production-based race cars from eight world-class manufacturers that will compete in the 2014 TUDOR United SportsCar Championship in the GT Le Mans (GTLM) and GT Daytona (GTD) classes.

The GTLM category will include 12 entries from eight differe....
INAUGURAL TUDOR UNITED SPORTSCAR CHAMPIONSHIP TO FEATURE 29 PROTOTYPES• Premier Prototype Class Includes Diverse Mix of 17 Race Cars

• Prototype Challenge Capacity Expanded to 12 Entries


DAYTONA BEACH, Fla. (Dec. 6, 2013) – The debut season of the TUDOR United SportsCar Championship in 2014 will include 29 prototype race cars across the Prototype (P) and Prototype Challenge (PC) categories as International Motor Sports Association (IMSA) officials today unveiled approved entries for all four TUDOR Championship classes.

The P class wil....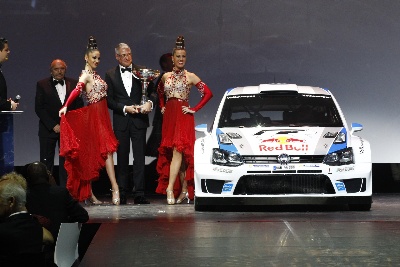 GREAT HONOUR, GRAND CELEBRATION: WORLD CHAMPIONSHIP TROPHIES PRESENTED TO VOLKSWAGENA celebratory end to an incredible season: Volkswagen Board Member for Technical Development, Dr. Heinz-Jakob Neußer, and World Rally Champions Sébastien Ogier and Julien Ingrassia were in Paris to receive their FIA World Rally Championship (WRC) trophies. Making its debut in the World Championship with the 315-hp Polo R WRC this year, Volkswagen won every title at the pinnacle of rallying. FIA President Jean Todt was on hand to personally present the trophies to the Volkswagen team at the glamo....
MAZDA6 SKYACTIV-D CLEAN DIESEL RACECARS COMPLETE THUNDERHILL 25-HOUR DEBUTDecember 8, 2013 (WILLOWS Calif.) — The Venn diagram that best showcases Mazda Motorsports is the overlap between endurance racing and club racing. That overlap was showcased on a freezing cold weekend at the longest endurance race in America, the National Auto Sport Association (NASA)'s US Air Force 25 Hours of Thunderhill. Of the 57 cars that took the green flag on Saturday, 16 of them were Mazda-powered, more than any other brand. When the checkered flag dropped on Sunday, three of ....
KATY PERRY TO PERFORM AT INFINITI BRAND FESTIVAL IN CHINA• Katy Perry's first ever performance in China

• Major public event to celebrate the Infiniti brand in China

• Infiniti retail and manufacturing business growing rapidly in China

Beijing / Hong Kong - Infiniti announced that U.S. singer, songwriter and actress, Katy Perry, will perform as a special guest at the 2014 Infiniti China Brand Festival in Beijing. Several thousand guests are expected at the Beijing indoor Olympic Stadium on Saturday, January 11, to par....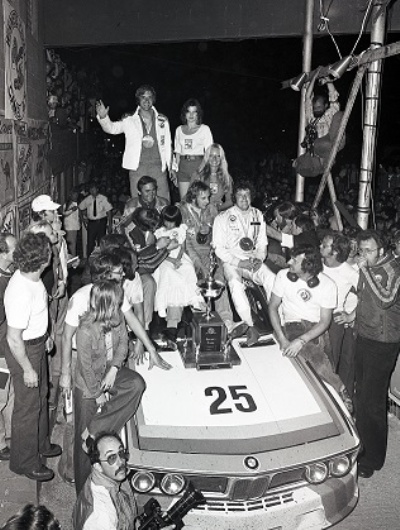 BMW's 'BATMOBILES' SET FOR 19th ANNUAL AMELIA CONCOURSScheduled to appear in the 19th Annual Amelia Concours' BMW 3.0 CSL 'batmobile class' are not only the 1975 Sebring 12 Hour and '76 Daytona 24 winners, but Alexander Calder's 1975 Le Mans 3.0 CSL with his trademark signature on the left rear fender.

BMW's 'Batmobile' racers were glorious mutants. They arrived from Europe wearing a frosting of giant wings, huge fender boxes and big spoilers, all powered by a 430 hp straight-six engine that made a glorious noise and propelled BMW's luxury cou....
LE MANS GREATS HEAD STUNNING ROSTER OF ADDITIONAL ENTRIES FOR RM'S 2014 PARIS SALE DURING RETROMOBILE WEEK• Anticipation builds ahead of RM's €25 million debut Paris sale on 5 February 2014
• More Le Mans greats join stunning competition car line-up at saleLatest highlights include a 1982 Rondeau M482 Le Mans GTP, a veteran of five Le Mans 24 hours races, and a mighty 2008 Peugeot 908 HDi FAP Le Mans Prototype, which finished 2nd at Le Mans, was driven by Jacques Villeneuve, and has been entrusted to be sold by RM by the Peugeot factory
• Other recently secured entries include a Bugatti Type 40 Ro....
2014 Audi A5 DTM Edition
---
2014 Dodge SRT Viper GT3-R
---
2014 Ferrari 458 Speciale
---
2014 Ford George Follmer Edition Mustang
---
2014 Infiniti Q50
---
2014 Mazda 6
---
2014 Mercedes-Benz CLA 45 AMG Racing Series
---
2014 Mercedes-Benz CLA-Class
---
2013 Audi RS 5 DTM
---
2013 BMW M3 DTM Champion Edition
---