Prototype Cadillac Not Seen In Decades Coming To Amelia
For the first time in 64 years the first Cadillac to wear the name 'Coupe de Ville' will make a public appearance. The site for this historic re-debut is the 18th annual Amelia Island Concours d'Elegance on March 10, 2013. Charlie Wilson was the CEO of General Motors from 1946 through 1953 and President Eisenhower's Secretary of Defense from 1953 through 1957. When Wilson left GM in 1953, the corporation gave him an extraordinary gift honoring his long service. What he got was the original Cadillac prototype Coupe De Ville by Fleetwood, the rarest of General Motors Transportation Unlimited Exhibition show cars. Just four different prototypes were built. Only one survives: 'Engine Charlie's' Coupe de Ville. Wilson drove it during his tenure as Secretary of Defense. This first Coupe de Ville was a radical departure from Cadillac's showroom offerings of the Forties. Powered by a new 331 cubic inch engine -- GM's first overhead valve V-8 -- and mated to a 4-speed automatic transmission, the prototype Coupe de Ville took two months and $30,000 (1949-dollars) to build. The de Ville featured GM's first one piece curved windshield, and rode on a 133 inch wheelbase, seven inches longer than Cadillac's production coupes. Inside was a two-way radio/telephone, power windows (even the vent windows were powered), power seats, chrome wheel arches, a three-piece rear window, lipstick holder, perfume atomizer, a back seat secretarial kit and leather seats and trim, The de Ville was the star of GM's 1949 Waldorf Astoria Transportation Unlimited show.
'I have many cars but the Coupe de Ville restoration has been the most exciting. This will be the first time in 64 years the oldest surviving Motorama Dream Car will be displayed publically,' said Steve Plunkett. 'What's interesting is Eagle Ottawa has been a supplier of leather to the Big Three for generations and 64 years later they're supplying the project again.' About The Amelia Island Concours d'Elegance Now in its second decade, the Amelia Island Concours d'Elegance is among the top automotive events in the world. Always held the second full weekend in March, 'The Amelia' draws nearly 250 rare vehicles from collections around the world to The Golf Club of Amelia Island and The Ritz-Carlton, Amelia Island for a celebration of the automobile like no other. Since 1996, the show's Foundation has donated over $2 million to Community Hospice of Northeast Florida, Inc. and other deserving charities on Florida's First Coast. The 18th annual Amelia Island Concours d'Elegance is scheduled for March 8-10, 2013. For more information, visit www.ameliaconcours.org or call 904-636-0027.
Recent Articles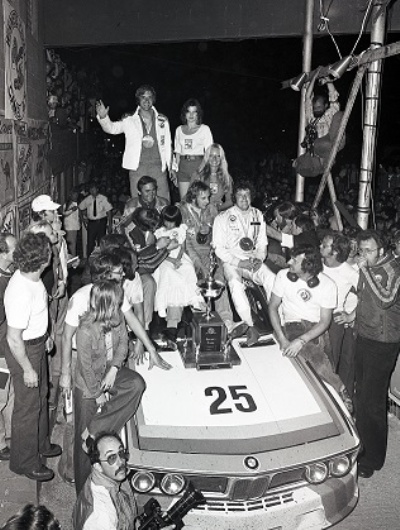 BMW's 'BATMOBILES' SET FOR 19th ANNUAL AMELIA CONCOURSScheduled to appear in the 19th Annual Amelia Concours' BMW 3.0 CSL 'batmobile class' are not only the 1975 Sebring 12 Hour and '76 Daytona 24 winners, but Alexander Calder's 1975 Le Mans 3.0 CSL with his trademark signature on the left rear fender.

BMW's 'Batmobile' racers were glorious mutants. They arrived from Europe wearing a frosting of giant wings, huge fender boxes and big spoilers, all powered by a 430 hp straight-six engine that made a glorious noise and propelled BMW's luxury cou....
400TH BUGATTI VEYRON SOLD – THE VEYRON BEGINS ITS FINAL LAPJust 50 models of the super sports car are still available

• 400th Veyron is a Grand Sport Vitesse 'Jean-Pierre Wimille' of the six-part edition 'Les Légendes de Bugatti'

• Head of Bugatti Wolfgang Schreiber, 'A unique success story about the most exclusive and luxurious super sports car brand in the world'


Molsheim, 5 December 2013. Bugatti has sold its 400th Veyron. Since the production run of the Veyron and its variants is limited to just 450 models, thi....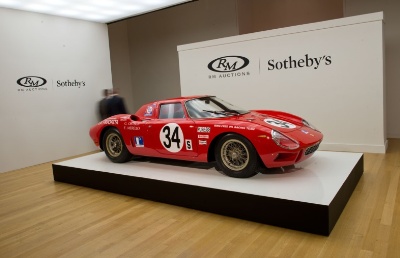 RM Auctions and Sotheby's Stun the Market with Incredible $63 Million 'Art of the Automobile' Sale in New York• RM Auctions and Sotheby's momentous Art of the Automobile auction generates $62,797,500 of sales in two hours of furious bidding
• Records tumble with the historic 1964 Ferrari 250 LM by Carrozzeria Scaglietti achieving $14,300,000 while the stunning 1938 Talbot-Lago T150-C SS Teardrop Cabriolet by Figoni et Falaschi sells for $7,150,000
• 93 percent of all lots sold to an international audience of bidders representing 17 countries
• Full results are available online at www.rmauctions.c....
Expert Symposium Delivered to Packed Room Ahead of 'Art of the Automobile' New York Sale• RM Auctions and Sotheby's deliver highly outstanding expert symposium to more than 700 people
• Six hugely influential and respected specialists set the scene in advance of truly groundbreaking Art of The Automobile sale
• Anticipation building for what is being regarded as one of the finest and most innovative collector car auctions ever held

NEW YORK, New York (November 20, 2013) – The eyes of the collector car community are firmly fixed on New York, as RM Auctions and Sotheby's,....
AMELIA ISLAND CONCOURS D'ELEGANCE WINS PRESTIGIOUSThe annual International Historic Motoring Awards, in association with EFG International and Octane magazine, announced this week that the Amelia Island Concours d'Elegance has been named the recipient of the 2013 Motoring Event of the Year award.

The Amelia Island Concours d'Elegance is the third winner of the Motoring Event of the Year Award, which honors automotive celebrations from Australia, Germany, Italy, the United States and the United Kingdom. Finalists in the 2013 events category ....
2013 Dodge Viper GTS Launch Edition
---
2013 Ford GTR1
---
2013 McLaren MP4-12C SPIDER
---
2012 Bentley Mulsanne Convertible Concept
---
2001 Cadillac DeVille
---
1988 Chevrolet Corvette C4
---
1987 Chevrolet Corvette C4
---
1981 Chevrolet Corvette C3
---
1980 Chevrolet Corvette C3
---
1976 Chevrolet Corvette C3
---