ENDURANCE RACING LEGEND HURLEY HAYWOOD IS GRAND MARSHAL
Endurance racers are a breed unto themselves. To drive a race car at speeds approaching 200 mph for hours on end over a challenging circuit such as Daytona International Speedway, home of the iconic Rolex 24 At Daytona, necessitates stamina and a unique skill set. Rarer still are the racers who make it into the history books, and, in the case of Hurley Haywood, his numerous entries in the history books have elevated his status to the stuff of legends. A year ago when Haywood took a step back from driving, he became the natural choice to give the command 'drivers, start your engines' as Grand Marshal for the 51st Rolex 24 At Daytona. 'It is a different role, but it is one that I really enjoy actually,' said Haywood. 'They've also been keeping me so busy with all the duties that I really haven't been able to think about the not driving part of it.' A number of Haywood's cars are on display in the Rolex 24 Heritage Exhibition. 'I walked through and looked at each one and each brings back a wonderful memory,' said Haywood of the cars that span his more than 40-year driving career. 'What I miss most about the driving part is that time right before you get into the car where you have butterflies in your stomach… your stomach is in a knot. You have all these questions about 'is the car up to the test, am I good enough today, am I going to kill myself,' all these things go through your mind, and it's kind of a really wonderful rush kind of feeling. And then, as soon as you get into the car and strap your helmet on and start the car up, you pull up on the pace lap and all that sort of goes by the wayside. You relax and everything comes into focus. I miss that part.'
At the briefing shortly before the cars started the gridding process, the five-time Rolex 24 At Daytona Champion spoke to the drivers. 'It feels very strange to be standing here this year. For so many years I sat where you are sitting. Have fun, be safe, and be ladies and gentlemen out there.' Managing the team at Brumos Racing, which is running the #59 Porsche GT3 Cup car, will also keep Haywood busy for the next 24 hours. 'We've got a good team and four really strong drivers (Leh Keen, Andrew Davis, Marc Lieb and Bryan Sellers). When you look at the competiveness of the GT field especially it's really tight, so if I had to pick a year to step aside this was probably a good choice to do it.' Haywood has raced the Rolex 24 At Daytona 42 times and has, since his last win in 1991, held an unbroken five wins record. Along with those wins at Daytona International Speedway, Haywood has three wins of the 24 Heures du Mans and two wins of the 12 Hours of Sebring. As the winner of more endurance races than any other driver, Haywood has rightfully earned the title of legend. How to Follow the Event To receive media features and reports during the event, and to download high-resolution images, copyright free for editorial purposes, register online at www.caracingnews.com Regular updates for media regarding the Rolex 24 At Daytona will be available on the caracingnews Facebook and Twitter feeds. These include significant news, as well as fresh images, text and audio files, which have been posted to the www.caracingnews.com platform. Rolex has been a partner of the Daytona International Speedway since its earliest beginnings, and title sponsor of the Rolex 24 At Daytona since 1992. A Press Pack about the Rolex 24 At Daytona is available to download here and Photo Story highlighting the race's heritage and atmosphere is available to view here. Further information on the Rolex 24 At Daytona may be found at http://www.daytonainternationalspeedway.com and http://www.grand-am.com.
Recent Articles
1956 24 Hours of Le Mans: Collins and Moss Come CloseThe 1955 24 Hours of Le Mans would be forever remembered, not for the 24 hours of racing, but for the tragic and terrible events that would take place after just two. The consequences would be dire and would send shockwaves throughout the racing world. Peter Collins would witness the events and would find it very hard to continue. However, he would do just that and would end up a very strong 2nd, practically handed the result by Mercedes. One year later, the mood would be lighter and Collins wou....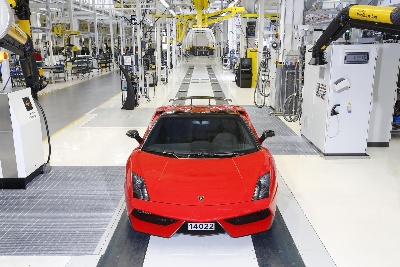 END OF PRODUCTION FOR THE LAMBORGHINI GALLARDO• Ten years of an Italian Icon

• The 'most sold' Lamborghini super sports car

• Still best in class with record lap times

Sant'Agata Bolognese, 25.11.2013 -- In the historic factory buildings of Sant'Agata Bolognese, the last Lamborghini Gallardo has left the production line. The final model is a Gallardo LP 570-4 Spyder Performante in Rosso Mars (red) and it is destined for a private collector. With a total of 14,022 units the Gallardo is not only by far the mo....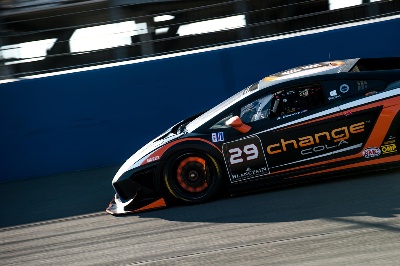 CHAMPIONS TO VIE FOR LAMBORGHINI BLANCPAIN SUPER TROFEO WORLD CROWNGlobal grid for Lamborghini World Finals

22 November 2013, Vallelunga, Campagnano Di Roma, Italy. Automobili Lamborghini today confirmed an international field for the Lamborghini Blancpain Super Trofeo World Finals at Vallelunga this weekend.

The inaugural event at the 4.085km circuit outside Rome that brings together the three Lamborghini Blancpain Super Trofeo series from Europe, Asia and North America, will deliver a World Champion following two 50 minute races on Saturd....
INTERNATIONAL MOTORSPORTS CENTER IN DAYTONA BEACH BECOMES NEW IMSA HOMEDAYTONA BEACH, Fla. (Nov. 20, 2013) – A legacy that began when NASCAR founder Bill France Sr. and John and Peggy Bishop co-founded the original International Motor Sports Association (IMSA) in 1969 took a step into the future today at the International Motorsports Center (IMC).

IMSA and International Speedway Corporation (ISC) Chairman Jim France – the son of Bill France Sr. – joined IMSA CEO Ed Bennett and NASCAR President Mike Helton to unveil the addition of IMSA logos to signage ou....
DAYTONA INTERNATIONAL SPEEDWAY TEST: DAY 2 – NOV. 20, 2013DAYTONA BEACH, Fla. (Nov. 20, 2013) – The TUDOR United SportsCar Championship's November preseason testing concluded on Wednesday at Daytona International Speedway, with six GTLM and 19 GTD teams posting competitive laps in preparation for the season-opening Rolex 24 At Daytona on Jan. 25-26, 2014.

IMSA and Continental Tire officials decided Wednesday morning to suspend testing for Prototype (P) and Prototype Challenge (PC) race cars due to issues that came to light in Tuesday's sessio....
2015 Nissan GT-R Nismo
---
2015 Porsche 918 Spyder
---
2014 Acura MDX
---
2014 Aston Martin V12 Vantage S
---
2014 Dodge SRT Viper GT3-R
---
2014 Lamborghini Gallardo LP570-4 Squadra Corse
---
2014 Mazda 6
---
2014 McLaren P1
---
2014 Mercedes-Benz CLA 45 AMG Racing Series
---
2014 Mercedes-Benz SLS AMG GT Final Edition
---