One-two victory for Audi customer teams at Daytona
- Alex Job Racing achieves GT class win - APR Motorsport completes one-two success of the Audi R8 GRAND-AM - All three race teams in contention for victory till the end At the Daytona 24 Hours, the Audi R8 GRAND-AM has made its best showing to date: Filipe Albuquerque/Oliver Jarvis/Edoardo Mortara/Dion von Moltke won the GT category in a dramatic finale. The runners-up trailing the winners by 1.4 seconds were Ian Baas/Marc Basseng/René Rast/Frank Stippler. Despite 65 percent of each lap having been driven at full throttle the R8 GRAND-AM that is powered by a production-derived 5.2-liter V10 FSI engine was running flawlessly on the notorious oval track for a whole day and night. With the class victory at Daytona Audi, under factory commitments or in cooperation with its customers, has now won the world's most important 24-hour races. The latest evolution of the Audi R8 GRAND-AM experienced a successful baptism of fire in the toughest GRAND-AM race of the year. All four of the updated customer sport race cars for the United States were running with technical perfection all the way up to the finish of the 24-hour race. Each of the three race teams had the lead at least once and a chance of clinching victory until the very end. 'We achieved this dream result at what was only our second attempt at Daytona,' enthused Romolo Liebchen, Head of Audi Sport customer racing. 'With that, the R8 GRAND-AM in the United States is continuing the string of successes of its GT3 sister model that has clinched a total of five overall victories at European 24-hour races in the past two years.'
Alex Job Racing in the end was the best Audi team. Right in the first quarter of the race the squad provided the first Audi driver – Edoardo Mortara (F/I) – to take the lead in the GT class. Afterward, Dion von Moltke (USA), Filipe Albuquerque (P) and Oliver Jarvis (GB) in the white R8 GRAND-AM set the pace as well. But spins and time penalties then caused car number '24' to drop back several times. Particularly controversial was a 30-second penalty that was imposed after Edoardo Mortara had spun and a competitor was allegedly obstructed in the incident. Factually, though, Mortara had lost a position due to his excursion. Filipe Albuquerque stood up to the pressure exerted by his brand colleagues in the dramatic final phase. For him, as for Mortara and Jarvis, this meant victory on debuting at Daytona. An impressive performance was delivered by the runner-up team as well. Thanks to their superb fighting spirit Team APR Motorsport with its drivers Ian Baas/Marc Basseng/René Rast/Frank Stippler (USA/D/D/D) kept making up ground – on Sunday morning, car number '52' had still been far behind. Despite a drive-through penalty in the first quarter of the race René Rast took the lead from his brand colleague Filipe Albuquerque in the eighth hour. Shortly before midnight, Marc Basseng was running in front when he received a time penalty due to incorrect overtaking during the safety car period. Later, Ian Baas was hit by a Daytona prototype. So the black-white-red R8 was short of three laps when the sun rose. With a clever pit stop strategy, though, the team recovered the laps it had lost within just a few hours. René Rast managed a dramatic recovery, as the German was battling for victory trailing the leader by merely a meter throughout the last hour of the race. Rast and his team had to admit defeat by a very narrow margin. In the initial phase, Rum Bum Racing was the quickest team within the Audi Sport customer racing squad. Frank Biela/Christopher Haase/Matt Plumb/Markus Winkelhock (D/D/USA/D) in car number '13' lost ground for the first time at the race's mid-point due to a stop-and-go penalty. On Sunday morning, Markus Winkelhock took the lead in the GT class. Due to a wrong overtaking maneuver in a caution period the German lost two laps after receiving a time penalty. The team battled and recaptured the lap of the leader up to the final phase. The checkered flag and second place were almost in Winkelhock's sight when the team's bold strategy failed to pay off: on the last lap of the race his car ended up coasting due to a lack of fuel. The grid of the GT class included a fourth Audi R8 GRAND-AM. Matt Bell/David Empringham/John Farano/Alex Figge/David Lacey (USA/CDN/CDN/USA/CDN) took 12th place for APR Motorsport. Audi's first 24-hour victory in the United States completes an impressive track record. After eleven victories at Le Mans plus the successes of the R8 LMS at Spa, Zolder and the Nürburgring, Audi – thanks to its customer teams at Daytona – has decided another classic 24-hour race in its favor. Race results (GT class) 1 Albuquerque/Jarvis/von Moltke/Mortara (Audi R8 GRAND-AM) 678 laps 2 Baas/Basseng/Rast/Stippler (Audi R8 GRAND-AM) + 1.476s 3 Assentato/Lazzaro/Longhi/Stanton/Wilkins (Ferrari) + 15.533s 4 Balzan/Beretta/Frezza/Pier Guidi (Ferrari) + 47.175s 5 Armindo/Lally/Lietz/Potter (Porsche) + 49.526s 6 Bleekemolen/Faulkner/Holzer/MacNeil (Porsche) + 1m 07.775s 7 Biela/Haase/Plumb/Winkelhock (Audi R8 GRAND-AM) – 1 lap 8 Aguas/Bowyer/Kauffman/Waltrip (Ferrari) – 1 lap 9 Brown/Hedlund/van Overbeek/Sharp (Ferrari) – 5 laps 10 Baldwin/Burtin/Farnbacher/Ragginger/Renauer (Porsche) – 6 laps 12 Bell/Empringham/Farano/Figge/Lacey (Audi R8 GRAND-AM) – 11 laps
Recent Articles
VIRGIN TO ENTER FIA FORMULA E CHAMPIONSHIPBritish-based team becomes ninth entry as 2014/2015 grid nears completion

LONDON, UK (5 December, 2013) - Virgin, one of the world's most recognised and respected brands, have today announced it will be entering a team in the new fully-electric FIA Formula E Championship after signing an agreement with series promoters Formula E Holdings.

Based in the UK, the Virgin Racing Formula E Team will be headed by Team Principal Alex Tai and has the backing of Virgin founder Sir Richa....
MAZDA6 SKYACTIV-D CLEAN DIESEL RACECARS TO TACKLE THUNDERHILL 25-HOURDecember 3, 2013 (IRVINE, Calif.) — There have always been rivalries: Yankees versus Red Sox. Beta versus VHS. Coke versus Pepsi. Tom versus Jerry. In the automotive retail world, that rivalry is Factory Guys versus Dealers. To finally put to bed who's faster, Mazda North American Operations (MNAO) has thrown down the gauntlet, entering three specially modified-for-racing 2014 Mazda6s in the longest endurance race in America, the National Auto Sport Association (NASA)'s US Air Force....
World Champions Audi second in Bahrain• Audi achieves 15th podium place in eight races

• Fassler/Lotterer/Tréluyer finish finale as runners-up

• Retirement of Duval/Kristensen/McNish



Audi finished the year in the FIA World Endurance Championship (WEC) in Bahrain in second place. The World Championship winning team* had to admit defeat only for the second time in eight races and can look back on a highly successful sporting season.

Until shortly before the race's midpoint, Audi Sport Team Joest was in....
MAHINDRA RACING TO COMPETE IN FIA FORMULA E CHAMPIONSHIP• Mumbai-based manufacturer to become eighth team in new global electric race series


MUMBAI, INDIA (28 November, 2013) - Mahindra Racing, the motorsports division of the Mumbai-based USD 16.2 billion multinational Mahindra Group, has today signed an agreement with series promoters Formula E Holdings to become the eighth team and another global company to join the new FIA Formula E Championship.

Already a major global force in the development and production of electric vehicle....
AUDI STARTS FROM SECOND ROW IN BAHRAIN• Fassler/Lotterer/Tréluyer fastest Audi driver team
• In qualifying, Audi was in front of Toyota five times in the 2013 season
• Optimum use of tires will be decisive in Saturday's finale

Ingolstadt/Bahrain, November 29, 2013 – In the last qualifying session of the 2013 FIA World Endurance Championship (WEC), Audi had to admit defeat in Bahrain. The World Championship winning squad will start the race from positions three and four.

In the final qualifying session in Bahrai....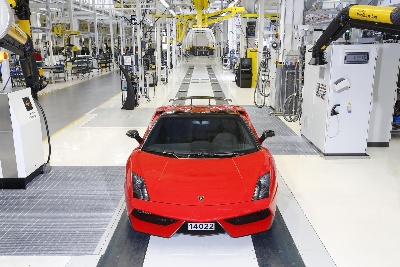 END OF PRODUCTION FOR THE LAMBORGHINI GALLARDO• Ten years of an Italian Icon

• The 'most sold' Lamborghini super sports car

• Still best in class with record lap times

Sant'Agata Bolognese, 25.11.2013 -- In the historic factory buildings of Sant'Agata Bolognese, the last Lamborghini Gallardo has left the production line. The final model is a Gallardo LP 570-4 Spyder Performante in Rosso Mars (red) and it is destined for a private collector. With a total of 14,022 units the Gallardo is not only by far the mo....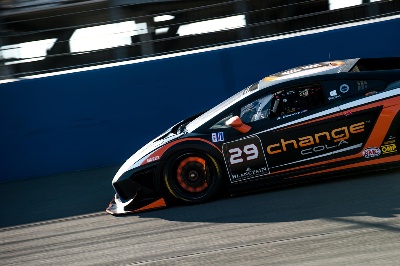 CHAMPIONS TO VIE FOR LAMBORGHINI BLANCPAIN SUPER TROFEO WORLD CROWNGlobal grid for Lamborghini World Finals

22 November 2013, Vallelunga, Campagnano Di Roma, Italy. Automobili Lamborghini today confirmed an international field for the Lamborghini Blancpain Super Trofeo World Finals at Vallelunga this weekend.

The inaugural event at the 4.085km circuit outside Rome that brings together the three Lamborghini Blancpain Super Trofeo series from Europe, Asia and North America, will deliver a World Champion following two 50 minute races on Saturd....
Grand finale for Audi: WEC season's last round in the desert• Audi travels to Bahrain as early Endurance Champions

• Parting with the current Audi R18 e-tron quattro

• Dr. Wolfgang Ullrich: 'Achieved everything there was to be achieved'


Audi's endurance race team led by Head of Audi Motorsport Dr. Wolfgang Ullrich and Chris Reinke, Head of LMP, has achieved all sporting aims in the FIA World Endurance Championship (WEC) early this season. Therefore, the finale on November 30 will be the icing on the cake for Audi Sport Team Jo....
2015 Nissan GT-R Nismo
---
2015 Porsche 918 Spyder
---
2014 Aston Martin V12 Vantage S
---
2014 Audi A7 Sportback
---
2014 Dodge SRT Viper GT3-R
---
2014 Lamborghini Gallardo LP570-4 Squadra Corse
---
2014 McLaren P1
---
2014 Mercedes-Benz CLA 45 AMG Racing Series
---
2014 Mercedes-Benz SLS AMG GT Final Edition
---
2014 Porsche 911 GT3
---