One-two victory for Audi customer teams at Daytona
- Alex Job Racing achieves GT class win - APR Motorsport completes one-two success of the Audi R8 GRAND-AM - All three race teams in contention for victory till the end At the Daytona 24 Hours, the Audi R8 GRAND-AM has made its best showing to date: Filipe Albuquerque/Oliver Jarvis/Edoardo Mortara/Dion von Moltke won the GT category in a dramatic finale. The runners-up trailing the winners by 1.4 seconds were Ian Baas/Marc Basseng/René Rast/Frank Stippler. Despite 65 percent of each lap having been driven at full throttle the R8 GRAND-AM that is powered by a production-derived 5.2-liter V10 FSI engine was running flawlessly on the notorious oval track for a whole day and night. With the class victory at Daytona Audi, under factory commitments or in cooperation with its customers, has now won the world's most important 24-hour races. The latest evolution of the Audi R8 GRAND-AM experienced a successful baptism of fire in the toughest GRAND-AM race of the year. All four of the updated customer sport race cars for the United States were running with technical perfection all the way up to the finish of the 24-hour race. Each of the three race teams had the lead at least once and a chance of clinching victory until the very end. 'We achieved this dream result at what was only our second attempt at Daytona,' enthused Romolo Liebchen, Head of Audi Sport customer racing. 'With that, the R8 GRAND-AM in the United States is continuing the string of successes of its GT3 sister model that has clinched a total of five overall victories at European 24-hour races in the past two years.'
Alex Job Racing in the end was the best Audi team. Right in the first quarter of the race the squad provided the first Audi driver – Edoardo Mortara (F/I) – to take the lead in the GT class. Afterward, Dion von Moltke (USA), Filipe Albuquerque (P) and Oliver Jarvis (GB) in the white R8 GRAND-AM set the pace as well. But spins and time penalties then caused car number '24' to drop back several times. Particularly controversial was a 30-second penalty that was imposed after Edoardo Mortara had spun and a competitor was allegedly obstructed in the incident. Factually, though, Mortara had lost a position due to his excursion. Filipe Albuquerque stood up to the pressure exerted by his brand colleagues in the dramatic final phase. For him, as for Mortara and Jarvis, this meant victory on debuting at Daytona. An impressive performance was delivered by the runner-up team as well. Thanks to their superb fighting spirit Team APR Motorsport with its drivers Ian Baas/Marc Basseng/René Rast/Frank Stippler (USA/D/D/D) kept making up ground – on Sunday morning, car number '52' had still been far behind. Despite a drive-through penalty in the first quarter of the race René Rast took the lead from his brand colleague Filipe Albuquerque in the eighth hour. Shortly before midnight, Marc Basseng was running in front when he received a time penalty due to incorrect overtaking during the safety car period. Later, Ian Baas was hit by a Daytona prototype. So the black-white-red R8 was short of three laps when the sun rose. With a clever pit stop strategy, though, the team recovered the laps it had lost within just a few hours. René Rast managed a dramatic recovery, as the German was battling for victory trailing the leader by merely a meter throughout the last hour of the race. Rast and his team had to admit defeat by a very narrow margin. In the initial phase, Rum Bum Racing was the quickest team within the Audi Sport customer racing squad. Frank Biela/Christopher Haase/Matt Plumb/Markus Winkelhock (D/D/USA/D) in car number '13' lost ground for the first time at the race's mid-point due to a stop-and-go penalty. On Sunday morning, Markus Winkelhock took the lead in the GT class. Due to a wrong overtaking maneuver in a caution period the German lost two laps after receiving a time penalty. The team battled and recaptured the lap of the leader up to the final phase. The checkered flag and second place were almost in Winkelhock's sight when the team's bold strategy failed to pay off: on the last lap of the race his car ended up coasting due to a lack of fuel. The grid of the GT class included a fourth Audi R8 GRAND-AM. Matt Bell/David Empringham/John Farano/Alex Figge/David Lacey (USA/CDN/CDN/USA/CDN) took 12th place for APR Motorsport. Audi's first 24-hour victory in the United States completes an impressive track record. After eleven victories at Le Mans plus the successes of the R8 LMS at Spa, Zolder and the Nürburgring, Audi – thanks to its customer teams at Daytona – has decided another classic 24-hour race in its favor. Race results (GT class) 1 Albuquerque/Jarvis/von Moltke/Mortara (Audi R8 GRAND-AM) 678 laps 2 Baas/Basseng/Rast/Stippler (Audi R8 GRAND-AM) + 1.476s 3 Assentato/Lazzaro/Longhi/Stanton/Wilkins (Ferrari) + 15.533s 4 Balzan/Beretta/Frezza/Pier Guidi (Ferrari) + 47.175s 5 Armindo/Lally/Lietz/Potter (Porsche) + 49.526s 6 Bleekemolen/Faulkner/Holzer/MacNeil (Porsche) + 1m 07.775s 7 Biela/Haase/Plumb/Winkelhock (Audi R8 GRAND-AM) – 1 lap 8 Aguas/Bowyer/Kauffman/Waltrip (Ferrari) – 1 lap 9 Brown/Hedlund/van Overbeek/Sharp (Ferrari) – 5 laps 10 Baldwin/Burtin/Farnbacher/Ragginger/Renauer (Porsche) – 6 laps 12 Bell/Empringham/Farano/Figge/Lacey (Audi R8 GRAND-AM) – 11 laps
Recent Articles
AUDI RS 5 DTM ON FRONT ROW AGAIN◾Mike Rockenfeller takes grid position two at Brands Hatch
◾Four Audi RS 5 DTM cars on the first five rows
◾Jamie Green with misfortune in qualifying at home round

Ingolstadt/Brands Hatch, May 18, 2013 – Just like in the season opener at Hockenheim, an Audi RS 5 DTM will again be starting from the front row at the second race of the 2013 DTM season at Brands Hatch (Great Britain).

Mike Rockenfeller in the Schaeffler Audi RS 5 DTM of Audi Sport Team Phoenix missed the pole posit....
Audi Customers At Nürburgring On Grid Positions One And Three◾Frank Stippler posts best time in Audi R8 LMS ultra of Phoenix Racing
◾Christian Mamerow for Prosperia C. Abt Team Mamerow on second row
◾Three Audi R8 LMS ultra cars in top five

Ingolstadt/Nürburg, May 18, 2013 – The quickest Audi customers have completed their preparations for the 24-hour race at the Nürburgring with a very good qualifying result on the first three rows of the grid. The team of Ernst Moser is particularly happy: In the Eifel, the squad with the Audi R8 LMS ultra o....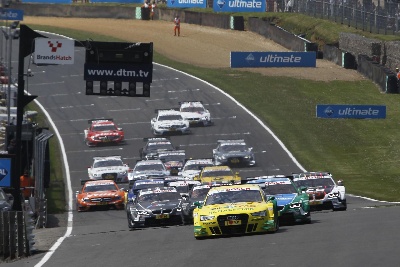 AUDI ENDS BMW STRING OF VICTORIES IN THE DTM◾Commanding triumph by Mike Rockenfeller at Brands Hatch
◾Audi driver new overall leader after two races
◾Mattias Ekström and Timo Scheider in the points too

Ingolstadt/Brands Hatch, May 19, 2013 – Two races, two pole positions – and now the first victory of the season plus the lead of the standings: The Audi RS 5 DTM was unbeatable at the second race of the 2013 DTM at Brands Hatch (Great Britain). Audi thus put an end to a four-race string of victories by BMW.

From the pole p....
Audi Customers Pass Tough Eifel Test◾Race interruption and high retirement rate due to extreme weather
◾G-Drive Racing by Phoenix best Audi customer team in fifth place
◾Three Audi R8 LMS ultra cars among the top ten

Ingolstadt/Nürburg, May 20, 2013 – The customer teams of last year's winner Audi experienced one of the toughest events of the Nürburgring 24 Hours this year. Heavy rain forced race control during the night to interrupt the race for more than nine hours. Numerous accidents caused a treacherous mix of oil, ....
Aston Martin Celebrates Centenary At Nürburgring 24 HoursNürburgring, 20 May 2013 – Aston Martin's weekend of centenary celebrations at the ADAC Zurich Nürburgring 24 Hours (N24) concluded this evening (Monday 20 May) with a thrilling top-ten result for its Bilstein-liveried V12 Vantage GT3 and a historic finish for its unique Hybrid Hydrogen Rapide S in one of the most grueling 24-hour races in recent years.

In a weekend that started with the British luxury sports car maker entering the history books with a zero CO2 emissions hydrogen-power....
Ferrari Challenge Europe Rolls Into The Czech Republic For Round TwoFerrari Challenge Czech's in to Brno

Brno, - The Ferrari Challenge Europe rolls into Brno in the Czech republic this weekend for the second round of the championship.

Local interest will be provided by Scuderia Praha lead driver and dealer principal Robert Pergl (No.11), who will compete in the Trofeo Pirelli category. The team will also enter 2 cars in the Coppa Shell category for Slovakian drivers Jakubik (No.188) and Kukacka (no.190).

Pergl is a highly experienced Ferrari race....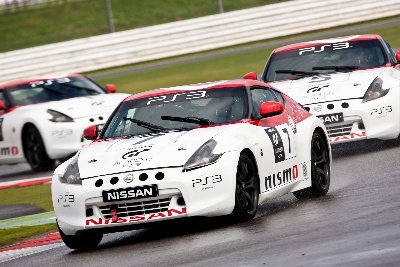 NISSAN AND PLAYSTATION ANNOUNCE BIGGEST EVER GT ACADEMY PROGRAMLONDON and PARIS - Nissan and Sony Computer Entertainment Europe have revealed that the innovative GT Academy competition will return for a fifth season. GT Academy 2013 will be the biggest yet, with more countries than ever before participating and the online gaming element of the competition set to be run in July on a demo of the hotly-anticipated Gran Turismo®6 game exclusively on PlayStation®3.

Since its inception in 2008, the highly acclaimed virtual-to-reality competition has att....
ELMS - 9 FERRARI'S HEAD FOR HOME RACE IN IMOLAMaranello 16 May - The second round of the European Le Mans Series (ELMS) arrives at Imola this weekend and nine Ferrari 458 will take to the grid.

By far the most popular car in the GTE category is the 458, Ram Racing have entered two cars for Silverstone pole sitters Johnny Mowlem and Matt Griffin and a second for American hot shots Gunnar Jeanette and Franck Montecalvo. JMW have one car for Andrea Bertolini and Joël Camathias. After a difficult round at Silverstone, AF Corse return with t....
2014 P1 McLaren
---
2014 911 GT3 Porsche
---
2014 918 Spyder Porsche

---
2013 R8 Audi
---
2013 R8 China Edition Audi
---
2013 R8 GRAND-AM Audi
---
2013 R8 Spyder Audi
---
2013 R8 V10 Audi
---
2013 R8 V10 Plus Audi
---
2013 RS 5 DTM Audi
---
blog comments powered by

Disqus