L'ESTAGE AND RICHARD WIN RALLY AMERICA SEASON OPENER SNO*DRIFT RALLY
Rockstar Energy Drink Team's Antoine L'Estage from St-Jean-sur-Richelieu, Quebec and co-driver Nathalie Richard from Halifax, Nova Scotia completed a stunning come-from-behind victory at the Sno*Drift Rally held January 25-26th in Lewiston, Michigan. Snow and ice often create large gaps between rally cars at Sno*Drift, however, L'Estage and Richard were locked in a fierce battle with Subaru Rally Team USA's David Higgins from Trefeglwys, Wales and Craig Drew from Forest of Dean, England, which turned into a classic battle between Mitsubishi and Subaru. Higgins and L'Estage swapped the lead twice on Friday with Higgins leading the first four stages, then L'Estage took the lead through stage 7, and Higgins gained an overnight lead of .5 seconds on the final stage of the first day. Higgins retained that lead all through the second day of Sno*Drift leading by as little as .4 seconds after stage 12 and as much as 21.3 seconds after stage 18. L'Estage took back 19.9 seconds on the penultimate stage setting up an epic finale! With 6 miles of slippery roads to go, both drivers gave it all they had. L'Estage won the stage by 7.6 seconds for a final margin of victory of 6.2 seconds over Higgins. 'Those stages were maximum attack,' said L'Estage, 'After we saw the time we gained on the (previous) 15 mile long stage we decided to go for it. Everything connected and we ended up winning.' It was great start for the Rockstar Mitsubishi Team and a heart breaking miss for Subaru Rally Team USA who wanted to begin the season defending last year's Rally America National Championship title with a win.
Can-Jam Motorsports' Leonid Urlichich from Thornhill, Ontario and Carl Williamson from Ammanford, United Kingdom completed the overall podium in third place. It is a great start to the team's second season of rally on American soil. Notably, Gymkhana video star Ken Block from Park City, UT and co-driver Alex Gelsomino returned to contend the full Rally America National Championship after several seasons honing their skills in the WRC as well has hooning it up worldwide! Block was considered by many to be the man to beat after winning two Rally America appearances in 2012. However, early electrical problem sidelined the team after the second stage. Block was the first to benefit from new for 2013 'Super Rally' rules and resumed competition at the beginning of the second day hamstrung with penalty times for the six stages he missed on Friday. The Hoonigan Racing team mounted a furious attack to climb from 11th overall to finish in 6th place winning six of the second day's twelve stages and, thereby, salvaging valuable championship points towards a long rally season. 'I'm really stoked on the addition of Super Rally to the rulebook here in Rally America,' said Block. 'That new rule gave me the chance to come back into the race on Saturday, drive really hard and make up some of 20-minute penalty I incurred from going out prior to stage 3 on day one. We managed to walk away from Sno*Drift with points towards the championship instead of nothing, which is awesome.' In the Super Production (SP) Class, Exedy Racing Clutches' Evan Cline from Brighton, MI and co-driver Jake Blattner from Salem, OR drove a very smooth race to take their very first class win. The pair led SP from the start and finished ahead of Mason Moyle from Houghton, MI and John Hall from Sherwood Park, Alberta. Cline and Blattner also won Friday's Sno Regional Rally in the process. 'This was the drive of my life and everything came together perfectly,' said Cline, 'Adam Yeoman (a fellow competitor) did pull us out of a ditch, which saved our first place finish. Now we can go into the 100 Acre Wood Rally with some momentum.' Moyle and Hall were also locked in a serious battle with Rally America newcomers Nick Roberts from White Bear Lake, MN and Nick Judkins from Bayport, MN. Roberts built up a day one lead over Moyle of 1:29.1, but Moyle dogged Roberts all day Saturday until he overtook Roberts on stage 17 and held onto second place to the end. This is Roberts and Judkins first Rally America podium as well as their first National Championship event. The Scion Racing Rally xD team of Andrew Comrie-Picard from Hermosa Beach, CA and Jeremy Wimpey from State College, PA began their season strong with a Two-Wheel Drive Class win over Ford Fiesta driver Dillon Van Way from Carencro, LA and Andrew Edwards from Powls, Wales. The Scion Racing team was last year's 2WD Class runners up and appears to be the team to beat this year. The event went perfectly for us,' exclaimed Comrie-Picard, 'The amazing thing is we won 19 of 20 stages on a newly built car and crushed it! Now we'll go back to California to put a turbo on the car for the rest of the season.' The Sno*Drift Rally has been very good to Dillon Van Way. This year's second place finish now marks five consecutive Sno*Drift Rally podium finishes, which includes a 2WD Class win in 2011. 2011 Rally America Rookie of year Ed McNelly from Oxford, ME and Ole Holter from Long Beach, CA driving the Team O'Neil Rally School Ford Fiesta took third place for his first Sno*Drift podium. James Robinson from Delaware, OH and Jordan Guitar from Marysville, OH piloted their 2009 Honda Fit to a B-Spec Championship victory for Honda Performance Development when their rival Edward Stiefvater in a 2013 Ford Fiesta did not finish due to a mechanical issue on stage 11. Jon Kramer from Pittsburgh, PA and co-driver Adam Kimmett from Leesburg, VA narrowly beat Evan Cline and Jake Blattner for Saturday's Drift Regional Rally top honors. Rally America introduced a Manufacturers' National Championship where Rally America's makes will vie for rally supremacy. With L'Estages' overall victory Mitsubishi drew first blood in the Overall category. Subaru nets the first manufacturers points in the Super Production Class, Scion is on the map in the 2WD category and Honda gained points for the B-Spec Class. Sno*Drift Rally national results: http://rally-america.com/events/2013/SNODRIFT/results 1. Antoine L'Estage/Nathalie Richard 2:24:22.0 2. David Higgins/Craig Drew 2:24:28.2 3. Leonid Urlichich/Carl Williamson 2:36:12.4 4. Ugo Desgreniers/Erk Kirby 2:39:05.2 5. Adam Yeoman/Jordan Schulze 2:45:22.6 6. Ken Block/Alex Gelsomino 2:46:06.8 7. Evan Cline/Jake Blattner 2:46:16.2 8. Andrew Comrie-Picard/Jeremy Wimpey 2:50.57.5 9. Dillon Van Way/Andrew Edwards 2:55:58.8 10. Mason Moyle/John Hall 2:56:32.0 Sno*Drift Rally photos: http://rally-america.com/events/2013/SNODRIFT/photos About Rally America: Based in Williston, VT, Rally America, Inc. sanctions the Rally America National Championship which consists of seven national-level events located at a variety of venues across the country, from Portland, Oregon to Newry, Maine. Top competitors can reach speeds of well over 100 mph in modified street cars such as Mitsubishi Evolutions, Subaru WRX STI's, Ford Fiestas and Scion xD's on natural-terrain courses consisting of gravel, dirt, ice or snow. For more information regarding Rally America's National Championship or the sport of performance rally, visit www.rally-america.com Photo credit: Scott Rains
Recent Articles
ORGANIZERS OF THE 2014 SUBARU MT. WASHINGTON HILLCLIMB WELCOME THE RALLY AMERICA NATIONAL CHAMPIONSHIP• UP TO 20 OF RALLY AMERICA'S TOP TEAMS WILL COMPETE AT NORTH AMERICA'S OLDEST HILLCLIMB


Pinkham, Notch, NH - Sports Car Club of New Hampshire officials, working closely with representatives from Rally America, Inc., announced today that the 2014 Subaru Mt. Washington Hillclimb taking place at the Mt. Washington Auto Road in Pinkham Notch, Gorham, NH June 26-29, 2014 will also serve as a full-points round of the 2014 Rally America National Championship.

'We're excited to welc....
BFGOODRICH® TIRES CLAIMS 10 CLASS WINS AT SCORE BAJA 1000BFGoodrich Tires, the official tire of the SCORE International desert racing series, captured four of the top five overall positions, in addition to equipping seven of the top 10 Trophy Trucks at the 46th annual Tecate SCORE Baja 1000. Additionally, BFGoodrich claimed wins in 10 classes, including defending its title in the Baja Challenge Class as Team BFGoodrich's BC2 team claimed victory by a margin of more than four hours.

Team BFGoodrich Member Rob MacCachren, paired with fellow Team BFGo....
TANNER FOUST EARNS RALLYCROSS PODIUM IN LAS VEGAS ROCKSTAR ENERGY DRINK DRIVER RUNNER-UP IN 2013 GRCLAS VEGAS, Nev. (November 8, 2013) - Rockstar Energy Drink driver Tanner Foust scored his fourth Global Rallycross podium of the year at an exciting season finale held under the lights of the Las Vegas strip on Thursday evening.

It was a strong event from start to finish for the two-time Global Rallycross champion, with Foust taking the top qualifying spot and winning both of his heats en route to the action-packed Final.

But in the Final, where gaining the hole-shot through the fir....
BLOCK BRINGS GLOBAL RALLYCROSS-TESTED RX43 FIESTA TO GYMKHANA SIXFresh off of a victory in the Global Rallycross season finale in Las Vegas on Thursday, Ken Block celebrated the release of his sixth Gymkhana video on Monday. The six-minute precision driving video features everything from the return of Segway donuts to stunts involving backhoes and even a spiked wrecking ball.

Even more interesting to Global Rallycross fans, however: the Ford Fiesta ST RX43 that won Thursday's race is the same vehicle seen sliding through shipping containers in the viral sm....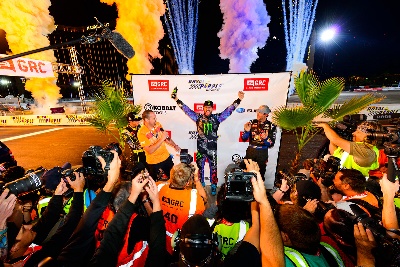 BLOCK WINS FIRST GLOBAL RALLYCROSS RACE; HEIKKINEN, FOUST, AND BLOCK TAKE 1-2-3 IN CHAMPIONSHIP FOR FORDLAS VEGAS, NV, November 7, 2013 – 'Stoked.' That's the initial reaction from Ken Block after he took his Fiesta ST to a first career Global Rallycross Championship (GRC) win tonight in Las Vegas.

Block's victory in Round 9 of the championship led Ford Fiesta to a 1-2 finish, with Tanner Foust second.

'I am absolutely stoked,' said Block. 'I've proven this year that I've got the speed and just had some back luck in the first corner so it's nice to have some good luck and great batt....
KEN BLOCK WINS GLOBAL RALLYCROSS SEASON FINALE IN LAS VEGASLAS VEGAS, NV (November 7, 2013) — Ken Block scored the first win of his Global Rallycross career on Thursday night, taking the checkered flag in the season finale held on the Las Vegas Strip. Block beat defending series champion Tanner Foust and Travis Pastrana for the victory, while fourth place finisher Toomas Heikkinen was crowned 2013 Global Rallycross champion.

'It's been a bit of a tough year—I've had the speed but just haven't had the luck in the first turn,' said Block. 'Today....
GLOBAL RALLYCROSS RACE RECAP: LAS VEGAS STRIPIN BRIEF: It took two full seasons, but Ken Block finally cracked the code to winning a Global Rallycross event: stay clean on the start, drive fast, and get a little bit of luck. He inherited the lead from the penalized Tanner Foust to win his first GRC race on the Las Vegas Strip.

HEAT RECAPS: Wednesday's heat races went to Tanner Foust, Toomas Heikkinen, Ken Block, and Scott Speed, respectively, while Thursday's events saw the same four drivers earn bonus points. In the last chance qualifi....
2014 Mazda 2
---
2013 Ford Fiesta ST Race Car
---
2013 Ford Focus TrackSTer
---
2013 Scion xD
---
2012 Fiat 500 B-Spec
---
2011 Ford Fiesta RS WRC
---
2011 Mitsubishi Lancer Evolution
---
2011 Toyota Yaris B-Spec Club Racer
---
2010 Ford Fiesta Monster World Rally
---
2008 Subaru Impreza WRX STi
---