RM Announces Early Highlights For Sale During the Concorso D'Eleganza Villa D'Este Weekend
• RM Auctions returns to Cernobbio on Lake Como, Italy, on the 25th of May, for its biennial sale during the Concorso d'Eleganza Villa d'Este • Exclusive evening sale to a featured, elite, handpicked selection of approximately 40 blue-chip automobiles • Early attractions include a superb 1962 Ferrari 400 Superamerica Coupe, a historically significant 1947 Cisitalia 202 MM 'Nuvolari' Spider, a delectable 1930 Bugatti Type 46 Superprofile Coupe, and a 1929 Rolls-Royce Phantom I Open Tourer with royal connections LONDON (1 February, 2013) – RM Auctions, the world's largest collector car auction house for investment-quality automobiles, is delighted to announce a stunning series of early highlights for its eagerly awaited sale during the Concorso d'Eleganza Villa d'Este weekend in Cernobbio, Italy, on the 25th of May. Returning to the spectacular Villa Erba on the shores of Lake Como, the highly anticipated sale follows RM's magnificent debut during the Concorso weekend in 2011, which saw the auction generate more than €23 million in sales during two hours of furious bidding. As many as six lots garnered million-euro-plus results during the 2011 event, with two lots surpassing the €3 million mark. This year's auction is set to continue the momentum, lifting the gavel on an elite, handpicked selection of 40 of the world's finest automobiles. As established at the inaugural sale, and in keeping with the theme of the esteemed Concorso, entries will represent the ultimate in elegance, sophistication, rarity, and provenance.
Max Girardo, Managing Director of RM Europe, says, 'It will be wonderful to be back at Lake Como and supporting the Concorso d'Eleganza with what promises to be a truly spectacular selection of cars. The Concorso prides itself on being the pinnacle of taste and exclusivity and that is obviously the same ethos underpinning how RM conducts this auction and the cars offered within it.' RM has placed a strong emphasis on the world's most admired marques for its second Lake Como sale, with examples from Ferrari, Cisitalia, Bugatti, and Rolls-Royce leading early consignments. For discerning Ferrari collectors, a 1962 Ferrari 400 SWB Superamerica Coupe, chassis 3559SA—a model favoured by the company's wealthiest customers in period—headlines early entries from the Maranello marque. A well-known, matching-numbers example with Pininfarina coachwork, 3559SA is one of only 36 examples produced in 1962. Stunning in its original Blue Sera Italver paintwork, it features all the most desirable specifications, including covered headlamps and four-wheel disc brakes, and it benefits from extensive, recent exterior and mechanical upgrades and full Ferrari Classiche certification (Estimate: €1,900,000–€2,000,000). Enthusiasts of post-war Italian sports cars with Mille Miglia provenance will appreciate the early consignment of a 1947 Cisitalia 202 MM 'Nuvolari' Spider with fantastic period race history. Chassis 002S MM is generally regarded as the factory prototype and boasts several unique details that set it apart from the other 25 cars originally produced. Extensively campaigned in period by Mr. Dusio, founder of Cisitalia, 002S MM went on to compete in the 1947 Mille Miglia as one of four factory entered cars, where it was driven to 4th overall by Minetti and Facetti. The legendary Tazio Nuvolari finished the same race in 2nd place overall in a sister car, and it is for this reason that the model is commonly referred to as the 'Nuvolari Spider' (Estimate: €450,000– €525,000). Bugatti is surely one of the iconic marques of the pre-war era, and any Bugatti coming to market is worthy of particular note. RM's upcoming Lake Como sale will feature a simply fabulous 1930 Bugatti Type 46 Superprofile Coupe, frequently referred to as the 'companion' model to the legendary T41 Royale. Often described as one of the most elegant, imposing, and luxurious of all Bugattis, only 450 T46 examples were built between 1929 and 1933. Chassis 46208 is a matching-numbers car and features a stunning, faithful recreation of the 'Superprofile' coupe coachwork, famously designed by Jean Bugatti. The recipient of a well-documented restoration, this stunning yellow and black example won honors at the 2011 Sydney Concours (Estimate: €800,000–€1,000,000). It's fitting that an auction taking place in such exclusive surroundings should also feature a beautiful example from one of the world's most exclusive car makers. The 1929 Rolls-Royce Phantom I Open Tourer is one of the most stately and refined cars of the pre-war period, with its silky-smooth 50 horsepower engine and four-speed gearbox. Secured for RM's upcoming Lake Como sale is chassis 820R, a handsome open tourer with coachwork by Barker, and it is one of the 1929 motor show cars. It was subsequently exported to Kenya, where it served as the official transport for the then Princess Elizabeth, during her state visit to the country in 1952. It was during this visit that she was to learn of the death of her father, King George VI, and of her accession to the throne of Great Britain and the Commonwealth. Striking in its unusual yellow bodywork, which contrasts with the green leather interior, most recently 820R was displayed at the Windsor Castle Concours of Elegance in the UK as part of the Queen's Diamond Jubilee celebrations (Estimate: €375,000–€450,000). Limited consignment opportunities for RM's sale at the Concorso d'Eleganza Villa d'Este are available. For further information, please contact RM's London Office at +44 (0) 20 7851 7070 or visit rmauctions.com. About RM Auctions RM Auctions is the world's largest auction house for investment-quality automobiles. With over three decades of experience in the collector car industry, RM's vertically integrated range of services, from restoration to private treaty sales, auctions, estate planning, and financial services, coupled with an expert team of car specialists and an international footprint, provide an unsurpassed level of service to the global collector car market. RM proudly holds five of the top ten all-time records for the most expensive motor cars sold at auction. RM's restoration division has achieved unprecedented accolades, earning Best of Show honors at the world's top concours events, including four Best of Shows at the prestigious Pebble Beach Concours d'Elegance. For further information and 2013 auction dates, please visit rmauctions.com, find us on Facebook, or follow us on Twitter @rmauctions. Photo captions: Top – 1962 Ferrari 400 Superamerica SWB Coupe (credit – Darin Schnabel © courtesy RM Auctions) Second top - 1929 Rolls-Royce Phantom I Open Tourer (credit – Fluid Images © courtesy RM Auctions
Recent Articles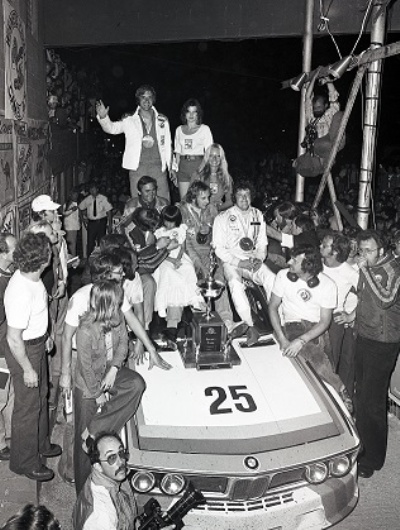 BMW's 'BATMOBILES' SET FOR 19th ANNUAL AMELIA CONCOURSScheduled to appear in the 19th Annual Amelia Concours' BMW 3.0 CSL 'batmobile class' are not only the 1975 Sebring 12 Hour and '76 Daytona 24 winners, but Alexander Calder's 1975 Le Mans 3.0 CSL with his trademark signature on the left rear fender.

BMW's 'Batmobile' racers were glorious mutants. They arrived from Europe wearing a frosting of giant wings, huge fender boxes and big spoilers, all powered by a 430 hp straight-six engine that made a glorious noise and propelled BMW's luxury cou....
LE MANS GREATS HEAD STUNNING ROSTER OF ADDITIONAL ENTRIES FOR RM'S 2014 PARIS SALE DURING RETROMOBILE WEEK• Anticipation builds ahead of RM's €25 million debut Paris sale on 5 February 2014
• More Le Mans greats join stunning competition car line-up at saleLatest highlights include a 1982 Rondeau M482 Le Mans GTP, a veteran of five Le Mans 24 hours races, and a mighty 2008 Peugeot 908 HDi FAP Le Mans Prototype, which finished 2nd at Le Mans, was driven by Jacques Villeneuve, and has been entrusted to be sold by RM by the Peugeot factory
• Other recently secured entries include a Bugatti Type 40 Ro....
400TH BUGATTI VEYRON SOLD – THE VEYRON BEGINS ITS FINAL LAPJust 50 models of the super sports car are still available

• 400th Veyron is a Grand Sport Vitesse 'Jean-Pierre Wimille' of the six-part edition 'Les Légendes de Bugatti'

• Head of Bugatti Wolfgang Schreiber, 'A unique success story about the most exclusive and luxurious super sports car brand in the world'


Molsheim, 5 December 2013. Bugatti has sold its 400th Veyron. Since the production run of the Veyron and its variants is limited to just 450 models, thi....
Turning the page without forgetting the lessonMaranello, 25 November – In Formula 1 you never stop. The 2013 season only finished 24 hours ago but heads have already turned towards the next one: indeed in little more than two months we will return to the track at Jerez de la Frontera for the first of three pre-season tests.

So there's not a moment to lose because at Ferrari we know that every bit of energy must be focused on the new car and preparation for the next championship. It's true that the fundamental choices have alread....
Speciale By Name, Speciale By NatureAutoweek put it most succinctly: 'It's called the 458 Speciale and the name is no lie'. Car & Driver declared it 'Another Italian masterpiece' while La Gazzetta Dello Sport said: 'It delivers a tank-full of adrenaline'. Evo announced: 'The Ferrari 458 Speciale takes what is already one of the most extreme road cars you can buy and turns it up a notch further.' These are just some of the comments made by the publications that took part in the press test-drives of the 458 Speciale, which began las....
Brazilian Grand Prix - Brazil On His SkinInterlagos, 22 November – Felipe Massa is wearing a special Brazilian Grand Prix race suit at the Interlagos circuit for the finale of this long Formula 1 season. For his home race and the final one at the wheel of a Ferrari, the Scuderia wanted to pay a special tribute to the Brazilian driver, producing the suit in conjunction with its official supplier, Puma. The suit reprises the graphics seen on his helmet and the Brazilian national colours. It's just a small token of the great affect....
2014 BMW Z4
---
2014 Ferrari 458 Speciale
---
2014 Ferrari 458 Spider
---
2014 Ferrari LaFerrari
---
2014 Ferrari LaFerrari FXXR
---
2013 Aston Martin Vanquish Volante Neiman Marcus Edition
---
2013 BMW Concept M4 Coupe
---
2013 BMW Z4
---
2013 BMW Zagato Roadster
---
2013 Bugatti Veyron Grand Sport Vitesse Legend Jean-Pierre Wimille
---