De Retour! Viper Set for Return to 24 Heures du Mans With SRT Motorsports
• Two factory-supported SRT Viper GTS-Rs will compete in famous 24-hour endurance race in France in June
February 1, 2013 , Auburn Hills, Mich. - It's official: Viper will return this year to the stage of some of its most impressive past road-racing performances – the historic 24 Hours of Le Mans in France. SRT Motorsports today accepted an invitation from the ACO (Automobile Club de l'Ouest) to field two SRT Viper GTS-Rs in the LM GTE Pro class of the 2013 24 Heures du Mans, June 22-23, officially returning the Viper sports car to one of the most prestigious automobile endurance races in the world. The Viper finished one-two at the 24 Heures du Mans in GTS class competition three consecutive years – 1998 to 2000.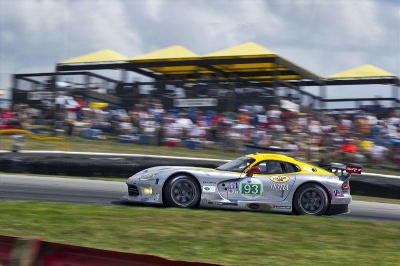 'Racing is truly a part of the illustrious history of Viper and a proving ground for the SRT brand,' said Ralph Gilles, President and CEO – Street and Racing Technology Brand and Motorsports, Chrysler Group LLC. 'Historically the Viper GTS-R has enjoyed great success at Le Mans, so we couldn't be more excited and proud to accept the challenge to return to France and continue composing the next chapter in the history of Viper racing at such an historic venue.' Beth Paretta, Director of Marketing and Operations – SRT Brand and Motorsports, and SRT Motorsports driver Marc Goossens were on hand at today's press conference in Paris to officially accept the invitation. 'The new SRT Viper GTS-R represents a rebirth for us in road racing by bringing an elevated level of technical sophistication to the track,' Paretta said. 'The invitation to return to the 24 Heures du Mans gives SRT Motorsports and the SRT Viper GTS-R the opportunity to compete on a stage with the best sports car teams from around the world.' SRT Motorsports teamed with Riley Technologies, based in Mooresville, N.C., on the design-and-build process of the SRT Viper GTS-R. Two identically prepared cars returned to competition last year at Mid-Ohio, the first of four test-and-tune races in preparation for a full 2013 schedule in the GT class in the American Le Mans Series (ALMS) presented by Tequila Patrón. In addition to Goossens, drivers returning to the SRT Motorsports lineup for 2013 will be Tommy Kendall, Kuno Wittmer, Dominik Farnbacher and Jonathan Bomarito. Additional team announcements will be revealed at a later date. The Viper's successful racing heritage began in 1996 with its first racing entry, the original GTS-R, which earned five international GT championships and the 1997 to 1999 FIA GT championships in addition to the three consecutive one-two finishes at the 24 Heures du Mans in the GTS class. The Viper posted an amazing overall win at the Rolex 24 Hours of Daytona in 2000 – the first for a production-based American car. Viper also captured GTS class and driver's championships in ALMS competition in 1999 along with the series' class, manufacturer's and driver's championship in 2000 before retiring from the series. About SRT and SRT Motorsports The Chrysler Group's SRT (Street and Racing Technology) brand uses a successful product development formula featuring five proven hallmarks: awe-inspiring powertrains; outstanding ride, handling and capability; benchmark braking; aggressive and functional exteriors and race-inspired and high-performance interiors to remain true to its performance roots. The SRT lineup in the 2013 model year features five vehicles that are world-class performance contenders and bring the latest in safety technologies and creature comforts. The Chrysler 300 SRT8, Dodge Challenger SRT8 392, Dodge Charger SRT8 and Jeep Grand Cherokee SRT8 are joined by the SRT flagship Viper and Viper GTS models, which are making their highly anticipated return to the high-performance sports car market. The engineering expertise within SRT extends well beyond its high-performance street vehicles. Technical support for the Chrysler Group's various racing programs is provided by the astute engineers at SRT Motorsports, where lessons learned on the race track directly translate to improved vehicles for the company's customers.
Recent Articles
Honda Chases 10Th Consecutive Indy Triumph05/21/2013 - TORRANCE, Calif. An accomplished 16-driver lineup, including two previous race winners and 11 graduates of open-wheel training-ground series, make up the Honda-powered effort for the 2013 Indianapolis 500, as the company seeks its 10th consecutive '500' victory – and fourth-in-a-row with engine-manufacturer competition.

In 2012, Target Chip Ganassi Racing's Dario Franchitti scored his third Indy triumph in a thrilling battle to the finish with fellow Honda drivers Takuma S....
SRT VIPER SET FOR RETURN TO THE 24 HOURS OF LE MANSMay 21, 2013 , Auburn Hills, Mich. - The 24 Hours of Le Mans is the world's oldest active sports car race. The first event was held in 1923 and for driver and machine, it's the ultimate test of speed, efficiency and endurance. Participation is by invitation only as the Automobile Club de I 'Quest (ACO) selects the 56 entries. The 81st edition is set for June 22-23 at Circuit de la Sarthe in Le Mans, France.

Two identically prepared SRT Viper GTS-Rs will return to the Le Mans stage for....
CHRYSLER GROUP'S WCM ACADEMY TAKES TOP HONORS IN MANUFACTURING LEADERSHIP AWARD COMPETITIONMay 16, 2013 , Auburn Hills, Mich. - Chrysler Group LLC's World Class Manufacturing (WCM) Academy received top honors in the 2013 Manufacturing Leadership 100 (ML100) Awards, being named a High Achiever in the New Workforce category at the Manufacturing Leadership Summit award gala in West Palm Beach, Fla., on Wednesday, May 15.

The High Achiever award recognizes the Company for receiving the highest score in the category, which identifies companies that involve education and training....
CHRYSLER GROUP LLC'S SRT (STREET AND RACING TECHNOLOGY) BRAND KICKS OFF THIRD CONSECUTIVE 2013 SRT TOUR◾First 2013 SRT Tour stop kicked off May 9-12 at American Le Mans Series in Monterey, Calif.
◾The 2013 Dodge Challenger SRT8, Dodge Charger SRT8 and Chrysler 300 SRT8 along with 2014 Jeep® Grand Cherokee SRT vehicles to be on display
◾The all-new 2013 SRT Viper on display at select locations
◾The third year of SRT Tour will visit unique lifestyle events over three-month span

May 17, 2013 , Auburn Hills, Mich. - For the third consecutive year, the SRT Tour, showcasing the latest high....
One In A Million: Toledo Assembly Complex Marks Production Of One-Millionth Jeep Wrangler JkMay 17, 2013 , Toledo, Ohio - The Jeep Wrangler is one of the most iconic vehicles in the world and today the one-millionth JK model rolled off the assembly line at Chrysler Group's Toledo (Ohio) Assembly Complex. Chrysler executives, plant employees, UAW representatives and supplier partners gathered at the end of the line to mark the occasion.

Mauro Pino, Chrysler Group's Vice President of Vehicle Assembly Operations, and Dan Henneman, Jeep Unit Chairman of UAW Local 12, drove the b....
PORSCHE ON FRONT ROW IN ALMS GT QUALIFYING FOR SECOND CONSECUTIVE EVENTNew Long/Core Porsche and Sellers/Team Falken Tire Porsche 2nd and 3rd

Monterey, Calif. - Patrick Long (USA) took the new CORE autosport team Porsche 911 GT3 RSR onto the front row of the grid in qualifying for tomorrow's American Le Mans Series race at Mazda Raceway Laguna Seca.

Long, who will share the Porsche with British driver Tom Kimber-Smith, finished less than a tenth of a second off the time of the pole-sitting Ferrari, was enthusiastic as he spoke about the effort of the whole ....
BMW TEAM RLL QUALIFIES 5TH AND 8TH FOR ALMS MONTEREYWoodcliff Lake, N.J. – May 10, 2013 . . . BMW Team RLL will start in the fifth and eighth positions in tomorrow's four-hour American Le Mans Monterey race at Laguna Seca, the third round of the 2013 American Le Mans Series.

Maxime Martin, driving the No. 55 Z4 GTE, set his quickest time in this afternoon's 15-minute qualifying session on his seventh lap of the 2.238-mile, 11-turn circuit. His lap of 1:22.990 minutes was only 0.258 seconds from the class pole time. Class co-leaders in D....
blog comments powered by

Disqus