Legendary Tucker 48 Joins RM'S Amelia Island Concours d'Elegance Sale
• Just announced: RM Auctions secures rare Tucker 48, previously owned by film legend George Lucas, for its Amelia Island, Florida sale, March 9 • The official auction of the Amelia Island Concours d'Elegance, single-day sale features a superb roster of more than 80 blue-chip collector cars • Additional sale highlights include a 1952 Ferrari 225 Sport Vignale Berlinetta, a 1958 Mercedes-Benz 300SL Roadster and a 1929 Isotta Fraschini 8A Convertible Sedan • Digital catalogue now available online at rmauctions.com BLENHEIM, Ontario (February 14, 2013) – As anticipation builds for RM's annual Amelia Island sale, the official auction house of the Amelia Island Concours d'Elegance is delighted to announce the consignment of a legendary 1948 Tucker to its March 9 event. Widely regarded as one of the most advanced, early, post-war automobiles ever built, the rare and highly sought-after Tucker joins a magnificent roster of more than 80 blue-chip automobiles hand-selected for the RM sale, including no less than eight examples with pre-sale estimates exceeding $1,000,000.
Delivered new on August 11, 1948, the Tucker 48 on offer, serial number 1003, was the third of just 51 examples built and the first to feature the valance panel between the body and front bumper. Its rarity is further elevated by its desirable color; of the six factory colors available, 1003 is one of only 12 originally painted Maroon. Well-documented from new, it boasts a superb provenance and ownership history, having passed through the hands of numerous respected collectors, including the late Bill Pettit. In the late-1980s, it was purchased by none other than prominent filmmaker George Lucas, the visionary imagination behind Star Wars and other box office hits. Lucas took a special interest in Tuckers and was executive producer of Francis Ford Coppola's 1988 film Tucker: The Man and His Dream. The film revived modern interest in the Tucker and has become something of a cult classic among automobile enthusiasts. Since coming into the care of its current owners, 1003 has been extensively and authentically restored by marque experts, with special attention paid to its drivability and reliability. It is estimated to fetch between $1,500,000 and $1,900,000 when it crosses RM's Amelia Island auction podium next month. 'The Tucker Torpedo, as it was often called, was a paragon of advanced engineering and safety features with radical, futuristic styling. Arguably, the most important post-war American collectible automobile, Tuckers consistently attract strong interest whenever they come to market,' says Don Rose, Car Specialist, RM Auctions. 'The example on offer at our Amelia Island sale, 1003, is truly among the best of the best—not only is it a beautiful automobile in terms of its presentation, but it is fully and robustly functional, ready to take to the road. It's a perfect fit for our Amelia Island auction, which, along with the Amelia Island Concours d'Elegance, is dedicated to celebrating great and iconic automotive styling.' The Tucker will be joined center stage at RM's Amelia Island sale by an exceptional roster of other important and historic automobiles, including: o a 1952 Ferrari 225 Sport Vignale Berlinetta 'Tuboscocca', chassis 0168ED, one of only six 225S competition berlinettas built and boasting a superb racing history (Estimate: $1,000,000–$1,400,000); o a beautifully restored 1958 Mercedes-Benz 300SL Roadster, chassis 198.042-8500286, finished in the highly desirable color combination of metallic silver-blue with a tan leather interior and featuring Rudge knock-off wheels, fitted luggage, and a factory hardtop (Estimate: $800,000–$1,000,000); o a freshly restored 1929 Isotta Fraschini 8A Convertible Sedan, chassis 1571, displayed at the 1928 New York Auto Salon and is the only Floyd-Derham body on an Isotta Fraschini chassis (Estimate: $550,000–$650,000); and, o an outstanding 1911 Lozier Model 51 Seven-Passenger Touring, chassis 3574, one of the mightiest Brass Era touring cars and offered from the respected collection of Ken Pearson (Estimate: $400,000–$600,000). For further information on RM's Amelia Island sale or to view the digital catalogue, please visit rmauctions.com or call +1 519 352 4575. For further information on the Amelia Island Concours d'Elegance, please visit www.ameliaconcours.org or call +1 904 636 0027. Event Details – RM Auctions Amelia Island • Sale date: March 9, 2013; auction commences at 11 a.m. EST
• Preview dates: March 7–8, 2013; preview commences at 10 a.m. EST on both days
• Location: The Ritz-Carlton, 4750 Amelia Island Parkway, Amelia Island, Florida, 32034
• Admission: Admission to the auction is limited to registered bidders. Bidder registration is $200 US and includes an official catalogue and admission for two to the preview and auction.
For those unable to attend the event in person, Internet, absentee, and telephone bidding options are available, and the auction will stream live at rmauctions.com to provide real-time coverage of the event. About RM Auctions RM Auctions is the world's largest auction house for antique automobiles. With over three decades of experience in the collector car industry, RM's vertically integrated range of services, from restoration to private treaty sales, auctions, estate planning, and financial services, coupled with an expert team of car specialists and an international footprint, provide an unsurpassed level of service to the global collector car market. RM proudly holds five of the top ten all-time records for the most expensive motor cars sold at auction. RM's restoration division has achieved unprecedented accolades, earning Best of Show honors at the world's top concours events, including the Amelia Island Concours d'Elegance. For further information, visit rmauctions.com, find us on Facebook, or follow us on Twitter @rmauctions. About The Amelia Island Concours d'Elegance Now in its second decade, the Amelia Island Concours d'Elegance is among the top automotive events in the world. Always held the second full weekend in March, 'The Amelia' draws over 300 rare vehicles from collections around the world to The Golf Club of Amelia Island and The Ritz-Carlton, Amelia Island, for a celebration of the automobile like no other. Since 1996, the show's foundation has donated over $2 million to Community Hospice of Northeast Florida, Inc. and other charities on Florida's First Coast. The 18th annual Amelia Island Concours d'Elegance is scheduled for March 8–10, 2013. For more information, visit www.ameliaconcours.org or call 904-636-0027. **Photo captions: 1948 Tucker 48 (credit: Pawel Litwinski © 2013 courtesy RM Auctions)
Recent Articles
Maserati Celebrates 100th Anniversary as Featured Marque of the Rolex Monterey Motorsports ReunionAugust 14-17 at Mazda Raceway
MONTEREY, Calif., December 10, 2013 — The Rolex Monterey Motorsports Reunion will celebrate the rich 100-year history of Maserati, one of Italy's iconic luxury sports car brands that throughout the century has been deeply rooted in racing. The celebration will be held August 14-17, 2014 at Mazda Raceway Laguna Seca.

The Monterey Classic Car Week and Rolex Monterey Motorsports Reunion is a haven for international classic car enthusiasts. Centered a....
Car Expert Hans Wurl Joins Gooding & Company's Team of Classic Automobile SpecialistsSANTA MONICA, Calif. (December 9, 2013) – Gooding & Company, the official auction house of the Pebble Beach Concours d'Elegance®, is expanding its existing team with the addition of Hans Wurl, a well-known classic car specialist with a strong technical background. Wurl has served as advisor to noted collectors and participated in some of the best collector car events around the world. Based in Seattle, Wurl joins Gooding & Company's team of respected automotive specialists David Brynan,....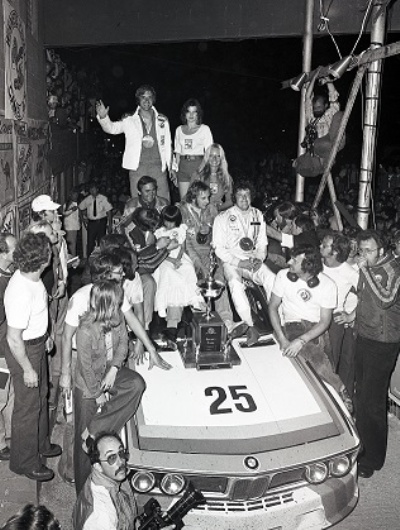 BMW's 'BATMOBILES' SET FOR 19th ANNUAL AMELIA CONCOURSScheduled to appear in the 19th Annual Amelia Concours' BMW 3.0 CSL 'batmobile class' are not only the 1975 Sebring 12 Hour and '76 Daytona 24 winners, but Alexander Calder's 1975 Le Mans 3.0 CSL with his trademark signature on the left rear fender.

BMW's 'Batmobile' racers were glorious mutants. They arrived from Europe wearing a frosting of giant wings, huge fender boxes and big spoilers, all powered by a 430 hp straight-six engine that made a glorious noise and propelled BMW's luxury cou....
LE MANS GREATS HEAD STUNNING ROSTER OF ADDITIONAL ENTRIES FOR RM'S 2014 PARIS SALE DURING RETROMOBILE WEEK• Anticipation builds ahead of RM's €25 million debut Paris sale on 5 February 2014
• More Le Mans greats join stunning competition car line-up at saleLatest highlights include a 1982 Rondeau M482 Le Mans GTP, a veteran of five Le Mans 24 hours races, and a mighty 2008 Peugeot 908 HDi FAP Le Mans Prototype, which finished 2nd at Le Mans, was driven by Jacques Villeneuve, and has been entrusted to be sold by RM by the Peugeot factory
• Other recently secured entries include a Bugatti Type 40 Ro....
400TH BUGATTI VEYRON SOLD – THE VEYRON BEGINS ITS FINAL LAPJust 50 models of the super sports car are still available

• 400th Veyron is a Grand Sport Vitesse 'Jean-Pierre Wimille' of the six-part edition 'Les Légendes de Bugatti'

• Head of Bugatti Wolfgang Schreiber, 'A unique success story about the most exclusive and luxurious super sports car brand in the world'


Molsheim, 5 December 2013. Bugatti has sold its 400th Veyron. Since the production run of the Veyron and its variants is limited to just 450 models, thi....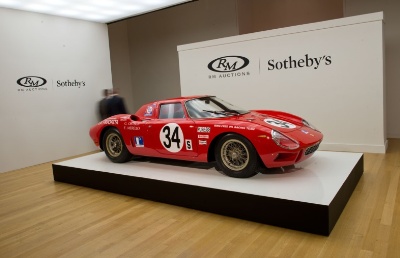 RM Auctions and Sotheby's Stun the Market with Incredible $63 Million 'Art of the Automobile' Sale in New York• RM Auctions and Sotheby's momentous Art of the Automobile auction generates $62,797,500 of sales in two hours of furious bidding
• Records tumble with the historic 1964 Ferrari 250 LM by Carrozzeria Scaglietti achieving $14,300,000 while the stunning 1938 Talbot-Lago T150-C SS Teardrop Cabriolet by Figoni et Falaschi sells for $7,150,000
• 93 percent of all lots sold to an international audience of bidders representing 17 countries
• Full results are available online at www.rmauctions.c....
2014 McLaren P1
---
2013 Bentley Mulsanne
---
2013 Dodge Viper GTS Launch Edition
---
2013 Ford GTR1
---
2013 McLaren MP4-12C SPIDER
---
2012 Bentley Mulsanne Convertible Concept
---
2012 BMW Zagato Coupé
---
2010 Maserati GranCabrio
---
2009 Aston Martin Lagonda Concept
---
2009 Infiniti Essence Concept
---