Prince Heinrich Benz Racers Reunited at 'The Amelia'
Company press release.
---
In the early 1900's, at the dawn of the automotive motorsport age, one of the most significant race venues was the Prinz Heinrich Tour, named after Prince Albert Wilhelm Heinrich of Prussia, automotive enthusiast and brother of German Emperor Wilhelm II. In 1907, the German Imperial Automobile Club organized the first annual Prinz Heinrich Tour which is often seen as a precursor to the German Grand Prix. Among the races' most notable winners were Fritz Erle who won the 1908 race in a 50 hp Benz, and Ferdinand Porsche who in 1910 was successful in this endurance tournament in a 85 hp Austro-Daimler. Commemorating Erle's victory, Benz produced the 'Prinz Heinrich' cars from 1908 to 1910 in various engine configurations. Still running strong, two of the cars from the Prinz Heinrich legacy will drive onto the field at the 18th annual Amelia Island Concours d'Elegance on Sunday, March 10, 2013. Both Prinz Heinrich Benz models are presented in museum quality. One, the 21/80 horsepower 1910 racer comes directly from the Mercedes-Benz Museum collection in Stuttgart, Germany. The other, from Bruce McCaw's private collection here in the U.S. Newly restored by Mercedes-Benz Classic, the dark green 1910 21/80 Prinz Heinrich car wearing race number '38' is considered by many automotive historians to be 'the first true sports car'. Viewed in the technological context of its contemporaries, it's easy to see why.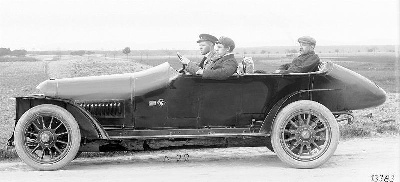 Bruce McCaw's Prince Heinrich Benz is part of a pure breed of Benz factory racers with a pedigree that, according to the Indianapolis Hall of Fame Museum, also touches the earliest days of international motorsport competition. The Prinz Heinrich Benz was a technological barrier breaker with overhead valves and a, at the time radical, shaft drive that eliminated the Edwardian-era chain drive. The whole package was capable of nearly 100 mph. The Prinz Heinrich Benz was fast enough and advanced enough that it was sent to the United States for the 1911 Vanderbilt Cup races. Perhaps more significantly, it raced in the inaugural Indy 500 on May 30, 1911. Billy Knipper qualified the Prinz Heinrich Benz 40th and finished 18th overall against strong competition. In later years, the car was owned by Lindley Bothwell who, according to reports, often used the car for his early racing demonstrations. In the 1960's, McCaw's Prinz Heinrich Benz went into the Indianapolis Hall of Fame Museum collection, where it was extensively restored in the 1990's to its current configuration, replicating the 'Indy 500' appearance, even wearing the original competition number 46 from the very first Indy 500.
---
Trending News