Unique American Classics join Bonhams' inaugural automobile auction next week in Boca Raton, Florida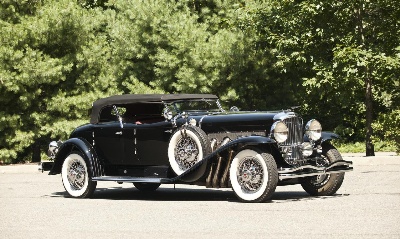 In just a few days Bonhams' anticipated automobile auction will take place at Florida's elegant Boca Raton Resort & Club. Held in conjunction with the Boca Raton Concours d'Elegance, the auction will host an impressive line-up of collectors' automobiles from around the world. In addition to the many headlining European cars, Bonhams has consigned many American cars of noteworthy status. The immaculately restored 1930 Duesenberg Model J Torpedo Phaeton (pictured) is a car that can only be described in superlatives. The Model J was considered the best of the marque and quite simply the 'World's Finest Motor Car' in its day. The epitome of luxury, power and style, Duesenbergs were never commonplace and this particular car underscores this image, carrying the added distinction of belonging to E.L. Cord's wife and appearing in several Hollywood movies. With its wood paneling and convertible top, few cars are more representative of post-WWII affluence and Americana than the 1946 Chrysler Town & Country Convertible. Meticulously maintained to exacting standards, this is a gorgeous example of a legendary woody.

Other iconic American convertibles on offer include a 1946 Lincoln Continental Convertible, 1951 Mercury Eight Convertible, 1956 Ford Thunderbird, 1957 Lincoln Premiere Convertible, 1960 Cadillac Series 62 Convertible, 1964 Chevrolet Corvette Convertible, 1965 Chevrolet Corvette Roadster, 1966 Lincoln Continental Convertible, and 1967 Chevrolet Camaro Convertible. This, of course, is by no means a complete listing. Many other American cars of distinction have been consigned, from a 1925 Stutz Series 695 Speedway Six Speedster and 1930 Ford Model A 'Woody' Station Wagon representing the veterans, to a 1973 Stutz Blackhawk Coupe and 1971 Plymouth Road Runner 383 Magnum Tribute representing the muscle. Moreover, many more significant European cars have been consigned in the last weeks, such as the inimitable 1973 Lamborghini Espada Series III, and multiple classic cars from Alfa Romeo, Bentley, Jaguar and Rolls-Royce, to contemporary cars from Ferrari, Porsche and Rolls-Royce. All of these and more will cross the auction block on Saturday, February 23rd – the day before the actual concours d'elegance – at the Boca Raton Resort & Club in Boca Raton, Florida. More details about the auction can be found at www.bonhams.com/boca, while details about the concours weekend can be found at http://www.bocaratononcours.com
Recent Articles
400TH BUGATTI VEYRON SOLD – THE VEYRON BEGINS ITS FINAL LAPJust 50 models of the super sports car are still available

• 400th Veyron is a Grand Sport Vitesse 'Jean-Pierre Wimille' of the six-part edition 'Les Légendes de Bugatti'

• Head of Bugatti Wolfgang Schreiber, 'A unique success story about the most exclusive and luxurious super sports car brand in the world'


Molsheim, 5 December 2013. Bugatti has sold its 400th Veyron. Since the production run of the Veyron and its variants is limited to just 450 models, thi....
ECURIE ECOSSE GLORIES AGAIN AS BONHAMS SELLS SCOTTISH TEAM COLLECTION FOR £8.8MAll eight cars in British connoisseur Dick Skipworth's collection from the legendary Scottish team that won two consecutive Le Mans 24-Hour races in 1956 and 1957, sold at Bonhams today (1 December) for record prices.

Just as they did in the 1950s, four of the Ecurie Ecosse Jaguars raced ahead of their rivals.

The team's 1952 Jaguar C-Type sold for no less than £2,900,000, amid auction-room applause, while their 1956 Jaguar 'Shortnose' D-Type sold for £2,600,000. Both went to a buyer in th....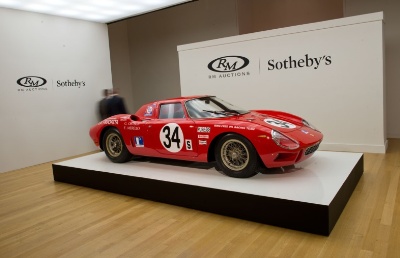 RM Auctions and Sotheby's Stun the Market with Incredible $63 Million 'Art of the Automobile' Sale in New York• RM Auctions and Sotheby's momentous Art of the Automobile auction generates $62,797,500 of sales in two hours of furious bidding
• Records tumble with the historic 1964 Ferrari 250 LM by Carrozzeria Scaglietti achieving $14,300,000 while the stunning 1938 Talbot-Lago T150-C SS Teardrop Cabriolet by Figoni et Falaschi sells for $7,150,000
• 93 percent of all lots sold to an international audience of bidders representing 17 countries
• Full results are available online at www.rmauctions.c....
Expert Symposium Delivered to Packed Room Ahead of 'Art of the Automobile' New York Sale• RM Auctions and Sotheby's deliver highly outstanding expert symposium to more than 700 people
• Six hugely influential and respected specialists set the scene in advance of truly groundbreaking Art of The Automobile sale
• Anticipation building for what is being regarded as one of the finest and most innovative collector car auctions ever held

NEW YORK, New York (November 20, 2013) – The eyes of the collector car community are firmly fixed on New York, as RM Auctions and Sotheby's,....
AMELIA ISLAND CONCOURS D'ELEGANCE WINS PRESTIGIOUSThe annual International Historic Motoring Awards, in association with EFG International and Octane magazine, announced this week that the Amelia Island Concours d'Elegance has been named the recipient of the 2013 Motoring Event of the Year award.

The Amelia Island Concours d'Elegance is the third winner of the Motoring Event of the Year Award, which honors automotive celebrations from Australia, Germany, Italy, the United States and the United Kingdom. Finalists in the 2013 events category ....
Gooding & Company Celebrates 10th Anniversary as Global Appreciation of Cars Push Markets to New High in 2013SANTA MONICA, Calif. (November 11, 2013) – The mystique of collectable cars continues to expand enthusiasm and buyer participation around the globe. In 2013, Gooding & Company, the auction house acclaimed for selling the world's most significant and valuable collector cars, celebrated its 10th anniversary and saw new and returning bidders flock to its three auctions. Demonstrating Gooding & Company's power in the marketplace is an annual auction total of $192.6 million for 286 lots with a....
Mecum's 2014 Schedule Expands To Include East Coast AuctionMecum Introduces New Auction in Harrisburg, Pennsylvania, July 24-26, 2014

Walworth, WI - November 12, 2013 -- Mecum Auctions – the largest collector car auction company in the world – will introduce a new auction to its already vast 2014 lineup extending its reach further into the East Coast. With 12 classic and collector car auctions and four vintage tractor auctions on the 2014 docket, Mecum will take the action to Harrisburg, Penn., in July for three days with an expected 1,....
'Best of Show' Named at 2013 Hilton Head Island Motoring Festival & Concours d'EleganceHILTON HEAD ISLAND, S.C. (Nov. 3, 2013) – The coveted 'Best of Show' and 'People's Choice' honors were awarded today at the prestigious Hilton Head Island Motoring Festival & Concours d'Elegance, held at the Port Royal Golf Club on Hilton Head Island, S.C.

The top honor at Sunday's Concours d'Elegance, 'Best of Show,' was awarded to a 1929 Stutz Supercharged Coupe owned by Richard and Irina Mitchell of Montgomery, Texas. This car is the only example of its kind still in existence.
....
2013 Dodge Viper GTS Launch Edition
---
2013 Ford GTR1
---
2013 McLaren MP4-12C SPIDER
---
2012 Bentley Mulsanne Convertible Concept
---
1981 Rolls-Royce Corniche II
---
1977 BMW 633CSi
---
1973 ISO Fidia
---
1973 Porsche 911 RS Carrera
---
1972 BMW Turbo Concept
---
1972 McLaren M19C
---