Edsel Ford's Speedster Stars at 'The Amelia'
Edsel Ford's 'continental car', a custom boattail speedster, will take its rightful place in the Sports Car Class of the 18th annual Amelia Island Concours d'Elegance. In the shape of Edsel's seminal speedster is the genesis of Ford's legendary design department. Edsel Ford was hardly 'a chip off the old block'. The acorn fell well away from the mighty oak that was Henry Ford, founder of the Ford Motor Company. Edsel was not just the President of Ford, he was a car guy to his core. His tastes and passions still resonate in the lines of Ford's contemporary cars. Edsel was enchanted by European sports cars. His trips to Europe, he called it 'the continent', triggered visions of Fords with 'continental' styling. In 1934 what would become Ford's in-house design department created his first 'long, low and rakish continental car' (as Edsel described it to his designer and confederate E.T 'Bob' Gregorie) on a '32 Ford chassis. His boattail speedster had Ford V-8 power and running gear wrapped in a sleek, all-aluminum boattail body made by Ford's aircraft division. It was just what Edsel Ford wanted and had described. No running boards and a steeply raked split windshield that disguised Edsel's continental car's humble assembly line origins.
The Continental name stuck. Within the decade, the radical new Lincoln Continental was a stylish world class luxury contender. When the 1939 Lincoln Continental debuted, the world famous architect Frank Lloyd Wright called it 'the most beautiful car in the world'. All because Edsel Ford wanted a sports car when he came home from Europe. About The Amelia Island Concours d'Elegance Now in its second decade, the Amelia Island Concours d'Elegance is among the top automotive events in the world. Always held the second full weekend in March, 'The Amelia' draws nearly 250 rare vehicles from collections around the world to The Golf Club of Amelia Island and The Ritz-Carlton, Amelia Island for a celebration of the automobile like no other. Since 1996, the show's Foundation has donated over $2 million to Community Hospice of Northeast Florida, Inc. and other deserving charities on Florida's First Coast. The 18th annual Amelia Island Concours d'Elegance is scheduled for March 8-10, 2013. For more information, visit www.ameliaconcours.org or call 904-636-0027. When Edsel's boattail speedster was resurrected and restored more than seven decades later, the new owners, Jim and Bonnie Gombos, spent five years returning it to Edsel's original specifications. They even painted it 'gunmetal gray', Edsel's favorite color.
Recent Articles
Tom Fritz Creates The 19Th Annual Amelia Island Concours D'elegance PosterThe posters for the Amelia Island Concours d'Elegance have become collectible car art and the 2014 edition is no exception. Today the Concours revealed that the 19thannual event poster was created by famed hot rod artist Tom Fritz and honors Jochen Mass on the 25th anniversary of his victory in the 1989 24 Hours of Le Mans driving his Mercedes-Benz Sauber C9. The beautiful piece takes creative cues from the first Amelia poster in 1996, well-known for honoring the record-setting drive of Sir Stir....
1958 FERRARI 250 GT LWB CALIFORNIA SPIDER STARS AT RM'S 15TH ANNUAL ARIZONA SALE• RM Auctions announces latest highlights for its two-day Arizona auction, January 16 – 17 in Phoenix, led by a highly prized 1958 Ferrari 250 GT LWB California Spider
• Most recent blue-chip entries join a spectacular roster of more than 120 handpicked automobiles for the sale at the beautiful Arizona Biltmore Resort & Spa
• Frequently updated list of entries available online at www.rmauctions.com

BLENHEIM, Ontario (December 10, 2013) – RM Auctions, the world's largest auctio....
Maserati Celebrates 100th Anniversary as Featured Marque of the Rolex Monterey Motorsports ReunionAugust 14-17 at Mazda Raceway
MONTEREY, Calif., December 10, 2013 — The Rolex Monterey Motorsports Reunion will celebrate the rich 100-year history of Maserati, one of Italy's iconic luxury sports car brands that throughout the century has been deeply rooted in racing. The celebration will be held August 14-17, 2014 at Mazda Raceway Laguna Seca.

The Monterey Classic Car Week and Rolex Monterey Motorsports Reunion is a haven for international classic car enthusiasts. Centered a....
Car Expert Hans Wurl Joins Gooding & Company's Team of Classic Automobile SpecialistsSANTA MONICA, Calif. (December 9, 2013) – Gooding & Company, the official auction house of the Pebble Beach Concours d'Elegance®, is expanding its existing team with the addition of Hans Wurl, a well-known classic car specialist with a strong technical background. Wurl has served as advisor to noted collectors and participated in some of the best collector car events around the world. Based in Seattle, Wurl joins Gooding & Company's team of respected automotive specialists David Brynan,....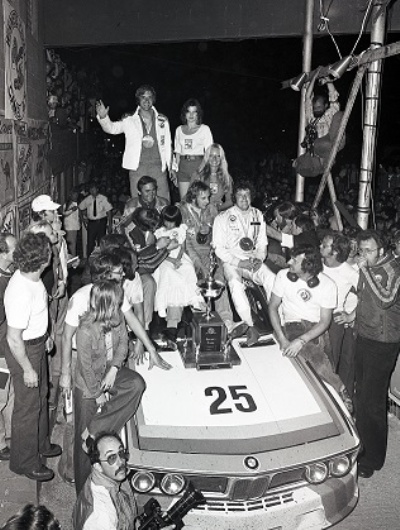 BMW's 'BATMOBILES' SET FOR 19th ANNUAL AMELIA CONCOURSScheduled to appear in the 19th Annual Amelia Concours' BMW 3.0 CSL 'batmobile class' are not only the 1975 Sebring 12 Hour and '76 Daytona 24 winners, but Alexander Calder's 1975 Le Mans 3.0 CSL with his trademark signature on the left rear fender.

BMW's 'Batmobile' racers were glorious mutants. They arrived from Europe wearing a frosting of giant wings, huge fender boxes and big spoilers, all powered by a 430 hp straight-six engine that made a glorious noise and propelled BMW's luxury cou....
2015 Ford F-Series Super Duty
---
2015 Kia K900
---
2014 Acura TL
---
2014 Audi R8 V8
---
2014 Dodge Challenger
---
2014 Dodge SRT Viper TA
---
2014 Dodge Viper TA
---
2014 Ford F-150 STX
---
2014 Honda Pilot
---
2014 Hyundai Accent
---