DAN GURNEY JOINS 'THE AMELIA'S' FORD GT40 SEMINAR
Le Mans winner Dan Gurney, the Amelia Island Concours d'Elegance's 2002 Honorary Chairman, returns to 'The Amelia' to join a panel of international racing celebrities and experts honoring the 50th anniversary of Ford's game-changing GT40 prototype. Gurney won just one race for the Carroll Shelby-led Ford GT40 team, but it was the race that mattered most: the 24 Hours of Le Mans. Gurney's victory in the 1967 edition of the fabled Le Mans 24 Hour endurance classic has become the stuff of legends and remains part of the most extraordinary three-weeks span in international motorsport. From May 30, through June 18, 1967, Ford teammates Dan Gurney and Le Mans co-driver AJ Foyt rewrote the history books and had automotive journalists scouring their thesauri for superlatives for the American racers, their competition feats and their American racing cars. It started on Memorial Day, 1967, in Indianapolis where Foyt, racing his Ford-powered Coyote, won his third Indy 500 at record speed. Just eleven days later he and Gurney defeated the might of Ferrari to win the fastest Le Mans 24 Hours in the race's 35 year history. The closest Ferrari was a distant 25 miles behind the Gurney/Foyt Ford GT after 3,237 miles of relentless, high speed, open road racing. Another speed record came just one week later. Gurney, driving his own Eagle Formula 1 racer, won the fastest Formula 1 race in the sport's 28 year history on the long, sweeping Spa circuit through Belgium's Ardennes forest: the fastest road racing circuit in the world. Gurney's winning average speed over the Belgian public roads was just five-point-two mph slower than Foyt's record-setting 500 speed on Indy's high speed oval.
Dan Gurney started at the top of the sport and stayed there. His first Formula 1 and World Sports Car Championship contract was with Ferrari and his long career touched nearly every branch of motorsport. He summoned Indy's rear-engine revolution, racing for Team Lotus at 'the Brickyard' in 1963. He won seven USAC national Champ Car races driving his Eagle Champ Cars. In Formula 1, Gurney won four World Championship Grands Prix plus a pair of non-championship F1 races. Add five NASCAR victories and a trio of wins in the unlimited, mega-dollar Can-Am series to the tally and the picture of a versatile 'all-round racer' becomes clear. Gurney went on to create some of history's greatest racing cars. Less than a year after his victories at Le Mans and the Belgian Grand Prix, one of his Eagle Indy cars won the Indianapolis 500. Retirement from the cockpit kicked his race car building business into high gear. Eagles won the Indy 500 three times and Gurney-built Eagle prototypes won multiple IMSA championships with victories in the prestigious 24 Hours of Daytona and 12 Hours of Sebring. Dan Gurney's ultimate gift to motorsport may be considered more cultural than technological or statistical. Just after 4:00 PM on June 11, 1967, Dan Gurney and AJ Foyt climbed on Le Mans' victory podium. Gurney was handed the traditional victory magnum of Moet Champagne but instead of drinking it, Gurney shook the dark bottle, aimed it at the crowd and sprayed all hands! Porsche racer Jo Siffert, winner of the two-liter prototype class, joined in, with AJ Foyt laughing out loud. From that moment, nearly every major race winner has emulated Gurney's creative Le Mans victory celebration. Dan couldn't resist reprising his 1967 Le Mans podium performance as 'The Amelia's' 2002 honoree. Concours Founder and Chairman Bill Warner remembers the 2002 Best of Show trophy presentation with extraordinary clarity. As James Patterson's 1937 Delage D8 Aerodynamic Coupe stopped in front of the reviewing stand, Warner noticed that, 'Dan looked at me with that grin, he had an evil look in his eye and I knew I was about to get soaked.' He wasn't disappointed. Gurney gave the magnum of Moet - the same Champagne he had sprayed at Le Mans 35 years earlier -- a good shake, 'He must have unloaded half that bottle on me. But, it's really an honor to have Dan Gurney spray you with the winner's Champagne,' said Warner. Gurney will join fellow Ford GT40 racers Brian Redman and David Hobbs, and John Wyer Racing Team Manager John Horsman, Lee Holman - President of Holman Automotive, Inc. and Holman Moody, Inc. and Alan Grant of the Le Mans-winning Shelby American team on the panel of the Celebration of Ford's GT40 Seminar Presented by Kelly Services at 10:00 AM, Saturday, March 9th in the Talbot Ballroom of the Ritz-Carlton, Amelia Island. Tickets are $30 per person, available at www.ameliaconcours.org.
Recent Articles
AUDI R18 E-TRON QUATTRO WITH LASER LIGHT• Audi brings new lighting technology to Le Mans
• WEC, DTM and GT sport in focus again in 2014
• Development Board Member Dr. Hackenberg: 'Motorsport accelerates our developments'

Ingolstadt, December 18, 2013 – At the world premiere of the new Audi R18 e-tron quattro, Audi unveiled another technical highlight of its new LMP1 sports car in Ingolstadt on Wednesday night. In 2014, the brand with the four rings will be running with laser light for the first time in the Le Mans 24....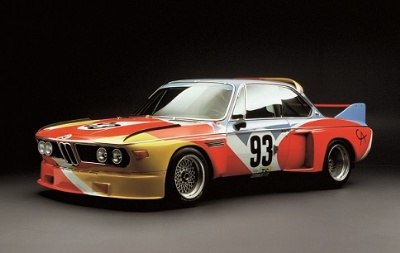 ALEXANDER CALDER'S BMW BATMOBILE ART CAR COMES TO 'THE AMELIA'A Genius Creates An Enduring Tradition That's An Unforgettable Ultimate Driving Machine

The first BMW Art Car, Alexander Calder's BMW 3.0 CSL 'Batmobile' GT racer, will headline the Amelia Concours' BMW 'Batmobile' class in 2014.

BMW's 'The Ultimate Driving Machine' ad campaign has endured since 1975, which was an exceptionally productive and creative year for the Bavarian sports and luxury car maker. That was the year that BMW created a vehicle that was not only true to BMW's....
TUDOR UNITED SPORTSCAR CHAMPIONSHIP BRAND ADVERTISING CAMPAIGN DEBUTS ON FOX SPORTS 1DAYTONA BEACH, Florida (Dec. 17, 2013) – A 30-second television commercial capturing the on-track excitement of and anticipation for the 2014 TUDOR United SportsCar Championship was launched Dec. 16 on Fox Sports 1 as the centerpiece of the International Motorsports Association's (IMSA) multi-media brand advertising campaign.

The television commercial on FOX Sports 1 is part of the five-year partnership between IMSA and FOX Sports announced in August. The advertising campaign showcasing the 2....
Esteemed Pray Collection To Headline RM's 16Th Annual Amelia Island Sale• RM Auctions announces exceptional estate collection of Malcolm S. Pray Jr. for its 16th annual Amelia Island sale, March 8
• Renowned businessman and philanthropist's collection features no less than 17 automobiles, headlined by a 1937 Delahaye 135 Competition Court Roadster by Figoni et Falaschi that he owned for half a century
• Held in conjunction with the famed Amelia Island Concours d'Elegance, RM's well-established single-day sale will feature a roster of more than 80 blue-chip motor c....
PARTING AT THE PINNACLE: AUDI DRIVER ALLAN MCNISH ENDS LMP CAREER• Audi factory driver retires as World Champion and Le Mans winner
• End of an exceptional career in top-caliber sport
• Head of Audi Motorsport Dr. Wolfgang Ullrich: 'The end of a great career'

Ingolstadt, December 17, 2013 – One of the most successful and charismatic race drivers is leaving the grand stage of motorsport. A few days before his 44th birthday, Audi factory driver Allan McNish announced that he would not continue his active career in the 2014 season.

The Sc....
IMSA STATEMENT ON THE RETIREMENT OF ALLAN MCNISHDAYTONA BEACH, Florida (Dec. 17, 2013) – The following is a statement from Scott Atherton, IMSA President and Chief Operating Officer, on the retirement of legendary sports car endurance driver Allan McNish:

It is hard to put into words the appreciation we all have for the career Allan has had and the role he played in the development of the American Le Mans Series. Allan was one of the first star drivers to emerge and while he had many co-driver partners over the years, he was in a ca....
Concours d'Elegance of America Names New ChairmanConcours d'Elegance of America at St John's names Larry Moss Chairman of the Board of Directors and Event Chairman

Troy, MI-December 17, 2013. The Concours d'Elegance of America Board of Directors is pleased to announce that Larry Moss has been appointed Chairman of the Board and Event Chairman for 2014.

Moss has a long history with the Concours. He served as Event Chairman of the Meadow Brook Concours in 1999 and 2000. He was Chairman of the Car Selection Committee from 200....
2014 Acura MDX
---
2014 Audi R18 e-tron quattro
---
2014 Ford George Follmer Edition Mustang
---
2014 Ford Mustang U.S. Air Force Thunderbirds
---
2014 Mercedes-Benz SLS AMG Black Series
---
2013 Alpine A450
---
2013 Bentley Continental Le Mans Edition
---
2013 Bentley Mulsanne LeMans Edition
---
2013 BMW M5 Competition Package
---
2013 Dodge Viper GTS Launch Edition
---