World's Rarest Muscle Car to Join a Spectacular Show Field at the 2nd Annual Concours d'Elegance of Texas
Houston, Texas. April 1, 2012. Organizers of the 2nd annual Concours d'Elegance of Texas have confirmed that the world's rarest muscle car, the only big block GT convertible ever built by Shelby American Inc., will be part of this year's spectacular show field on Sunday, May 5 at La Torretta Lake Resort & Spa. The 1967 Shelby GT500 Convertible was originally assigned to Carroll Shelby, the most expensive GT500 in Shelby American's company car inventory and the only Shelby GT Convertible factory-equipped with dual-quad carburetion. After being acquired by the Styles Collection in 2009, more than three years were spent researching and documenting the car's extensive history while R&A Motorsports performed the Concours-level restoration. This priceless piece of Americana has been on tour throughout the United States at select automotive events since its restoration was completed in 2012, and visitors to the Concours d'Elegance of Texas will get a rare chance to experience the car in person. On August 9, 1966, Shelby American placed a special order for three identically-equipped cars with a massive 428 cubic inch 'big block' engine: a fastback, a coupe, and this convertible. These 1967 Shelby's would become the first production GT500 cars serialized and built on Ford's assembly line. Upon arriving at Shelby American's Los Angeles facility in November 1966, the Convertible was designated a 'company car' and promptly assigned to Carroll Shelby. Over the next four months, Carroll's 'personal driver' was often loaned to his friends, employees, celebrities, and visiting executives from the Ford Motor Company. By April 1967, Carroll's GT500 Convertible was repurposed as a '1968 styling prototype.' A newly designed fiberglass front-end, hood, and taillight panel were received from Dearborn and fitted to the car. Over the next five months, the Convertible was extensively photographed for print ads, brochures, and dealer literature to promote the upcoming 1968 Shelby Cobra GT models. Additional history, documents, interviews, vintage advertisements and photography can be enjoyed at www.1967shelbyconvertible.com. Celebrating the Cars of Carroll Shelby as its Featured Class, the Concours d'Elegance of Texas is on Sunday, May 5, at the award winning La Torretta Lake Resort & Spa in Montgomery, Texas. Eighteen further classes recognize a distinct range of marques and eras, including antique and vintage through 1924, the classic era, post-war automobiles, race cars and pre- and post-war motorcycles. The Concours is a highlight of The Houston Classic Weekend, which runs from May 3-5 and also offers visitors the chance to experience world-class auction action at Worldwide's 12th annual catalogue sale, The Houston Classic Auction. Consignments include a 1967 Shelby 427 Cobra CSX3264, formerly owned by Rod Stewart and Jan and Dean, and the very first American sports car, a 1950 Nash-Healey Roadster that was owned by Donald Healey himself. Other interesting consignments include a diminutive 1958 Messerschmitt Microcar, once the property of daredevil, Evel Knievel. The present owner, Gas Monkey Garage's Richard Rawlings of the Discovery Channel's Fast N' Loud fame, will be there onsite with his sidekick, Aaron, selling the car to the highest bidder.

The Concours d'Elegance of Texas is a 501 (c) 3 non-profit and is proud to support the Holy Angels Residential Facility, Montgomery County Emergency Assistance and the Collectors Foundation as its primary charities. Ticket sales, schedules and full event details are available online at www.concoursoftexas.org and Executive Director Lolly Bezy can be contacted at 1.855.262.9900 or lolly@concoursoftexas.com. Visit latorrettalakeresort.com for information on accommodation and resort amenities. Sponsorship inquiries should be directed to Rob Bohli at 713.906.4526 or rob@concoursoftexas.org and media inquiries to Jo Snyder at 1.512.507.7867 or media@concoursoftexas.org.
Recent Articles
400TH BUGATTI VEYRON SOLD – THE VEYRON BEGINS ITS FINAL LAPJust 50 models of the super sports car are still available

• 400th Veyron is a Grand Sport Vitesse 'Jean-Pierre Wimille' of the six-part edition 'Les Légendes de Bugatti'

• Head of Bugatti Wolfgang Schreiber, 'A unique success story about the most exclusive and luxurious super sports car brand in the world'


Molsheim, 5 December 2013. Bugatti has sold its 400th Veyron. Since the production run of the Veyron and its variants is limited to just 450 models, thi....
'GETAWAY' DVD RELEASE TO BE CELEBRATED AT DECEMBER 14TH CARROLL SHELBY FOUNDATION TOY DRIVE IN LA• 'Getaway' starring Shelby GT500 Super Snake available on Blu-Ray, DVD and digital download

• While supplies last, movie posters to be given to those bringing a toy to the Dec. 14 CSF Toy Drive

• Ford Shelby GT500 Super Snake used in the movie to be displayed

Los Angeles – Dec. 3, 2013 – Carroll Shelby Licensing, Inc. will celebrate the release by Warner Bros. Home Entertainment (WBHE) of the automotive action film 'Getaway' by displaying one of cars used in....
Aston Martin Aims For World Title Glory In Its Centenary YearGaydon, 26 November 2013 - Aston Martin Racing goes into the final round of the 2013 FIA World Endurance Championship (WEC), the Six Hours of Bahrain, this weekend (30 November) leading the highly-competitive eight-race series and looking to clinch victory and emerge as world champions in this, the marque's centenary year.

The team currently leads the LMGTE Manufacturers' World Cup on 232.5 points but, with Ferrari in second place on 215 points and Porsche in third on 199.5 points, any....
CARROLL SHELBY FOUNDATION TO COLLECT TOYS AND FUNDS FOR SO CAL CHILDREN IN NEED AT DECEMBER HOLIDAY EVENTGARDENA, Calif. – Nov. 26, 2013 – The Carroll Shelby Foundation (CSF) is revving up the spirit of giving this season by hosting a holiday celebration on Saturday, Dec. 14 at its headquarters in Gardena, Calif., from 10 a.m. to 3 p.m. The free event will feature an incredible display of cars from Carroll Shelby's personal collection, a raffle drawing and much more. CSF is encouraging people to bring an unwrapped toy for the Miller Children's Hospital in Southern California. Also, the limit....
ORGANIZERS OF THE 2014 SUBARU MT. WASHINGTON HILLCLIMB WELCOME THE RALLY AMERICA NATIONAL CHAMPIONSHIP• UP TO 20 OF RALLY AMERICA'S TOP TEAMS WILL COMPETE AT NORTH AMERICA'S OLDEST HILLCLIMB


Pinkham, Notch, NH - Sports Car Club of New Hampshire officials, working closely with representatives from Rally America, Inc., announced today that the 2014 Subaru Mt. Washington Hillclimb taking place at the Mt. Washington Auto Road in Pinkham Notch, Gorham, NH June 26-29, 2014 will also serve as a full-points round of the 2014 Rally America National Championship.

'We're excited to welc....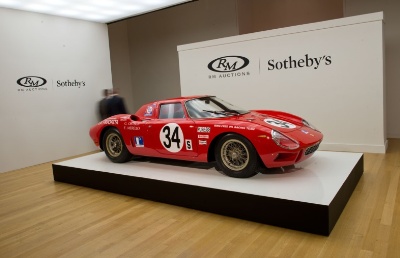 RM Auctions and Sotheby's Stun the Market with Incredible $63 Million 'Art of the Automobile' Sale in New York• RM Auctions and Sotheby's momentous Art of the Automobile auction generates $62,797,500 of sales in two hours of furious bidding
• Records tumble with the historic 1964 Ferrari 250 LM by Carrozzeria Scaglietti achieving $14,300,000 while the stunning 1938 Talbot-Lago T150-C SS Teardrop Cabriolet by Figoni et Falaschi sells for $7,150,000
• 93 percent of all lots sold to an international audience of bidders representing 17 countries
• Full results are available online at www.rmauctions.c....
Expert Symposium Delivered to Packed Room Ahead of 'Art of the Automobile' New York Sale• RM Auctions and Sotheby's deliver highly outstanding expert symposium to more than 700 people
• Six hugely influential and respected specialists set the scene in advance of truly groundbreaking Art of The Automobile sale
• Anticipation building for what is being regarded as one of the finest and most innovative collector car auctions ever held

NEW YORK, New York (November 20, 2013) – The eyes of the collector car community are firmly fixed on New York, as RM Auctions and Sotheby's,....
1958 12 Hours of Sebring: Collins and Hill Escort a Red-Head Home to VictoryIn a matter of months Peter Collins would lay dying of wounds received in a violent crash at the Nurburgring during the German Grand Prix. While many would be holding their breaths and facing the cold-hard truth of another motor racing death, there would be others remembering Collins' talent harkening back to an evening in late March when he and Phil Hill would march triumphantly to victory, sharing the moment with a red-headed beauty.

New regulations were on everyone's minds heading into 195....
2014 Dodge SRT Viper TA
---
2014 Dodge Viper TA
---
2014 Ford Mustang U.S. Air Force Thunderbirds
---
2013 Chevrolet Cruze Station Wagon
---
2013 Dodge Viper GTS Launch Edition
---
2013 Ford 1000 S/C
---
2013 Ford GT500 Super Snake Wide Body
---
2013 Ford GTR1
---
2013 Ford Mustang Red Tail Edition
---
2013 McLaren MP4-12C SPIDER
---