Eleanor of 'Gone In 60 seconds' Will Cross The Block At Mecum's Indy Auction
The Opportunity to Own the Original Movie Hero Car is this May 18 in Indianapolis A true movie star will make its way down Mecum's signature red carpet this May in Indianapolis. Known by most simply as 'Eleanor,' the modified 1967 Ford Mustang from Touchstone Pictures' 'Gone in 60 Seconds' will cross the block as Lot S135 at Dana Mecum's 26th Original Spring Classic auction this May 14-19. This collector car icon piloted in the movie by retired master car thief Memphis Raines, played by Nicholas Cage, is the real McCoy. Several cars were built to handle various duties in the filming of 'Gone,' but this is serial number 7R02C179710, the 'Hero' car driven by Cage during filming and the model used in movie close-ups, posters and promotional materials. Built by Cinema Vehicle Services with the help of master designer Chip Foose, the body pieces of the GT500 were mocked up on a Mustang using clay and wood. Molds were then made to produce a new fiberglass front end filled with high-powered PIAA driving lights, new fender flares, side skirts and scoops, hood and trunk lid. To give the car big-screen performance, it was treated to a 351/400 HP Ford crate engine, which shares room with a front subframe body brace by Total Control Products, LLC. This progenitor of the Eleanor revolution is relatively untouched inside with the exception of an Autometer Sport Comp Monster tach, fire extinguisher, Go-Baby-Go shift knob button for Line Lock and a switch for activating a nitrous injection system.
'Eleanor has become one of the most widely recognized movie star muscle cars in the world, so when the decision was made to offer the 'Gone in 60 Seconds' Hero car for sale, Mecum's Spring Classic auction in Indianapolis seemed like the perfect venue,' commented Ray Claridge, owner of Cinema Vehicle Services. Set to be offered directly from the builder on Saturday, May 18 at the original, best and largest muscle car auction, this is truly the car that started it all. Thirty-two hours of the Indianapolis auction will be broadcast live on Discovery's Velocity Network with the entire auction streaming live on Mecum's website at www.mecum.com. Mecum's Indy auction is open to buyers, sellers and spectators. Gates open at 8 a.m. each day and general admission can be purchased at the door for $20 per person; children 12 and younger will be admitted at no cost. For more information on the auction or to register as a bidder, visit www.mecum.com or call (262) 275-5050. About Mecum Auctions Nobody sells more than Mecum. Nobody. The Mecum Auction Company is the world leader of collector car and Road Art sales, hosting auctions throughout the United States. The company has been specializing in the sale of collector cars for 26 years, now offering more than 15,000 vehicles per year and averaging more than one auction each month. Established by President Dana Mecum in 1988, Mecum Auctions remains a family-run company headquartered in Walworth, Wis. For further information, visit www.mecum.com or call (262) 275-5050. Follow along with Mecum's social media news and join us on Facebook, Twitter, YouTube, Pinterest and Instagram. Schedule: Dana Mecum's 26th Original Spring Classic auction Indiana State Fairgrounds 1202 E. 38th St. Indianapolis, IN 46205 Admission: $20 per person per day, children 12 and younger admitted free Preview: Gates open daily at 8 a.m. Auction: Vehicles start at 10 a.m. each day with Road Art 30 minutes prior Live TV Schedule: Wednesday-Saturday 1-9 p.m. (All Times Central)
Recent Articles
VOLUME AND VARIETY AT MECUM'S SECOND ANNUAL ANAHEIM AUCTIONWalworth, Wis. - November 27, 2013 -- Mecum Auctions returned to Anaheim, Calif., for its second annual auction at the Anaheim Convention Center and with spectators and bidders pouring in, total sales reached nearly $14 million. With 812 vehicles crossing Mecum's block Nov. 21-23, 412 hammered sold with deals continuing to be made in the Bid Goes On department.

Mecum had originally anticipated a 750-car lineup, but the consignments came in droves bringing the run total to its impressiv....
THE FIAT BRAND TO BRING A SPLASH OF COLOR TO LA AUTO SHOW; ARTIST TO PAINT ITALIAN MASTERPIECE INSIDE FIAT 500L• An iconic canvas fit for a masterpiece – Italian artist Nicola Verlato to paint the ceiling of a Fiat 500L on showroom floor during LA Auto Show

• 'Fiat 500L Italian Masterpiece' to pay homage to Renaissance period's Michelangelo; Artist will lie on his back to paint inside vehicle

• Painting to take place over six days (Wed., Nov. 20 - Mon., Nov. 25) LIVE on showroom floor

• Time-lapsed video will showcase Verlato's daily progress, beginning Nov. 21

Nove....
Mecum's 2014 Schedule Expands To Include East Coast AuctionMecum Introduces New Auction in Harrisburg, Pennsylvania, July 24-26, 2014

Walworth, WI - November 12, 2013 -- Mecum Auctions – the largest collector car auction company in the world – will introduce a new auction to its already vast 2014 lineup extending its reach further into the East Coast. With 12 classic and collector car auctions and four vintage tractor auctions on the 2014 docket, Mecum will take the action to Harrisburg, Penn., in July for three days with an expected 1,....
STEVE MCQUEEN'S HARLEY-DAVIDSON TO CROSS MECUM'S BLOCK IN ANAHEIMWalworth, WI - November 11, 2013 -- Mecum Auctions will offer a rare piece of celebrity history at the second annual Anaheim auction this Nov. 21-23 at the Anaheim Convention Center – a motorcycle once owned and ridden by 'The King of Cool' Steve McQueen.

As the highest paid actor of his time, McQueen is best remembered for his roles in movies like 'The Great Escape,' 'The Getaway,' 'Bullitt' and 'The Thomas Crown Affair.' In addition to his acting career, McQueen was an avid motorcycl....
KIA MOTORS AMERICA ELECTRIFIES LAS VEGAS WITH MUSIC-DRIVEN SOULS AT SEMAInspired by the Eclectic World of Contemporary Music, Kia Partners with RIDES Magazine and Popular Mechanics to Open the Show in Amplified Fashion
◾Five 2014 Souls debut with live mobile performances, featuring a cutting-edge DJ station and a pro-sound-quality, plug-in-ready amplifier on wheels
◾NBC's The Voice and Vans Warped Tour are represented with their own themed Soul urban hatchbacks
◾A rolling music museum Soul pays homage to the art form with memorabilia spanning multiple genr....
Rolls-Royce At The Dubai International Motor Show◾Bespoke Celestial Phantom unveiled
◾446 diamonds extend car's Celestial theme
◾Rolls-Royce Motor Cars Dubai presents Phantom Coupé Chicane
◾Rolls-Royce Wraith makes Middle Eastern public debut

Rolls-Royce Motor Cars' Bespoke offering took centre stage at the Dubai International Motor Show with the unveiling of the Celestial Phantom, Alpine Trial Centenary Collection and Chicane Phantom Coupé.

The Celestial Phantom

This extraordinary motor car that first debuted at the Frankfu....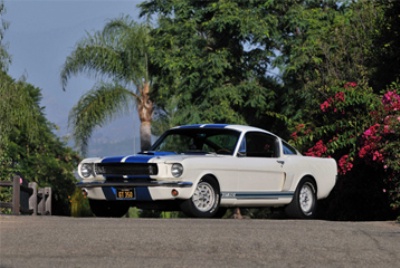 750 Vehicles Slated To Cross Mecum's Block In Sunny SoCal, Nov. 21-23Pack Your Bags, Bring the Family, it's Mecum Auction Time in Anaheim

Walworth, WI - October 22, 2013 -- Mecum Auctions will take the gavel out to Orange County, Calif., for the second annual Mecum Anaheim Auction featuring 750 classic and collector cars at the Anaheim Convention Center this Nov. 21-23.

The impressive 815,000-square-foot facility is located in the heart of the beautiful 1,100-acre Anaheim Resort district, just steps away from Disneyland. With a great lineup s....
The Fox Body Mustang: A Return To Form'Thou shall never do a slantback front end.' That was the commandment from Gene Bordinat, Ford's vice president of design, 'Henry Ford II only wants vertical front ends, and he'll show us the door if we ever try anything like it.'

This mantra hung over the early development of the third-generation of Ford's wildly successful Mustang. In 1975 Ford designers began the job of redesigning the iconic pony car for the coming 1980s. The car and country had been through a roller coaster 20-year perio....
2015 Mercedes-Benz GLA-Class
---
2015 Porsche 918 Spyder
---
2015 Porsche 918 Spyder Weissach Package
---
2014 Audi A3 Sportback e-tron
---
2014 BMW Concept X5 eDrive
---
2014 BMW MIRROR GC
---
2014 BMW Z4
---
2014 Dodge SRT Viper TA
---
2014 Dodge Viper TA
---
2014 Mercedes-Benz CLA 45 AMG Racing Series
---