Mecum's Kansas City Spring Auction Reaches $9.6 Million in Sales
April 25-27 Auction Draws Large Crowd and Diverse Selection to Downtown K.C. Magnificent and serene Kansas City, Mo., turns into a car collector's paradise twice a year when Mecum Auctions comes to town. Last weekend, April 25-27, the Kansas City Convention Center was transformed into that dream location with 735 cars spread across the gleaming floor of beautiful Bartle Hall. With 446 cars selling over the three-day period for a 61 percent sell-through rate, the enduring auction brought a strong $9.6 million total. The top sale at the Kansas City auction was a Historic Mount Vernon, N.Y., Ahrens-Fox BT piston pumper fire truck (Lot S201), which hammered at $125,000. The fully restored truck may be the finest example remaining of the small group of nine that were manufactured. The second top spot on the top ten list was nabbed by a bold, Tropical Turquoise 1958 Chevrolet Impala Convertible that was the subject of a frame-off restoration and features a continental kit with a 348 CI Turbo-Thrust V-8 power plant. The car, which crossed the block as Lot S116, sold for a healthy $112,500. The complete top 10 sales for Mecum's spring Kansas City auction include (all sales reflect hammer prices):
1. 1936 Ahrens-Fox BT Fire Truck (Lot S201) at $125,000 2. 1958 Chevrolet Impala Convertible (Lot S116) at $112,500 3. 1931 Cadillac Roadster (Lot S121.1) at $112,000 4. 1989 Lamborghini Countach 25th Anniversary (Lot S106) at $111,000 5. 1969 Oldsmobile Hurst 442 (Lot S131) at $100,000 6. 1959 Chevrolet Impala Hardtop (Lot S120.1) at $80,000 7. 1970 Ford Mustang Twister Special (Lot S88) at $78,000 8. 1968 Shelby GT500 Fastback (Lot S94) at $73,000 9. 1955 Chrysler 300 Hardtop (Lot S148) at $67,000 10. 1967 Chevrolet Corvette Convertible (Lot S105) at $64,000 For access to complete auction results and other member benefits, sign up for the free InfoNet service offered at www.Mecum.com. Mecum's next auction is just around the corner with the original, largest and best muscle car auction returning to Indianapolis this May 14-19 with Dana Mecum's 26th Original Spring Classic at the Indiana State Fairgrounds. To consign a vehicle or to pre-register to bid at one of Mecum Auctions' upcoming events, visit www.Mecum.com or call (262) 275-5050. About Mecum Auctions Nobody sells more than Mecum. Nobody. The Mecum Auction Company is the world leader of collector car and Road Art sales, hosting auctions throughout the United States. The company has been specializing in the sale of collector cars for 26 years, now offering more than 15,000 vehicles per year and averaging more than one auction each month. Established by President Dana Mecum in 1988, Mecum Auctions remains a family-run company headquartered in Walworth, Wis. For further information, visit www.mecum.com or call (262) 275-5050. Follow along with Mecum's social media news and join us on Facebook, Twitter, YouTube, Pinterest and Instagram.
Recent Articles
VOLUME AND VARIETY AT MECUM'S SECOND ANNUAL ANAHEIM AUCTIONWalworth, Wis. - November 27, 2013 -- Mecum Auctions returned to Anaheim, Calif., for its second annual auction at the Anaheim Convention Center and with spectators and bidders pouring in, total sales reached nearly $14 million. With 812 vehicles crossing Mecum's block Nov. 21-23, 412 hammered sold with deals continuing to be made in the Bid Goes On department.

Mecum had originally anticipated a 750-car lineup, but the consignments came in droves bringing the run total to its impressiv....
Mecum's 2014 Schedule Expands To Include East Coast AuctionMecum Introduces New Auction in Harrisburg, Pennsylvania, July 24-26, 2014

Walworth, WI - November 12, 2013 -- Mecum Auctions – the largest collector car auction company in the world – will introduce a new auction to its already vast 2014 lineup extending its reach further into the East Coast. With 12 classic and collector car auctions and four vintage tractor auctions on the 2014 docket, Mecum will take the action to Harrisburg, Penn., in July for three days with an expected 1,....
STEVE MCQUEEN'S HARLEY-DAVIDSON TO CROSS MECUM'S BLOCK IN ANAHEIMWalworth, WI - November 11, 2013 -- Mecum Auctions will offer a rare piece of celebrity history at the second annual Anaheim auction this Nov. 21-23 at the Anaheim Convention Center – a motorcycle once owned and ridden by 'The King of Cool' Steve McQueen.

As the highest paid actor of his time, McQueen is best remembered for his roles in movies like 'The Great Escape,' 'The Getaway,' 'Bullitt' and 'The Thomas Crown Affair.' In addition to his acting career, McQueen was an avid motorcycl....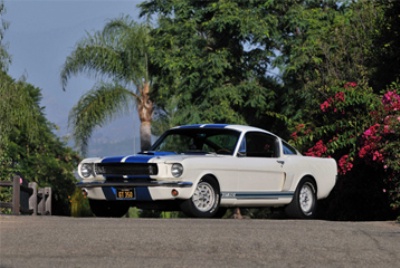 750 Vehicles Slated To Cross Mecum's Block In Sunny SoCal, Nov. 21-23Pack Your Bags, Bring the Family, it's Mecum Auction Time in Anaheim

Walworth, WI - October 22, 2013 -- Mecum Auctions will take the gavel out to Orange County, Calif., for the second annual Mecum Anaheim Auction featuring 750 classic and collector cars at the Anaheim Convention Center this Nov. 21-23.

The impressive 815,000-square-foot facility is located in the heart of the beautiful 1,100-acre Anaheim Resort district, just steps away from Disneyland. With a great lineup s....
MECUM TOPS $18.6 MILLION IN CHICAGOWalworth, WI - October 15, 2013 -- The windy city welcomed Mecum Auctions with an exceptional sale and enormous crowds at the Schaumburg Convention Center in Schaumburg, Ill., this past weekend. With 965 cars crossing the block throughout the three-day event, 615 hammered sold for a 64 percent sell-through rate and $18,634,223 in sales. The one-of-a-kind personal driver of Corvette's original designer Harley J. Earl led auction sales with a hammer price of $1.5 million.

Chicagoland was....
Mecum Will Offer One-Of-A-Kind Personal Driver Of Corvette's Original Designer• Harley J. Earl Corvette will Cross Mecum's Block at Chicago Auction Oct. 10-12


Walworth, WI - September 24, 2013 -- The factory-styling Sting Ray gifted to the father of the Corvette – Harley J. Earl – will cross the block at Mecum's Chicago auction this Oct. 10-12 at the Schaumburg Convention Center. Among an anticipated 1,000-car lineup, this car stands out as the personal driver of GM's head designer who was one of the most significant innovators in the history of the Amer....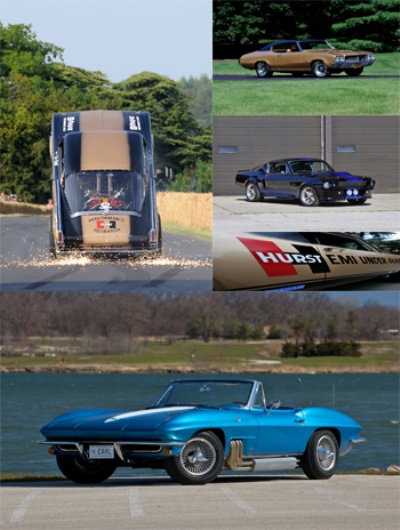 Crowd Shakers And History Makers At Mecum's Chicago Auction Oct. 10-12• Hemi Under Glass Collection and Harley J. Earl Corvette Part of 1,000-Car Lineup


Walworth, WI - September 16, 2013 -- Mecum Auctions is taking the gavel to Chicagoland this Oct. 10-12 with 1,000 vehicles expected to cross the block at the breathtaking Schaumburg Convention Center. The lineup is already fraught with headline-worthy consignments including the most famous wheel-standers in drag racing history– the Hurst Hemi Under Glass Collection – as well as the one-of-a-kind,....
2012 Chevrolet COPO Camaro
---
2012 Dodge Challenger SRT8 Jeff Dunham Project Ultraviolet
---
2012 Dodge Charger SRT8 Super Bee
---
2011 Audi R18 TDI
---
2011 Chevrolet Camaro Synergy Series
---
2011 Hyundai Genesis Coupe
---
2010 Chevrolet Camaro Chroma Concept
---
2010 Chevrolet Camaro Dale Earnhardt Jr. Concept
---
2010 Chevrolet Camaro LS7 Concept
---
2010 Chevrolet Camaro Series 5
---