Auctions America's California & Auburn Fall Events To Broadcast Live On NBC Sports Network
• Auctions America announces exclusive live television coverage of its California and Auburn Fall sales on NBC Sports Network • Delivered to more than 80 million homes, new in-depth collector car auction coverage complements NBC Sports Network's growing motor programming • Rare 1964 Shelby 289 Cobra to play starring role in coverage of Auctions America's debut California sale • Auburn Fall event represents longest running collector car auction in history AUBURN, Indiana (June 6, 2013) – Leading collector car auction house, Auctions America, is excited to announce exclusive live television coverage of its highly anticipated California and Auburn Fall auctions this August and September on the Sports Emmy Award-winning NBC Sports Network and live streaming coverage via NBC Sports Live Extra. Along with tracking live gavel-to-gavel action, the exciting new Auctions America programming will showcase the stories behind featured automobiles, as well as provide a glimpse into the characters of the global collector car hobby. This in-depth auction programming complements the NBC Sports Network's growing motor content, which includes Formula One and the IZOD IndyCar Series. NBC Sports Live Extra, NBC Sports Group's live streaming product for desktops, mobile devices and tablets, will live stream coverage of Auctions America for the first time. Coverage will stream live to the digital platforms of participating cable, satellite, and telco services, via 'TV Everywhere,' which is available on an authenticated basis to subscribers of participating MVPDs.
'We are thrilled to be working with the team at NBC Sports Network to make the Auctions America experience available to more than 80 million homes across the U.S. later this summer,' says Donnie Gould, president of Auctions America. 'The addition of live TV and streaming will help those unable to join us in person to experience all the excitement in real-time, as well as help us showcase not only the quality of our offerings and their fascinating histories, but also the expertise and professionalism of our team.' 'Auctions America is a great addition to our programming,' says Jeff Macaluso, Senior Director of Programming, NBC Sports Network. 'We look forward to presenting 15 hours of exclusive live event coverage of Auctions America on NBC Sports Network and NBC Sports Live Extra for the first time ever in the coming months.' Produced by Roger Wilco Productions, the exclusive programming will include six hours of live coverage from Auctions America's debut California sale on August 2 - 3, plus more than nine hours of coverage from the company's flagship Auburn Fall sale, August 29 - 31. Full details are available online at auctionsamerica.com. Headlining the California sale will be a rare, fully restored 1964 Shelby 289 Cobra, CSX2561. One of less than 20 factory-delivered automatic cars, this fully-documented, matching-numbers, ex-Factory demonstrator is equipped with its original factory components including motor, transmission, body, and rear-end and boasts just 40,000 miles from new. Road tested by an Auctions America specialist, it is presented in fantastic running condition, ready for the road or show. A short video highlighting CSX2561 is available online at www.auctionsamerica.com/california-cobra. The Cobra leads an exciting roster of more than 400 quality collector cars expected at the California sale, including a diverse assortment of American and European classics and sports cars, Detroit muscle, hot rods, and customs. The California auction will be closely followed by Auctions America's Auburn Fall event, August 29 – September 1 at the historic Auburn Auction Park in Indiana. A Labor Day weekend tradition spanning more than 43 consecutive years, the event is the longest running collector car auction in history. This year's sale will feature approximately 1,300 classics, exotics, hot rods and muscle cars. For further information, visit auctionsamerica.com or call toll-free 1-877-906-2437 (+1 260-927-9797 outside North America). About Auctions America Formed in July 2010, Auctions America specializes in the sale of American classics, European sports cars, Detroit muscle, hot rods and customs. Headquartered at the historic Auburn Auction Park in Indiana, Auctions America boasts an expert team of full-time vehicle specialists, who offer over 140 years of combined experience buying, selling, racing and restoring collector vehicles, making them uniquely qualified to advise on all aspects of the hobby. The company's established roster of annual events are held in some of the country's leading automotive destinations including Auburn, Indiana; Fort Lauderdale, Florida; Carlisle, Pennsylvania and Burbank, California. To learn more about Auctions America, visit auctionsamerica.com, find us on Facebook or follow us on Twitter @auctionsamerica. About NBC Sports Network NBC Sports Network, part of the NBC Sports Group, is dedicated to serving passionate sports fans. Now in more than 80 million homes, the Emmy-award winning network is the cable television home of the Summer and Winter Olympics, National Hockey League (NHL), Major League Soccer (MLS), IZOD IndyCar Series, Tour de France, the 34th America's Cup, Premier League and Formula One. In addition, NBC Sports Network features college football, college basketball, college hockey, cycling, outdoor programming, horse racing surrounding the Triple Crown and Breeders' Cup, Fight Night boxing, Ironman, the Dew Action Sports Tour and USA Sevens Rugby. The network is also home to original programs such as Costas Tonight, The Crossover, NFL Turning Point, Pro Football Talk and The Dan Patrick Show. NBC Sports Network is distributed via cable systems and satellite operators throughout the United States. Photo Caption: 1964 Shelby 289 Cobra (Photo Credit Pawel Litwinski © 2013 Courtesy of Auctions America)
Recent Articles
Rare 1963 Shelby 289 Cobra Leads Exciting Line Up At Auctions America's Fort Lauderdale Sale• Auctions America kicks off its 2014 collector car calendar March 14 – 16, 2014 in Fort Lauderdale, Florida
• Regarded as South Florida's premier collector car auction, the multi-day sale is expected to feature more than 450 cars spanning all segments of the collector car market
• Vehicle highlights include a 1963 Shelby Cobra, a 1972 Ferrari Dino 246 GT, a 1965 Shelby GT350, a 1970 Chevelle Super Sport LS6 and a 1936 Auburn 852 Supercharged Phaeton

AUBURN, Indiana (Dec. 4, 2013) ....
Maserati Celebrates 100th Anniversary as Featured Marque of the Rolex Monterey Motorsports ReunionAugust 14-17 at Mazda Raceway
MONTEREY, Calif., December 10, 2013 — The Rolex Monterey Motorsports Reunion will celebrate the rich 100-year history of Maserati, one of Italy's iconic luxury sports car brands that throughout the century has been deeply rooted in racing. The celebration will be held August 14-17, 2014 at Mazda Raceway Laguna Seca.

The Monterey Classic Car Week and Rolex Monterey Motorsports Reunion is a haven for international classic car enthusiasts. Centered a....
Seb and the Team Crowned ChampionsPARIS – Sebastian Vettel and Infiniti Red Bull Racing were awarded their trophies for winning the 2013 Drivers' and Constructors' Championship titles respectively at last Friday night's FIA's annual Prize-Giving Gala in Paris.

Held at the Cité du Cinéma movie studios complex built by legendary French film director Luc Besson, the Formula One awards section of the evening kicked off with Mark receiving his trophy for finishing in third place in the Drivers' standings in his final Formul....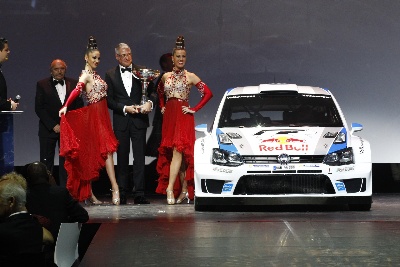 GREAT HONOUR, GRAND CELEBRATION: WORLD CHAMPIONSHIP TROPHIES PRESENTED TO VOLKSWAGENA celebratory end to an incredible season: Volkswagen Board Member for Technical Development, Dr. Heinz-Jakob Neußer, and World Rally Champions Sébastien Ogier and Julien Ingrassia were in Paris to receive their FIA World Rally Championship (WRC) trophies. Making its debut in the World Championship with the 315-hp Polo R WRC this year, Volkswagen won every title at the pinnacle of rallying. FIA President Jean Todt was on hand to personally present the trophies to the Volkswagen team at the glamo....
KATY PERRY TO PERFORM AT INFINITI BRAND FESTIVAL IN CHINA• Katy Perry's first ever performance in China

• Major public event to celebrate the Infiniti brand in China

• Infiniti retail and manufacturing business growing rapidly in China

Beijing / Hong Kong - Infiniti announced that U.S. singer, songwriter and actress, Katy Perry, will perform as a special guest at the 2014 Infiniti China Brand Festival in Beijing. Several thousand guests are expected at the Beijing indoor Olympic Stadium on Saturday, January 11, to par....
LE MANS GREATS HEAD STUNNING ROSTER OF ADDITIONAL ENTRIES FOR RM'S 2014 PARIS SALE DURING RETROMOBILE WEEK• Anticipation builds ahead of RM's €25 million debut Paris sale on 5 February 2014
• More Le Mans greats join stunning competition car line-up at saleLatest highlights include a 1982 Rondeau M482 Le Mans GTP, a veteran of five Le Mans 24 hours races, and a mighty 2008 Peugeot 908 HDi FAP Le Mans Prototype, which finished 2nd at Le Mans, was driven by Jacques Villeneuve, and has been entrusted to be sold by RM by the Peugeot factory
• Other recently secured entries include a Bugatti Type 40 Ro....
Infiniti To Reveal Formula One Inspired Concept At Detroit ShowHong Kong – Infiniti will reveal a Formula One inspired concept car based on the Q50 premium sports sedan at the North American International Auto Show in Detroit.

The concept car represents Infiniti's design vision of a high performance variant of Q50. Called 'Q50 Eau Rouge,' the car is named after the world-famous corner at the Formula One track in Spa-Francorchamps, a corner which requires extraordinary strength, courage and commitment; it has seen some of the most incredible drivin....
2014 Chevrolet Corvette Stingray Indy 500 Pace Car
---
2014 Ferrari 458 Speciale
---
2014 Infiniti Q50
---
2014 Mercedes-Benz CLA-Class
---
2013 Caterham CT03 Renault
---
2013 Caterham Superlight R600
---
2013 Dodge Viper GTS-R SRT
---
2013 Honda S660 Concept
---
2013 Icona Vulcano
---
2013 Infiniti FX Vettel Edition
---