Acura NSX Prototype To Break Cover At Mid-Ohio Raceway Prior To Honda Indy 200 Indycar Race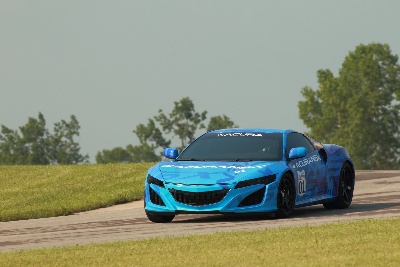 07/25/2013 - TORRANCE, Calif. Acura today released an image of a prototype NSX supercar, announcing that the running prototype will take to the racetrack just prior to the Honda Indy 200 IndyCar Series race at Mid-Ohio Sports Car Course in Lexington, Ohio. The NSX prototype with custom graphics will lap the road course in advance of the race on August 4, 2013. The race will be broadcast live by NBC Sports Network starting at 3 p.m. EDT. Global development of the NSX, slated for launch in 2015, is being led by engineers at Honda R&D Americas, Inc. in Raymond, Ohio. Additionally, it was announced in May that the next-generation Acura supercar will be produced at the newly established Performance Manufacturing Center in nearby Marysville, Ohio. The prototype model maintains the styling and proportions of the NSX Concept that debuted at the 2012 North American International Auto Show in Detroit, while packaging the production vehicle's mid-mounted V-6 engine mated to Acura's innovative new three-motor Sport Hybrid SH-AWD (Super Handling All Wheel Drive) system. About Acura

Acura offers a full line of technologically advanced performance luxury vehicles through a network of 275 dealers within the United States. The Acura lineup features six distinctive models: the TL performance luxury sedan, the TSX sports sedan and Sport Wagon, the ILX luxury compact sedan, the 5-passenger RDX crossover SUV, the just-introduced 7-passenger MDX luxury SUV, and the recently-launched Acura RLX flagship sedan.
Recent Articles
Toyota: Focused on Plants, People and Planet2013 North American Environmental Report Details Innovation and Improvements

TORRANCE, Calif. (Dec. 4, 2013) – Looking for a new vehicle? How about one that was assembled at a North American facility that helped save 61 million gallons of water last year? And you can buy that vehicle at one of the most environmentally advanced dealerships in the country. These examples of environmental leadership and more are highlighted in the recently published 2013 Toyota North American e....
Daimler Trucks Asia Invests 300 Million Euro In Future Sales Growth• Daimler Trucks Asia is bundling the activities of Mitsubishi Fuso Truck and Bus Corporation (MFTBC) and Daimler India Commercial Vehicles (DICV) for further sales growth

• Daimler Trucks Asia will invest additional 300 million euro in the extension of the sales and production networks for FUSO and BharatBenz trucks from 2014 to 2018

• New FUSO truck from DICV production celebrates international trade fair debut at Tokyo Motor Show

The Japanese Daimler subsidiary, Mitsub....
VOLKSWAGEN TO ROLL-OUT 'BUMPER-TO-BUMPER' STRATEGY FOR ALTERNATIVE POWERTRAIN CARS• Carmaker to electrify vehicles in all segments; up to 40 models in line-up as demand rises

• Think Blue. Factory. program ahead of schedule

Los Angeles - The Volkswagen Group has outlined its global strategy for the launch of vehicles with alternative powertrains. The Group's Commissioner for Electric Drive Systems, Dr. Rudolf Krebs, said at a sustainability workshop at the Los Angeles Auto Show on Wednesday: 'We are going to electrify all segments. In plants equipped ....
INFINITI QX60 AND QX50 RECOGNIZED BY LEADING CONSUMER AUTOMOTIVE WEBSITESLOS ANGELES – As the 2013 Los Angeles Auto Show kicks off, Infiniti has been recognized by leading consumer automotive websites AOL Autos, Kelley Blue Book, IntelliChoice and AutoPacific for achievements in technical innovation, leading customer satisfaction and outstanding resale value among its competitors.

AOL Autos Technology of the Year Award Finalist (QX60)
On November 19, during the LA Auto Show's Connected Car Expo, AOL Autos announced it selected Infiniti's Backup Coll....
HONDA ACCORD NAMED '2014 GREEN CAR OF THE YEAR' BY GREEN CAR JOURNAL1/21/2013 - LOS ANGELES
• 2014 Accord environmental leadership highlighted by all-new EPA-rated 50 mpg city Accord Hybrid and EPA-rated 115 MPGe combined Accord Plug-In

• Accord joins Civic Natural Gas as the second Honda vehicle to earn 'Green Car of the Year' award in past three years

The 2014 Honda Accord (http://automobiles.honda.com/accord/), America's top-selling car with retail car customers1, has been named the '2014 Green Car of the Year®' by Green Car Journal.....
Infiniti Q50'S Direct Adaptive Steering™ Selected As A Popular Science '2013 Best Of What'S New' Grand Award WinnerNASHVILLE, Tenn. – The editors of Popular Science have selected the all-new 2014 Infiniti Q50 luxury sports sedan's Infiniti Direct Adaptive Steering™ as one of 12 Grand Award recipients in the annual 'Best of What's New' issue. Direct Adaptive Steering™ is the world's first production steer-by-wire system – providing new levels of control, precision and adaptability. The system uses advanced electronics to streamline the steering mechanism for a more precise feeling behind the wheel.

....
Family Fun Gets Amped Up with the All-New 2014 Toyota Highlander HybridThird-Generation of World's First Seven-Passenger Gas-Electric Hybrid SUV Debuts at 2013 Los Angeles Auto Show

Added Standard Features and New Technologies at Value Pricing

LOS ANGELES (Nov. 20, 2013) – Get ready to take the hybrid high road! The 2014 Toyota Highlander Hybrid is on display now at the 2013 Los Angeles Auto Show. It marks the world debut of the all-new third-generation gas-electric mid-size hybrid SUV.

The new Highlander Hybrid is a complete package f....
Lexus Takes Top Honors for the Third Year in a Row in Kelley Blue Book's '2014 Best Resale Value Awards' for Luxury Brand• Lexus Wins Luxury Brand Category for Best Resale Value, Fourth Time Overall
• Six Other Lexus Models Win Their Categories, including ES 300h, GX 460 and RX 450h

TORRANCE, Calif., (Nov. 18, 2013) – Lexus once again took the top spot in in the Luxury Brand category of Kelley Blue Book's 2014 Best Resale Value Awards, continuing its reign for the third year in a row. In addition to retaining the luxury brand crown, six other Lexus models won in their categories:

• 2014 Lexus ES 350 ....