Chinese Grand Prix: Qualifying
The MERCEDES AMG PETRONAS team locked out the front row of the grid for the Chinese Grand Prix at the Shanghai International Circuit today with Nico Rosberg putting the F1 W03 on pole position, and Michael Schumacher qualifying in third place, although he will start the race from second position. • Nico scored his maiden Formula One pole position this afternoon, with an advantage of over half a second • Michael qualified third and will start tomorrow's race from second place following a grid penalty for Lewis Hamilton • This is the ninth Formula One pole position for a works Silver Arrow and the 85th for Mercedes-Benz in Formula One • A works Silver Arrow last started from pole at the 1955 Italian Grand Prix, with Juan Manuel Fangio at the wheel
Nico Rosberg 'It's a very special day for me because this is my first pole in Formula One, and the first for a Silver Arrow since 1955. Firstly it was a strange feeling because I was watching the end of Q3 from the FIA garage as we decided to save a set of option tyres for the race, and I couldn't do anything but watch! Seeing that I finished at the top of the timesheets and with half a second in hand made me the happiest man today. Thanks to the team, everyone here and in the factories, who have done a great job to develop and improve our Silver Arrow. We don't know what will happen in the race tomorrow, and it will be a challenge to stay in front, but for the moment, I will enjoy starting next to Michael from the front row which is also very special to me.' Michael Schumacher 'This really is a special day for our Mercedes-Benz team, having two Silver Arrows starting from the front row of the Chinese Grand Prix. It's a great result, and I am very happy for everybody. Congratulations to Nico, he achieved his first pole position with a just fabulous lap. I can easily respect he did the better job today, and I am happy for him. I am equally happy for Norbert, Ross and all the guys here at the track and in Brackley and Brixworth, who had to wait quite some time and have been so patient. We can only compliment their hard work. A big thank you to Daimler for always supporting us; we are doing all we can to bring the Mercedes-Benz name to the front, where it belongs. As for me, I am happy too, and obviously my ambition for the race is to stay where we are now. But tomorrow is another story, even if in terms of set-up we have prepared the car mainly for the race. We will definitely try and show a good performance, and I am looking forward to it.' Ross Brawn 'It was an exceptional qualifying session for us and I am very pleased with the way the whole team worked to achieve it. Congratulations to both drivers, but especially Nico on a stunning lap which earned him his first pole position. It is a great boost for everyone, and gives lots of encouragement to the team here at the track, in Brackley and Brixworth. We hope it will prove to be a step on the way to achieving our ambitions; however, we know it is only a small step and that what really counts is the race. That's what we have been working on, to start delivering similar levels of performance on Sunday afternoon.' Norbert Haug 'What a fantastic lap from Nico for pole position - in his single attempt in Q3, he was half a second quicker than anybody else, which speaks both for him and the team. A big thank you to everybody from MERCEDES AMG PETRONAS for a great job and for all the relentless work that they are putting in to continuously improve our performance. The three fastest cars today are powered by the Mercedes V8 so well done to all our guys in Brixworth at Mercedes AMG High Performance Powertrains. Michael missed P2 today by less than a tenth of a second, but as Lewis will have a grid penalty, Michael will start next to Nico on the front row tomorrow. A Silver Arrows front row last happened at Monza in 1955; now, after two years in the modern era of the Silver Arrows works team, we have achieved our first one-two on the grid. Although we are in the best possible positions today, we certainly do not think that we are already winners tomorrow. So far, our long runs on high fuel and our tyre usage didn't look bad according to Pirelli, so we all will do our best for tomorrow. Hats off to Nico again - this was a great lap, my friend, which you will remember for a very long time.'
Recent Articles
MONACO GP - DANCING IN THE STREETSMonaco, 23 May – It's part of the nature of Formula 1 and sport in general in the modern era, that what happens off the court, pitch or track can sometimes take on even more importance than the sport itself, with gossip, rumour and controversy dominating the headlines. However, on a beautiful day with clear skies and warm sunshine, the first time 22 Formula 1 dance around the track on the streets of the Principality of Monte Carlo provides a glorious reminder of what a fantastic sporting ....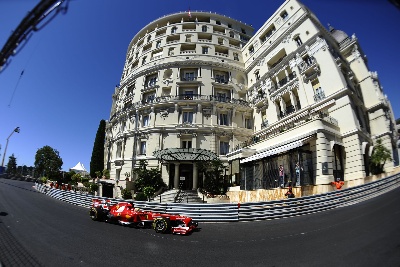 MONACO GP - ALL VERY CLOSEMonaco, 23 May – Nico Rosberg had the honour of topping the first Monaco Grand Prix timesheet of the weekend. He set the fastest time in the first free practice session of the sixth round of the World Championship, which as always here takes place on Thursday, with Friday being a day with no F1 track action. On this the most glamorous and exciting circuit on the calendar, the gaps between the front runners are all very close. Rosberg did a 1.16.195 in the Mercedes ahead of Fernando Alonso who to....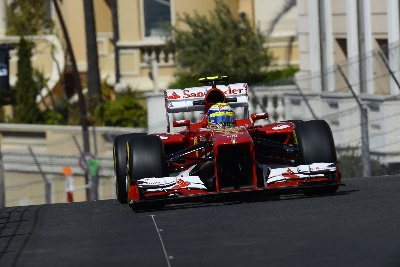 MONACO GP – SILVER AND RED IN THE PRINCIPALITYMonaco, 23 May –The Mercedes duo of Nico Rosberg and Lewis Hamilton topped the time sheet ahead of the Alonso-Massa red tandem at the end of the second free practice session today. Fernando was third in 1.15.196, which was 0.437 off Rosberg's time. Massa was fourth with a 1.15.278.

Going into the traditional Monegasque 'day off' tomorrow, the hierarchy in terms of what to expect in qualifying is not yet clearly defined. This session had to be red flagged after 37 minutes, so that the k....
Honda Chases 10Th Consecutive Indy Triumph05/21/2013 - TORRANCE, Calif. An accomplished 16-driver lineup, including two previous race winners and 11 graduates of open-wheel training-ground series, make up the Honda-powered effort for the 2013 Indianapolis 500, as the company seeks its 10th consecutive '500' victory – and fourth-in-a-row with engine-manufacturer competition.

In 2012, Target Chip Ganassi Racing's Dario Franchitti scored his third Indy triumph in a thrilling battle to the finish with fellow Honda drivers Takuma S....
Usually In The Red In MonacoMaranello, 20 May – It's been many, too many years since the roulette wheel has stopped on Red in Monte Carlo. The last time a Ferrari won the Monaco Grand Prix was back in 2001, when Michael Schumacher and Rubens Barrichello secured an amazing one-two. Since then, no Ferrari has been first past the chequered flag, even in those years when Maranello's technical superiority seemed beyond doubt, such as 2002 and 2004.

However, there have been plenty of podium finishes in the past eleven....
2014 Q50 Infiniti
---
2014 CLA-Class Mercedes-Benz
---
2013 CT03 Renault Caterham
---
2013 Superlight R600 Caterham
---
2013 Vulcano Icona
---
2013 FX Vettel Edition Infiniti
---
2013 E21 Lotus
---
2013 MP4-12C Can-Am Edition Racing Concept McLaren
---
2013 MP4-28 McLaren
---
2013 P1 Concept McLaren
---
blog comments powered by

Disqus