INDYCAR – LONG BEACH GRAND PRIX
A tough weekend for the Lotus-engined teams in California. Having been sidelined for much of practice and qualifying due to bad weather and a water pump issue, Lotus HVM's Simona di Silvestro suffered an engine failure 11 laps from the end of the 85 lap race, demoting her to 20th. Lotus Team Barracuda BHA's Alex Tagliani, who qualified tenth, struggled during the race and was also hit by EJ Viso, forcing him to pit for a new front wing. Ultimately, he retired and registered 21st place. Lotus Dragon Racing's Sebastien Bourdais finished 17th after hitting a tyre wall and losing two laps. His team-mate, Katherine Legge, also lost her front wing – she crossed the line in 19th. The highest Lotus finisher was DDR's Oriol Servia. He dropped two laps due to a kafuffle in the pits, but passed champion Dario Franchitti on the last lap for 15th. However, a car pile-up bumped him back down to 16th, after he stalled and needed his crew to push him across the finish line. Oriol Servia, Lotus DDR: 'We lost a wheel nut and that's what put us two laps down. Not the best day out there, but I'm really happy with the team, they kept their heads down and in the end that's what will give us the results.' Alex Tagliani, Lotus Team Barracuda BHA: 'I think the car was decent in the race. We made some passes and I think the car would have been good to have a decent finish if we ran the whole race.' Simona De Silvestro, Lotus HVM Racing: 'We had issues in practice and qualifying and only ran like six laps total going into the race, so we were excited to be running such a great race. We had good pit stops and only 11 laps to go when we lost the engine, so it's really frustrating. Not fun!'

Sebastien Bourdais, Lotus Dragon Racing: 'I lost the car on brakes, lost the rear, and went sideways. By then, it was too late, I was in the tyre wall. I thought for sure the car was all broken, but when I checked for damage, there was nothing, When the safety team got me going, I was two laps down, but decided to bring it home.'
Recent Articles
Bahrain Gp - A Cursed SundayStefano Domenicali: 'This is definitely not the outcome we expected after showing all weekend long that we were capable of fighting for the top places. Today's result needs to be put behind us in a hurry, although there is a feeling of great disappointment that we were unable to bring home the hoped for result. Despite his problem with the DRS, Fernando produced a blistering drive, pulling off overtaking moves and setting lap times that were absolutely incredible. Felipe's race was also v....
Kimi Raikkonen Takes Second Position In Thrilling Chinese Grand PrixThe Renault RS27 engine powered Lotus F1 Team's Kimi Raikkonen to second position in a nail-biting Chinese Grand Prix today. The 2007 world champion and winner of the Australian Grand Prix finished 10secs behind winner Fernando Alonso and 2secs ahead of Lewis Hamilton, who claimed the final podium position. Infiniti Red Bull Racing's Sebastian Vettel retained the lead of the drivers' championship with fourth place, just 0.2secs from Hamilton in a thrilling photo finish. Romain Grosjean put the s....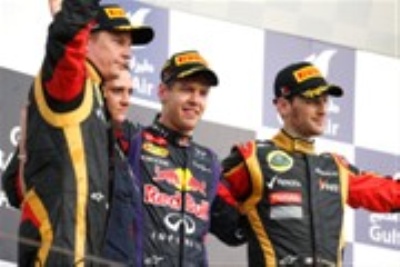 Clean Sweep Of Bahrain Grand Prix Podium For Renault EnginesRenault-engined drivers locked out the podium in today's Bahrain Grand Prix, with Infiniti Red Bull Racing's Sebastian Vettel taking a commanding win over Lotus F1 Team's Kimi Raikkonen and Romain Grosjean. It is the second year in a row that the Renault RS27 V8 engine has made a clean sweep of the Bahrain podium, and the first time since that race that an engine manufacturer has monopolized the top three. The result is the 154th win for a Renault engine in F1 and the 36th for the Red Bull Racin....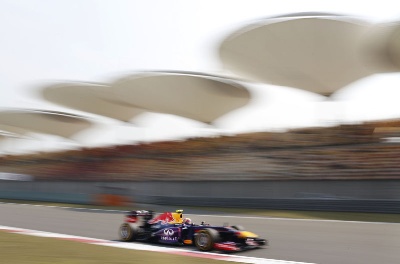 2013 CHINESE GRAND PRIX: FOURTH PLACE FOR SEB, DISAPPOINTMENT FOR MARKSebastian Vettel claimed a battling fourth place in Shanghai in a tactical battle that saw the champion use a different strategy to those cars ahead of him on the Chinese Grand Prix grid.

Seb began the race in ninth place, on the medium tire and hoping to maximize its durability against the soft tires of the seven rivals at the front of the grid. The champion was competitive throughout but was eventually passed for P1 by Fernando Alonso on a fresh set of medium tires that would see the Ferrar....
ALWAYS KEEP PUSHINGWatching pitstops on TV or from the back of the garage gives you an overview of an ensemble in action. When stops go smoothly - and they went very smoothly in Malaysia - the choreography is a beautiful thing to behold: as intricate as a beautifully made watch and just as well put together.

To see that, however, you have to be watching from a distance. Crouched over a wheel-gun or a tire the field of vision is somewhat narrower, coalesced into that instant of activity that gets the car moving ....
MALAYSIAN GP – FELIPE FIGHTS BACK TO FIFTH, FERNANDO'S UNLUCKY 200THFelipe Massa fought back strongly after slipping down the order from his front row start position, to bring home valuable points for fifth place. Fernando Alonso's 200th Grand Prix is not one he will care to remember, as it lasted only just over a lap, before ending in the gravel. Sebastian Vettel headed home a Red Bull Racing one-two ahead of Mark Webber. Completing the podium was Lewis Hamilton for Mercedes.

Inevitably here in Sepang, the rain appeared minutes before the cars were due to le....
All-important points for Lotus amid a taut on-track thrillerThe drama came thick and fast yesterday, as the second round of the 2013 FIA F1 championship took place at the Sepang International Grand Prix circuit, Kuala Lumpur, Malaysia.

Lotus gained vital early-season points in a race that finished with Romain Grosjean in sixth and Iceman stablemate Kimi Raikönnen in seventh place.

With Kimi starting in P10 and Romain P11, both battled hard from the off in an assault that saw them slice their way up the grid. Tense wheel to wheel grappling and su....
Abu Dhabi Grand Prix: RaceA dramatic Abu Dhabi Grand Prix at the Yas Marina Circuit this evening saw Michael Schumacher finish just outside the points in 11th place whilst Nico Rosberg retired following a collision.
• An incident on lap one which damaged his front wing caused Nico to box for a new nose dropping him to P21
• He subsequently retired on lap eight after a heavy collision with the HRT of Narain Karthikeyan
• Michael was going well on a one-stop prime/option strategy and was running in eighth place by la....
2014 Rapide S Aston Martin
---
2014 Z4 BMW
---
2014 Wraith Rolls-Royce
---
2013 DB9 Aston Martin
---
2013 Continental GT Speed Convertible Bentley
---
2013 Z4 BMW
---
2013 CR-V Honda
---
2013 FX Vettel Edition Infiniti
---
2013 F-Type Jaguar
---
2013 RX 350 Lexus
---
blog comments powered by

Disqus