Ford Makes NASCAR History
•Ford's innovative marketing campaign for the 2012 Focus Electric continues as NASCAR selected the car to be the first-ever all-electric pace car, leading the field for the Sprint Cup Richmond 400 on April 28 •Ford was also first to use a hybrid to start a NASCAR event when the Fusion Hybrid served as pace car for the Ford 400 at Homestead-Miami Speedway in 2008 •Ford research shows that approximately 35 percent of new car intenders are motorsports fans and 78 percent of them support NASCAR. Additionally, Ford race fans are 67 percent more likely to consider Ford products than general market consumers •Ford also was the first to show off a 2013 model race car when it unveiled its new 2013 Fusion stock car in January Ford Motor Company is again making NASCAR history this month as the all-new Focus Electric becomes the first all-electric pace car to ever lead the field for a NASCAR Sprint Cup Series race at the Richmond 400.

The all-new Focus Electric will perform all pace care duties at Richmond International Raceway on April 28. 'Ford research shows the majority of Americans would consider buying an electrified vehicle but do not yet understand the different technologies,' said Mark Fields, president of The Americas. 'Highlighting the Focus Electric as a pace car is a fun way to educate consumers about the kinds of benefits our electrified vehicles deliver and show people our commitment to provide Ford customers the power of choice for leading fuel economy in the vehicle that best meets their needs – from EcoBoost®-powered gasoline vehicles and hybrids to plug-in hybrids and full electrics.' Approximately 35 percent of new car intenders are motorsports fans and 78 percent of them support NASCAR, according to Ford research. Additionally, Ford race fans are 67 percent more likely to consider Ford products than general market consumers. This marks the latest in a line of groundbreaking moments for Ford in NASCAR. In addition to being the first manufacturer to compete with a four-door sedan as its flagship model in 1998, Ford was also first to use a hybrid to start a NASCAR event when the Fusion Hybrid served as pace car for the Ford 400 at Homestead-Miami Speedway in 2008. In January, Ford became the first manufacturer to show off its 2013 NASCAR race car when it unveiled the new 2013 Fusion racer to media in Charlotte, N.C. The Focus Electric pace car will be unveiled for the public at the Virginia State Capitol in Richmond on April 25. Lt. Gov. Bill Bolling will deliver the Focus Electric to Richmond International Raceway, where it will serve as pace car for that weekend's NASCAR Sprint Cup Series event. 'Our fans are customers,' said Jamie Allison, director, Ford Racing. 'And just like in racing, they expect both fuel economy and performance from their daily drivers, and that's what Ford is delivering.' Fuel-economy leadership The all-new Fusion range, which includes EcoBoost, a hybrid and the Energi plug-in hybrid version, is the best example of how Ford is giving customers true power of choice for fuel-efficient vehicles. This year, Ford will offer nine vehicles reaching an anticipated 40 mpg or more. Plus, the company is building six new electrified vehicles by the end of this year. 'The Focus and Fusion are great examples of how we transformed our fleet of cars, utilities and trucks with leading fuel efficiency – by electrifying entire vehicle platforms, instead of one-off specialty models,' said Eric Kuehn, chief nameplate engineer, Focus Electric. Ford will offer fuel-efficient EcoBoost engines in 11 vehicles in 2012, up from seven in 2011, tripling the production capacity of EcoBoost-equipped Ford vehicles. This expansion of fuel-efficient offerings will be led by the 1.6-liter EcoBoost engine in the high-volume Escape compact utility vehicle and Fusion sedan. Delivering up to 20 percent better fuel economy than conventional engines, EcoBoost uses smaller overall size combined with turbocharging and gasoline direct injection to bring customers the power they want and the fuel economy they need. Focus Electric is America's most fuel-efficient five-seat car that offers the equivalent of 110 miles per gallon (MPGe) city, 99 MPGe highway and operates entirely on battery-generated power. Focus Electric has been certified by the U.S. Environmental Protection Agency to offer 105 MPGe combined. By comparison, the Nissan Leaf is certified at 106 MPGe city, 92 MPGe highway and 99 MPGe combined. Focus Electric features more passenger room, more motor power and a faster charging system that can nearly halve the charging time of the Leaf. Production of the Focus Electric began in December at Ford's Michigan Assembly Plant in Wayne, Mich. More information about MAP can be found here. Ford is ramping up Focus Electric retail production in the first half of this year for dealership availability in California, New York and New Jersey. By the end of the year, Focus Electric will be available in 19 markets across the U.S.
Recent Articles
CHEVROLET POWERS WAY TO PAIR OF ENGINE HONORSDETROIT – The all-new, high-tech Small Block 6.2L V8 powering the 2014 Corvette Stingray and the 2.0L turbo diesel for the 2014 Chevrolet Cruze are among Ward's 10 Best Engines.

WardsAuto reviewed 44 engines from 16 automakers in this year's competition, which looked at power, fuel efficiency, new technology, refinement and compared it with data for similar engines.

'At GM – our goal is to design, build and sell the world's best powertrains – this recognition from the experts at War....
FORD REVEALS AUTOMATED FUSION HYBRID RESEARCH VEHICLE; TEAMS UP WITH UNIVERSITY OF MICHIGAN, STATE FARM◾Ford unveils automated Ford Fusion Hybrid research vehicle to test and advance its Blueprint for Mobility, which envisions a future of autonomous functionality and advanced technologies after 2025
◾Developed in collaboration with the University of Michigan and State Farm®, the vehicle builds on more than a decade of Ford automated driving research
◾Ford is among the leaders in offering driver-assist technologies in its vehicles on the road today, including Ford Fusion, Ford Escape and Ford Ex....
Audi S5 Wins Fifth Consecutive Ward'S 10 Best Engines Award• Ward's 10 Best Engines competition pits the latest engines available in the U.S. market against the returning winners from the previous year
• The engine in the S5 consists of a 3.0L supercharged V-6 which generates 333 horsepower and 325 lb.-ft. of torque
• The 3.0 TFSI V6 engine powers a total of seven Audi vehicles including the Audi S5, the A8, A7, A6, Q7, Q5 and S4 luxury-sport sedan

Audi has been named a winner in the 20th annual Ward's 10 Best Engines competition for the Audi S5. T....
2014 Silverado 1500 Named Fleet Truck Of The YearDETROIT – The 2014 Silverado 1500 is Automotive and Business Fleet magazines' 2013 Fleet Truck of the Year, an award determined by qualified fleet managers reflecting all industry segments and fleet sizes.

'We are proud to recognize the Chevrolet Silverado 1500 with the 2013 Fleet Truck of the Year award,' said Sherb Brown, vice president and group publisher for Bobit Business Media's FleetGroup. 'The Truck of the Year award is voted on every year by fleet managers, making this a real ....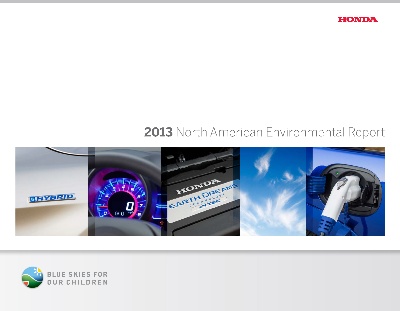 HONDA RELEASES 2013 NORTH AMERICAN ENVIRONMENTAL REPORT12/10/2013 - TORRANCE, Calif.
• CO2-adjusted fuel economy of Honda and Acura automobiles up 9.5%

• CO2 emissions intensity of automobile production in N.A. down 16.2%

• CO2 emissions intensity of product shipments in the U.S. down 8%

• CO2 emissions intensity of service parts shipments in the U.S. down 13.5%

Honda today released its ninth annual North American Environmental Report. Honda's ongoing efforts to reduce the environmental impact of its produ....
VOLKSWAGEN PASSENGER CARS DELIVERS 5.40 MILLION VEHICLES IN PERIOD TO NOVEMBER / +3.4 PERCENTWolfsburg, Germany - The Volkswagen Passenger Cars brand recorded a good delivery performance in November with volumes up 3.4 percent to 522,100 (November 2012: 504,800) units. 5.40 (January-November 2012: 5.22) million vehicles were handed over to customers from January to November, an increase of 3.4 percent. 'Our brand's most important model, the Golf, has once again been a strong driver. The latest generation has got off to an excellent start and we will be delivering the 500,000th m....
MITSUBISHI OUTLANDER PHEV EARNS MAXIMUM 5-STAR RATING IN 2013 EURO NCAPMitsubishi Motors Corporation (MMC) announced that the company's Outlander PHEV mid-size crossover/SUV featuring MMC's own Plug-in Hybrid EV System has been awarded a maximum 5-star rating in the 2013 Euro NCAP (New Car Assessment Program), an overall safety rating system for new models launched in Europe*1. Euro NCAP puts new cars through some of the world's toughest safety tests, including an array of crash tests.

String of Awards Redeems '@earth TECHNOLOGY'

This recognition is th....
PORSCHE: MOST SUCCESSFUL MANUFACTURER IN ALMS HISTORY WITH 12 CLASS CHAMPIONSHIPSAtlanta. Official testing for the new TUDOR United SportsCar Championship (TUSCC) series has already begun, and sports car fans everywhere are discussing the new classes, the new rules, the new cars, the new venues and how it will all come together on the track.

However, let's take one last look in the rear view mirror at the American Le Mans Series (ALMS), which started in March, 1999 at Sebring, and ended just weeks ago at Road Atlanta. The retrospective provides a basis for what Por....