Allard Automobiles Featured at 2012 Glenmoor Gathering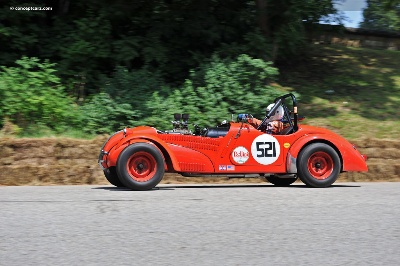 Allard automobiles will be one of the featured marques at the 2012 Glenmoor Gathering. More than 20 Allard automobiles are expected to be on display during the Glenmoor Gathering weekend. Allards featured lightweight bodies built in England but were usually fitted with big American engines, resulting in a terrific power to weight ratio. Shown above at last year's Glenmoor Gathering is an award-winning 1950 Allard J2 roadster owned by David K. Hans of Barrington, Illinois, that was displayed in 2011. In all, more than 200 vintage and classic American and European automobiles and motorcyles will be on the show field. The motorcycle class will feature classic 1928-48 American motorcycles. There will also be a display of 'micro' cars, steam-powered cars, early supercharged cars and Tucker automobiles plus a unique class— 'The Trans Atlantics'—automobiles with European and U. K. coachwork with American engines, such as the Allard. The 2012 weekend activities will include the Passport Transport Countryside Tour, cocktail party and Gala Dinner, cooking demonstrations, a Junior Judges' program and other family activities. Among the weekend highlights will be automotive seminars. An automotive design seminar will be hosted by artist Peter Maier while Wayne Carrini of 'Chasing Classic Cars' and noted collector Ralph Marano will team up to discuss how to buy a collector car. During the 2012 concours automotive art by a variety of artists will be displayed and on sale. Several automotive authors will also be in attendance to sell and autograph their books. On Sunday, there will again be a separate, special display on the club's front lawn of 'World Class Performance Cars,' including Ferraris, Lamborghinis, Maseratis, and Porsches. The popular display of hand-built scale model automobiles and engines will return in 2012.

For more information visit www.GlenmoorGathering.com or call (330) 966.3600.
Glenmoor Gathering of Significant Automobiles
The 17th Annual Glenmoor Gathering of Significant Automobiles was held in mid-September at the historic Glenmoor Country Club near Canton, Ohio. This year's features included Avant Grade: Early Front-Wheel Drive, Sixteen Cylinder Motorcars and the Automobiles of Darrin, including a group of 1938-42 Packard Darrin automobiles.

These three featured groups were joined by several other categories which accounted for over 200 classic automobiles, trucks and motorcycles on the show field. Other weekend activities included a Countryside Tour, automotive seminars, cocktail party and Gala Dinner....
Recent Articles
BUICK TURNS 110: 11 HIGHLIGHTS OF 11 DECADESBuick vehicles today are built in state-of-the-art facilities around the world. The Enclave luxury crossover's Lansing Delta Township plant was the industry's first LEED Gold-certified manufacturing facility. The brand has evolved in many ways since 1903, when the first Buick was hand-built in a small barn behind David Dunbar Buick's Detroit home. Here are 11 top highlights from Buick's first 11 decades:
• Through the end of 2012, Buick has sold more than 43 million vehicles. That's the equiv....
Concorso d'Eleganza Villa D'Este 2013: Classic Weekend On Lake ComoOn the weekend of 24 – 26 May 2013, the spectacular grounds of the Grand Hotel Villa d'Este and Villa Erba in Cernobbio on Lake Como will once again be transformed into a unique stage for the most beautiful automobiles and motorcycles from the past and the most extravagant concept cars of the present day. First held at the same location in 1929, the Concorso d'Eleganza Villa d'Este today ranks as the most traditional show of its kind in the world. It lays on an extensive programme throughout the....
Triple victory in the 2013 Design Trophy: Mercedes-Benz builds the most beautiful carsThe readers of the German motoring magazine 'Auto Zeitung' have voted for their favourite cars with the most appealing design. Models from Mercedes-Benz took first place in three categories: the A-Class was the winner in the compact class, and the CLS Shooting Brake took the laurels in the Estate Car class while also being voted the most beautiful car of all – the overall champion.

This year 24,258 readers of 'Auto Zeitung' cast their votes for the most beautiful cars. The only criterion was....
ROLLS-ROYCE MOTOR CARS LAUNCHES THIRD SHOWROOM IN INDIA•Rolls-Royce celebrates opening of a brand new showroom in Hyderabad, India's fourth largest city
•Hyderabad showroom part of an expansion drive ahead of further showroom openings in Chandigarh and Ahmedabad, signalling Rolls-Royce's confidence in the Indian super-luxury car market
•Home for Rolls-Royce Motor Cars in Hyderabad reignites significant historical connection to the brand

Rolls-Royce Motor Cars' presence in India continues to grow with the official opening of a third showroom ....
POW! BAM! ZOOM! The Original 1966 TV Batmobile To Cross Auction Block At Barrett-Jackson ScottsdaleHoly Grail of TV Star Cars to be Sold for First Time January 19, 2013

Barrett-Jackson, the World's Greatest Collector Car Auctions™, announced today that it will offer one of the most recognized and popular pieces of entertainment history worldwide, at its 42nd annual Scottsdale www.barrett-jackson.com/scottsdale/ auction in January – the only 1955 Lincoln Futura concept car which was heavily modified by legendary customizer George Barris to become the original 1966 Batmobile in the l....
1963 Corvette Pilot Car to Cross the Block at Vicari December New Orleans AuctionThe Vicari Auction Company announces its 3rd annual New Orleans Classic Auto Festival Dec. 1, 2012, at the famous Mardi Gras World in New Orleans, La.

More than 200 classic and muscle cars will cross the block, led by a rare 1963 Chevrolet Corvette Pilot Car Serial #16.

'In preparation for the introduction of the re-designed 1963 Corvette, a limited number of handmade pilot line cars were produced in St. Louis, Mo., for the purpose of road testing the new design,' said Pe....
Inaugural Concours d'Elegance of Texas deemed a massive successHouston, Texas. May 15, 2012. Last weekend, the award winning La Torretta Lake Resort & Spa in Montgomery played host to the biggest and most prestigious classic car weekend in Texas, welcoming thousands of visitors through its gates for the inaugural Concours d'Elegance of Texas, a highlight of The Houston Classic Weekend. Concours organizers had promised a spectacular gathering of world class cars at a world class venue, and they definitely delivered, assembling a superb selection of ra....
Legendary Tucker Automobiles on Display at 2012 Glenmoor GatheringSeveral 1948 Tucker Automobiles will be part of the show field at the 2012 Glenmoor Gathering, including an unrestored Tucker from the Gilmore Car Museum Collection (above). A total of 51 cars were built before production stopped and most of them survive today. The distinctive car-the brainchild of Preston Tucker-was designed by Alex Tremulis.

In all, more than 200 vintage and classic American and European automobiles and motorcycles will be on the show field. The motorcycle class will f....
2014 Viper TA Dodge
---
2014 CLA 45 AMG Mercedes-Benz
---
2013 Vanquish Aston Martin
---
2013 RS4 Avant Audi
---
2013 RS5 Audi
---
2013 Viper SRT Dodge
---
2013 A 45 AMG Mercedes-Benz
---
2013 Phantom Extended Wheelbase Rolls-Royce
---
2012 One-77 Aston Martin
---
2012 V12 Vantage GT3 Aston Martin
---
blog comments powered by

Disqus